Dispatches from the Culture Wars - Thanks? No Thanks Edition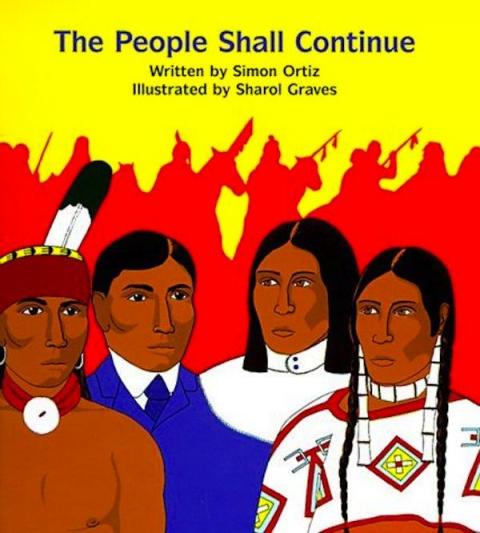 Reading children the classic 'The People Shall Continue' by Simon Ortiz will pave the way to a sound education about the events leading up to and following the so-called First Thanksgiving., http://indiancountrytodaymedianetwork.com
Beyond the So-Called First Thanksgiving: 5 Children's Books That Set the Record Straight
By Debbie Reese
November 19, 2013
Indian Country Today Media Network
It's November, a time of year that many parents, teachers, and librarians look forward to giving children books about what is commonly - and erroneously - called "The First Thanksgiving." Others seek books that counter the narrative of Pilgrims and Indians warmly sharing a meal together, and still others want to avoid that disingenuous feel-good story altogether and provide children with books that are about indigenous people, books that provide insights and knowledge that are missing from all too many accounts.
In most of them, Native peoples are stereotyped, and "Indian" instead of "Wampanoag" is used to identify the indigenous people. But there are a multitude of works by Native writers who tell stories from their experience and history. These books give a far more nuanced, and accurate, account of Indigenous Peoples. They will set children and adults alike straight on what really happened around the time of the so-called First Thanksgiving, and what Native life is like today.
Wampanoag to Appear in Plymouth Thanksgiving Parade for First Time
By ICTMN Staff
November 21, 2013
Indian Country Today Media Network
For the first time ever, members of the Wampanoag Tribe will participate in the annual America's Hometown Thanksgiving Parade in Plymouth, Massachusetts.
The Patriot Ledger reports that this year's parade theme will celebrate "heroes from every era of the nation's history." Squanto, a Patuxet Indian who helped the Pilgrims survive their first winter, and the Wampanoag Tribe, are among those to be honored.
Members of the Wampanoag Tribe will lead the parade, as it depicts history chronologically. The parade will also honor President Abraham Lincoln, who made Thanksgiving a national holiday in 1863.
The creative team is braced for all possible reactions. "I do expect some negativity," Ms. Amanat said, "not only from people who are anti-Muslim, but people who are Muslim and might want the character portrayed in a particular light."
Photos: Kennedy Hatred in 1960s Dallas Looks a Lot Like Obama Hatred Today
November 18, 2013
The New Republic
In the early 1960s, Dallas became known as the City of Hate. The city was ground zero to many of the country's major right-wing figures - and, on the other side, to Lee Harvey Oswald. (The era is the subject of an excellent new book by Bill Minutaglio and Steven L. Davis, which is excerpted here.) But one thing that stands out today is how the era's rhetoric - with a president from a new ethnic group derided as a socialist and a traitor - has in common with our own. Here is a gallery of images from JFK-era Dallas.

Funding Crisis Threatens Black Theater
By Keli Goff
November 19, 2013
The Root
With the success of films like Lee Daniels' The Butler, 12 Years a Slave and now The Best Man Holiday, which surpassed box office expectations this weekend, 2013 is being billed as a banner year for African-American films. But while films with predominantly black casts are thriving, live theater featuring predominantly black casts is not.
When news broke last year that Minnesota's Penumbra, one of the most critically acclaimed black theater companies in the country, was suspending operations it rattled the theater world. Though Penumbra is now up and running again, albeit with a leaner staff, earlier this year more bad news befell those who care about diversity in the theater world: In April, Pittsburgh-based Kuntu Repertory Theatre closed. Founded in 1974, it is credited with being the first resident company to produce and perform a play by the late August Wilson, now considered one of America's greatest playwrights.
The National Black Theatre has struggled to keep its doors open as well. Though in its entire 45-year history NBT has always managed to produce quality shows, it has experienced setbacks, many of them involving the increasingly tough financial realities facing cultural institutions based in communities of color.
What is the Anthropocene, and are you living in it?
By Annalee Newitz
October 24, 2013
io9
Humans have had such a dramatic impact on the planet that we've changed geological history. Future scientists will be able to find humanity's distinctive chemical signature written into the rocky record of Earth's crust. That signature marks the beginning of the Anthropocene, or the new human age.
It sounds dramatic, but the Anthropocene has humble beginnings. It all started when Nobel-winning atmospheric chemist Paul Crutzen became flustered at a rather obscure scientific meeting back in 2000. The meeting was long, and several researchers gave papers referring to the Earth's current geological era, the Holocene, which began about 11,700 years ago when the last ice age abated. Each time somebody said "Holocene," Crutzen became visibly agitated.
Will Steffen, director of the Australian National University's Climate Change Institute, said that Crutzen finally just lost it. "Stop using the word Holocene. we're not in the Holocene any more. we're in the...the...the...the Anthropocene!" The word was a play on Holocene, combining "anthro," meaning human, and "cene," meaning new. Though ecologist Eugene Stoermer had coined the term back in the 1980s, it had never caught on. But after Crutzen's passionate outburst at that IGBP meeting, the word took off like wildfire.  It was a word that seemed to make sense to everyone  -  not just experts.