labor
Obama, de Blasio, Fast-Food Workers and the Challenge of Inequality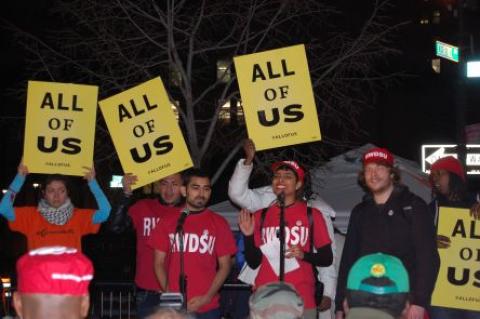 ,
The day after President Obama described inequality as the "defining challenge of our times," fast-food workers walked off the job in 100 cities across the country, demanding to be paid $15 an hour and the right to unionize without employer interference.
That evening, ,about 1,000 workers gathered in Foley Square in New York City, where they expressed hope for a better life under the administration of Mayor-elect Bill de Blasio, whose progressive "tale of two cities" campaign focused on the sharp inequality in the world's financial capital. After the rally, the protestors marched to Zuccotti Park, birthplace of the Occupy Wall Street movement.
Obama's speech, the electoral victory of de Blasio and the year-long protests of the fast-food workers are potent signs of the lasting impact of Occupy Wall Street's success in making the country's great economic divide—the 1 percent versus the 99 percent—part of our national discourse. After decades of economic malaise, we apparently are finally ready to start addressing the issue.
With our inequality coming close to that of Jamaica and Argentina, as Obama pointed out in his speech, we can no longer ignore the danger it poses to our democracy and living standards.
The Plight of Fast-Food Workers
De Blasio embraced the fast-food workers.
In a statement, he said, "I am proud to stand strong with the working men and women in the Fast Food Forward movement in New York City and across the country. We all know that while the fast food industry rakes in billions every year, it refuses to pay its workers enough to provide for themselves or their families. I stand fully behind the fast food workers in our city and across the nation who are on strike today in their effort to organize for a livable wage and fair benefits."
During his campaign, de Blasio's top policy concern was to tax residents with incomes over $500,000 to fund universal pre-kindergarten. He also will seek to have the city's living wage law cover more businesses and expand the city's sick pay law to cover 300,000 more workers.
The Foley Square rally was sponsored by the New Day New York Coalition, which includes community groups, low-wage worker organizers and unions. All of the more than 150 public employee unions are working under expired contracts, and their members, who have gone as long as four years without a raise under billionaire Mayor Michael R. Bloomberg, hope for a fair labor policy under de Blasio.
Workers spoke movingly about the struggle to get by in New York City on low-wage salaries.
Shareeka Eliot, an airline worker at John F. Kennedy Airport, talked of the difficulty of supporting two young kids while earning $7.25 an hour.
"I am relying on public assistance," Eliot said. Low-wages and the lack of benefits at the 10 largest fast food companies in the United States cost taxpayers an estimated $3.8 billion a year in expenditures on safety net programs, according to the National Employment Law Project, a non-partisan, not-for-profit organization that conducts research and advocates on issues affecting low-wage and unemployed workers.
"Bill de Blasio was just elected," Eliot said. "That gives us hope that things will turn around."
Another speaker was Iris Velasquez. She is involved in a campaign by the Retail, Wholesale and Department Store Union to organize workers at Dylan's Candy Bar. Dylan Lauren, the billionaire daughter of designer Ralph Lauren, owns the upscale store on the Upper East Side.
"My employer is the fifth richest heiress in the world," Velasquez said. "She is wealthier than Oprah. We, her hardworking employees, don't even get enough hours to live on. We have no paid sick days. No health insurance. No guaranteed hours."
She added, "I am fighting for a living wage, fair scheduling, and most importantly, dignity and respect for all working people."
"The time has come," said Hector Figueroa, president of Local 32BJ, which represents building service workers and is an affiliate of the national union supporting fast-food workers, Service Employees International Union. "We need to change the rules. We need a new rule that says no one who works in New York City should live in poverty."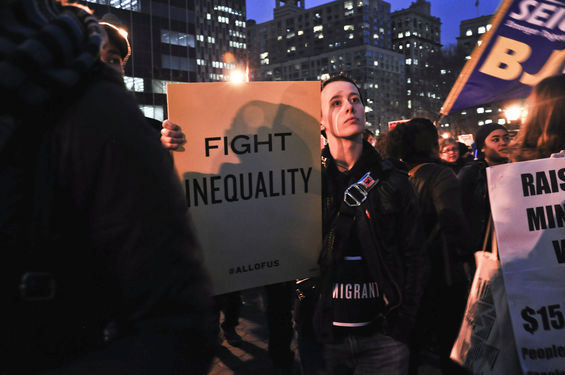 While hope was the underlying theme of the rally, speakers also warned that change won't happen without persistent grassroots pressure.
New York City is approaching a "new day," said Santos Crespo Jr., president of Dept. of Education Employees Local 372. "We have to hold elected officials' feet to the fire to make it happen."
"The city is moving in a more progressive direction," said Letitia James, who was elected as public advocate. "The power lies in your hands. You got to recognize that power."
Economic Malaise
In his Dec. 4 speech on inequality and economic mobility, Obama laid out how the economy is failing to meet the needs of workers like fast-food employees, whose plight he mentioned. For instance, he noted that:
• productivity is up 90 percent since 1979, yet the income of the typical family has only increased 8 percent;
• the top 10 percent used to take in one third of the country's income but now earns one half;
• years ago, CEOs made 10 to 20 times what workers earn, but they now take in 273 times as much;
• social mobility is on the decline. A child born in the bottom 10 percent is 10 times as likely to stay in place as compared to someone in the top 20 percent;
• nearly half of full-time workers and 80 percent of part-time workers don't have an employer-provided pension plan or a retirement account, and
• half of households don't have any retirement savings.
The Challenge Ahead
Hopefully, Obama's new-found progressivism and the election of de Blasio will create the political climate for public policies that will address the needs of the millions of Americans a paycheck away from not being able to pay their bills.
Increasing the federal minimum wage is the first obvious step that could start to apply a brake to our plummeting living standards. Obama noted that the minimum wage is, in real terms, below what it was during the presidency of Harry Truman—more than a half century ago.
Today, the minimum wage of $15,080 isn't enough to keep a family of three above the poverty line of $18,776, according to the Economic Policy Institute. Sen. Tom Harkin (D-Iowa) and Rep. George Miller (D-Calif.) have proposed a bill to increase the federal minimum wage to $10.10 and to link it to the cost of living—enough to lift minimum-wage workers out of poverty.
Meanwhile, states and localities are moving ahead with boosting the minimum wage. This year, California, Connecticut and Rhode Island raised their minimum wages. In November, New Jersey voters approved an increase in the minimum wage to $8.25 an hour, up from $7.25.
Is the $15 an hour goal of fast-food workers an exercise in irrational idealism?
Let's hope not. It's not in the city of SeaTac, Wash., which recently approved a minimum wage of $15 per hour.