Media Bits & Bytes - It Was a Wonderful Year edition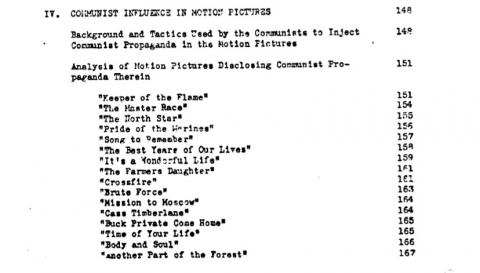 Federal Bureau of Investigation file no. 100-HQ-138754 "Communist Infiltration of the Motion Picture Industry" (COMPIC), Part 7 (of 15), Serial 251x1, detail from index of section IV (page 9 of the document compic7a.pdf), https://archive.org/download/FBI_File_Communist_Infiltration_Motion_Picture_Industry_COMPIC_ALL_EXCERPTS/compic7a.pdf
`It's a Wonderful Life' Alleged Communist Propaganda: The FBI Files and HUAC Hearings
By Philippe Theophanidis
December 21, 2013
Aphelis
Frank Capra's It's a Wonderful Life (RKO, 1946) pivots on the clash of values between the populism of George Bailey, played of course by James Stewart, and the bottom-line ethics of Henry Potter, played so memorably by Lionel Barrymore. The film is now a perennial holiday classic, and has earned distinction with its inclusion, in 1998, on the American Film Institute's list of the top one hundred American film (ranking number eleven).
But modern-day viewers might be surprised to learn that at the time of its release, It's a Wonderful Life appeared on another, secret, list of films maintained by the Federal Bureau of Investigation (FBI). Such distinction was earned not because of popularity or artistic merit, but rather because of the bureau's suspicion that Capra's movie contained Communist propaganda. (New York: Cornell University Press, 2012, pp. 1-2)
The FBI memorandum concerning Frank Capra's film It's A Wonderful Life is actually part of the massive 13,533-page FBI file no. 100-HQ-138754 titled "Communist Infiltration of the Motion Picture Industry" (COMPIC). The entirety of this document is not available online, but excerpts are.
WIRED's Top 13 Stories of 2013
By Mark McClusky
December 28, 2013
Wired
Our biggest stories of the year show just how big the WIRED world is. From infographics to game graphics, from math to Macs, from satellite photos to Star Wars - these pieces stand out not just for their popularity, but for their unique insight, perspective, and sense of fun.
Stories include The Best Map Ever Made of America's Racial Segregation; We're About to Lose Net Neutrality - And the Internet as We Know It; and Meet the American Nomads of Walmart's Plentiful Parking Lots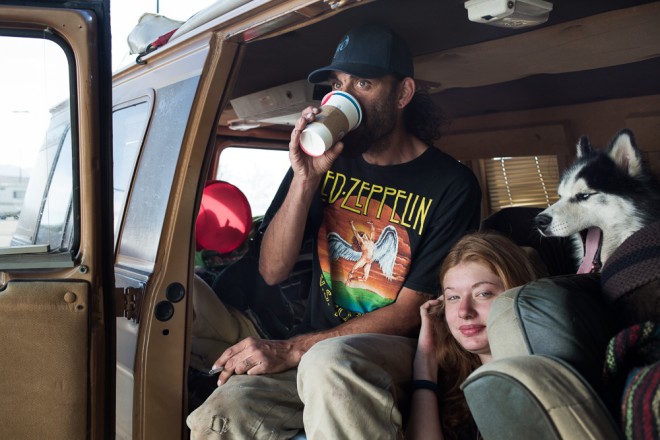 Walmart nomads
Report: No Black-Owned and Operated Full-Power TV Stations Remain in U.S.
By Joseph Torres and S. Derek Turner
December 20, 2013
Free Press
We just experienced a shameful milestone in the history of U.S. media - and barely anyone noticed.
There are now zero black-owned and operated full-power TV stations in our country.
When Free Press released its first report on the state of TV ownership in 2006, we found that there were only 18 African American-owned and operated full-power commercial TV stations - representing just 1.3 percent of all such stations.  By December 2012, those 18 had shrunk to just five.  And now they're all gone.  Public interest and civil rights groups have warned the FCC that its policies allowing for greater media consolidation were going to push out the few remaining people of color who owned broadcast stations.
Pierre Omidyar Plunges First $50M into Media Venture with Glenn Greenwald
By Ed Pilkington
December 19, 2013
The Guardian
Pierre Omidyar, the founder of eBay, is injecting his first $50m into the new journalism venture he is setting up with former Guardian columnist Glenn Greenwald.  The investment represents the first tranche of a total pot of $250m that the billionaire entrepreneur and philanthropist has promised for the new operation.  The money was being used to set up offices in New York, San Francisco and Washington.
The holding company, which has changed its name from NewCo to First Look Media, seeks to build on Greenwald's growing following in the wake of his work on the Edward Snowden leaks of National Security Agency documents to generate what it calls "robust coverage of politics, government, sports, entertainment and lifestyle, arts and culture, business, technology, and investigative news".
On the one hand, the journalism site - which has yet to be named - will be constituted as a nonprofit organisation with a tax-exempt 501 (c)(3) status and will have, the press release says, editorial independence. But running alongside it, a profit-seeking company will also be established that Omidyar and Greenwald are billing as a "media technology" concern. Any profits generated by this company will go towards supporting the independent journalism.
The 2013 P.U.-Litzers  -- Media Moments That Didn't Smell Right
December 27, 2013
Fairness and Accuracy in Reporting
FAIR presents its celebrated awards for the 14 worst media moments of the year
Facebook Is Dead And Buried To Teens, Says EU Study Lead
By Haydn Shaughnessy
December 23, 2013
Forbes
A UK academic, Professor Daniel Miller of University College London, is leading an eight country, multi-city analysis of how Facebook is used, particularly among teenagers. His view is that the engine that drove Facebook forward, teen usage, is broken.
Teenagers are gravitating instead towards sites like Snapchat and Twitter, the former because interactions leave no permanent record, and the latter because it is so much easier to use.
Teens don't appear to be migrating away from Facebook as a statement against data gathering or privacy intrusions. The fact is, these alternatives are mobile-first apps and Facebook is still a web first platform.