Media Bits & Bytes - Brave New World edition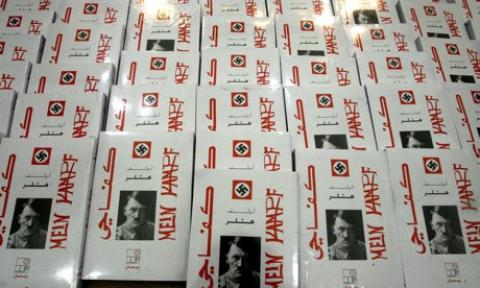 Mein bestseller...an untitled art installation by artist Christoph Buchel, made up of copies of Mein Kampf, is seen at the annual Frieze Art Fair in London in 2006., Guardian // Carl De Souza/AFP/Getty Images
Mein Kampf Becomes an eBook Bestseller
By Alison Flood
January 9, 2014
The Guardian (UK)
Digital editions of Mein Kampf have become a surprise hit online, according to author Chris Faraone, who has suggested that the newfound popularity of Adolf Hitler's tract is down to the fact that it can now be consumed "in the privacy of our own iPads".
Writing on the website Vocativ.com, author and journalist Faraone claims that "more than a dozen free English-language versions of Mein Kampf have been downloaded in excess of 100,000 times from the nonprofit Internet Archive alone", while paid-for e-versions are outselling Glenn Beck on iTunes and entering the charts on Amazon.com  - with a 99-cent version currently topping the retailer's propaganda and political psychology chart.
Print sales of Mein Kampf are negligible, but Faraone believes the title's resurgence in digital format could show how controversial materials are increasingly being consumed in clandestine e-form.
"People might not have wanted to buy Mein Kampf at Borders or have it delivered to their home, but judging by hundreds of customer comments online, readers like that digital copies can be quietly perused then deleted."
A New Power in Conservative Media
By Hadas Gold
January 4, 2014
Politico
A player in Christian and talk radio stations is buying up popular conservative websites - moves that could make Salem Communications the next big thing in right-wing media.
The California-based company has recently gobbled up sites that reach millions of readers, like Michelle Malkin's Twitchy.com, the Eagle Publishing group which is home to RedState.com, HumanEvents.com and the conservative publishing house Regnery. The Salem empire already includes more than 100 Christian and conservative talk-radio stations and several Christian-themed websites, as well as HotAir.com and TownHall.com.
Media experts say the move represents a bid to consolidate the huge conservative market and power up the company's effort to reach beyond its core conservative Christian devotees to possibly become more of a powerful political force on the right. The consolidation Salem is undertaking is unlike anything seen on the left, where media efforts are generally much more individualized.
Texas Library Offers Glimpse of Bookless Future
By Paul J. Weber, The Associated Press
January 4, 2014
USA Today
Texas has seen the future of the public library, and it looks a lot like an Apple Store: Rows of glossy iMacs beckon. iPads mounted on a tangerine-colored bar invite readers. And hundreds of other tablets stand ready for checkout to anyone with a borrowing card.
Even the librarians imitate Apple's dress code, wearing matching shirts and that standard-bearer of geek-chic, the hoodie. But this $2.3 million library might be most notable for what it does not have - any actual books.
That makes Bexar County's BiblioTech the nation's only bookless public library, a distinction that has attracted scores of digital bookworms, plus emissaries from as far away as Hong Kong who want to learn about the idea and possibly take it home.
By Thibault Henneton
January 12, 2014
Le Monde diplomatique
Video games are migrating from television screens to mobiles and smartphones. Even the nominally free games are being monetised and the information they generate about their players linked with other data to target ads. Where's the pleasure in that?
Since the spread of smart mobile devices - smartphones and tablets - the video games industry has learned a lesson in economic Darwinism: develop your mobile business or face extinction. The growth of gaming on the move means a new global division of labour, and the industry is revising its profit margins.
Some big publishers are taking advantage of improved connectivity to combine technologies, both to increase returns on the long, costly development of blockbusters, and to create new "franchises", brands that can be divided into episodes and released for a range of platforms. The transformation of the industry by the spread of mobile devices has allowed independent developers to do without publishers as distributors.
Why Women Aren't Welcome on the Internet
By Amanda Hess
January 6, 2014
Pacific Standard
Although women and men have been logging on to the internet  in equal numbers since 2000, the vilest communications are still disproportionately lobbed at women, who are more likely to report being stalked and harassed on the Internet or even be subject to physical danger.
"Ignore the barrage of violent threats and harassing messages that confront you online every day." That's what women are told. But these relentless messages are an assault on women's careers, their psychological bandwidth, and their freedom to live online. We have been thinking about Internet harassment all wrong.
Today, a legion of anonymous harassers are free to play their "games" and "pranks" under pseudonymous screen names, but for the women they target, the attacks only compound the real fear, discomfort, and stress we experience in our daily lives.  She reviews the inadequate responses by law enforcement, legal, and technology sectors with a forceful argument for them to take these threats very seriously.
Today's harmless jokes and undue burdens are tomorrow's civil rights agenda.