Filipino Americans and the Farm Labor Movement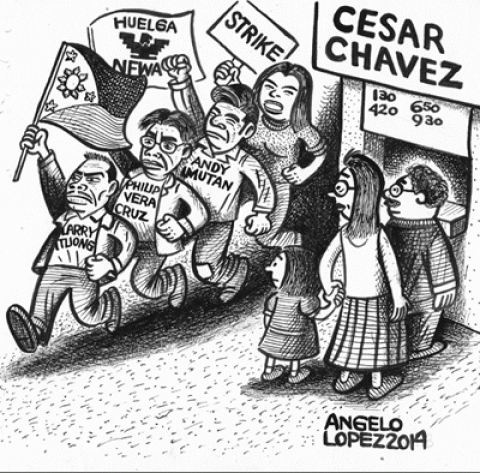 .,Angelo Lopez 2014
Recently a movie about Cesar Chavez came out that documents the life of Cesar Chavez and his role in the Delano Grape Strike of 1965. I haven't seen the movie yet, but I've read that it's a good movie. One of the things that the movie does is bring out the important but largely forgotten contributions of Filipino Americans to the farm labor movement. Since the 1920s, when Filipinos first learned to organize into unions in Hawaii, Filipinos were important leaders in organizing farmworkers to fight against unfair working conditions. Here is a cartoon I did for the April 16 edition of the Philippines Today to commemorate those forgotten Filipino leaders.
Alex S. Fabros, Jr. and Daniel P. Gonzales wrote a good article about some of the history of Filipino Americans in farm labor organizing. They wrote:
Like tens of thousands of their fellow countrymen of the 1920s and 30s, they crossed the Pacific filled with dreams of adventure, better-paying jobs, access to higher education and personal and social advancement. What most found on their arrival in America were economic oppression, brutal working conditions and racial exclusion.


Hardened and humbled but not humiliated by their experiences, they became a generation of labor organizers-men and women very conscious of their status as "unskilled" workers and immigrants at the bottom of American society. In response, they published newspapers, wrote books and led strikes. They were radicalized by the repressive actions taken against them by both business and government.

During the 1920s, the Filipinos in Hawaii led by Pablo Manlapit learned how to organize labor unions, stage work slowdowns and hold strikes. After the bloody labor strikes of 1924, many of them fled from blacklisting and government and goon violence and headed on to the mainland, bringing leadership experience and skills with them. When they were confronted by the oppressive labor conditions they were quick to form unions to defend themselves.

Bulosan wrote, "In many ways it was a crime to be a Filipino in California," because both the growers and the racially prejudiced American Federation of Labor (AFL) were alarmed by their militant stance when they threatened farmers with strikes in order to earn a "living wage."
In the 1920s, Pablo Manlapit led Filipinos in strikes to better their working conditions. In the 1930s, Filipino leaders Rufo Canete, D. L. Marcuelo, Tomas Lascetonia, Johnny Estigoy, Nick Losada, and Alfonso Castillo created the Filipino Labor Union (FLU) and successfully fought for a minimum wage of 35 cents an hour, an eight-hour workday, the elimination of labor contractors and the end to racial hierarchy in the assignment of farm jobs. In 1938 the Filipino Agricultural Laborers Association (FALA) was founded and it opened its membership to Mexicans and other ethnic groups. It was later renamed the Federated Agricultural Laborers Association (FALA) and it fought for higher wages and better working conditions.
In 1959, labor leaders Larry Itliong, Philip Vera Cruz and Pete Velasco joined with the AFL-CIO to create the Agricultural Workers Organizing Committee (AWOC). Larry Itliong was the vice president of AWOC. Itliong, Vera Cruz, and velasco led a strike in September 1965, the month when grapes were ready to be harvested, to raise their pay to $1.40 an hour and 25 cents for each box of grapes picked. They also hoped to force the growers to recognize their union. On September 16, 1965, at the Filipino Hall on the West Side of Delano, Cesar Chavez held a meeting where the Mexican laborers decided to join the Filipino workers in the strike. Filipino Americans have a proud history of fighting for the rights for farm laborers. Here is a list of a few of those Filipino leaders.
Pablo Manlapit was a labor organizer and lawyer who helped fight for better pay and better working conditions for Filipino plantation workers in Hawaii. In 1920, Manlapit led a strike of Japanese and Filipino plantation in Oahu workers to raise their wages and get breaks in their work day. In 1924, Pablo Manlapit was convicted of perjury in relation to the Hanepepe Massacre in Kauai in September 9, 1924, though Manlapit was not at the scene. He continued labor organizing in California and in Hawaii, until his permanent expulsion from Hawaii and deportation to the Philippines in 1935.
Rufo Canete was a labor organizer in the 1930s. In 1933, Rufo Canete and other Filipino labor leaders met in Salinas and formed the Filipino Labor Union (FLU). The FLU organized farm workers of all nationalities to fight for an increased minimum wage (to 35 cents per hour), an eight-hour day, employment without racial discrimination, recognition of the union as a bargaining agent and the abolition of labor contractors. On March 19, 1934 they led the Salinas Lettuce Strike, which completely shut down the lucrative industry and the union's demands were soon granted.
D. L. Marcuelo was a businessman and attorney who helped found the Filipino Labor Union in 1933 and the Filipino American newspaper Three Stars in 1928. As co-editor, Marcuelo pointed out the problems of imperialist exploitation of natural resouces and cheap labor. Marcuelo criticized discrimination and violence against Filipinos in California, especially a riot in Watsonville, California in 1930 where 500 white youths attacked Filipinos for dancing with white women at a dance house.
Larry Itliong was a farm worker and labor organizer who organized cannery and agricultural unions in Alaska, Washington, and California from the late 1930s to the 1960s. In Alaska, he helped found the Alaska Cannery Workers Union. In 1948, Itliong (along with Rudy Delvo, Chris Mensalvas, Philip Vera Cruz, and Ernesto Mangaoang) became involved in the 1948 asparagus strike in Stockton, California, which was the first major agriculture strike after World War II. Itlioing served as a steward and a vice president of the Longshore and Warehouse Union Local 37 in Seattle in the early 1950s. In 1956, Itliong founded the Filipino Farm Labor Union in Stockton.
In 1965 Larry Itliong was the leader of the AFL-CIO union Agricultural Workers Organizing Committee, which voted to strike against the Coachella Valley Grape Growers and the Delano growers. It was during the strike in Delano that Larry Itliong's group joined Cesar Chavez's National Farm Workers Association in the strike and eventually formed the United Farm Workers.
Philip Vera Cruz was a labor activist who helped Larry Itliong found the Agricultural Workers Organizing Committee. As a young man, Vera Cruz was briefly in the International Workers of the World. In the 1950s he was a member of the National Farm Labor Union, an AFL-CIO group that worked to improve conditions for farm workers. Philip Vera Cruz was one of the leaders of the 1965 Delano Grape Strike and he served as the second vice president of the United Farm Workers union.
Andy Imutan was in charge of the Stockton and Delano, California chapters of the American Federation of Labor and Congress of Industrial Organizations (AFL-CIO). In 1965 Imutan was part of the Coachella and Delano strikes that eventually led to the formation of the United Farm Workers. During the grape strike, Imutan, Cesar Chavez, Larry Itliong and the leaders of the strike insisted that strikers from different races walk the same picketlines and share the same union hall and strike kitchen. Andy Imutan was the first vice president of the United Farm Workers, leading the grape boycott in Baltimore and other east coast cities. In 1974, Imutan helped to found the Paulo Agbayani Village, a 58-unit adobe-brick retirement home for elderly and displaced Filipino American farm workers.
Here are some articles about Filipino American farm labor history
Filipino Farm Labor Organization: A Lesson in Filipino Leadership
by Julie Sindel
What Happened When Mexicans and Filipinos Joined Together? A short essay of the Delano Grape Strike of 1965
by Andy Imutan
Filipinos- Forgotten Heroes of the UFW
by Alex Fabros Jr. and Daniel P. Gonzales
Delano Manongs: Forgotten Heroes of the United Farm Workers
the webpage of a documentary of the Filipino leaders who played pivotal roles in the 1965 Delano Grape Strike
Last of the Manongs: Aging Voices of a Farm-Labor Fight Find an Audience
by Jason DeParle for the New York Times
Additional articles and videos can be found here.
[About Angelo Lopez - I've wanted to be an artist all my life. Since I was a child I've drawn on any scrap of paper I could get a hold of. When I went to San Jose State University, I became more exposed to the works of the great fine artists and illustrators. My college paintings were heavily influenced by the humorous illustrations of Peter De Seve, an illustrator for the New Yorker magazine. I also fell under the spell of the great muralists of the 1930s, especially Thomas Hart Benton and Diego Rivera. I graduated with a degree in Illustration.
Since my time in college, I've illustrated 3 books: Two Moms the Zark and Me by Johnny Valentine in 1993; Night Travelers by Sue Hill in 1994; and Cherubic Children's New Classic Story Book Volume 2 for Cherubic Press in 1998. I've painted murals for Lester Shields Elementary School in San Jose, the Berryessa branch of the San Jose Public Library, and Grace Community Church in Los Altos. I've had  illustrations published in South Bay Accent Magazine. Tikkun Magazine, the Palo Alto Daily News and in April 2008 my artwork was on the cover of Z Magazine.
As of the April 9 issue, I have a continous cartoon that runs in the Tri-City Voice, a newspaper that covers news in the Milpitas, Fremont, Hayward, Newark, Sunol,  and Union City area in California.  These cartoons gave me the opportunity to join the Association of American Editorial Cartoonists. To look at my political cartoons, you may go here.]