New Voices for Peace by Jews in Gaza, and in the Jewish Daily Forward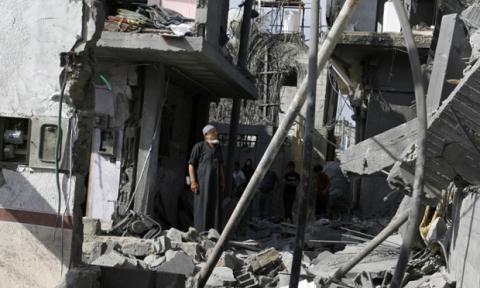 Rafah, Gaza Strip after Israeli bombing, July 10, 2014.,Photograph: Abed Rahim Khatib/Demotix/Corbis // The Guardian
Bloody Gaza Onslaught Built on Foundation of Politics and Lies (J.J. Goldberg - in the Jewish Daily Forward)
Nothing new under the Gaza-Sderot Sun
By Julia Chaitin
July 10, 2014
PeaceVoice (email blast)
The temperatures keep rising in the hot Gaza-Sderot region; after all it's July. But it's not the heat that is making our lives unbearable; it's the renewed terrifying and senseless violence that within 24 hours spun out of control, affecting Tel Aviv, Jerusalem, and points further north. It's the `here we go again' lethal ping pong of Israeli bombings in Gaza and rocket attacks on Israeli communities.
In the south, we knew that after Prime Minister Netanyahu declared the Hamas responsible for the murder last month of the three boys - Naftali, Gilad and Eyal - Israelis lucky enough to have `safe rooms' would soon be running in their direction. Even though the intelligence branch of the army knew that the terrorists came from Hebron, the air force was sent to punish Gaza. This is the script we know by heart: we go in and bomb, they respond with rockets.
It is not always satisfying to be in the know.
We in the south have learned that the occasional periods of `quiet' are only temporary. For years, nothing has changed. The blockade on Gaza continues, there is no direct contact between the Hamas and Israeli governments, and the hatred of Israelis and Palestinians toward one another has only grown, since we have no opportunities to get to know one another, as ordinary people.  
Even though many Israeli politicians have succeeded in convincing most Israelis that we must hate our Gazan neighbors, some of us refuse to believe this `given'. I belong to a grassroots organization, Other Voice, which tries to break this cycle of hatred and violence. Our members all live and work in the area close to the Gaza border. We keep in ongoing contact with friends in Gaza via phone, e-mail, Facebook and Skype - even during these times of war. We share stories about our families and our lives. We hear how Gaza has become a nightmare. When rockets are fired onto our communities, they contact us to hear if we are safe. We connect through our common experiences of suffering and despair, though we Israelis know that for as bad as we have it, our neighbors have it tenfold worse.
On rare occasions, when a friend manages to secure a permit to enter Israel (for example, to go for needed hospital treatment or to attend school abroad), we meet face to face. We are able to look into one another's eyes, and to give one another a hug. We have the extraordinary opportunity to eat lunch together at the caf, at the Yad Mordechai junction. We become `normal' neighbors, even in only for one hour.
Unfortunately, we have not succeeded in convincing many Israelis to join us in a non-violent path out of this madness. We are usually perceived as being naive (at the least) or as traitors (at the worst), for not demanding that Gaza be leveled to the ground.
Up until yesterday, we who live our lives in a war zone had two options: either live life close to/in a `safe room', or for those who do not have one, leave for `safe ground' when the violence erupts. This second option more or less disappeared yesterday when we learned that the Hamas and the Islamic Jihad possess rockets that can reach distances of 160 kilometers.  
But even though most of Israel is now in rocket range, it is still wise for those in the south to have an escape plan. It is crucial to maintain good relations with friends and family who live in the northern areas of the country, or to have money for a hotel room when the tzivei adom (red alerts) play their familiar tune. If neither of these are possibilities, then one can hope that kibbutzim in the north will open their doors until things calm down. It is also important to have two suitcases packed - one for winter and one for summer, because when the attacks begin again, you will neither have the peace of mind, nor time, to put in t-shirts when it's hot or sweaters when it's cold. Being prepared can be the difference between remaining sane or becoming traumatized, or worse, between living and dying.
While we Israelis are able to plan ahead, at least to some extent, our Gazan neighbors do not have this luxury; they have nowhere to run, and nowhere to hide. Our friends tell us that during renewed violence, they congregate in their family home, hoping that if the end is near, at least they will be with their loved ones. I would not want to live the kind of life that they have - being terrorized by the Hamas dictatorship, blockaded by Israel, regularly attacked by the Israeli air force, locked out of Egypt, and forgotten by most of the world.
However, I am far from happy with my life on this side of the border. Our `leaders' have knowingly put us in harm's way, while spinning a story that we are protected by the Iron Domes and that by "continuing to be strong", we will prevail. We are supposed to be grateful and feel secure, and thank our `leaders' for wreaking havoc on the civilian population in Gaza. We are supposed to thank our army for bombing 160 targets last night in Gaza that left 24 dead and hundreds wounded - a number of them innocent men, women and children.
Psycho-social research on the long-term effects of inter-group conflict has shown that by keeping people separated from one another, reinforcing distrust of the enemy, and repeating negative stereotypes of people that are not "one of us", short-term conflicts become long-term intractable ones. Furthermore, when societies are caught up in such perceptions, they only see themselves as victims, losing the ability to imagine a future of peace with the monstrous `other'.  We become convinced that our `enemy' is sub-human and that this `reality' is our fate.
Life along the Gaza-Sderot border is a living example of these research findings.
In Ecclesiastes (1: 9-11), it is written that: What has been is what will be, and what has been done is what will be done, and there is nothing new under the sun.
In our region, innocent Israelis and Palestinians are being burnt by the rounds of endless revenge. Every boom, every siren chips away another piece of our soul. We are told that history has proven that our peoples can never live together in peace, and that we will only be safe, when the other is destroyed. We in Other Voice say that revenge has run its course. It is time for Israelis and Palestinians to find ways to bask together in the sun of this once beautiful area, and re-write the future history books.  
[Julia Chaitin is a Social Psychologist and Senior Lecturer at Sapir Academic College. She writes for PeaceVoice and lives on a Kibbutz nearby Gaza.]
Thanks to Tom Hastings and Erin Niemela, editors of PeaceVoice for sending this out. PeaceVoice Program, Oregon Peace Institute
Bloody Gaza Onslaught Built on Foundation of Politics and Lies
Israeli Military Dragged Into New Quagmire by Politics
By J.J. Goldberg
July 10, 2014
Jewish Daily Forward
http://forward.com/articles/201764/bloody-gaza-onslaught-built-on-found…
In the flood of angry words that poured out of Israel and Gaza during a week of spiraling violence, few statements were more blunt, or more telling, than this throwaway line by the chief spokesman of the Israeli military, Brigadier General Moti Almoz, speaking July 8 on Army Radio's morning show: "We have been instructed by the political echelon to hit Hamas hard."
That's unusual language for a military mouthpiece. Typically they spout lines like "We will take all necessary actions" or "The state of Israel will defend its citizens." You don't expect to hear: "This is the politicians' idea. They're making us do it."
Admittedly, demurrals on government policy by Israel's top defense brass, once virtually unthinkable, have become almost routine in the Netanyahu era. Usually, though, there's some measure of subtlety or discretion. This particular interview was different. Where most disagreements involve policies that might eventually lead to some future unnecessary war, this one was about an unnecessary war they were now stumbling into.
Spokesmen don't speak for themselves. Almoz was expressing a frustration that was building in the army command for nearly a month, since the June 12 kidnapping of three Israeli yeshiva boys. The crime set off a chain of events in which Israel gradually lost control of the situation, finally ending up on the brink of a war that nobody wanted - not the army, not the government, not even the enemy, Hamas.
The frustration had numerous causes. Once the boys' disappearance was known, troops began a massive, 18-day search-and-rescue operation, entering thousands of homes, arresting and interrogating hundreds of individuals, racing against the clock. Only on July 1, after the boys' bodies were found, did the truth come out: The government had known almost from the beginning that the boys were dead. It maintained the fiction that it hoped to find them alive as a pretext to dismantle Hamas' West Bank operations.
The initial evidence was the recording of victim Gil-ad Shaer's desperate cellphone call to Moked 100, Israel's 911. When the tape reached the security services the next morning - neglected for hours by Moked 100 staff - the teen was heard whispering "They've kidnapped me" ("hatfu oti") followed by shouts of "Heads down," then gunfire, two groans, more shots, then singing in Arabic. That evening searchers found the kidnappers' abandoned, torched Hyundai, with eight bullet holes and the boys' DNA. There was no doubt.
Prime Minister Benjamin Netanyahu immediately placed a gag order on the deaths. Journalists who heard rumors were told the Shin Bet wanted the gag order to aid the search. For public consumption, the official word was that Israel was "acting on the assumption that they're alive." It was, simply put, a lie.
Moti Almoz, as army spokesman, was in charge of repeating the lie. True, others backed him up, including Defense Minister Moshe Yaalon. But when the truth came out on July 1, Almoz bore the brunt of public derision. Critics said his credibility was shot. He'd only been spokesman since October, after a long career as a blunt-talking field commander with no media experience. Others felt professional frustration. His was personal.
Nor was that the only fib. It was clear from the beginning that the kidnappers weren't acting on orders from Hamas leadership in Gaza or Damascus. Hamas' Hebron branch - more a crime family than a clandestine organization - had a history of acting without the leaders' knowledge, sometimes against their interests. Yet Netanyahu repeatedly insisted Hamas was responsible for the crime and would pay for it.
This put him in a ticklish position. His rhetoric raised expectations that after demolishing Hamas in the West Bank he would proceed to Gaza. Hamas in Gaza began preparing for it. The Israeli right - settler leaders, hardliners in his own party - began demanding it.
But Netanyahu had no such intention. The last attack on Gaza, the eight-day Operation Pillar of Defense in November 2012, targeted Hamas leaders and taught a sobering lesson. Hamas hadn't fired a single rocket since, and had largely suppressed fire by smaller jihadi groups. Rocket firings, averaging 240 per month in 2007, dropped to five per month in 2013. Neither side had any desire to end the d,tente. Besides, whatever might replace Hamas in Gaza could only be worse.
The kidnapping and crackdown upset the balance. In Israel, grief and anger over the boys' disappearance grew steadily as the fabricated mystery stretched into a second and third week. Rallies and prayer meetings were held across the country and in Jewish communities around the world. The mothers were constantly on television. One addressed the United Nations in Geneva to plead for her son's return. Jews everywhere were in anguish over the unceasing threat of barbaric Arab terror plaguing Israel.
This, too, was misleading. The last seven years have been the most tranquil in Israel's history. Terror attacks are a fraction of the level during the nightmare intifada years - just six deaths in all of 2013. But few notice. The staged agony of the kidnap search created, probably unintentionally, what amounts to a mass, worldwide attack of post-traumatic stress flashback.
When the bodies were finally found, Israelis' anger exploded into calls for revenge, street riots and, finally, murder.
Amid the rising tension, cabinet meetings in Jerusalem turned into shouting matches. Ministers on the right demanded the army reoccupy Gaza and destroy Hamas. Netanyahu replied, backed by the army and liberal ministers, that the response must be measured and careful. It was an unaccustomed and plainly uncomfortable role for him. He was caught between his pragmatic and ideological impulses.
In Gaza, leaders went underground. Rocket enforcement squads stopped functioning and jihadi rocket firing spiked. Terror squads began preparing to counterattack Israel through tunnels. One tunnel exploded on June 19 in an apparent work accident, killing five Hamas gunmen, convincing some in Gaza that the Israeli assault had begun while reinforcing Israeli fears that Hamas was plotting terror all along.
On June 29, an Israeli air attack on a rocket squad killed a Hamas operative. Hamas protested. The next day it unleashed a rocket barrage, its first since 2012. The cease-fire was over. Israel was forced to retaliate for the rockets with air raids. Hamas retaliated for the raids with more rockets. And so on. Finally Israel began calling up reserves on July 8 and preparing for what, as Moti Almoz told Army Radio, "the political echelon instructed."
Later that morning, Israel's internal security minister Yitzhak Aharonovitch told reporters that the "political echelon has given the army a free hand." Almoz returned to Army Radio that afternoon and confirmed that the army had "received an absolutely free hand" to act.
And how far, the interviewer asked, will the army go? "To the extent that it's up to the army," Almoz said, "the army is determined to restore quiet." Will simply restoring quiet be enough? "That's not up to us," he said. The army will continue the operation as long as it's told.
The operation's army code-name, incidentally, is "Protective Edge" in English, but the original Hebrew is more revealing: Tzuk Eitan, or "solid cliff." That, the army seems to feel, is where Israel is headed.
[J.J. Goldberg is Editor-at-Large of The Jewish Daily Forward. Contact J.J. Goldberg at goldberg@forward.com ]