Dispatches from the Culture Wars - GOOOOOOOAAAAAAAAAAAAAAAALLLL! Edition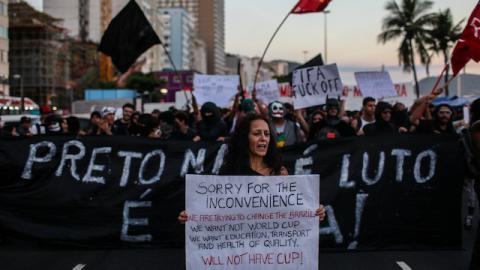 `NO WORLD CUP.' Demonstrators take part in a national protest against the upcoming FIFA World Cup Brazil 2014 in Rio de Janeiro, Brazil, 25 January 2014.,Antonio Lacerda/EPA // Rappler
The World Cup is Political Theatre of the hIghest Order
By David Goldblatt
July 12, 2014
Guardian (UK)
The multi-character, multi-layer stories that the tournament has generated, the highly structured dramatic climaxes of the games, and the mad chatter of public running commentary on characters and private lives, makes the World Cup feel like a great global soap opera.
Alongside the spectacle has run the counterspectacle of the protest movements and the Kevlar-plated leviathan of the Brazilian security forces. This feels more like an experimental parallel-universe novel, where two worlds run alongside each other reflecting and commenting but only very rarely actually touching. The protests have taken many forms - street art, computer hacking of sponsors' websites - but the demonstrations dwindled to almost nothing. The cost of this has been the militarisation of public space and the absurdly aggressive policing of dissent, making the few brave forays by dissidents the critical grit beneath the glitter.
Hobbled IRS Can't Stem 'Dark Money' Flow
By Julio Patel
July 15, 2014
Center for Public Integrity
Republicans in Congress began waylaying the IRS over what they said was the systematic and inexcusable targeting of tea party and conservative groups. And the Treasury Inspector General for Tax Administration declared that the agency had employed "inappropriate criteria" in heavily scrutinizing some groups' tax-exemption applications.
The tea party scandal, combined with Congress systematically stripping the IRS of resources and clout over decades, has led to an exempt organizations division that has all but quit regulating politically active nonprofits in any consistent, demonstrable way, a six-month Center for Public Integrity investigation reveals.
How Major U.S. Industries Break Down by Race and Sex
By Rani Molla
July 10. 2014
Wall Street Journal
The demographics of major U.S. industries compared to the population at large show many sectors still are segregated by sex and race, according to Bureau of Labor Statistics data. For example, the only industry in which women are overrepresented is education and health, a sector long-considered the province of women. Blacks are underrepresented in most sectors besides public administration and transportation and utilities, which are often publicly financed. Hiring practices for the government are more closely monitored and there is less room for subjective discretion.

This Map Shows the Most Liberal and Conservative Towns in Your State
By German Lopez
June 22, 2014
Vox
Talking about the folly of the Iraq War in Philadelphia would likely get you many nodding heads. But try that a few hours away, in Allensville, Pennsylvania, and a lot of people might get upset with you.
This map, compiled by Business Insider using Clarity Campaign Labs data, shows the two towns in each state that are on completely different ends of the political spectrum.
# # #
The Surprising South Carolina Evangelicals Who Support Immigration
By Alexia Campbell
July 16, 2014
National Journal
SPARTANBURG, S.C.-Something is changing in the most conservative corner of conservative South Carolina. Some tea-party Republicans and evangelical Christians are softening toward immigration.
The Upstate region, around Spartanburg and Greenville counties, is home to more than 500 evangelical churches and a Hispanic population that has tripled in the past 10 years. It's a place where "amnesty" is a dirty word and where undocumented immigrants are often detained for driving without a license.
But local farmers, church leaders, and business owners who once kept out of the immigration debate have recently thrown themselves into the middle of it. In the past year, they've held local press conferences and traveled to Washington to urge their Republican representatives to legalize the status of millions of undocumented immigrants.
By Rebecca Traister
July 16, 2014
New Republic
In this country, every barometer by which female worth is measured-from the superficial to the life-altering, the appreciative to the punitive-has long been calibrated to "dude," whether or not those measurements are actually being taken by dudes. Men still run, or at bare minimum have shaped and codified the attitudes of, the churches, the courts, the universities, the police departments, the corporations that so freely determine women's worth. As Beyoncé observed last year, "Money gives men power to run the show. It gives men the power to define value. They define what's sexy. And men define what's feminine. It's ridiculous."
It is ridiculous, and I wish we could all tell them how little it matters what they think. Except that of course most women, those who bear the brunt of these assessments, aren't Beyoncé. Instead, they are women who may not be able to pay for Pilates, let alone for day care or contraceptives, who may need but not be able to afford drug treatment, who Esquire would likely still rate as not-hot or more likely not rate at all, but whose fates nonetheless rest in the hands of empowered committees on the general value and status of womanhood in America.