Eyewitness to Police Terror in Ferguson - Protestors Shot, News Reporters Arrested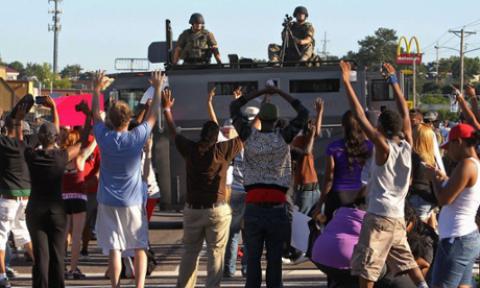 Protesters - Black and white - raise their hands in front of armed police in Ferguson. ,Photograph: JB Forbes/AP // The Guardian
Michael Brown's Ferguson: 'This is a War and We are Soldiers on the Frontline'
By Jon Swaine in Ferguson, Missouri
August 13, 2014
The Guardian (UK)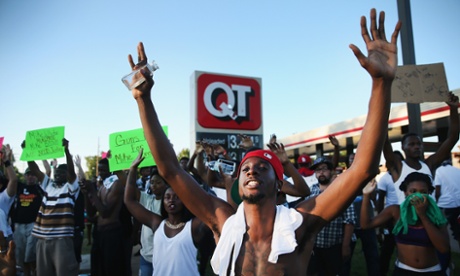 Demonstrators protest the killing of teenager Michael Brown on August 12, 2014 in Ferguson, Missouri.
Photograph: Scott Olson/Getty Images // The Guardian
When David Whitt returned from the supermarket to his apartment in Ferguson, Missouri one recent evening, he quickly realised that he had made a mistake and would have to head back out on his bicycle.
"I forgot the Pampers for my two-year-old son," said Whitt, who lives yards from where Michael Brown was shot dead last Saturday. "I had to take back some groceries, cos we needed a couple of extra dollars. We're broke people."
As Whitt, 34, pedalled back to the store with his receipt, he sensed a car approaching from behind and heard a crushingly familiar sound. "He put the siren on," said Whitt. "Whoop, whoop!"
A cop asked him what Whitt was doing in the area. He wanted to see his identification, and rifled through his shopping bag to see what he was carrying. Then, he ran Whitt's name in search of outstanding warrants.
"I told him `that's illegal, you're violating my rights'," said Whitt. "`I have not broken the law. You ain't got probable cause for nothing'. He told me `I can cite you for not wearing a helmet'."
Whitt was eventually freed to go. But he was left incensed. "I wanted to shoot that motherfucker," he said this week. "I wanted to. Because he had no right to bother me."
The raw fury in this northern suburb of St Louis over the killing of Brown, an unarmed 18-year-old apparently walking back from a convenience store, may slowly fade in the coming weeks and months.
But the underlying, bitter resentment among many in the local African-American community about their treatment at the hands of an almost unanimously white police force and local authorities, will likely continue to simmer.
Ferguson's population is 67% black, but 50 of Jackson's 53 police officers - 94% - are white. Figures published last year by Missouri's attorney general showed seven black drivers were stopped by police for every white driver, and that 12 times as many searches were carried out on black drivers as white. The sharp disparities fuel mistrust, residents said.

`A subculture of prejudice'
Asked about race relations at a press conference on Wednesday, Ferguson police chief Thomas Jackson acknowledged that there was a "community that is at odds with us now". He said: "Apparently there has been this undertow that has now bubbled to the surface."
Addressing a town hall meeting in Ferguson earlier this week, Cornell Brooks, the president of the National Association for the Advancement of Colored People (NAACP), said that police in the city must address a "subculture" of prejudice. "Sometimes that means putting more people in uniform that look like me," he said.
"I've been trying to increase the diversity of the department since I got here," Jackson insisted on Wednesday, pointing out that he had promoted black officers and describing his pursuit of diversity as a "constant struggle".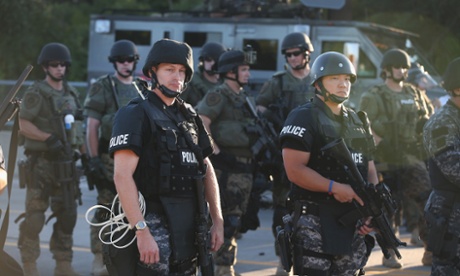 credit: Photo: Scott Olson /Getty // The Guardian
Still, one after another, young black residents complained to the Guardian about the way they have been treated by those in positions of power in the city over recent years. Their claims against police officers in particular ranged from disrespect to "all-out race war".
The city authorities are led by a white mayor, James Knowles. Four out of the five city councillors with profiles on the city website are white; one is black. The setup is largely a relic of an era less than two decades old, when Ferguson had a majority-white population. Then came steady de-industrialisation and the so-called "white flight" to suburbs further afield, with many of the families that left said to have done so primarily to avoid the integration of the city's schools system.
Several people pointed to Art McCoy, who was appointed the superintendent of that struggling school system in 2011, as a rare example of a black man in a position of authority in the city. They said McCoy was well-respected among residents and understood students. Only 35% of students in the district pass maths tests used by the state to assess schools. 41% pass the English test.
However in November last year, McCoy was pushed out of his job and placed on administrative leave, for reasons that remain unclear. Hundreds of students staged protests against the decision, and parents inundated city authorities with complaints. McCoy was replaced by Larry Larrew, the acting superintendent, who is white.
Patricia Bynes, a Democratic committeewoman for the city, said that an unusually high number of municipalities and legislative bodies in the region had created a cascading system of authorities that appeared disconnected from the lives of many African American families.
"Black people see all these layers of white authority that do not like them, do not understand them and do not respect them," said Bynes, who is black. "When the traffic court is in session here you will have a white judge, a white prosecutor and a line of black people waiting to pay penalties wrapping around the block. It breeds resentment and anger about their taxes."
Bynes conceded that the failure of black residents to vote in local elections had perpetuated the problem. But, she said, "many are disenfranchised because they don't vote and they don't show up because they are too busy working out how they are going to eat and feed their families the next day." About 22% of Missouri's residents live below the federal poverty line.
Jackson stressed on Wednesday that "race relations are a top priority right now". He said officials from the department of justice would be assisting Ferguson with officer training and helping the force to "fix what's wrong".
But as protesters began a standoff on Tuesday night with a long line of police blocking downtown Ferguson, decked out in riot gear and backed by two armoured vehicles, many said that they weren't interested in a dialogue.
A few even said that Sunday's looting and torching of a QuikTrip gas station near the scene of Brown's killing should be interpreted as an attack on all outsider-owned businesses, which would continue.
"We can use this as an opportunity," one protester, Charles Jolley, told a few dozen allies whose attention he held, several of whom agreed vocally. "We can reclaim our community. This is a war, and we are soldiers on the front line".

Ferguson Police Arrest Reporters Amid Rage Over Michael Brown Shooting
Washington Post and Huffington Post journalists detained amid continuing fraught situation on streets
By Jon Swaine in Ferguson and Guardian staff
August 13, 2014
The Guardian (UK)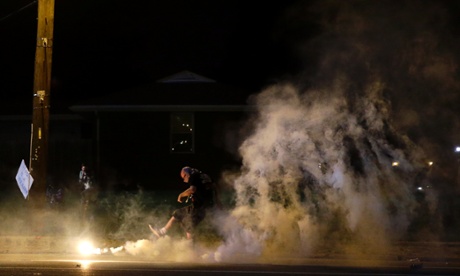 A protester kicks a smoke grenade deployed by police back in the direction of police.
credit: Photograph: Jeff Roberson/AP // The Guardian
Five nights after an unarmed black teenager was shot dead in Ferguson, Missouri by an officer from the town's predominantly white police force, tensions were once again running high on Wednesday. Teargas was fired at demonstrators and two reporters were arrested. The Washington Post condemned the action as "illegal" and an "assault on the freedom of the press to cover the news"
Groups of protesters, demonstrating over the killing of 18-year-old Michael Brown, faced off with armed police in riot and military gear.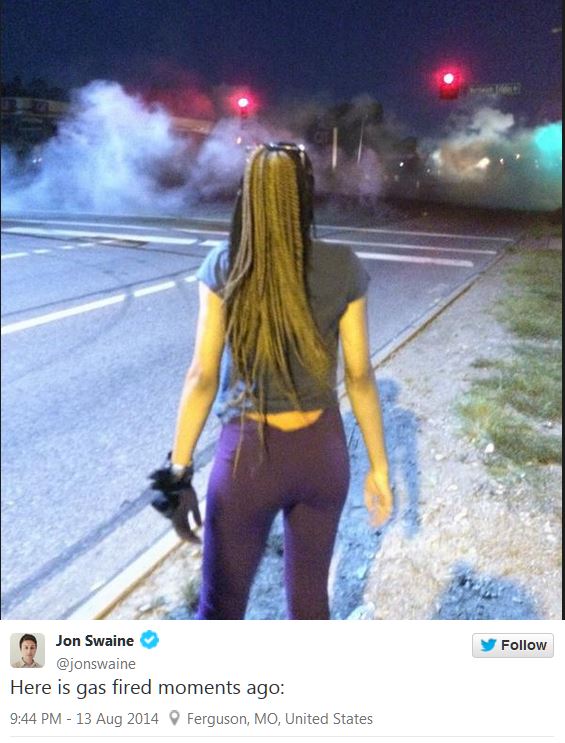 Pictures taken by photographers and TV camera crews showed police snipers overlooking protesters.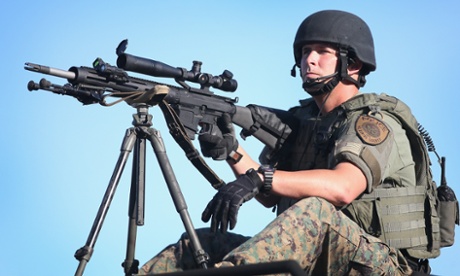 A police officer watches over demonstrators protesting the killing of teenager Michael Brown on 13 August in Ferguson, Missouri.
Photograph: Scott Olson/Getty Images // The Guardian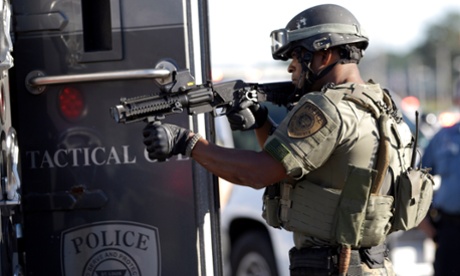 A member of the St Louis County Police Department points his weapon in the direction of a group of protesters.
Photograph: Jeff Roberson/AP // The Guardian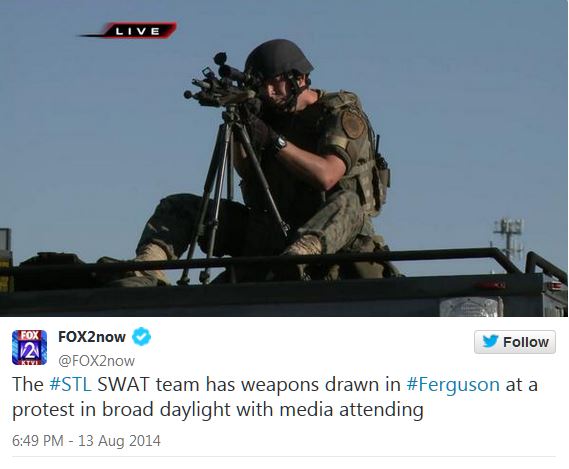 The Guardian's Jon Swaine witnessed the arrest of two reporters: Wesley Lowery of the Washington Post and Ryan J Reilly of the Huffington Post.
Jon writes:
    The two reporters were taken in cuffs from a McDonald's in downtown Ferguson and placed in an unmarked white police van.
    "They're reporters," shouted one member of the public, who had also been in the restaurant. Another customer confirmed seeing the pair at work inside. Lowery and Reilly both tweeted about being asked to leave the restaurant moments before the pair were seen being arrested.
    Asked why he was being detained, the first reporter shouted: "For videotaping them." When I approached a police line in an effort to confirm the reporters' identities, I was threatened with arrest and told to retreat.
    The arrests came as a line of police in riot gear swept eastward along West Florissant street, the main drag in downtown Ferguson where demonstrations have flared for the past three nights. Residents were forced out of the street as they tried to return to their homes.
    
On Twitter, Lowery and Reilly shared details of their arrests after they were released by police.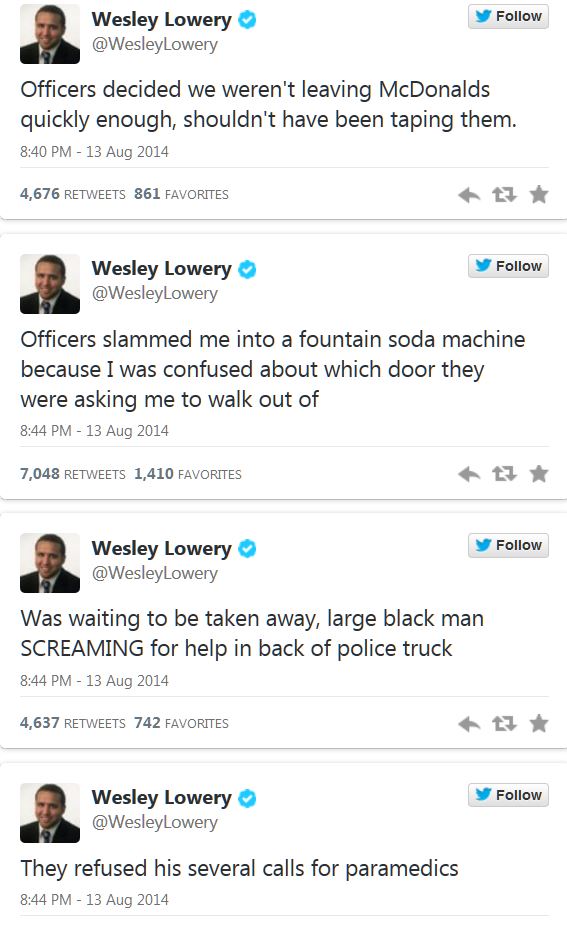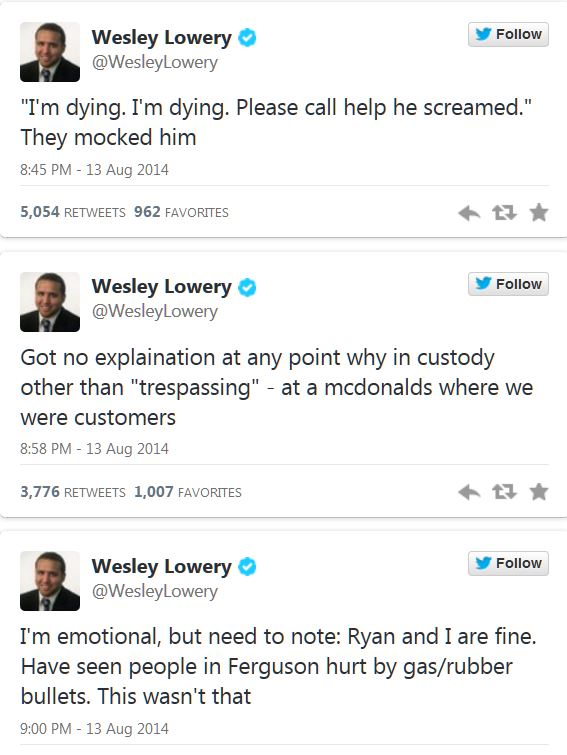 After the pair were arrested, Matt Pearce of the Los Angeles Times called the Ferguson police chief, Thomas Jackson.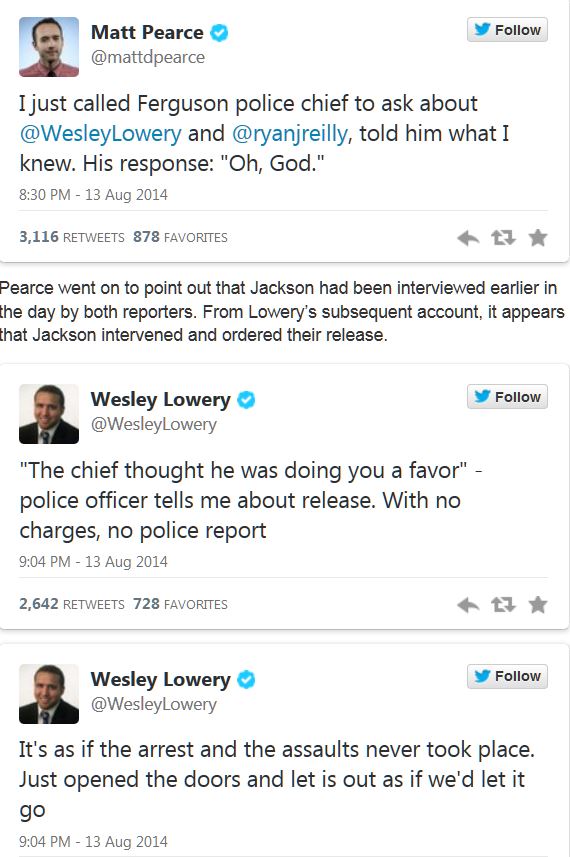 Other reporters shared video and images live from Ferguson, and there were two live streams covering events as dusk fell.
Marty Baron, executive editor of the Washington Post, condemned the arrests in strong terms. The Post reported:
In a statement issued Wednesday night, Martin D Baron, executive editor of The Washington Post, said "there was absolutely no justification for his arrest" and said the organization was appalled by the conduct of the officers involved.
Lowery was illegally instructed to stop taking video and followed police instructions, Baron said, after which he was slammed into a machine and handcuffed.
"That behavior was wholly unwarranted and an assault on the freedom of the press to cover the news," Baron said. "The physical risk to Wesley himself is obvious and outrageous."
Earlier, the Guardian's Jon Swaine posted pictures and video of heavily armed police pushing protesters back down the streets, and an image he believed to be of the two reporters being arrested.
Here's a Twitter list of useful sources in Ferguson.
[Jon Swaine is a US correspondent based in New York. He previously covered the US for the Daily Telegraph]