What Zephyr Teachout Taught the Country - and the Democrats Better be Listening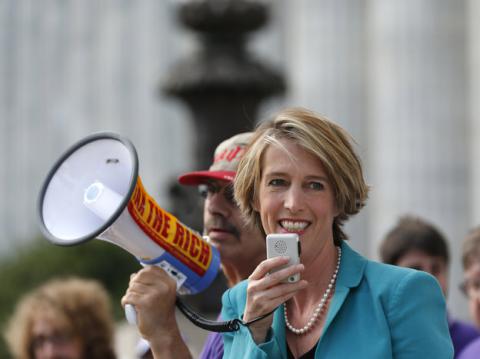 John Cassidy; Sarah JaffeZephyr Teachout wins one out of every three votes, giving Andrew Cuomo and the Democratic Party more of an opponent than they bargained for., Teachout-Wu campaign
The Meaning of Andrew Cuomo's Embarrassment
By John Cassidy
September 10, 2014
The New Yorker
Who does Governor Andrew Cuomo think he is? Howard Hughes?
On Election Day, when Zephyr Teachout, his largely unknown and unfunded opponent-an opponent he refused even to acknowledge - got more than a third of the vote in the Democratic primary for November's gubernatorial election, Cuomo was barely seen. After voting in the morning near his home in Westchester, he disappeared. As the results came in, his whereabouts were still unknown. Was he in his midtown office? Was he in Albany? NY1, which was staking out his home in Mount Kisco, said that there was no sign of him there.
For a politician seeking to be reëlected to one of the top political posts in the country, this vanishing act was highly unusual. Teachout accused Cuomo of disrespecting the democratic process. Was he wary of being exposed to questions from an increasingly hostile media? Finally, at about eleven at night, his office issued a statement hailing his victory-and the victory of his running mate, Kathy Hochul, in the primary for the post of lieutenant governor-as "a testament to the progress we have made together over the last four years: restoring economic opportunity, replacing dysfunction with results, putting people before politics and re-establishing New York as a progressive leader for the nation." The statement went on, "I also want to congratulate Zephyr Teachout and Tim Wu"-Teachout's running mate-"on running a spirited campaign, engaging in the democratic process and having the courage to make their voices heard."
There, he did it. The governor finally mentioned Teachout's name. Some progress to discuss the next time he sees his therapist.
On a more serious note, there will be some who dismiss Tuesday's result as a protest vote with few long-term implications. Even Cuomo's biggest fans-those who view him as an effective centrist whose brusque manner is a necessary antidote to the dysfunction in Albany-would readily concede that he has alienated quite a number of New Yorkers over the past four years. When Teachout, an energetic and articulate law professor, added her name to the Democratic primary ballot, she gave the peeved and the disappointed a costless opportunity to cock a snook at Cuomo. With the Republican candidate, Rob Astorino, way behind in the polls, there was no real danger of throwing November's race to the G.O.P. Why not stick it to the governor?
In some upstate districts, where Teachout won a considerable number of votes from an electorate more conservative than she is, this sort of logic does appear to have been at work. However, it would probably be a mistake to dismiss the result as simply a product of Republican weakness, or of Cuomo's off-putting persona. There was more to it than that.
The strong showing by Teachout and Wu was a victory for progressive voters who warmed to their message about tackling rising inequality, political corruption, and corporate abuses. It was also a rejection of Cuomo's economic philosophy, which led him to introduce a series of tax cuts for the rich, at the same time that he cut the state budgets for education and social services. I'd be willing to wager that most Democrats who voted against Cuomo objected more to his policies than to his personality.
Teachout and Wu's insurgent campaigns gave voice to this sentiment. Eschewing the etiquette of internal party discourse, Teachout accused Cuomo of governing as a Republican, acting as a shill for the big banks and other campaign contributors, and being part of a "corrupt old boys' club" in Albany. Making full use of social media and appearances in more traditional media, she demonstrated that, even in this day and age, a candidate with a real message doesn't necessarily need the support of the party apparatus, or the financial backing of big donors, to have an impact.
Cuomo wasn't the only one to whom the rise of Teachout and Wu came as a surprise. Their insurgent campaigns also shocked what might be called the official progressive wing of the New York Democratic Party. The Working Families Party, an important player in liberal politics, had endorsed Cuomo. So had Mayor Bill de Blasio and Melissa Mark-Viverito, the City Council Speaker. Six days before the election, when it looked like Wu, a Columbia law professor (who has contributed articles to this site), had a chance of winning the race for lieutenant governor, de Blasio and Mark-Viverito both declared their backing for his opponent, Hochul.
Setting aside the conservative stances that Hochul-a former U.S. congresswoman representing Buffalo and Niagara Falls-has taken on Obamacare, gun control, and the treatment of undocumented aliens, de Blasio appeared with her outside City Hall and declared her "a true progressive." He did radio ads and made robo-calls on Hochul's behalf. And, according to some accounts, he went further than that. "Gov. Cuomo and Mayor de Blasio used threats and intimidation in recent days to block prominent Democrats from backing" Teachout and Wu, Fred Dicker, the New York Post `s veteran Albany columnist, reported. City Council members and state legislators were warned that, if they publicly endorsed Teachout and Wu, projects they support could be endangered, Dicker wrote.
As expected, the insurgency was ultimately defeated. In the race for lieutenant governor, de Blasio's intervention may have been decisive. At one point last week, Wu's internal polling showed him edging ahead. After the Mayor's endorsement of Hochul, sentiment turned in her favor, particularly downstate. Wu ended up doing better in some upstate districts, such as Albany and Saratoga counties, than he did in the Bronx and Brooklyn, both de Blasio strongholds. The city's outer boroughs also went heavily against Teachout. (In Manhattan, she received 42.7 per cent of the vote. In Queens, she got just 22.4 per cent.)
The Democratic Party establishment survived. But Teachout and Wu both achieved more than seemed possible a couple of months ago. By thoroughly embarrassing Cuomo, New York Democrats didn't merely deliver a blow to whatever national aspirations he may have. They signalled to other Democrats, Hillary Clinton included, that the political center of gravity has shifted, and that a significant segment of Democratic voters won't suffer gladly a return to the timid, pro-corporate policies of the Clinton years, which Cuomo represents.
That's why what happened on Tuesday wasn't just a New York story: it has national implications. The progressive movement that emerged from the financial crisis, giving birth to Occupy Wall Street and the de Blasio campaign, may still be inchoate and splintered. But it can't be ignored.
[John Cassidy has been a staff writer at The New Yorker since 1995. He also writes a column about politics, economics, and more, for newyorker.com. ]
How Zephyr Teachout Taught Democrats a Lesson in Democracy
By Sarah Jaffe
September 10, 2014
The Nation
Andrew Cuomo's challenger for Governor of New York State didn't beat him in the primary, but she did prove that no candidate is invincible.
During the Democratic primary campaign for New York Governor, incumbent Andrew Cuomo barely mentioned challenger Zephyr Teachout's name. He refused to debate her, even turned his back http://katiehalper.com/2014/09/08/video-governor-cuomo-fears-for-his-li… on her when she attempted to greet him at the Labor Day parade.
It is unlikely, though, that he'll ever forget her name now.
No, Teachout didn't beat the incumbent governor with the $35 million war chest, but she took nearly 35 percent of the vote Tuesday night, enough to leave a sizable gash in his left flank and do some permanent damage to his hopes of running for national office one day. She won nearly the entire Hudson Valley, a swath of the middle of the state, and even got 54 percent of the vote in far north St. Lawrence County, according to The New York Times's election results maps. She took over 10,000 votes in the state's capital, Albany County, compared to just over 6,000 for the governor. The 62.1 percent of the vote Cuomo garnered is among the poorer performances by an incumbent governor running for re-election in primaries since 2002-a figure that hovers somewhere between the tenth and fifteenth percentile of victory margins, according to FiveThirtyEight. That's pretty bad-the median percentage by which a governor won re-nomination was over 90 percent.
We should all hope too that Teachout and her running mate, Tim Wu, did significant damage to the narrative of inevitability that hovered around Cuomo and that clings to far too many elected officials and candidates for office.
There is something fundamentally undemocratic about the idea that some people are simply unbeatable, that it is useless to try, that the best that we can hope for is to endorse them in the hope of getting a seat at the table. And yet over and over again we see people, even political activists and organizers whose very job is to attempt to make change, acceding to the notion that this or that elected is too powerful, has too many connections, has just too much money. We see the media narrative repeated and then echoed over and over again, because the mainstream press loves nothing so much as conventional wisdom. Never mind that not a single public poll on the governor's race came out before Election Day.
"Why would you ever leave a primary unchallenged if you thought there were some deep failures in an incumbent?"  Teachout told me when I profiled her for The Nation last month. She knew she was a long shot, but preferred to consider herself an underdog rather than a protest candidate; Teachout and Wu wanted to win and ran as if that was a possibility, even if their opponents preferred to think and act otherwise.
There was certainly something undemocratic about the way Cuomo carried out the race. His campaign repeatedly tried to kick her off the ballot with legal challenges, sent flunkies to protest her, reportedly threatened other elected officials with political reprisals if they endorsed her and refused again and again to debate. He basically refused to campaign at all. My partner and I received daily mailers from the candidates running for State Senate; I had a lively conversation about public education with a canvasser for Rubain Dorancy, the candidate who lost the District 20 State Senate seat in Brooklyn to Jesse Hamilton. From Cuomo I heard not a word. Perhaps he hoped that people simply wouldn't know he had a challenger.
On election night the story flashed around Twitter that Teachout couldn't even call Cuomo to concede personally, a campaign tradition, because he refused to give her his phone number.
As Harvard law professor, activist and Teachout supporter Larry Lessig pointed out, over the course of the campaign Cuomo recalled no one so much as Richard Nixon: hunkered down, refusing to debate, dodging public appearances, an ethics scandal hovering over his office. The New York Times refused to endorse him, as did the state AFL-CIO. The non-endorsements began to look as significant as the endorsements Teachout and Wu racked up-from the Sierra Club, New York NOW and, most impressively, the Public Employee Federation, a major state employee union that will have to negotiate its contract with the winner of November's election and which received notoriously rough treatment from Cuomo last time around. (The Nation also endorsed Teachout and Wu.) Meanwhile, after striking a deal with Cuomo last spring, many of the state's big progressive names and unions lined up behind the governor-even New York City mayor Bill de Blasio and state Attorney General Eric Schneiderman, both of whom have sparred with the governor regularly over priorities.
The Times declined to endorse Teachout, but did endorse Wu, adding fuel to another common press narrative as the weeks went on: that Wu could actually beat Cuomo's running mate, Kathy Hochul, a notoriously anti-immigrant former Congresswoman from Buffalo, leaving Cuomo with a running mate not of his choosing. Yet even as these stories challenged one tale of inevitability, acknowledging the level of frustration within the Democratic party at Cuomo's right-leaning choices, they accepted as a given that Cuomo-the actual source of the frustration, not his running mate-would win. They shrugged off Teachout as not a serious contender yet again.
Many of those voices now will be saying that they were right, that Cuomo wasn't beatable. But they will be taking precisely the wrong lesson from Tuesday night's results, and they will be disavowing their own part in ensuring those results. They will not acknowledge the way that money determines which candidates the press considers to be "serious," not policy positions or political experience or work ethic. But money, as we have seen, isn't everything.
Public campaign financing for New York State will likely be on the table should the governor win re-election; it was one of many unfulfilled promises from his first campaign for governor. What could Teachout and Wu have done with the kind of matching funds that helped Letitia James win citywide office in New York City? What could they have done with a requirement that the incumbent and his running mate actually turn up for a debate?
More important, what could they have done with support from more unions, from progressive groups with well-oiled canvassing machines and deep community connections? The Working Families Party, which originally recruited Teachout to challenge Cuomo on its ballot line in the general election, wound up agreeing to endorse Cuomo last spring when he committed to support Democratic control over the State Senate and to push for public financing of elections, as well as marijuana decriminalization and the right for cities to increase their own minimum wages. The concessions the governor made were real, and yet also some of them were part of his own agenda to begin with-items like campaign finance reform and a "Women's Equality Agenda" that he promised but never delivered. It is hard not to wonder what message the WFP could have sent on a national level if Zephyr Teachout had won 34 percent of the vote in November as a Working Families Party candidate.
Cuomo still has to get through the general election and stave off the inquiries into his behavior around the Moreland Commission. Republican Rob Astorino no doubt smells blood, and Howie Hawkins and Brian Jones, on the Green Party ticket, will be looking to scoop up voters on the left who can't bring themselves to vote for Cuomo even on the Working Families Party or the brand-new Women's Equality Party ballot lines. (The Women's Equality Party was pushed by Cuomo, among others, as both a consolation prize after the State Senate failed to pass the Women's Equality Agenda and, presumably, as a way to bring disaffected women voters back into his fold. It is also seen as a swipe at the Working Families Party.)
 
But regardless of how the general election script plays out, progressives around the country should take inspiration from what Teachout and Wu achieved in little more than two months, with pennies to Cuomo's dollars. Perhaps in places like Chicago, where Chicago Teachers Union leader Karen Lewis may be gearing up to challenge Mayor Rahm Emanuel, local officials and unions will look at what happened here and realize that no one is unbeatable.
[Sarah Jaffe is an independent journalist and the co-host of Dissent magazine's Belabored podcast, an editorial board member at Dissent and a columnist at New Labor Forum. Her writing on labor, politics, the economy, feminism, and pop culture has been published in The Washington Post, In These Times, The Nation, The American Prospect, The Atlantic, and many other publications.]
 
Copyright c 2014 The Nation. Reprinted with permission. May not be reprinted without permission. Distributed by Agence Global.
Please support our journalism. Get a digital subscription to The Nation for just $9.50!