Dispatches from the Culture Wars - Things Go Bitter with Koch edition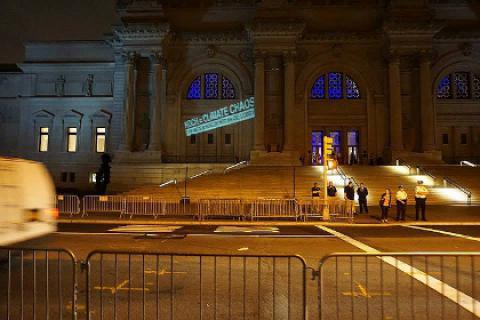 The Illuminator projects "Koch = Climate Chaos" on the facade of the Metropolitan Museum of Art on Tuesday, September 9 , image via Occupy Museums
Organized Labor Launches 'Koch Sisters' Campaign
By Peter Hamby
September 4, 2014
CNN Politics
Meet the Koch Sisters.
Karen and Joyce Koch aren't actually related. One is a teacher from Michigan, the other a retired social worker from New Jersey.
But the Kochs are the faces of a new AFL-CIO campaign designed to contrast the "shared values" of organized labor against those of the Koch brothers, the conservative business titans behind millions of dollars' worth of secretive campaign spending this election year.
The women don't make an overt pitch to voters, other than directing viewers to an AFL-CIO website that accuses the Koch brothers of using "their wealth to subvert democracy and enact a self-serving agenda at the expense of working families."
NYPD Detains Activists for Anti-Koch Light Graffiti at the Met
By Ben Davis
September 11, 2014
artnet
On Tuesday, three activists were detained by NYPD officers outside the Metropolitan Museum of Art after disrupting a gala honoring David H. Koch. The controversial billionaire was being fêted for his $65 million contribution to the newly reopened museum plaza, which prominently bears his name. The three activists, Kyle Depew, Grayson Earle, and Yates McKee, were caught projecting images from a customized art truck onto the museum's façade that read "The Met: Brought to you by the Tea Party" and "Koch = Climate Chaos"-references to Koch's well-known role in funding right-wing and climate change denying groups.
The incident followed a protest earlier in the day by the tenacious Occupy Wall Street spin-off Occupy Museums, which by all accounts brought a good-spirited group of art activists to the newly opened David H. Koch Plaza to stage anti-Koch performances. Early in the evening, the activists unexpectedly had a chance to confront Koch himself on the steps of the museum, chanting "Shame on climate change denier" as he passed by on the way to his car.
Black Twitter Comes For Vogue Booty Article, Doesn't Hold Back
By Jessica Dickerson
September 11, 2014
Huffington Post
The fashion and lifestyle magazine published an article on Wednesday titled "We're Officially in the Era of Big Booty," in an attempt to give a history lesson on the progression of cultural regard for derrieres in anticipation for the release of a new Jennifer Lopez and Iggy Azalea song.
The majority of criticism lies in the article's failure to look back further than the 90's or acknowledge the specific relationship between popular opinion, butts and the female black body -- but people have a lot of bones to pick with Vogue's booty argument.
Naturally, Black Twitter responded the best way they know how -- with the creation of a hilarious, biting hashtag: #VogueArticles. In two days over 4,500 tweets have swarmed the internet with fake article names shaming cultural appropriation.
Ferguson Isn't About Black Rage Against Cops. It's White Rage Against Progress
By Carol Anderson
August 29, 2014
Washington Post
When we look back on what happened in Ferguson, Mo., during the summer of 2014, it will be easy to think of it as yet one more episode of black rage ignited by yet another police killing of an unarmed African American male. But that has it precisely backward. What we've actually seen is the latest outbreak of white rage. Sure, it is cloaked in the niceties of law and order, but it is rage nonetheless.
Protests and looting naturally capture attention. But the real rage smolders in meetings where officials redraw precincts to dilute African American voting strength or seek to slash the government payrolls that have long served as sources of black employment. It goes virtually unnoticed, however, because white rage doesn't have to take to the streets and face rubber bullets to be heard. Instead, white rage carries an aura of respectability and has access to the courts, police, legislatures and governors, who cast its efforts as noble, though they are actually driven by the most ignoble motivations.

The Forsaken: A Rising Number of Homeless Gay Teens Are Being Cast Out by Religious Families
By Alex Morris
September 3, 2014
Rolling Stone
Research done by San Francisco State University's Family Acceptance Project, which studies and works to prevent health and mental¬ health risks facing LGBT youth, empirically confirms what common sense would imply to be true: Highly religious parents are significantly more likely than their less-religious counterparts to reject their children for being gay - a finding that social-service workers believe goes a long way toward explaining why LGBT people make up roughly five percent of the youth population overall, but an estimated 40 percent of the homeless-youth population. The Center for American Progress has reported that there are between 320,000 and 400,000 homeless LGBT youths in the United States.
Meanwhile, as societal advancements have made being gay less stigmatized and gay people more visible - and as the Internet now allows kids to reach beyond their circumscribed social groups for acceptance and support - the average coming-out age has dropped from post-college age in the 1990s to around 16 today, which means that more and more kids are coming out while they're still economically reliant on their families.
Karl Rove, the Koch Brothers and the End of Political Transparency
By Thomas B. Edsall
September 9, 2014
New York Times
We don't know who the contributors are to Karl Rove's
Crossroads GPS because they can hide behind provisions in federal tax law designed to protect donors to "social welfare" charities, but we do know how much each gave, and we do know generally, from Crossroads's annual 990 filings with the I.R.S., how the money was spent. In 2012, according to its own statement, Crossroads GPS spent $74.2 million not on commonly understood social welfare objectives but on direct political activities.
Crossroads raised the money for its 2012 tax-exempt activities from 291 unnamed men and women who wrote checks for a total of $179.7 million, an average contribution of $617,525 - nearly 12 times the 2012 median household income in the United States of $53,046, and 22 times the 2012 per capita income of $28,051.
The financial resources of the anonymous donors to Crossroads are striking, according to the organization's 990 filing. Among the donors were 53 who contributed at least $1 million. Even more generously, one donor gave $22.5 million, another gave $18 million, and two gave $10 million each.