U.S. Jews Debate Israel and 'Open Hillel'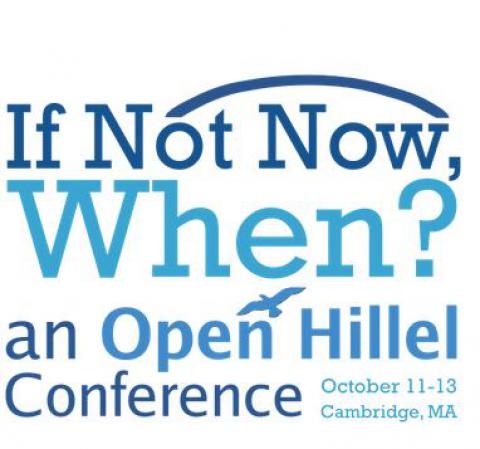 credit - Jewish Voice for Peace
Want To Engage Young Jews? Look to Open Hillel
By Naomi Dann
October 13, 2014
The Jewish Daily Forward
"I bought my ticket right after my rabbi's Rosh Hashanah sermon. I knew I needed this community," a student participant at the Open Hillel conference told me today.
The student went on to thank Open Hillel for providing a long overdue space for young Jews to come together and question the institutions, frameworks and viewpoints we have been taught. The message rang out loud and clear today at the inaugural Open Hillel conference: My generation is not content to be spoon-fed talking points, courted by free trips to Israel, or talked down to from patriarchal institutions that advocate policies at odds with our values. We want to proactively grapple with the hard questions that define the political and moral choices facing our community today.
Hillel International's Standards of Partnership construct a political litmus test that prohibits the ability of students to engage with these questions. For Hillel, openness is an only-if-you-agree-with-our-funders kind of deal. The line is drawn at support for nonviolent resistance to occupation through boycott, divestment and sanctions - beyond that you become a "demonizer'" or "delegitimizer." These are the rules of the conversation as dictated by Hillel, but the students are not content to stop there.
It was clear today, after hours of packed workshops, panels, speeches, and conversations in the hallways, at lunch and in the elevator, that the Open Hillel conference had struck a nerve. The floodgates have been opened and they aren't shutting anytime soon. Over 350 people participated in this weekend's conference - a far cry from the "small group of activists" Hillel International president Eric Fingerhut dismissed in his recent op-ed.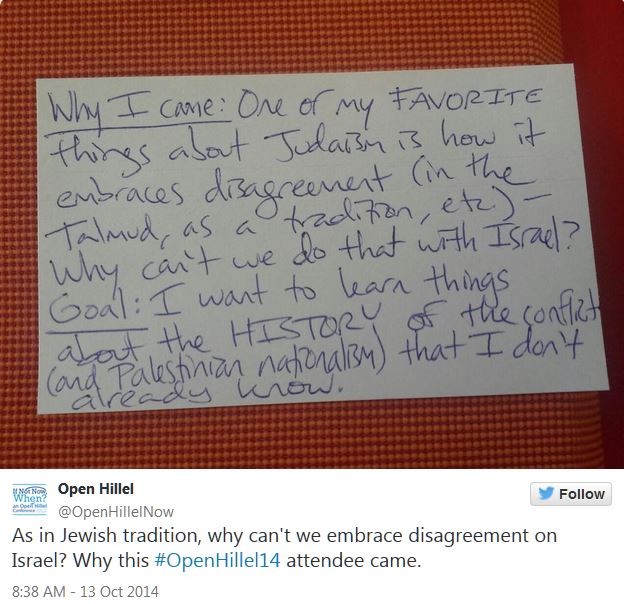 We asked ourselves some hard questions. Can, or should, we support the Law of Return and simultaneously deny the Palestinian Right to Return? Can we support the movement to boycott, divest from and sanction Israel as a tool to pressure policy change - without fear for the future of the Jewish people? How can we combat the Islamophobia and anti-Arab racism that pervades American Jewish conversations about Israel/Palestine? How do we talk about the Palestinian experience of the Nakba in our Jewish communities?
We interrogated the talking points each side trots out, but we didn't stop there. It wasn't enough to say "that's demonizing" or "that's anti-Semitic" or "that's delegitimizing." Instead we sought to understand and contextualize the experiences behind the political opinions we heard. We kept asking questions, seeking to hold onto tensions, discomforts and points of growth.
Speaking at the opening plenary on Saturday night, renowned scholar Judith Butler summed up a central question in the minds of all the attendees I met at the conference. "You are here to ask the question: Can I affirm my Jewish values and express criticism of Israel?" The space that Open Hillel created this weekend was a place where people could be their full political selves and engage this question head-on.
Dorothy Zellner, an activist with Jewish Voice for Peace and Jews Say No! on New York's Upper West Side, spoke on a plenary Monday afternoon about how the experience of being SNCC organizer during Freedom Summer relates to her activism for Palestinian rights. Warning students that speaking out against oppressive Israeli policies will incur real pushback, her voice choked up, and she said: "You need to have a long-term vision: What you are doing by speaking out is a mitzvah that will live on long after you do."
This is why I am here.
The security of a Jewish future will depend, not on the might of the Israeli military, but on the empowerment of young Jews to grapple with and act on urgent questions of social justice. We are here, we care, and we want to have these conversations without boundaries and red lines.
Jewish communities keep asking themselves over and over again, "How do we engage young Jews?" Well, here is your answer: Drop the policies that alienate students and attempt to police thought and opinion. Be accountable to student voices, not just donors' political agendas. Empower student leaders and decision-makers, don't infantilize them.
Let Hillel truly be the student-oriented group it claims to be. Let us speak.
[Naomi Dann works full time to change the discourse in the United States around Israel-Palestine, as an organizer with Open Hillel, an activist with #IfNotNow and the media coordinator at Jewish Voice for Peace.]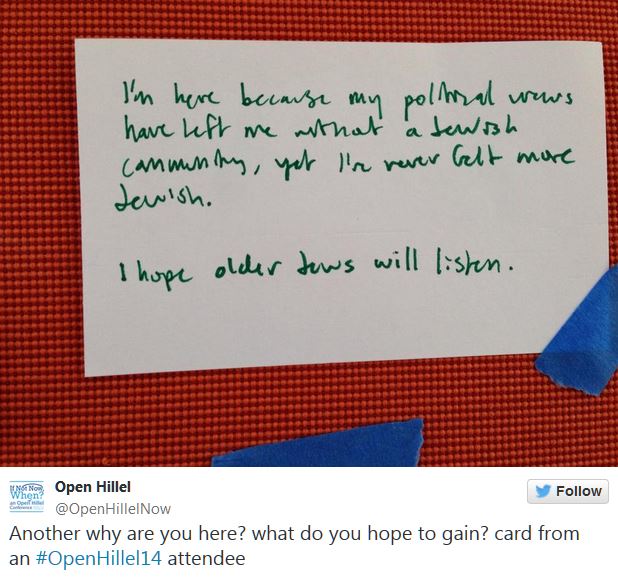 The New McCarthyism on Israel: Naming and Shaming . . . Hillel
By Alice Rothchild
October 16, 2014
informed Comment
Jewish communal and religious organizations have become increasingly donor driven and sclerotic when it comes to discourse on Israel/Palestine. This is clearly in evidence when it comes to the dogmatic guidelines espoused by Hillel International, the umbrella organization for local Hillel chapters on American campuses. Despite spouting pluralism and tolerance, the organization lists the following redlines for discourse or co-sponsorship: any person or group that:

 Denies the right of Israel to exist as a Jewish and democratic state with secure and recognized borders;
 Delegitimizes, demonizes, or applies a double standard to Israel;
 Supports boycott of, divestment from, or sanctions against the State of Israel;
 Exhibits a pattern of disruptive behavior towards campus events or guest speakers or fosters an atmosphere of incivility
The guidelines grew out of work by the Anti-defamation League which in 1974 defined the "new anti-Semitism" as criticism of Israel and reinforced that concept with a publication in 1982. Ironically the conflation of all Jews with Israel is in itself a dangerous anti-Semitic trope. Israeli thinkers joined the fray in 2011 when the Reut Institute, a Tel Aviv think tank, issued a position paper that laid out a strategy of "naming and shaming" those on the left who support the boycott, divestment, and sanction movement against Israel, a one state solution, or the right of return for Palestinians. The document developed a detailed strategy to engage Jewish institutions and individuals in identifying and marginalizing leftist groups, separating them from liberals less critical to Israeli policy, creating a positive "Israeli brand", and honing the definition of those who "delegitimize" Israel.
There are so many problems with this kind of thinking: Do countries have a "right to exist" or do they exist due to a complex coalescence of military might, aspirations, mythology, and historical movements. What does it mean to be a Jewish state? Can a Jewish state ever be democratic if by definition Jewish exceptionalism is the foundation of the country? How does a country derive legitimacy? Does the Israeli occupation or the five hundred dead children in Gaza threaten Israel's "legitimacy"? If one is critical of Israel which receives a massive amount of US military aid and political cover, does one have to list all the other countries that commit human rights violations to be credible? If Palestinians are condemned when they commit violent resistance and condemned when they call for nonviolent resistance, how are they supposed to resist the occupation and daily violations to basic human rights and dignity?
These policies have led to the political and cultural world in which we find ourselves where the mood on US campuses has become increasingly McCarthyesque. Academics are monitored and attacked, student groups sympathetic to Palestinians are confronted with specious lies (see the youtube Hamas on Campus) or actively thrown out, critics are emotionally blackmailed with the epithet of "anti-Semite", and liberal Jewish social justice organizations are afraid to support a boycott of fossil fuels lest it lend credibility to the boycott of Israel. Articles on the death of liberal Zionism are proliferating in the fourth estate. The latest assault on Gaza where large synagogues embraced by local politicians organized nationalistic and often racist Stand with Israel rallies, refused to acknowledge the Palestinian dead, and 90-97% of Israelis stood behind Netanyahu's war mongering, was for some the final straw. As Rebecca Vilkomerson, the executive director of Jewish Voice for Peace relates, she received an email from a rabbi, "Enough. Sign me up."
This weekend's If Not Now, When? An Open Hillel Conference was another crack in the armor of the Jewish establishment. The good news for the anxious Jewish Federations of the world, is that there are many thousands of young Jews and allies who are deeply committed to Judaism as a religion and as a community and they take their "Jewish values" very seriously. One of those values is Judith Butler's Talmudic "intelligent bickering" and the other is a deep commitment to social justice and equality for all. Students heard from religious Jews debating Torah midrash on the metaphor of opening the eyes of the Jewish people, to Palestinian activists like Sa'ed Atshan, explaining, "My human rights shouldn't be trumped by your feelings.Rights are non-negotiable so they are not open to dialogue."
What became clear to me is that the students and their allies are actively reframing the discourse:
separating Judaism the religion from Zionism the national political movement; delineating the racist ideology of anti-Semitism from thoughtful moral criticism of the country, Israel. The treatment of and solidarity with Palestinians has now become the civil rights issue of the day for modern Jews, especially younger Jews who will be here long after the older post-Holocaust generation has moved on and no longer shapes the boundaries of intelligent discourse and definitions of normalcy. After centuries of powerless, how we as a community handle our new position of power and privilege is critical to the survival of an ethical Jewish tradition as well as a just resolution to a more than century old struggle in historic Palestine that is being fought in our name. Challenges to the mainstream political Zionist narrative and the equivalence of Jew and starry eyed lover-of-Israel are also challenges to our identity and our personal and communal values. That conversation is the genie that cannot be put back into the box.
[Alice Rothchild is author of: On the Brink: Israel and Palestine on the Eve of the 2014 Gaza Invasion, Just World Books, Sept 2014]