labor
Ebola Galvanizes Workers Battling to Join Unions, Improve safety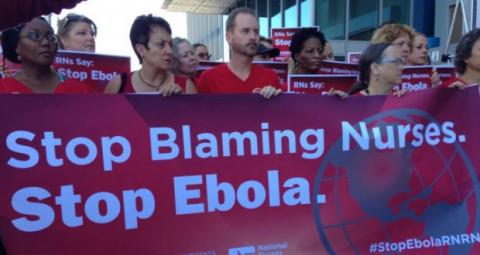 Privatized hospitals not providing proper training and equipment to front line workers, charges National Nurses United, the country's largest nurses union., National Nurses United
Anthony Reynolds works on what he calls "the SWAT team of airplane cleaners," scrubbing the seats, carpets and toilets of planes parked overnight at the Philadelphia airport. About a year ago, he joined a drive to organize a union, and Ebola, he says, may help his cause.
Reynolds wants more protective gear and training on how to safely handle bodily fluids, like feces and vomit, and he says that after a passenger coming down with Ebola flew on a U.S. domestic flight, concern is spreading among colleagues.
The Ebola outbreak that has killed more than 4,400 people in West Africa, with three infections in the United States, is pushing the issue of worker health and safety to the top of the agenda in several U.S. labor battles.
"Most workers were interested in forming a union before, but there was trepidation," said Reynolds, who cleans airplanes flown by American Airlines and US Airways, Lufthansa and others. "I think now this might be what puts us over the hump to get everyone on board."
Firefighters also are throwing their union weight behind a call for more government funding to train and better equip first responders to confront the virus.
And the largest nurses' union in the country, National Nurses United, is demanding specific Ebola protections in ongoing contract negotiations with private hospitals.
"The fact that Ebola is at the forefront of everybody's mind right now does give us a platform to deal with other issues in the hospitals that aren't so visible," such as staffing and equipment needs, said Amy Glass, part of a team negotiating with Kaiser Permanente in Northern California and a board member of the California Nurses Association, a National Nurses United member group.
It is too early to tell whether Ebola will have any lasting effect on worker-employer relations, and many signs of change are anecdotal. In the United States, 43 people who had been exposed to a patient with the disease were taken off an Ebola watch list on Monday, which could ease concern. But worker issues that had largely languished out of public view are getting national attention.
Reynolds' employer, Illinois-based Prospect Airport Services, says it is closely following U.S. Centers for Disease Control (CDC) guidelines as they evolve and is working to provide employees with everything they need to do their job safely.
If a plane is known to have carried a passenger with Ebola, the CDC recommends cleaners be equipped with disposable eye protection, long-sleeved, waterproof gowns and closed-toe shoes and shoe covers in addition to gloves and face masks.
Prospect said it understood worker concerns. "One of the benefits to not having a union is that we can talk with them directly and we continue to do that," said spokeswoman Suzanne Mucklow, adding that training on blood borne pathogens is a company standard.
TRYING TO ORGANIZE
The Ebola virus can cause fever, bleeding, vomiting and diarrhea, and spreads through contact with bodily fluids. It is not an airborne disease that is easily transmittable, especially when common hygiene precautions are followed.
Some airport workers say the CDC guidelines for airline workers are only trickling down in the form of informational flyers instead of hands-on instruction.
"What we need is some training," said Joel Castillo, who empties out airplane bathrooms at La Guardia airport in New York. He is sometimes splashed with bodily fluids on the job and does not feel protected by surgical masks and rubber gloves that he says can often break.
He was among the around 200 workers of facilities company Air Serv that staged a one day walkout at LaGuardia on Oct. 9 over health and safety concerns, low wages and the right to join a local chapter of the Service Employees International Union (SEIU), a massive U.S. union.
SEIU already represents around 8,600 airport workers in 10 airports nationwide, but a complicated subcontracting system involving numerous air carriers and airport authorities and high employee turnover makes the organizing drive a challenge. It has been trying for two years to organize at the Philadelphia airport where Reynolds works.
After the La Guardia walk out, the airline industry said the union was using concerns about Ebola as a ploy.
"It's unconscionable that a group that purports to protect the rights of workers would use fear and hysteria to try to further their agenda," industry group Airlines for America said in a statement at the time.
The group's spokeswoman, Victoria Day, added by email that air carriers are making sure they have the most updated guidelines on protecting workers and the public.
"Airlines are sharing this information directly with crew members, who are trained on infection control precautions," she said.
The Port Authority of New York and New Jersey, which operates LaGuardia and the other area airports, said on the day of the walkout it had agreed to review workers' concerns.
Air Serv said is continually reviewing its policies to stay on top of CDC standards for safety procedures and cleaning protocols and communicates those updates to employees, including the most recent information about the Ebola virus.
NURSES PUSH BACK
Other professions that are already well organized, including nurses and firefighters, are demanding more protection in the face of Ebola.
The 185,000-member National Nurses United last week called for equipment like hazmat suits and training in ongoing contract negotiations with 21 private hospitals run by Kaiser.
Last week, the union asked to suspend bargaining on all other issues until the questions around Ebola were resolved, Kaiser said.
"We communicated to the union that we will study their proposal immediately," Gay Westfall, a Kaiser human resources executive, said in a statement.
The hospital company said it is distributing additional educational materials, giving training and stocking up on personal protective equipment at medical centers.
And after Dallas firefighters transported Thomas Eric Duncan, the first patient to develop Ebola in the United States, an emergency team in San Antonio, Texas complained that they were lacking proper face shields, said Harold Schaitberger, president of The International Association of Fire Fighters (IAFF), which claims more than 300,000 members.
The union, an AFL-CIO affiliate, sent a letter to the Department of Health and Human Services asking for more federal funding so the state and local governments that employ the emergency personnel can provide more training and equipment. (Reporting by Mica Rosenberg; Editing by Amy Stevens and Peter Henderson)