Progressive Caucus, Labor, Activist Groups Urge 'No' Vote on Spending Bill
GOP uses 'Cromnibus' to let rich people give tons more money to GOP,Wonkette
Progressives Caucus Urges 'No' Vote on Spending Bill
By Seung Min Kim
December 11, 2014
Politico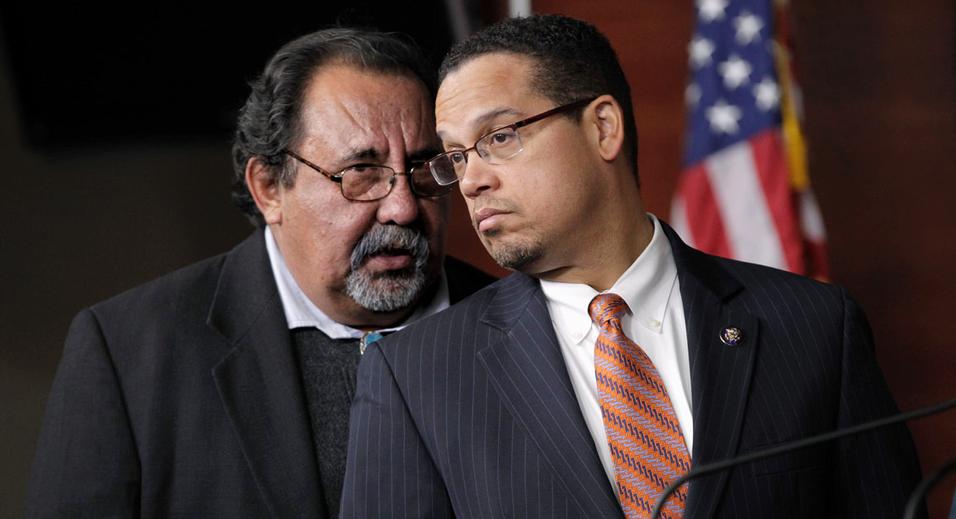 The caucus's co-chairs, Rep. Raul Grijalva (D-Ariz.) and Keith Ellison (D-Minn.), declared that they would oppose the cromnibus in a statement Wednesday.
credit: AP Photo // Politico
The Congressional Progressive Caucus is pushing its nearly 70 Democrats to oppose a sweeping funding bill on Thursday because it rolls back a key aspect of the Dodd-Frank financial reform law.
The liberal group's whip operation blasted out an email earlier Thursday urging its members to reject the so-called cromnibus if a provision tucked into the massive bill - which helps big banks trade derivatives in units backstopped by a government guarantee - remained in the spending measure. Democrats see it as a way to undo protections intended to prevent financial crises like the 2008 crash.
"This kind of activity was a cause of the 2008 crisis and directly led to the economic hardship currently being felt by millions of Americans," reads the email to CPC's member offices, obtained by POLITICO. "A provision in the cromnibus would gut and repeal this provision. "
The caucus's co-chairs, Rep. Raul Grijalva (D-Ariz.) and Keith Ellison (D-Minn.), declared that they would oppose the cromnibus in a statement Wednesday. Liberals are also irate about a provision in the spending bill that would increase contribution limits for official party committees.
It's not yet clear if this new push will cause sufficient opposition to jeopardize the bill. If enough liberal Democrats defect from the spending package, it could potentially derail its passage, since House Republicans are also set to lose dozens of its own members.
The whipping from the CPC came as liberal groups off Capitol Hill began to marshal opposition against the spending bill. The Progressive Change Campaign Committee, one of Massachusetts Sen. Elizabeth Warren's biggest boosters, urged its members to call on lawmakers to oppose the anti-Dodd-Frank measures.
"Democrats lost in 2014 because they failed to inspire Americans with bold ideas that would tangibly improve people's lives," said Adam Green, PCCC co-founder. "One thing is for sure during the budget negotiations: Easing regulations on big Wall Street banks and gutting campaign finance laws would represent Democrats marching in the exact wrong direction."
Later Thursday, Democracy for America also announced that they were urging lawmakers to vote against the bill, calling it a "corrupt deal that House Republicans are trying to ram through Congress at the 11th hour."
The AFL-CIO, for its part, called on lawmakers to oppose the financial language, although the organization did not specifically call on lawmakers to vote down the cromnibus.
"Dodd-Frank forced too-big-to-fail banks to move potentially toxic speculation in derivatives out of their government-insured banks," the powerful union's president, Richard Trumka, said. "Wall Street's friends in Congress are trying to once again put the public on the hook for the most dangerous aspects of the financial system."
Elizabeth Warren Leads Liberal Revolt Against Spending Bill
By Jordan Fabian
December 11, 2014
Fusion
One of Congress' most well-known liberals is leading the charge against a must-pass spending bill, calling it a giveaway to wealthy campaign donors and Wall Street banks.
Sen. Elizabeth Warren (D-Mass.) on Wednesday slammed the legislation, which would loosen derivatives-trading rules set in a landmark 2010 overhaul of the nation's financial regulations and triple the amount donors are allowed to contribute to political parties.
If the spending bill doesn't pass by midnight tonight, the government will shut down.
Still, the Massachusetts senator called the $1.01 trillion bill that funds the government through September "the worst of government for the rich and powerful" and urged Democrats in the House to vote no unless the language is removed. A vote is expected Thursday afternoon.
"Who does Congress work for?" she said in a floor speech. "Does it work for the millionaires, the billionaires, the giant companies with their armies of lobbyists and lawyers? Or does it work for all of us?"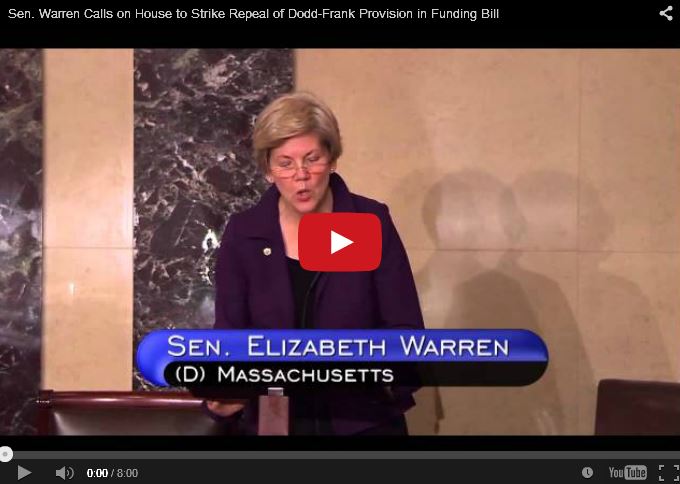 The vote could serve as a key test of Warren's influence within the Democratic Party.
Other leading Democrats said they have reservations about the provisions in the bill, indicating that the party's support for the measure could crumble.
Democrats almost helped defeat the spending bill on Thursday. A key procedural vote on a set of rules for debate squeaked by 214-212, which allowed the House to move ahead toward voting on final passage of the measure. All 196 Democrats voted no, joining 16 conservative Republicans. The result is a sign there is a narrow road to passage for the government funding bill.
House Minority Leader Nancy Pelosi (D-Calif.) said in a statement Wednesday the provisions in the bill should be removed because they "are destructive to middle class families and to the practice of our democracy."
Support from Democrats could prove critical to passing the legislation and averting a government shutdown. Republicans could lose votes over the fact the spending bill does not include language defunding the president's executive action on immigration.
But other Democrats predicted their party would hold its nose and deliver enough votes to pass the measure. If this bill fails, that could force Congress to pass a temporary spending measure and have another government funding fight next year, when the GOP will control both chambers of Congress. Some Democrats fear that could produce an even worse deal.
"I think the leadership understands let's not mess with this because if you pull one string out, the whole thing will begin to unravel," Rep. Jim Moran (D-Va.) told The Hill newspaper. "I think it's a set package at this point."
"I expect this bill will have bipartisan support and pass," House Speaker John Boehner (R-Ohio) told reporters on Thursday. Boehner noted that Democratic negotiators in the Senate signed off on changes to the derivatives-trading rules.
White House press secretary Josh Earnest said Wednesday there are elements of the package "we're not going to like" but that President Obama will "consider the whole package" before deciding whether to sign it.
After Thursday's close procedural vote, however, the White House came out in support for the funding bill. That could undercut a potential Democratic revolt on the final vote.

Warren's drive against the funding measure is once again fueling talk about whether she'll run for president in 2016 as a liberal challenger to Hillary Clinton.
The senator has emerged as a leading populist voice in the Democratic Party. And her anti-Wall Street message could have resonance with voters.
Just 64 percent of Americans believe it's possible to start out poor and become rich through hard work, according to a New York Times poll released this week. That's eight percentage points lower than in early 2009, right after the financial collapse. Thirty-five percent said they have confidence in Wall Street bankers, with just 4 percent saying they have "a lot" of confidence.
The Progressive Change Campaign Committee, a pro-Warren group, announced Thursday it is asking its members to call lawmakers and urge them to oppose the spending bill.
"Democrats lost in 2014 because they failed to inspire Americans with bold ideas that would tangibly improve people's lives," Adam Green, PCCC's co-founder, said in a statement. "One thing is for sure during the budget negotiations: Easing regulations on big Wall Street banks and gutting campaign finance laws would represent Democrats marching in the exact wrong direction."
But there are doubts about Warren's viability as an alternative to Clinton. A CNN/ORC poll from late November found Clinton leading Warren 65-10 percent among self-described Democrats. Warren's support is particularly low among female and non-white Democrats, two key groups in President Obama's coalition.
Updated to include comment from House Speaker John Boehner, the result of a procedural vote on the bill, and the White House's statement of support.
Key Takeaways from $1.1 Trillion Cromnibus
By Lindsay Koshgarian, Research Director
December 11, 2014
National Priorities Project
What's In a Cromnibus?
Lawmakers released a $1.1 trillion spending package late on Tuesday night, called a "cromnibus" because it funds most of the government through the end of the fiscal year (Sept. 30, 2015) but extends Department of Homeland Security funding only through February 27.
Once again, Congress has left one of its most important responsibilities -- funding the government -- to the last minute. The government will shut down at midnight tonight unless lawmakers pass a spending bill before then.
Read our full analysis for more information about key takeaways from the proposed spending bill, as well as a few controversial surprises, including:
Spending Caps
Immigration
Military and Weapons Spending
War Funding, including the fight against ISIS
Campaign Contributions
The Dodd-Frank law
Instead of holding open debate about these topics over the course of several months, lawmakers negotiated deals behind closed doors, crammed the legislation into a 1,600 page monster, and allowed themselves no time to sort out some of the most important decisions they'll make on behalf of the American people all year.
This is a lot of money to commit in a whirlwind process with so little transparency that even lawmakers don't have time to understand the bills they're voting on -- let alone incorporate the priorities of their own constituents.
 
Read the full blog here.
National Priorities Project
243 King Street - Suite 109
Northampton, MA 01060