Indiana Progressives at a Crossroad: Building a Fusion Politics-Based Movement to End the Attack on All Hoosiers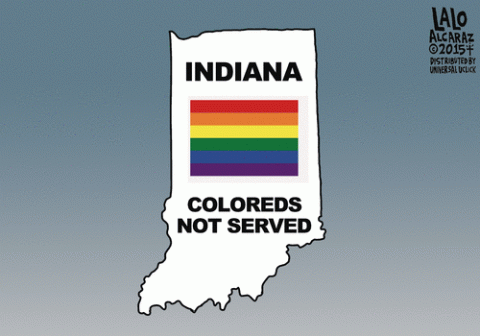 Lalo Alcaraz,GoComics // Daily Koz
"As Hoosiers continue to struggle to make ends meet, sadly Governor Pence and the Republican leaders of the Indiana General Assembly have worked to make things worse. Instead of focusing on improving the lives of all our citizens, they've spent their time attacking public education, blocking attempts to raise Indiana's minimum wage and ramming through a law (House Bill 1019) designed to lower the wages of thousands of Indiana construction workers and undermine Indiana businesses.  And, now they stubbornly stand by a law that condones discrimination against our own citizens. (from Brett Voorhies, "President Voorhies: End the Legislative Attacks on All Hoosiers," Indiana State AFL-CIO, News Release, March 30, 2015).
All of a sudden Indiana has been thrust onto the national stage. Governor Mike Pence in a closed meeting signed the newly minted Restoration of Freedom of Religion Act (RFRA) passed by the state legislature. Despite efforts of Pence and supporters to deny that the new law allows state government support for discrimination, especially based on sexual orientation, the supporters of the law, its language, and the track record of the legislators and the governor all point to the real motivation of the law: to authorize the right to limit public accommodations to groups of Hoosiers.
The outrage from well-meaning people in the state and across the country is justified and should be encouraged. The exuberance of the protests--rallies, petitions, economic boycotts--is a cause for hope for those who are concerned about deepening economic, political, racist, sexist, and environmental threats to the country and its states. It also should be a time for reflection on how to frame organizing and protest and most importantly how to ground resistance to the latest example of discrimination in a broader program of progressive change.
For example, while many members of the legislature and the governor support a religious-fundamentalist ideology, powerful economic and political interests have supported policies derived from it because of the underlying economic changes that constitute their major agenda.
Indiana State AFL-CIO President Brett Voorhies captured this more subtle meaning of the controversy over the RFRA. No doubt it must be actively opposed by all progressive Hoosiers, he says. But Hoosiers must also understand that this latest transgression of workers' rights constitute just the latest round in a sustained Indiana effort to undermine the entire working class, shift further wealth and power from the vast majority to the minority, and frankly to deepen the human misery that more and more Hoosiers experience; whether they are straight, gay, white, Black, Asian, Latino, Christian, Jewish, Muslim, or atheist.
For example, with little fanfare, last November Governor Pence announced that Indiana would no longer request a waiver of the federal work requirement that allows poor Hoosiers to receive food stamps even though they were unable to secure 20 hours of work. In other words, Hoosiers who could not find work would not be eligible for food stamp assistance. Explaining his decision to a Fox News audience, the governor said: "You know, it's the old story. Give someone a fish, and they'll eat for a day. Teach them to fish, they'll eat for a lifetime. I think this is an idea whose time has come here in the state of Indiana." (David Edwards, `Indiana Gov. Mike Pence: We're `Ennobling' Poor People by Cutting Off Food Stamps," Raw Story, November 18, 2014).
The callousness of the Governor's decision is reinforced by the data in "The Status of Working Families in Indiana, 2015 Report" which indicates that Hoosier families "have steadily lost ground" (Indiana Institute for Working Families). In other words a high percentage of job gains in the state since the official end to the recession have been low wage jobs, what the Institute names the "job swap," or the shift from high-wage, family-sustaining employment to low-wage marginalizing work. According to the 2015 report: "Hoosier families and communities need quality jobs that pay well enough to meet a family's most basic needs, such as childcare, housing, food and transportation."
In a recently released study of households in the state of Indiana (United Way, ALICE, Asset Limited, Income Constrained, Employed: Study of Financial Hardship, 2014) researchers determined that 37 percent of Indiana households earned less than what the researchers defined as a "household survival budget." Some households earned less than the official poverty line (about 16 percent) and others (21 percent) earn income above the poverty line but less than a sustainable family income. The United Way report indicates that households living below the ALICE threshold are found in all municipalities around the state, affect all age groups, and disproportionately affect people of color and female-headed households.
When we return to the justifiable anger generated by RFRA, this latest law occurs in a legislative session that has rejected calls for an increased minimum wage, is approving sizable shifts in the state budget from public to charter schools, and now is deliberating on a bill to abolish the "common wage," a law that has its historic roots in the 1930s that guaranteed a basic living wage to building trades workers; carpenters, electricians, plumbers, painters, and others who have gone through extensive apprenticeship training to provide skilled labor to construct our buildings, roads, and virtually the entire economic infrastructure of our state and nation.
Therefore, Indiana progressive politics is at a crossroad. Do we see the connectedness between our fellow citizens who oppose discrimination of all kinds and those who want jobs and wages to live healthy and sustainable lives? Do we want to "connect the dots" politically so that we can work together on our common projects? Are we going to channel our justified outrage only in singular causes or are we ready to join together to fight for economic and social justice for all?
Reverend William Barber, who has inspired the Moral Mondays movement in North Carolina has spoken to this broader vision of bringing our issue groups together. He calls his vision: fusion politics. Activists in the state of Indiana have been organizing around the fusion politics model as well: bringing issues together and thinking about the ways the issues are connected. Fusion politics is built upon showing respect for and advancing the cause of workers, people of color, women, gays and lesbians, and environmental activists. It calls for one movement that says as the old African American spiritual proclaimed:
    Ain't gonna let nobody turn me around
    Turn me around, turn me around
    Ain't gonna let injustice turn me around
    I'm gonna keep on a-walkin, keep on a-talkin
    Marchin' up to freedom's land.

[Harry Targ teaches foreign policy,US/Latin American relations, international political economy, and topics on labor studies in a Department of Political Science and a program in Peace Studies. He sees connections between theory/education and political practice. Targ is a member of the Committees of Correspondence for Democracy and Socialism (CCDS), the Northwest Central Labor Council (AFL-CIO),and the Lafayette Area Peace Coalition (LAPC). His book, Diary of a Heartland Radical, can be ordered at http://stores.lulu.com/changemaker ]