Emanuel Won the Mayor's Race, But Progressives Won the Election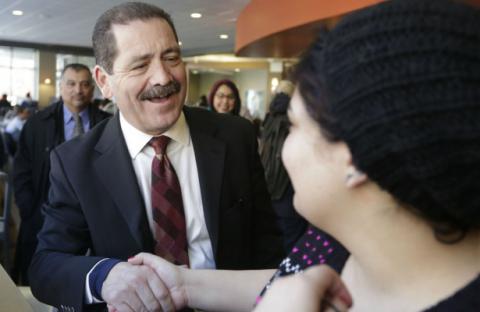 Jesus "Chuy" Garcia,AP Photo/ M. Spencer Green // The Nation
Emanuel Won the Mayor's Race, But Progressives Won the Election
By Amisha Patel
April 8, 2015
Crain's Chicago Business
Last night, Rahm Emanuel came out on top in Chicago's mayor's race, but the real winner is the grass-roots organizing that forced this runoff to happen in the first place.
Six months ago, most political observers anticipated an election in which progressives would be struggling to protect progressive incumbents. Instead, we built a real fight for City Hall, giving Jesus "Chuy" Garcia a shot at winning.
And not only did Emanuel fail to defeat a single member of the Progressive Caucus, but independent political organizations helped grow caucus membership to at least 10-and likely more-from seven. Disinvested and marginalized neighborhoods stretched their political muscle. The reawakening of a broad-based progressive coalition will have political consequences well beyond this election, through new electoral infrastructure like United Working Families and Reclaim Chicago.
Most never believed that this moment even would be possible. With over $30 million in campaign contributions, largely from well-connected insiders and corporate executives, Emanuel blanketed Chicago with a media storm that defined Garcia as fiscally inept. The irony of this attack is that it is Emanuel himself who failed in the past four years to offer equitable, constitutional solutions to fixing our budget problems. He created a climate of fear among voters around the economic challenges that he himself helped create.
We need progressive revenue solutions to support neighborhood economic development-such as demanding that big banks stop gouging our city through toxic interest rate deals, having tax subsidy policies with real requirements for creating neighborhood jobs and investments, and passing a millionaire's tax and a financial transaction tax.
Though Garcia ultimately came to support many of these measures, his campaign did not offer them in a clear, comprehensive way early in his candidacy. That was unfortunate. For it is clear that the majority of Chicagoans share the values of adequate, equitable revenue and making big banks pay their fair share so that we have the resources needed for great schools and quality services. These measures are elements of the financial plan that our city needs.
FORCED TO RETREAT
Emanuel was forced to retreat from many of the policies favored by his elite backers-capitulating to low-wage worker demands for a higher minimum wage, unplugging many red light cameras and running a slew of commercials targeting working families with a politically left message frame. He spent the past four years governing as a corporate Democrat, but he won re-election campaigning as a progressive.
The grass-roots progressive movement that defeated Rahm Emanuel on Feb. 24 and made him struggle to keep his seat on April 7 is not going away. Just next week, thousands of us will take the streets to demand a $15-per-hour minimum wage. This summer and fall, we will be fighting for a state and city budget that adequately funds the public services we need to build strong, healthy communities.
We will build on ever-growing public support for progressive revenue solutions. And for years to come, we will continue to deepen and expand the ward-level, neighbor-to-neighbor political infrastructure we need to elect city and state leaders who stand with working families.
This election showed us that we have the power to win real change. The people of Chicago will keep organizing to build a better Chicago for all. Emanuel won another term, but he fell far short of defeating the broad-based grass-roots coalition represented by Garcia's candidacy.
[Amisha Patel is executive director of Grassroots Illinois Action and founding member of United Working Families.]
Many thanks to the author for permission to publish her article.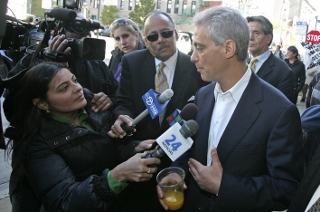 Rahm Emanuel won another term, but he fell far short of defeating the broad-based grass-roots coalition represented by Jesus "Chuy" Garcia's candidacy.
credit: Crain's Chicago Business
Chicago's Chuy Garcia Lost an Election, but Won a Movement
By John Nichols
April 8, 2015
TheNation.com blog
Chicago progressive Jesus "Chuy" Garcia made political history in February, when he forced Rahm "Mayor 1%" Emanuel into an unprecedented runoff election. For the first time since the nation's third-largest city established a nonpartisan system for choosing local officials, a mayor fell short of 50 percent of the vote and had to face a challenger in a second election.
But Garcia did not make history twice. He fell short in the April 7 Democrat-versus-Democrat runoff vote that mirrored the broader struggle for the future of the party-in Chicago and nationally-by pitting a populist challenger against a corporatist incumbent. Despite a remarkable grassroots campaign, which changed political equations across the city, the challenger and the labor-backed coalition that supported him could not overcome the advantages Emanuel enjoyed: incumbency, support from remnants of the Chicago Democratic machine, the steady support of the city's two major newspapers, an endorsement from President Obama, and a campaign bankroll of more than $23.6 million (almost four times what Garcia raised). The incumbent's spending spree was augmented by millions more in spending by a separate campaign fund and an Emanuel-aligned "Super PAC."
"Emanuel's overwhelming financial advantage ultimately helped save the mayor as he fought for his political life," acknowledged The Chicago Tribune in its Wednesday morning assessment of the results.
Yet, Garcia won more than 250,000 votes (44 percent of the total) and the city-wide coalition that supported him beat a number of city council candidates allied with Emanuel. The challenger conceded Tuesday night, but he did not sound defeated. "We didn't lose today. We tried today. We fought hard for what we believe in," Garcia told a cheering crowd of supporters. "You don't succeed at this or anything else unless you try. So keep trying. "
Labor unions and activist groups that campaigned for Garcia and the progressive council candidates signaled that they would, indeed, keep trying. "Rahm's wealthy donors bought him another term but they couldn't buy him love," declared the Working Families Party's Jon Green. "A progressive movement is growing in Chicago and it's capturing hearts and minds. Three months ago, Rahm thought he was untouchable. He survived the political fight of his life, but he had to move on important issues like the minimum wage and affordable housing. Rahm is still the mayor, but he's no longer the king."
Garcia's finish was better than even optimistic allies predicted when he entered the mayoral race last fall, as a county commissioner with a solid record of progressive activism but little name recognition-and less money.
Garcia's finish was also better than the one Harold Washington secured in his first run for mayor.
That's right: the hero of Chicago progressive history who beat the money and the machine in 1983 to become the city's first African-American mayor did not simply appear on the scene to upset incumbent Mayor Jane Byrne and Richard Daley, the son of the city's longtime mayor and legendary political boss.
Six years earlier, when the senior Daley's death forced a special election for the mayoralty. Washington mounted an insurgent primary campaign against the machine and the downtown money power. On paper, Washington's 1977 run sounded like a great idea. With more than a dozen years of experience as a state legislator, with a network of supporters in the African-American community, and with three white candidates dividing the base of a political machine that looked to be in decline, Washington simply had to pull together a coalition of African-Americans, Latinos and liberal reformers. But it didn't happen. He won just over 10 percent of the vote - a "dismal" finish, in the words of The New York Times.
Washington learned from the experience. He built on the independent base he had begun to develop in 1977, got himself elected to Congress and developed a strategy for winning in 1983. His plan was to lead "anti-greed and anti-corruption" coalition rooted in a faith that would eventually define his mayoralty: "We are a multiethnic, multiracial, multi-language city and that is a source of stability and strength." It was not easy. The opposition was crude and divisive. Even after Washington won his primary victory, many Democrats backed the Republican in what was then a partisan runoff. But Washington prevailed - by a 52-48 margin - because of the city-wide coalition he and his supporters had built over not weeks or months but years.
That's the lesson that ought to be taken away from the 2015 results. The coalition that backed Garcia and progressive council contenders this year is young and dynamic. It is still evolving. But it is real.
Garcia had not planned to challenge Emanuel this spring. He only entered the race after Chicago Teachers Union President Karen Lewis, who had been preparing to take on the mayor, was sidelined by illness. Yet Garcia and the coalition that backed him forced a mayoral runoff and a real debate about the city and its future. They also shook up city council races to such an extent that, as Chicago Sun-Times columnist Carol Marin noted Wednesday morning, "a meaningful number of Emanuel-backed candidates went down in flames."
It may not be that Garcia will run again. That is not the point.
The point is that someone, many someones, will run against the money power in the elections to come. And they will run from a position of greater strength than existed before.
Illinois Federation of Teachers President Dan Montgomery got it right Tuesday night when he said that forcing a runoff and opening up the process "made an undeniable impact in Chicago." This city has been changed by this campaign. The city council will have a larger progressive caucus and Emanuel will face steady opposition-inside City Hall and on the streets-to his pay-to-play politics, privatization schemes and assaults on public education.
The labor organizations that helped to forge this coalition (the Chicago Teachers Union, the Illinois State Council of the Service Employees International Union, the Communications Workers of America, National Nurses United, Amalgamated Transit Union Locals 308 and 241 and others) have challenged a powerful Democratic mayor. And they have done so by objected, bluntly, to the Democratic party's penchant for selling out its base; as the ATU locals did when they declared, "Mayor Emanuel is at the heart of the frustration working Americans have had with the continuing economic inequality and corporatism in both the Republican and Democratic parties."
The unions are not going away or backing down. Neither are the local activists associated with the National People's Action Campaign (through its Reclaim Chicago affiliate), Progressive Democrats of America, Democracy for America, MoveOn.org, the Progressive Change Campaign Committee and the Working Families Party. The United Working Families organization provided an early endorsement for Garcia and progressive council candidates and worked with union activists in wards across the city to build grassroots networks that will continue to be a force in local politics.
When backers of Garcia and city council candidate Susan Sadlowski Garza (who held a narrow lead in Tuesday's results) gathered a few days before the election at an old United Steelworkers hall on the city's southeast side, CTU President Karen Lewis took the long view. "This has got to be the start of a movement," she told the crowd. "This can't be about one election, one election cycle."
If that movement builds, Lewis promised, "Things will change."
Garcia's strong finish-along with victories by progressive council candidates-makes that change seem possible. The progressive movement of 2015 has a much bigger base upon which to build than did Harold Washington had after his first mayoral bid of 1977.
Neither this year's election results, nor the history that points to what might be, provides a guarantee of change.
They merely raise the prospect.
But in a town as slow to change as Chicago, that prospect is a big deal.
Chicago did not elect a new mayor this year. But it has shaken things up for an old mayor. And it has held out hope for a new politics not just in one city but nationwide.
"Today was just the beginning. While Mayor Emanuel bought this election hand over fist, we're seeing a new left pole emerge in American politics," said National People's Action Campaign executive director George Goehl, a Chicagoan who was active with the Reclaim Chicago effort. "In cities across the country, progressive populists are taking on corporate politicians and running on an agenda that puts people and planet before excessive profits. As discontent with a system that's rigged in favor of corporations and the super-wealthy continues to grow, so too will a new political movement."
Copyright c 2015 The Nation. Reprinted with permission. May not be reprinted without permission. Distributed by Agence Global.

Please support our journalism. Get a digital subscription to The Nation for just $9.50!
How Chicago's Wealthiest Neighborhoods Tipped the Election to Emanuel
By Thomas A. Corfman
April 9, 2015
Crain's Chicago Business
i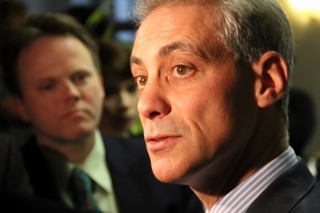 Mayor Rahm Emanuel rallied support along the lakefront and won over some skeptical African-Americans, but his runoff victory came courtesy of voters in the city's 12 most-affluent wards.
credit: Daniel X. O'Neil via Flickr.com // Crain's Chicago Business
Four-fifths of Mayor Rahm Emanuel's hefty margin of victory came from Chicago's most-affluent neighborhoods, according to a Crain's analysis.
In a campaign where the gap between the city's rich and poor emerged as an issue, Emanuel decisively beat challenger Jesus "Chuy" Garcia in the 12 wards where the median income is the highest in the city, at least $55,548 per household. In those wards, Emanuel had a 51,492-vote margin, or 79.5 percent of his citywide margin of 64,722 votes, according to a review of the results in nearly 99 percent of the precincts.
During the six-week runoff campaign, Garcia accused Emanuel of neglecting economic development in the neighborhoods that would narrow income disparity. Emanuel emphasized the financial challenges facing the city and the experience he gained during his first term while attacking Garcia for a lack of preparation.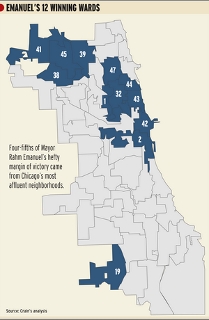 Source: Crain's analysis
'WHITE AND WEALTHIER'
"Those wards, which are predominantly white and wealthier, were more concerned about the budget crisis and felt more confident that Emanuel would represent them," said Dick Simpson, a political science professor at the University of Illinois at Chicago. A former independent alderman, Simpson contributed $10,000 to the Garcia campaign.
Emanuel won 65.35 percent of the vote in those wards in the April 7 runoff, compared with 34.65 percent for Cook County Commissioner Garcia. Citywide, Emanuel received nearly 55.7 percent, a convincing victory after receiving 45.6 percent in the four-way general election on Feb. 24.
Emanuel's vote total is likely to grow when absentee ballots, which disproportionately came from key Emanuel wards, are included.
The most-affluent wards include six on the North Side, Emanuel's base of support: 2nd, 42nd, 43rd, 44th, 45th, 47th. Also included is the 19th Ward on the Southwest Side, which covers the Beverly neighborhood, and the 38th, 39th and 41st wards on the Northwest Side. Rounding out the group are two gentrifying wards on the Near Northwest Side, the 1st and the 32nd. Combined, the wards are 73 percent white.
The dozen wealthier wards also favored Emanuel during the general election, but at a much lower rate, 52.9 percent, and on much lower turnout.
'CITYWIDE CAMPAIGN'
Emanuel also improved his showing in the rest of the city, although it was a much closer race. In 38 wards with lower household incomes, Emanuel edged out Garcia, 51.7 percent to 48.3 percent, in the runoff. Those wards combined are just 22 percent white. That was a better performance for Emanuel than in the general election, when he received just 42.3 percent of the vote in those areas.
The mayor also won a second term by upending a bit of conventional political wisdom. Typically, incumbents have a hard time persuading voters who voted for another candidate in the general election.
But many voters were willing to give Emanuel a second chance, as he acknowledged during his speech on election night and again during a press conference yesterday. That may have been particularly true in the 10 wards that are 75 percent African-AmerIcan, where Emanuel received 59.33 percent, compared with 42.4 percent in February.
"I am proud of the fact that we ran a citywide campaign that garnered results citywide," Emanuel said during the news conference. "Obviously different in different parts of the city, but we had strong majorities."
BY THE NUMBERS
Crain's examined the results in 2,042 of 2,069 precincts, or 98.7 percent. Crain's used income data from the Chicago Rehab Network's Affordable Housing Factbook and voting age population figures provided by Chicago-based research firm Rob Paral & Associates. Among the findings:
The number of ballots topped 575,000 as of yesterday, an increase of 19 percent compared with February, when turnout was nearly a record low. On Election Day, some Garcia backers said turnout had to be in the range of 600,000 to 650,000 votes for the race to be a dead heat.
In seven North Side lakefront wards, Emanuel rebounded with nearly 71 percent of the vote, even though he lost the 49th Ward in Rogers Park. Turnout was 42 percent of registered voters, higher than the citywide turnout of 39 percent.
Garcia, a Cook County commissioner, seemingly failed to convert most of those who backed businessman Willie Wilson, who in February received 25 percent of the black vote and 10.6 percent citywide. In the runoff, turnout in the predominantly black wards was just 35 percent, below the citywide average.
Garcia won 70 percent of the vote in the five wards that are 65 percent Hispanic, but still fell short of his goal of 75 percent.