Palestinian Red Crescent Society Declares State of Emergency in the West Bank; Clashes Break Out Across West Bank; JVP Statement;Tel Aviv March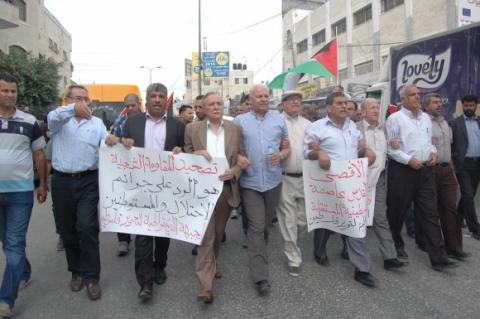 Palestinians in Qalandia march toward an Israeli checkpoint in a day of protests across the West Bank, October 6, 2015.,Photo: Allison Deger // Mondoweiss
Palestinian Red Crescent Society Declares State of Emergency in the West Bank
By Annie Robbins
October 6, 2015
Mondoweiss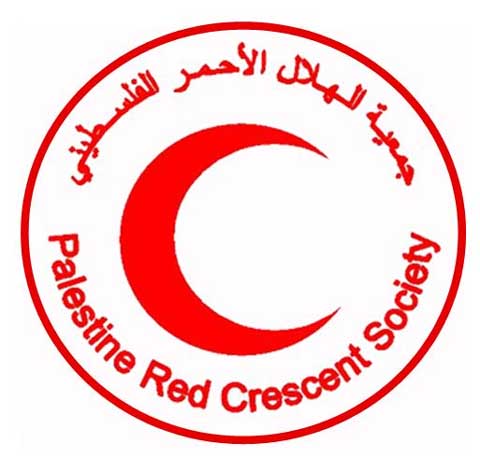 The Palestinian Red Crescent Society (PRCS) has declared a level 3 state of emergency in the West Bank, including East Jerusalem, following the serious escalation of attacks by Israeli forces and violent settlers against Palestinians, which has included assaults and serious violations against PCRS staff and ambulances.
Over the weekend PRCS crews found themselves under attack from Israeli forces and violent settlers.
PRCS:
    On Sunday the 4th of October, Israeli occupation soldiers attacked a PRCS' ambulance in the line of duty in front of Al Quds University in Abou Diss, firing rubber bullets and tear gas grenades at it. On the 2nd of October, occupation soldiers attacked an ambulance in Al Eissawiyeh to the North of Jerusalem. They then proceeded to arrest an injured Palestinian from inside the ambulance. In Boureen (Nablus Governorate), settlers prevented a PRCS' ambulance from discharging its humanitarian duty and smashed its windshield.
    The next day, five PRCS' paramedics were beaten up by soldiers in Jerusalem. That same day, another group of soldiers attacked with their batons another PRCS' ambulance in the Old City of Jerusalem Also on the same day, occupation soldiers severely beat another ambulance crew in Jabal Al Taweel (Al-Bireh), wounding two paramedics. They then kidnapped an injured Palestinian from inside the ambulance, firing tear gas grenades and rubber bullets at it.
According to the New York Times, PRCS has reported "some 500 injuries in recent days". This was published before "at least four Palestinians were shot by Israeli army live fire" last night, according to the International Middle East Media Center and countless more people will no doubt be injured in the coming days.
PRCS was officially recognized as part of the International Red Cross and Red Crescent Movement in 2006 making these assaults on their staff and crews a blatant violation of international humanitarian law as specified in the Geneva Convention. So where's the international community in all this?
PRCS rightly points out:
    PRCS urges the International Community, represented by the UN General Assembly and Security Council, to shoulder their responsibilities by taking the necessary steps to make Israeli occupation authorities comply with IHL provisions, and to put an end to the targeting of civilians and their properties. It calls on these parties to compel Israel to respect IHL provisions regarding the respect of medical and PRCS' emblems, and recalls that the occupying power is obliged to protect emergency, medical and relief personnel and to facilitate their safe access to the sick and wounded.
How long are they going sit there and do nothing year after year as Palestine burns? With Jerusalem at a breaking point; incitement and provocations from all quarters, fanatical civilians, extremist elected officials and an army run amok, who is going to stop them? Unfortunately is it probably not going to be the beseeching words of the Palestinian Red Crescent Society that will thrust this crisis front and center. But it's worth asking over and over, what's it going to take for some outside party, like the international community, to put their collective foot down? Or are we going wait until after some random fanatic or a fanatical government has destroyed Al Aqsa?
[Annie Robbins is Editor at Large for Mondoweiss, a mother, a human rights activist and a ceramic artist. She lives in the SF bay area. Follow her on Twitter @anniefofani ]

Clashes Break Out Across West Bank After Netanyahu Declares `An All-out War'
By Allison Deger
October 6, 2015
Mondoweiss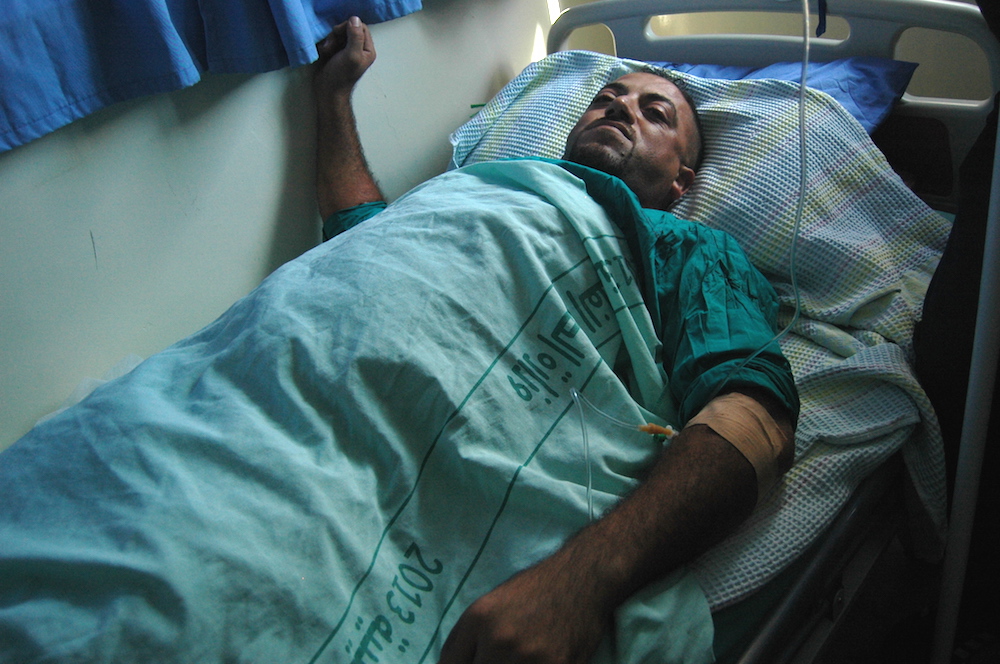 Palestinian journalist Salah Zayyad, 35, recuperates in a Ramallah hospital after Israeli forces shot him in the abdomen at a demonstration near Qalandia checkpoint in the West Bank, October 6, 2015.
Photo: Allison Deger // Mondoweiss
Scores of Palestinians were injured in clashes across the West Bank and more than 200 were arrested in Jerusalem, after Israeli Prime Minster Benjamin Netanyahu announced Sunday he is "running an all-out war against Palestinian terrorism."
Palestinians protested today in a "day of rage," after a string of Palestinian attacks on Israeli citizens in the past week and Israeli incursions into the West Bank and Jerusalem-including the demolition of two homes overnight Monday and the killings of three Palestinian youths in the preceding 24 hours.
During the West Bank's main demonstration outside Ramallah, Israeli fire injured 13, six of them from live rounds, including Salah Zayyad, 35, a Palestinian journalist who was shot in the abdomen. Palestinian demonstrators threw rocks at security forces.
In Bethlehem, 27 were treated for tear gas inhalation, seven for injuries from rubber bullets, including two who are in critical condition for shots fired at the head. Another seven were hurt in a traffic accident after losing visibility while driving near the clash, according to the Palestinian Red Crescent Society.
The march followed a funeral for Abdel-Rahman Abeidallah, 13, who was shot in the heart during a demonstration yesterday. Abeidallah was the third Palestinian killed by Israeli forces on Sunday and Monday.
Before daybreak Israeli forces demolished the East Jerusalem homes of Ghassan Abu Jamal, 32, and Muhammed el-Ja'abis, 23, two Palestinians from the Jabal Mukaber neighborhood who were implicated in the killings of Israelis in 2014. Abu Jamal and his cousin Uday Abu Jamal, 22, stabbed to death five in a bloody attack on a north Jerusalem synagogue. El-Ja'abis was accused of killing an Israeli with a bulldozer in Jerusalem and was shot dead on the scene by security forces. His family says that it was not an intentional act, that he lost control of the tractor.
Punitive home demolitions are illegal under international law as a form of collective punishment. While Israel leveled houses as punishment throughout the second Intifada, a moratorium on the practice was in place at the close of the uprising until mid-2014.
Clashes ensued across Jerusalem and Israeli Police Spokesman Micky Rosenfeld said over social media that more than 250 were arrested Tuesday in the holy city.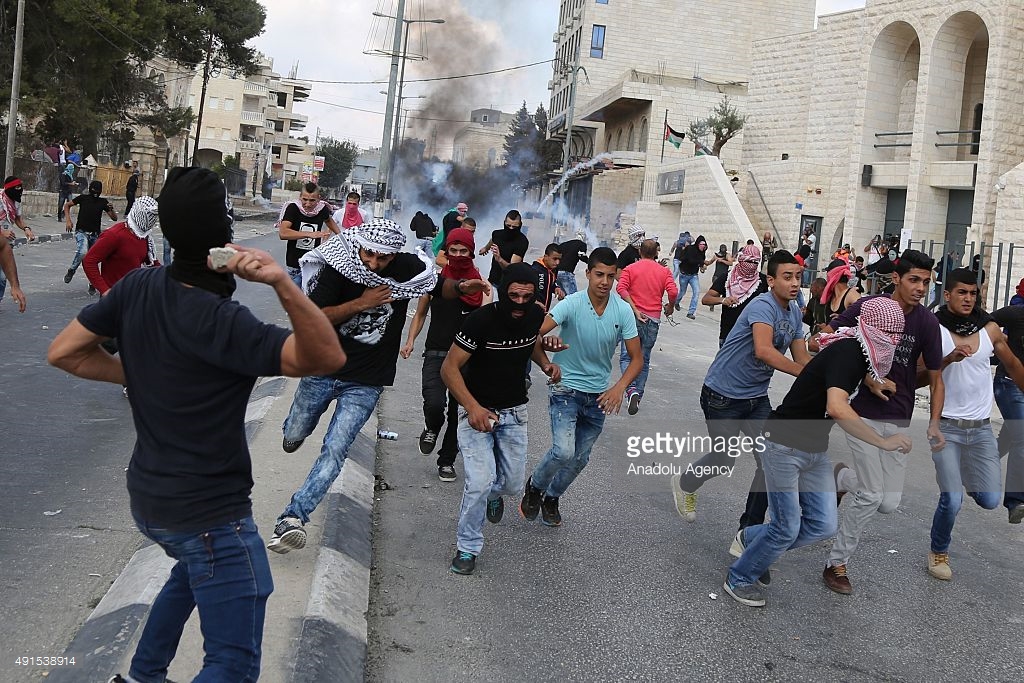 Clashes erupt between Israeli soldiers and Palestinians after funeral for 13-year-old Palestinian Abdel Rahman Abdullah, who was shot dead by the Israeli army at a refugee camp near Bethlehem, on October 06, 2015, Bethlehem, West Bank.
Photo: Getty Images - Anadolu Agency // Mondoweiss
In the afternoon Netanyahu visited the site where two Israelis were killed in a stabbing attack in Jerusalem's Old City Saturday night, and the prime minister again endorsed harsher policing and increased surveillance. Netanyahu promised "a very serious plan in which we will deploy ground and aerial cameras on all roads in Judea and Samaria [the West Bank], with command and control centers, communication centers and fast response times," adding the measures were "a very, very important element in restoring security."
The statement echoed remarks from Netanyahu made last night where he said, "The police are going deeply into the Arab neighborhoods, which has not been done in the past. We will demolish terrorists' homes."
Secretary-General of the PLO Saeb Erekat said, "Mr. Netanyahu's announcement is a reminder to the international community of the urgent need for international intervention to protect the occupied Palestinian people from relentless attack by the Israeli military forces and terrorist settlers." Erekat has been issuing statements in recent weeks appealing for United Nations and NATO protection forces.
"Netanyahu and his right-wing extremist government cannot and will not break the will of our people to fulfill our inalienable rights in an independent State of Palestine with East Jerusalem as its capital," Erekat continued.
Meanwhile the PLO announced early this evening that it will convene the Palestinian National Council, the highest legislative body of the government, and invited rival factions, Hamas and al-Jihad, to participate. The move would mark a cooling of the PLO's tense relationship with Islamic parties, one of which, Hamas, governs the Gaza Strip but is formally excluding from the overarching Palestinian government.
These political developments had no visible effect on the demonstration by Ramallah youth at Qalandia checkpoint today. Palestinian schools are on strike over the killing of a 13-year old yesterday by Israeli forces in Bethlehem, and teams of youngsters waited outside of Qalandia refugee camp until the demonstration began. A group of teens debated whether or not a third Intifada had already started-with most saying it had not.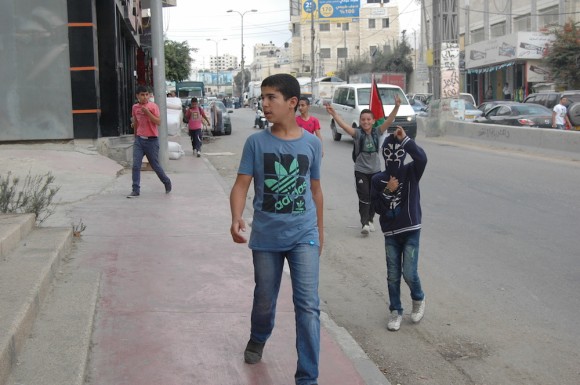 Young Palestinian protesters demonstrate against Israeli forces at Qalandia checkpoint, October 6, 2015.
Photo: Allison Deger // Mondoweiss
 

"I want an Intifada, but there is no political program to obtain freedom," Ward Adawi, 22, an emergency medic with the Palestinian Red Crescent Society, said after treating a Palestinian teen who was injured by a concussion grenade fired by the Israeli army.
"I don't want demonstrations. I want an agreement with Israel," said Rafah Alam, 18, as he sold coffee from a yellow kiosk stationed in the main street that runs between Qalandia and Ramallah. For Alam, it was unclear if the "day of rage" and a week of clashes between Palestinians protesters and the Israeli military-with settlers targeting Palestinians with flaming tires and rocks-would usher in another uprising, although he hoped it would not.
"The people here are very tired. They don't trust our government at all- [or] the Israeli government," said Walid Bayrat, 30, a sportswear store owner in Qalandia refugee camp during the clashes. "We don't want to fight Israel, we are civilians, all the people you see here are civilians," he said, motioning at the crowd of elementary aged children that comprised most of the protesters.
"If there is another Intifada the loser will be the people-our people-and not our government," Bayrat said. He predicted that the current tinderbox will quiet "in one month only when all of our people will be defeated."
[Allison Deger is the Assistant Editor of Monhttp://mondoweiss.netdoweiss.net. Follow her on twitter at @allissoncd. ]
Jewish Voice for Peace Statement on State of Emergency in Jerusalem and the West Bank
October 4, 2015
JVP Press Release
Jewish Voice for Peace mourns the lives lost in violent attacks, both Palestinian and Israeli, in the last days and weeks.
We are deeply alarmed by the escalated level of collective punishment being imposed on Palestinians by both settlers and the Israeli Army. In the last 24 hours, the IDF has used live fire in Jenin and elsewhere in the West Bank, wounding over 100 Palestinians. The Palestinian Red Crescent Society has declared a state of emergency after their staff and ambulances were attacked 14 times in the last 72 hours.
The tensions over Al Aqsa/the Temple Mount clearly have been a flashpoint for this wave of violence, but its roots stretch much deeper. Months of incitement by the Israeli government and decades of occupation, institutionalized discrimination, and displacement have led to this point.
What will it take for the status quo to change? For the walls to be demolished, the raids ended, the checkpoints dismantled, the families reunited? These events are an urgent reminder of our responsibility to join hands with those who seek equality and justice for all the people of Palestine and Israel. Nonviolent protest, economic pressure, and an end to unconditional US military and diplomatic aid to Israel are the path towards a long term resolution that ends the occupation and brings about full equality for all people in the region.
[Jewish Voice for Peace is a national member-driven organization dedicated to a U.S. foreign policy based on peace, human rights, and respect for international law.]
Protest Vigil against the Occupation and Escalation - Tel Aviv, Friday, October 9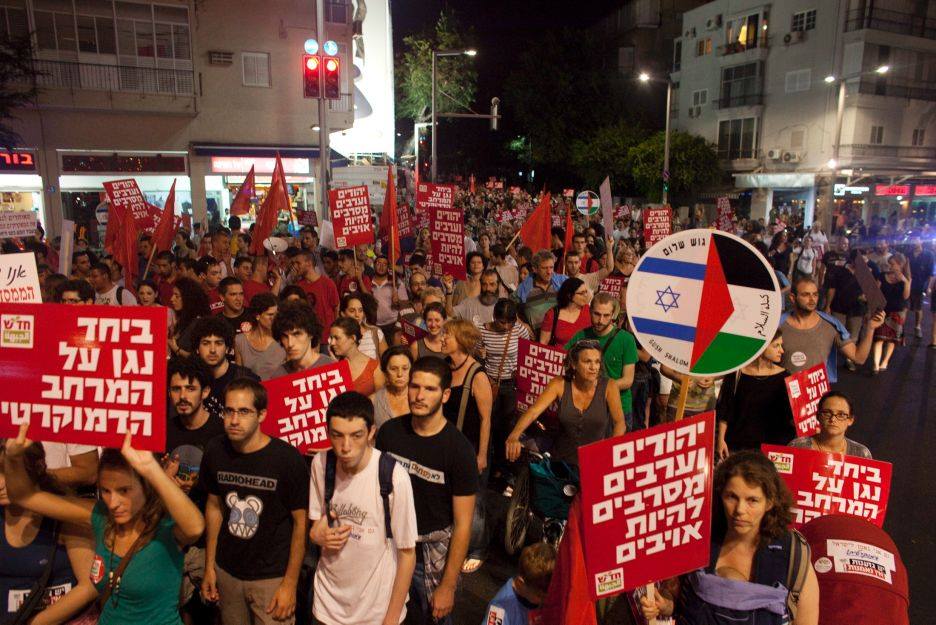 Tomorrow, Friday, October 9, at 13:00 there will be held at the corner of Ben-Zion Boulevard and King George Street in Tel Aviv a Protest Vigil against the Occupation and Escalation.
Military operations and settlement construction are not the solution - they are the problem. Only a peace agreement can end the violence.
In between wars and military operations, right-wing governments  construct more settlements. In between one round of futile negotiations and the next one, the government creating facts on the ground which prevent the attainment of peace and security and which lay the ground for the next war. In between one peak of escalation and the next, the government  repeatedly turns a blind eye to the violence of the nationalist settler gangs which rampage, burn and kill throughout the Territories. And in between one round of violence and the next, Netanyahu is convinced he has found the magic formula which will allow him to manage the conflict and to maintain the occupation forever.
Reality is now exploding in our faces. Moment by moment, the occupation becomes ever more violent and dangerous. This right-wing government is a grave danger to all who live here. We all, on both sides, pay the price - and it becomes ever higher, with every passing day.
The right-wingers assert that the answer to the escalation and the wave of violence is ever more use of brute force: more detentions, more killing, more shooting at minors and more construction of settlements. That is totally false. There is only one way to end the escalation and break the cycle of violence and death:  a political agreement: ending the occupation and establishing an independent Palestinian state with its capital in East Jerusalem, side by side with the State of Israel in its internationally recognized 1967 borders.
Demo: Friday, October 9, at 13:00 - corner of Ben-Zion and King George, Tel Aviv.
Facebook event
Contact: Noa Levy +972-(0)52-3872231
Demonstration supported by Gush-Shalom and Hadash - Democratic Front for Peace and Equality