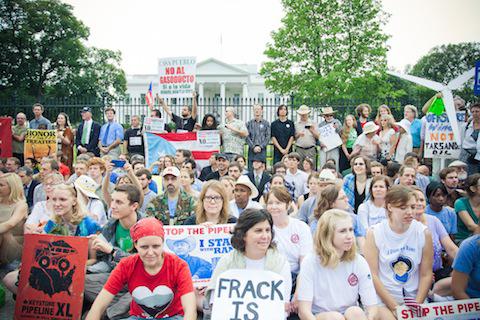 September 20th, 2011 Sit-In at White House,Josh Lopez
"This is a big win. President Obama's decision to reject Keystone XL because of its impact on the climate is nothing short of historic -- and sets an important precedent that should send shockwaves through the fossil fuel industry.
Just a few years ago, insiders and experts wrote us off and assured the world Keystone XL would be built by the end of 2011. Together, ranchers, tribal nations and everyday people beat this project back, reminding the world that Big Oil isn't invincible -- and that hope is a renewable resource. But the win against Keystone XL is just the beginning, because this fight has helped inspire resistance to a thousand other projects. Everywhere you look, people are shutting down fracking wells, stopping coal export facilities, and challenging new pipelines. If Big Oil thinks that after Keystone XL the protesters are going home, they're going to be sorely surprised.
More than anything, though, today's decision affirms the power of social movements to enact political change, and a clear sign that our movement is stronger than ever. We're looking to build on this victory, and show that if it's wrong to build Keystone XL because of its impact on our climate, it's wrong to build any new fossil fuel infrastructure, period. With the same broad coalition that stood up against this pipeline and took to the streets during the People's Climate March, we're better positioned than ever before to make real climate policy a top priority for the U.S. government and achieve meaningful progress in this year's climate talks. Our movement simply will not rest until our economy shifts away from the dirty fossil fuels of yesterday to the clean renewables of tomorrow."
Obama Rejects Keystone XL Pipeline After 7 Years Of Review
Huffington Post

By Laura Barron-Lopez, Kate Sheppard
Nov. 8, 2015
Obama did not cite the pipeline's contribution to emissions and ultimately climate change. Compared to greenhouse gases from industrial sources like power plants (which are the largest source of U.S. emissions) and vehicle tailpipe emissions, Keystone XL's impact would have been minimal.
But he did say "approving this project would have undercut" America's role as the "global leader" on combatting climate change.
"Not acting," Obama said, "is the biggest risk we face."
The president said he spoke Friday morning with Canada's newly elected Prime Minister Justin Trudeau, who "expressed his disappointment" with the decision.
"This decision isn't surprising, but it is sickening," said House Speaker Paul Ryan (R-Wis.), who was elected to the post last week, in a statement following the announcement.
Green groups praised the president's decision on Friday, calling it a "day of celebration."
"President Obama is the first world leader to reject a project because of its effect on the climate," said Bill McKibben, president of climate group 350.org. "That gives him new stature as an environmental leader."
The project's environmental impact was long a point of contention. In a major climate address in June 2013, Obama said the pipeline should only be approved if it "does not significantly exacerbate the problem of carbon pollution." The State Department's final environmental impact analysis released in January 2014 lent support to the pipeline's approval, concluding that it would not substantially increase emissions.
But environmental advocates argued that construction of the northern portion would encourage increased production in the oil sands that would not be economical otherwise. They also pointed out that the oil produces substantially higher greenhouse gas emissions than conventional crude. And the Environmental Protection Agency told the State Department that it should re-evaluate those projections in light of current oil price trends.
Obama's decision will solidify his legacy on climate change among environmentalists -- who considered Keystone a litmus test. But the administration has long argued that the president's legacy rests on his aggressive regulations to curb carbon emissions from power plants and his work to craft a major climate agreement with nearly 200 nations at the upcoming Paris Climate Change Conference.
TransCanada CEO Russ Girling called the decision a disappointment. "Today, misplaced symbolism was chosen over merit and science -- rhetoric won out over reason," he said in an emailed statement.
In its statement Friday, the company said it would consider all options, "including filing a new application for a presidential permit," which would likely come should a Republican take the White House in 2016.
TransCanada first submitted its permit application for the 1,600-mile, $7 billion project to the State Department in 2008. Because the pipeline would cross an international border, the State Department was responsible for determining whether granting a permit for the project would serve the national interest.
The pipeline would have shuttled up to 830,000 barrels of oil per day from Canada's oil sands to U.S. refineries. The southern portion of the pipeline has already been approved and constructed and is pumping oil from Cushing, Oklahoma, south to Port Arthur, Texas.
The Republican-led Congress passed legislation forcing approval of the pipeline in February, which Obama swiftly vetoed, saying it conflicted with "established executive branch procedures" and would cut short "thorough consideration" of its environmental and security implications.
But that consideration has dragged on for years. The administration delayed a decision after the environmental analysis was released, citing the need to wait for a lawsuit over the route through Nebraska to play out. Nebraska's highest court allowed the pipeline route to go forward in January 2015, and the State Department asked other agencies to make their final comments on the pipeline by February. But the administration put off issuing its final decision, leading to months of speculation about when it might come.