A Year Later, the Eric Garner Grand Jury Decision Still Stings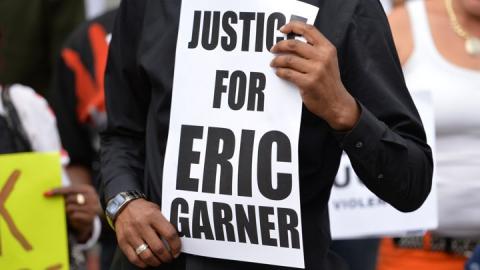 It's been a year since a grand jury declined to indict Officer Daniel Pantaleo in the Eric Garner killing.,Stan Honda/AFP/Getty
A year ago Thursday, when a Staten Island grand jury decided not to indict a police officer named Daniel Pantaleo in her father's homicide, Erica Garner cried, but wasn't surprised.
"A week before, a grand jury had decided not to indict Darren Wilson for killing Michael Brown," she says, referring to the case in Ferguson, Missouri. "So I wasn't really surprised. But it still hurt a lot."
Eric Garner, a 43 year-old father of four, was killed last July 17th. In a scene the whole world saw on video, he was choked to death in front of a parade of police who stood around while he pleaded for a breath of air 11 times. It was an episode so unambiguously senseless that even most white Americans, forced by cell phone technology to confront an ugly but ancient truth about their society, couldn't find a way to excuse it.

In the time since we've seen a numbing succession of police-abuse scandals, each seemingly more outraging than the next: Tamir Rice, Walter Scott, Freddie Gray, Dajerria Becton (the little girl in the yellow bathing suit roughed up by police in McKinney, Texas), Sandra Bland, LaQuan McDonald.
On the surface, all of these incidents are about individual police officers committing seemingly unconnected acts of brutality. But the real evil in these cases often turns out later to live a flight up from the streets, in the offices of politicians, prosecutors and judges, people whose faces seldom appear on Internet videos.
A year out from the infamous grand jury decision, the Garner family has been given a crash course in how all of this works. They've learned how police suspected of crimes are treated differently than other criminals, how grand jury secrecy can be used to hide corruption, how the abuse histories of individual officers are buried, and how judges selectively enforce laws.
Maybe most of all, they're learning how government officials use a host of bureaucratic tricks to stall and delay, working the short attention span of media audiences to their advantage, running out the clock on public anger.
"Time seems to work in favor of the corrupt in these cases," Erica Garner says.
The Garner episode is really three separate and distinct outrages. The first is what everyone saw on the video. The second, the grand jury investigation ordered by then Staten Island District Attorney Dan Donovan, was more subtle. 
See if this story sounds familiar:
A black male is killed by a police officer on the streets of New York in front of many witnesses. The victim has no real history of violence, while the officer has multiple violent episodes on his past. The murder triggers furious protests in the African-American community. A white district attorney somberly pledges to investigate, and convenes a grand jury to consider charges against the officer.
But the grand jury takes an unusually long time to do its job. A staggering 45 witnesses are called to give 1,600 pages of testimony over 15 secret sessions, facts we know because the district attorney himself goes out of his way to show the public what a thorough investigation he's conducted.
Still, there are whispers that key prosecution witnesses are being excluded. And the city's black citizens are infuriated, if not exactly surprised, when the grand jury finally comes to a decision months after the homicide: no indictment.
That wasn't the Garner case. That was the story of 15 year-old James Powell, who was shot to death in Harlem on July 16, 1964, by an off-duty police officer named Thomas Gilligan.
The episode triggered a historic series of demonstrations in New York that were followed by sizable protests in places like Jersey City, Philadelphia, Rochester, Paterson and Chicago. Those protests, many triggered by brutality cases, very much recall the actions of the past year here in New York and in cities like Ferguson, Baltimore and Chicago.
Officer Gilligan had a disturbing record that included the shooting of another black teenager. He was exonerated in the Powell case by then Manhattan District Attorney Frank Hogan's grand jury largely because witnesses testified that young Powell had a knife.
But two eyewitnesses, including a visiting member of the Italian Ministry of Finance, insisted that Powell had been unarmed. Hogan did not call them to the grand jury.
Fifty-plus years later, nobody can say definitively that Hogan's future counterpart, Staten Island D.A. Dan Donovan, threw the case against Gilligan's future counterpart, Daniel Pantaleo. That's because nobody knows what happened during those secret grand jury proceedings. 
What we do know is that Donovan was armed with a video of the crime so devastating that nearly three out of four Americans, including a majority of whites, were in favor of indictment after watching it. But he somehow magically lost his case. And he did so in almost exactly the same way that Frank Hogan "lost" his case against Thomas Gilligan a half-century ago. 
Dan Donovan Tom Williams/CQ Roll Call/Getty
As Hogan's office had decades before, Donovan after the controversial decision boasted to the public about all the hard work that went into his failed effort at indictment. He noted that his grand jury had heard 50 witnesses and examined 60 exhibits over nine long weeks of testimony.
"I was committed to a fair, thorough and responsible investigation into Mr. Garner's death," Donovan said in a statement. He added that he had gone "wherever the evidence took me, without fear or favor."
But it later came out that Donovan's office may have coached witnesses to soften their characterizations of Pantaleo's actions. A woman named Taisha Allen even told the New York Times that she was instructed to avoid using the word "chokehold." 
In researching this story for a book, I located two other grand jury witnesses who complained that they were asked more about Eric Garner's behavior than they were about Officer Pantaleo. "They were more interested in Eric selling cigarettes than they were about what the cops did," was how one put it.
Under different circumstances, Donovan should have been able to secure an indictment against Pantaleo simply by calling a few witnesses and showing the video.
"That case would have resulted in an indictment in a New York minute if it was a black person, in a non-police-officer situation," says James Meyerson, a civil rights attorney and former assistant general counsel of the NAACP.
But it wasn't a "non-police-officer situation," which Donovan went out of his way to signal from the start. He avoided the normal prosecutorial process and empanelled a special "dedicated grand jury" whose job it was "exclusively to hear this case."
This was a sharp contrast from the way Brooklyn District Attorney Ken Thompson would later deal with a case against a police officer in the shooting death of a young man named Akai Gurley. Thompson presented his case to a regular sitting grand jury, implying that police are no different from other kinds of defendants. With far less disturbing evidence than Donovan had, Thompson got an indictment.
Donovan's decision to call a special grand jury was doubly strange because he didn't recuse himself. If there was something "special" enough about law enforcement being involved in Garner's death that it required a special grand jury, then why didn't it also require a special prosecutor?
"Donovan said, 'I'm not going to disqualify myself because I can be fair,'" explains Meyerson, who later represented the NAACP in an effort to unseal the grand jury minutes. "But his first policy decision is, 'I'm going to convene a special grand jury solely because the person who is the perpetrator of the crime is a cop.'"
Donovan called a veritable mountain range of witnesses and worked heroically to achieve his non-indictment. Some believe what took place over those nine long weeks of testimony was less like a prosecutor aggressively seeking an indictment, and more like a secret tribunal, in which the D.A. essentially put on a case for the defense.
Did Donovan give jurors a way to exonerate Pantaleo by calling friendly witnesses to testify at length about what he called the "policies, procedures, and training of police officers?" That was what the Garner family and many others wondered the minute the grand jury decision was announced at this time last year. 
Had the state thrown the case? What happened in that grand jury room? 
Five different organizations initially tried to find out. The NAACP, the Legal Aid Society, the New York Civil Liberties Union, the New York Post and the office of Public Advocate Letitia James all petitioned the court for the release of the grand jury records. But they were stonewalled.
This is the third, ongoing offense of the Garner case: the cover-up. It's been going on ever since the grand jury decision was announced, a year which, among other things, saw Dan Donovan triumphantly elected to Congress by an approving white majority on Staten Island. Not everyone was upset by what happened last December. 
Appellate court judges listen to oral arguments appealing for the public release of records from the grand jury in the Eric Garner case. Bebeto Matthews/AP
Though there's a strong presumption against it, the state does have the power to open up grand juries. This was made obvious in the Garner case. Donovan himself accomplished it, a year ago this week.
Seemingly concerned about the public perception of his work in the wake of the unpopular non-indictment, Donovan petitioned Staten Island Supreme Court judge Stephan Rooney for permission to release information about his tough investigation. Rooney apparently didn't think grand jury secrecy was all that sacrosanct then, and gave Donovan the green light on December 4th of last year.
When organizations like Legal Aid and the NYCLU decided to ask Rooney's court to unseal the rest of the grand jury minutes, they were shocked by the guidelines. Rooney held that grand jury secrecy was a concept to be enforced so broadly that the various petitioners were ordered to keep secret even their attempts to fight secrecy, if that makes sense.
The initial directive from Rooney's court was that the entire Garner grand jury controversy was to be kept under seal. The public was not to know anyone was even trying to unseal the jury minutes. In fact, one of the reasons there were so many petitioners is because initially, none of them even knew about each other.
But the secrecy didn't last long. Within a day, the office of Public Advocate Letitia James took the matter to an appellate court, the order was rescinded, and everything was out in the open.
Thus the public hearings that took place about the Garner grand jury in February and June of this year would have been kept secret had the matter been left in the hands of Staten Island courts.
All five petitioners made passionate arguments in open court. One after another insisted that given the intense public interest, and the many suspicious aspects to the case, it was vitally important to find out what had taken place in Donovan's grand jury.
All five were rejected: first by the Staten Island courts, then by an appellate court in Brooklyn, and finally, just last week, by the New York State Court of Appeals.
For all intents and purposes, the normal avenues for investigating the malodorous grand jury decision have been exhausted.
Nobody in the family was surprised when the Staten Island court denied the motion, but the rout in the higher courts at the state level was a shock. "At first I thought it was just Staten Island being racist," says Erica Garner. "But I believe it's so much bigger than that now."
At this writing, Chicago is the latest city to erupt in protests. The impetus there is yet another gruesome video, this time of an officer named Jason Van Dyke shooting 17 year-old LaQuan McDonald 16 times as he walked away from police.
The public wouldn't know the truth even about McDonald if not for a Freedom of Information Law (FOIL) request filed by journalist Brandon Smith. We also wouldn't know that Van Dyke had over 20 abuse complaints in his past, were it not for the Citizens Police Data Project (CPDP), which is undertaken by a group called the Invisible Institute in conjunction with the Chicago Law School's Mandel Legal Aid clinic. The group used FOIL and litigation to obtain information about abuse complaints of thousands of officers. 
Officer Jason Van Dyke shot Laquan McDonald in Chicago in October 2014. Chicago Police Department/AP
But Chicago is the exception, while New York is closer to the rule. In the Garner case specifically, similar efforts have been undertaken to dig up the dirt, but this city has been more successful in keeping it hidden.
Late last year, a few weeks after Dan Donovan's grand jury decided not to indict, the Legal Aid Society submitted a FOIL request to New York's Civilian Complaint Review Board (CCRB), which handles abuse complaints relating to police officers.
They asked the CCRB to disclose information about Officer Pantaleo's complaint history: the number of complaints made against him, how many of those complaints were substantiated, and a series of other questions.
The CCRB told them to stuff it. They cited a series of court cases to deny the requests, including Daily Gazette Co. vs. City of Schenectady, a case about a bunch of goofball off-duty cops in upstate New York who in 1997 pelted a civilian's car with eggs while on the way back from a bachelor party.
In that case, two local newspapers tried to get information about the incident via a FOIL request. The New York Supreme Court's ruling then held that the records were exempt from FOIL because "all personnel records used to evaluate performance" of police shall be considered "confidential" and "could not be released without the express written consent" of the officers.
This preposterous loophole means anything that the government deems "personnel records used to evaluate performance" of police can't be released unless the officers themselves personally approve.
Citing this and other cases, the CCRB said any request about Pantaleo's history amounts to an "unreasonable invasion of privacy."
Legal Aid fought back, formally petitioning the court on February 17th of last year to order the release of a summary of Pantaleo's file. The CCRB, which by the way is an independent organization and not part of the police department, responded that the release of such a summary would be "inherently stigmatizing and subject to abuse."
Pantaleo argued to the court through his attorney that he had already suffered hardship and threats because the press had published information about one of his CCRB cases, including an incident in which Pantaleo and other officers reportedly strip-searched and grabbed the testicles of two black men suspected of drug dealing. That case led to a $30,000 settlement paid by the city.
A judge named Alice Schlesinger wasn't impressed. She didn't think CCRB records were Pantaleo's problem. Without passing judgment on Pantaleo's actions in the Garner case, she noted it was likely that "any adverse reactions expressed toward Mr. Pantaleo" would "have their roots in the video of that incident, which speaks for itself."
So the judge ordered that the CCRB release the summary. Coincidentally, that order came on July 17th, exactly a year after Garner's death.
But we're still waiting for those records. Both the city and Pantaleo appealed, but not all of the appeal papers have been filed yet. So while the public continues its long wait to get a peek at a mere summary of Pantaleo's abuse history, the officer himself remains employed by the City of New York.
"More than a year after the death of Eric Garner, the city of New York continues to conceal for the public Officer Pantaleo's substantiated complaint record, despite a clear Supreme Court order," Justine Luongo, Legal Aid's attorney-in-charge of its criminal defense practice, says in an email. "[This is] contrary to the governing principles of transparency and accountability."
While all this was going on, Erica Garner was filing her own FOIL requests. She asked the NYPD for information about a variety of topics, including records of whether or not her father had ever complained to the city about police abuse.
The NYPD flatly denied her, using language eerily similar to the language the CCRB threw at Legal Aid.
Releasing the information requested, the NYPD told Garner, would constitute an "unwarranted invasion of privacy," and "could endanger the life or safety of any person." It also would "interfere with law enforcement investigations or judicial proceedings."
Garner was both angered and freaked out by the FOIL responses, which she is convinced were pushed under her door and not sent via normal mail. She is determined to keep pressing for the information, however.
"I hope they release it," she says. "If you look at what blew the lid off the LaQuan McDonald cover-up, it was the FOIL information."
A year after the grand jury decision, the Garner case stands as a cautionary tale about the obstacles ordinary people, and African-Americans especially, face when they try to get to the bottom of police corruption issues.
Trying to get even the most basic information about police violence turns out to be an infuriating, convoluted and physically exhausting procedure far beyond the means of most ordinary people. Individual police can be fired or disciplined, but this maze behind them always remains.
Cops become instant media villains for decisions made in frenzied minutes or seconds. But the politicians and judges behind them spend months and years of calculation building walls to hide the same acts. Most of the time, they get away with it. Even in the most high-profile cases, justice is a marathon.