5 Signs That Benjamin Netanyahu's Split With Israel Security Chiefs Is a Crisis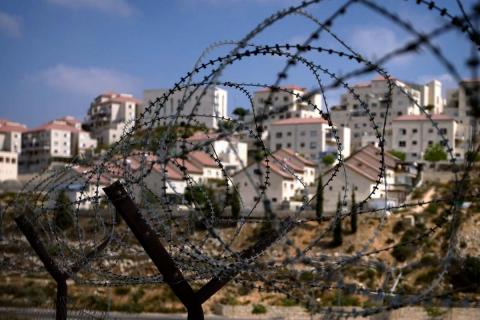 Photo of illegal construction of Israeli settlements, Middle East Monitor
As Israel's current wave of terrorist violence enters its third month, long-simmering tensions between the country's political leadership and its security branches are escalating and approaching what feels like a crisis level.
True, Prime Minister Benjamin Netanyahu and his allies have clashed with Israel's defenders repeatedly - on Iran, the Palestinians, the Obama administration - since Netanyahu took office in 2009. What's different now is the sheer number of disputes erupting simultaneously, in broad daylight, across an array of issues, at a moment of dangerous chaos at home and regionally.
Seldom, if ever, have Israel's decision-makers been so sharply at odds with their professional watchdogs on so many critical issues. The prime minister has staked out a position on the nature of Islamist terrorism that's fundamentally at odds with his own intelligence community. Other questions in dispute include the causes of the current violence and strategies for containing it, the advisability of goodwill gestures toward the Palestinians, and the feasibility of resuming peace talks.
Netanyahu and his allies generally believe that the Palestinian terror wave, which began in October, is fueled by deep-seated hatred of Israel and Jews, with incitement by Palestinian leaders providing the spark. Most believe that only iron-fist tactics will restore calm. But Israel's intelligence agencies maintain that while incitement plays a role, the young attackers are driven as much or more by frustration over the circumstances of their lives - personal, economic and national. Taking their cues from social media, they act independently and often spontaneously.
Against that backdrop, the insults have been flying fast and furious for weeks. Consider five recent events:
Taken together, the current disputes point to a collapsing Israeli national consensus and the beginnings of an existential battle to choose the future. Israel has been guided for two generations by a notion that the status quo in the West Bank was sustainable, that Israel could indefinitely defer a decision on its relationship with the Palestinians, that the country was safer holding the territory than relinquishing it, that the strong arm of the military could keep it secure.
For most Israelis, it was convenient to believe in this consensus. For the settler movement and its allies on the right, it was an existential necessity. Now the army is warning that the world has changed, the status quo no longer holds and hard decisions must be made. It shouldn't surprise us that those with the most to lose are resisting the advice.