Tidbits - January 14, 2016 - Deportations and Anti-Latino Racism; Flint Poisonings - Ordered by Gob. Snyder; Attack on Public Sector Unions; Bernie; Oregon; BDS; Susan Sarandon; Speaking Out Against Madness - Ruth Horowitz; lots of announcements...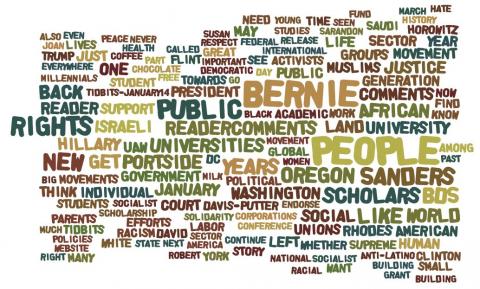 Tidbits, Reader Comments, and Announcements - January 14, 2016,Portside
Re: Why Is the US Deporting Refugee Families?

Thought for this Epiphany day when Christian tradition holds that the magi visited the infant Jesus just before his parents fled to Egypt to save his life:
What if President Obama had been the pharaoh in Egypt at that time and had deported Jesus' family?
Alfred Rose
The article by Alcoff is excellent. My only comment is that indeed biological race does not exist, but in the United States we have a special color-coded set of "races", socially invented, basically white, black, brown, and yellow. People, especially racists, accept these categories, so it's perfectly ok to refer to those who are anti-people of color as racists. This Color Code of course places whites on top, so it is the underlying concept of  white supremacy.
Terence Cannon
This is the GOP-organized assault on working people, an attack on African American, Latino and Asian communities. Slicing hard-fought gains is not enough, now they want to actually poison us.
Jay Schaffner
Michigan is a testing ground and the Koch Brothers and Nestle, plan to export their Emergency Management system if we don't ALL fight back. So, I appreciate your help from Massachusetts, Vermont and all over the country. Stop this evil system before it gets to your state!
Patricia Dowling
Madison Teachers Inc (MTI) which led the 2011 protests just won another case in circuit court last week.  MTI is the ONLY public sector union - other that police and fire which are not covered by Act 10 - that has had collective bargaining agreements following the 2011 enacted Act 10 - and we have them for all 5 of our bargaining units in the Madison Metro School District.
John Matthews
When corporations (now officially called an individual) support a candidate or issue - do they, thereby, represent the views of all who work there?!!!!
Aaron Libson
Is this the Larry Cohen who is national leader of Labor for Bernie?
Lewis Grupper
that was what I was thinking at the showing...folks Should get out to movie showings with Sanders' message for banks
Linda Crowley
If only we could get every voter to watch it. And given Americans' notoriously short attention spans, watch it just before they vote.
Alan Hart
Good for him. Hopefully guilty bankers will face jail time.
Joe Ferreiro
We need to go no further to understand why organized labor is going in the toilet! Endorse an anti-union corporate Wall Street hack. I remember in 1972 when Meany and his butt heads endorsed Nixon. At least the Retail Clerks (UFCW) had the brains to endorse McGovern...they have taken leave of their senses sent the merge back in the 1980's. Not the union they were.
Bill Johnston
This analysis of terrorism and the rightwing manipulation of it is valuable.  Thank you. 
noel kent
People, the right wing, racists in Oregon have not really seized federal or state land. They have seized land which belong to the Northern Paiute. Let's get this right as this is an important distinction. "Some of the same armed "militia" involved in the Cliven Bundy affair in Nevada have occupied federal land in Oregon formerly reserved for the Northern Paiute. Ironically, the "legal" basis for starting a fight with the federal government is that sovereignty "really" belongs to Oregon rather than the Paiutes, who have seen their federal trust land shrink from over one and a half million acres to a tiny remnant of 760 acres in Burns, Oregon, where this current armed standoff began."
Randy Gould
Author got a few things wrong.
The two Oregonians who were convicted of fire setting are not a part of the "group" and they both publicly claim the Bundy brothers *do not* to represent them.
Maybe free access to grazing should be limited to small herds - free grazing for Ammon's dad' herds for 20 years? Gimme a break.
And she missed mentioning that most of the 12 to 15 guys are from other states...Montana and Nevada that I know of.  And Ammon is beneficiary of a Small Business Loan of over $50,000 for his truck repair and maintenance firm (in Arizona I think) not cattle feeding related land use.
The Justice Dept. attorneys appealed the sort sentence, (a few months) to a maximum sentence (up to five years), and won.
Burns Piute tribe has a good case for first considerations on "return of land control" .
But maybe the result most desired by all is to have a say in what land uses and when and for how much and to whom before we consider privatizing Federal Lands for the big agribusinesses. The small rancher would be immediately sold out the minute the corporations get their hands on public lands.
BTW there is a rumor that Mormons populate most of the BLM and National Forest jobs, is that true? Why would that be - it's who you know like any job or industry?
Kay Brown
Frank Joyce
If it is easier for your group to endorse our letter, please respond back to me by Monday, January 18. 
Ramah Kudaimi
Membership and Outreach Coordinator 
202-332-0994
To all those belonging to academic organizations or associations, read about the Israeli disparities in funding Jewish vs. Arab schools...more evidence of Apartheid-like public policies. Join the boycott!
Tom Smith
From this article, it seems that even the educational system in Israel is based on apartheid!
Mario Galván
BDSers like Makdisi are completely dishonest when they claim it is about "an academic boycott - which targets institutions, not individual scholars." The reality is that it does indeed impact individual scholars in numerous ways. When Israel universities are denied access to the journals of the American Anthropological Assn. for example, grad students who can't afford individual international subscriptions are cut off from some of the most important journals in their field -- even if they are activists opposing the occupation. When Israeli scholars are denied participation in important international meetings in their fields because they rely on travel funds from their universities, it is individual scholars who are impacted--regardless of their politics. I could go on, but the point is clear by now that this claim which is often essential to getting these resolutions passed is just plain dishonest. Attacking scholars who are among those Israelis most likely to oppose the policies of their governments does nothing to end the occupation and it is welcomed by the Israeli right for punishing scholars who they see as disloyal.
Academic BDS for Israeli universities and scholars makes about as much sense as boycotting all US universities and scholars because of the policies of the US government in waging war against Iraq - and US universities are at least as complicit with the US government (as we all discovered during the Vietnam War) as Israeli universities are with their government. American and British academics who don't call for boycotting their own universities (and selves), but support this BDS movement are being totally hypocritical here.
Stan Nadel
Great man now among the great ancestors of the Pan African revolution. The communiversity brought many young people together. It enlightened a whole generation of youth to the contradictions of American society. Those dissatisfied youth seeking answers to the questions of injustice like police brutality, and racial superiority. However most importantly identification; which is what "black studies programs" provided. Youth were able to investigate their collective history and form an identity. No longer identifying as the victims of white supremacy but with the heroes in history. All intellectuals like "Bob" Rhodes" were the professional cadre of Pan African revolution Fortunately he has left behind structures that will continue what he and others began. Like Dr. Welsing who has recently departed; these cadre of skilled intellectuals have left programs that can continue the progression of self consciousness among African youth. So that hopefully we can expand with our self determined education taking us home to mother Africa.
Rashieda Shukuraht Weaver
I had the good fortune of having known Bob Rhodes for some 65 years. Our friendship began at Talladega College in 1950 and continued until his death. I witnessed and admired his intellectual growth. He was a giant and his keen insights kept growing throughout his life. In addition to his love of jazz he had a great sense of humor. I will miss our long telephone conversations about the state of the world. 
I knew about his studies at Atlanta University, University of Cinn., (where he said everybody but him looked [like] Doris Day and Rock Hudson) and at the University of Chicago. He and I chuckled over the wide brimmed white FBI men who visited me at my office in DC, of all people, inquiring whether Bob was a threat to the US government or whether his not being married at age 30 was a "problem " or did I know whether he used any control substances. After making these "gentleman" show me their credentials several times, I asked whether they were asking me whether my friend was a red, gay with a monkey on his back. They stormed out mumbling that you can never get a straight answer from "these peoples ".
A Robert Rhodes comers along only once in a life time . Presente;
Jim McWilliams
You report the firing of Harold Meyerson as though it was because of his political views, which is downright alarming. Shouldn't the NYT be asked for its explanation of the firing.
Nina Udovicki
I like the victories but I am disappointed that there is no mention of John Kest
Tommy Lee Stoner
A corporation can SUE a nation? Yup. That's exactly what all the fuss over NAFTA, WTO, GATT, etc., is about. Intelligent citizens dislike the idea of having all their future rights and decisions signed away to let corporations everywhere pursue their profit OVER the wishes and interests of a nation's populace. Oppose Trade Treaties that sign away local citizens' rights to pass any laws they *** want to. We have rights to protect our country, state, county, village, whatever. Those rights should never, never be given up in perpetuity. Hog and Cattle CONCENTRATION CAMPS: the new disgusting tactics 1) allow the corporations to sue a town or county who doesn't give a permit, and 2) pressure counties especially to pass laws that are called "livestock friendly" to "promote: their counties for "business" and those laws forbid the county to ever oppose any project with "livestock." Puppy mills, anyone? Geez, we can't deny these people their "right to earn a living."
Juanita Rice
I'm so very angry upon learning that Planned Parenthood is endorsing Hillary Clinton for President. PP never endorsed in years, and now all of a sudden it is doing this, shooting itself in the foot.I think PP will lose a great deal of financial and emotional support as a result of this. 
Judith Ackerman
Thank you for your illuminating and very interesting story on the Green Book.
It reminds me of something I encountered in 1980 when I was a graduate student at Columbia University. In interviewing older gay men I learned about something rather remarkable: the "Bird Circuit." It proliferated in the 1930s, up until the late sixties -- apparently. Exact details are hard to come by.
Let's assume you are a young man from a small town. You've discovered (or finally acknowledged) that you are gay. You want hop on the Greyhound bus and head to a big city where you might find less discrimination. (You could be in considerable danger if you were "out" in a small town, with small-minded people.) You get off the bus in a big city, where do you go first?
It turns out many of the bars that welcomed homosexuals in those days were named after birds: the Canary, the Flamingo -- you get the idea. It was a kind of secret, sub-rosa society: the Bird Circuit. You might want to research that for another story.
Luis R Torres
Hope for us coffee lovers
Eugene Flynn
Looks like I'll die of something other than liver disease. Thank you coffee.
Dana Ward
This film was one of the best both I and my husband had a chance to see this past year or so. I felt it was telling a story we both lived through as children and young adults and which colored my life for many years. If you even need any further endorsements of it, let me know.  My work has always been in India (at least since 1958 when I went there on a post doctoral grant, and I think the events of those earlier years had an indelible impact on me.
Joan P Mencher, Emerita Professor, CUNY
Michael Munk
Democratic presidential candidate Sen. Bernie Sanders (I-Vt.) unveiled a forceful climate change plan Monday that sets its sights on the fossil fuel industry and commits to taxing carbon pollution.
The Committee on Peace Studies, The Center for Research on Diversity and Inclusion (CRDI), and The Department of Political Science present
A film series on the lives of three singers and their social movements
Paul Robeson, Pete Seeger, and Joan Baez were active participants in the social movements of their times. They struggled for workers' rights, racial justice, peace, women's equality, and protection of the environment. Robeson, Seeger, and Baez exemplify the connections among art, culture, and political activism as seen in these exceptional documentary films.
The showings and discussion are open to all.
This year's event comes at an unprecedented time for socialism in the United States. Polls show the growing popularity of democratic socialism and the Bernie Sanders presidential campaign among people under 35. This conference will provide a crucial opportunity to discuss how we can continue to build an organized socialist voice to meet this rising tide of potentially game-changing support.
Equally important, this student gathering will offer a critical opportunity for socialist student activists to talk about the growing national anti-racist campus movement. Students are mobilizing direct actions at levels not seen at universities for decades. Socialists need to coordinate their strategy to play a productive and proactive role in our own schools and in solidarity efforts for racial justice. "Generation Left" will provide such a planning space on a national level.
Please share to continue the political revolution on campuses after the election is over! Come to "Generation Left: Millennials Building the Next Socialist Movement." 
The peace group CODEPINK, along with The Nation Magazine, Institute for Policy Studies, Peace Action, and many other organizations (see below), is hosting a two-day summit on Saudi Arabia and U.S.-Saudi ties on March 5-6, 2016.
We will be addressing issues such as human rights, Saudi foreign policy, Saudi-U.S. ties, and the prospects for change inside the kingdom and in U.S.-Saudi relations.
We are bringing together human rights advocates, diplomats, scholars and authors, and other experts, as well as grassroots activists, for this international summit on the Kingdom.
Saturday, March 5 will consist of panels and key-note addresses. Sunday, March 6, will focus on building a movement to pressure the Saudi government to respect human rights and to transform the destructive aspect of U.S.-Saudi relations.
Chris Hedges, author
Vijay Prashad, author and professor at Trinity College
Rabayah Althaibani, Yemeni-American activist
Medea Benjamin, CODEPINK
Joe Stork, Human Rights Watch
Ensaf Haider, Raif Badawi's wife (unconfirmed)
Ali al Alhmed, The Gulf Institute
Raed Jarrar, American Friends Service Committee
Lee Fang, journalist at the Intercept
Gabriel Justice, Saudi-American author and U.S. Veteran
Robert Vitalis, author and professor at the University of Pennsylvania
William Hartung, weapons expert, Center for International Policy
Hala Al-Dossari, Saudi writer and scholar
Kristine Beckerle, Human Rights Watch
Yasser Munif, professor at Emerson College
Andrew Hammond, Ph.D. candidate at Oxford University
Ebtihal Mubarak, Saudi journalist
Matar Ebrahim Ali Matar, Bahraini politician and activist
Check back in periodically for updates!
Co-Sponsors:
The Nation Magazine ** Peace Action ** Center for Inquiry ** Historians Against the War ** Institute for Policy Studies ** Just Foreign Policy ** People Demanding Action ** Popular Resistance ** Coalition to End the U.S.-Saudi Alliance ** RootsAction ** The Gulf Institute ** The Markaz Arts Center for the Greater Middle East ** United For Peace and Justice ** United National Anti-War Coalition ** Veterns For Peace ** World Beyond War ** Voices for Creative Nonviolence ** Campaign for Peace and Democracy ** Muslims4Peace ** Women's International League for Peace and Freedom (WILPF) ** WESPAC Foundation ** U.S. Labor Against the War (USLAW) ** Western New York Peace Center ** Food Not Bombs
STAY TUNED FOR MORE INFORMATION!
The Murphy Labor Institute, CUNY
The NYC Scholars Strategy Network
CUNY Graduate Center's Advanced Research Collaborative
Organizers: Ruth Milkman and Frances Fox Piven
This one-day conference focuses on the right-wing attack on public sector labor as well as efforts to counter those attacks.  Speakers include academic researchers as well as labor and community leaders.  The conference is divided into three sessions.
The opening session features perspectives on recent attacks on public sector unionism.  Speakers will analyze the history of public sector unionism, the anti-union efforts of right-wing organizations like ALEC, the upcoming U.S. Supreme Court decision in the Friedrichs case, and the ways in which austerity policies are being used to undermine organized labor. 
The second session will examine recent efforts to fight back against these attacks, including the cases of Wisconsin and Ohio in 2011, the 2012 Chicago teachers' strike, and local struggles in New York.  
The closing session will feature a series of broader strategic perspectives on how to confront these challenges.
9am Continental breakfast
9:30am Welcome and Introduction: Ruth Milkman
Speakers: 
Joseph Slater, University of Toledo Law School
Gordon Lafer, University of Oregon
Jennifer Laird, University of Washington
Saqib Bhatti, Roosevelt Institute
Harold Meyerson, The American Prospect
Moderator:  Josh Freeman
12pm - 1:30pm LUNCH   
Speakers: 
Elizabeth Wrigley-Field on Madison
Jesse Sharkey, Vice President, Chicago Teachers Union
Pierrette Talley, Secretary-Treasurer, Ohio AFL-CIO
Barbara Bowen, President, PSC-CUNY
Moderator:  Ruth Milkman
3:30pm to 4pm BREAK 
Speakers:  
Joel Rogers, University of Wisconsin and COWS
Bob Master, CWA
Stephen Lerner, labor organizer
Adolph Reed, University of Pennsylvania
Moderator:  Frances Fox Piven
CLOSING RECEPTION  5:30pm - 6:30pm
By Casey Hinds
January 7, 2016
"There are real consequences to PR spin of health research. If this story were to gain traction, it may further the health haloing of a beverage that drop per drop has more calories and more sugar than Coca-Cola."
Now that pain is being used to help sell sugary milk.
Miles Jackson is the Co Founder and Executive Director of Cuba Skate and travels back and forth to Cuba on a regular basis to support and help grow the island's emerging skate communities. He's also a Board member for the Juvenile Diabetes Research Foundation (JDRF) and a member of the International Skateboarding Federation's (ISF) Global Development Committee. 
Published January 5, 2016
Since 1961 the Davis-Putter Fund has provided need-based grants to students doing academic work at the college level and are involved in building movements for social and economic justice.  Grantees are both graduates and undergraduates enrolled in accredited schools/programs for the period covered by their grant - trade or technical school or certification programs will be considered.  Although citizenship is not a consideration, applicants must be enrolled in an accredited program in the US during the 2016/17 academic year in order to qualify.
The maximum grant is $10,000 and may be considerably smaller depending on the applicant's circumstances and the funding available.  All the funds come from individual donors and there are 25-30 grants awarded each year. Grants are for one year although students may re-apply for subsequent years.
In solidarity,
Carol J. Kraemer
Director
P.O. Box 7307
New York, NY 10116