Fervently Singing Timely History of Chicago's 'Haymarket' Affair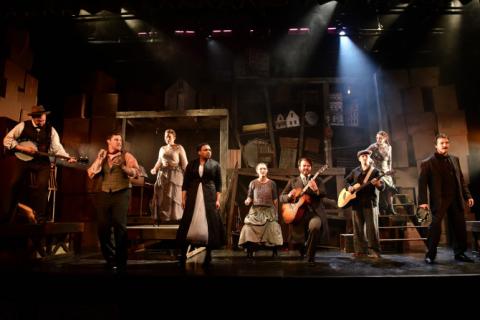 The cast of Underscore Theatre's world premiere production of "Haymarket: An Anarchist's Songbook." ,Evan Hanover
Revolutions, of whatever stripe, more often than not end up devouring themselves as the voices of reason morph into the voices of extremism. That is one lesson to be gleaned from "Haymarket: The Anarchist's Songbook," the impressive new musical now in its world premiere by Underscore Theatre, a company devoted to the the development and showcasing of new work for the musical theater.
With a skillfully shaped book and lyrics by Alex Higgen-Houser, and soaring music by David Kornfeld that captures a sense of the story's 19th century American roots, but is fused with just enough of a modern beat, this bold, ambitious, eerily timely and fervently performed show chronicles how the mass labor demonstration held at Chicago's Haymarket Square (at Desplaines and Randolph Streets) on May 4, 1886 was undermined by a bombing and subsequent gunfire. And it arrives just in time for the 130th anniversary of the notorious event.
Although it began as a peaceful rally in support of an eight-hour working day, an unknown person (some claim it was an anarchist, others an anti-labor provocateur) tossed a dynamite bomb at the already stirred up cordons of police determined to disperse the crowd. The melee resulted in the deaths of seven police officers and at least four civilians, and the wounding of many others. Eight men believed to be anarchists were subsequently put on trial and, in what was widely considered a kangaroo court, convicted. Seven were sentenced to death, with four of them ultimately sent to the gallows; one committed suicide. The notorious affair was initially seen as a major setback for the American labor movement (and its "socialist" elements), but it also has come to be viewed as a catalyst for its empowerment, particularly in Chicago.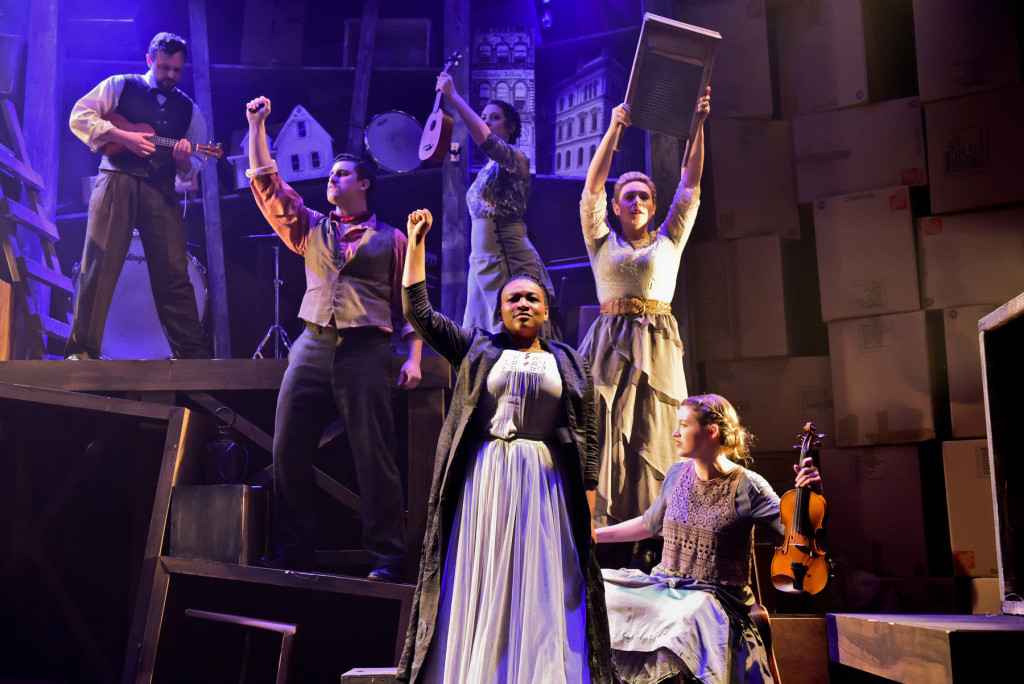 LaKecia Harris (front) stars as Lucy Parsons, with the cast of the Underscore Theatre world premiere of "Haymarket: The Anarchist's Songbook." (Photo: Evan Hanover)
'HAYMARKET: THE ANARCHIST'S SONGBOOK'
Recommended
When: Through June 12
Where: Underscore Theatre at
The Edge Theater, 5451 N. Broadway
Tickets: $20 – $25
Info: (312) 646-0975;
http://www.underscoretheatre.org
Run time: 1 hour and 45 minutes with one intermission
"Songbook" frames its story through the memory of Lucy Parsons (LaKecia Harris), the daughter of a slave who later becomes the widow of "anarchist martyr" Albert Parsons (James Smart), a white man who had served in the Confederate Army, but then found his calling as a charismatic labor leader. Although devoted to non-violent action, Parsons was surrounded by men whose notions ran the gamut, including one of several German immigrants, August Spies (Mike Mazzocca), and Louis Lingg (Royen Kent), the loose-canon and young loner – a "revolutionary" in love, as a song explains, with "Lady Dynamite." (And yes, there are unquestionably distant echoes of terrorist activity in our own time in this show, along with enduring issues of income inequality, police brutality, and a compromised judiciary and media.)
Staged at The Edge Theater, a handsome new space in the Edgewater neighborhood (outfitted with 99 movie-style seats complete with beverage holders), director Elizabeth Margolius makes full use of the undertones of satirical commentary and fiery rhetoric in this Brechtian-like ballad musical. And while her cast's mostly unamplified voices sound best when they join together for stirring chorales (the musical direction is by Robert Ollis and Tyler Thompson), each of the performers brings an impressive emotional truth to the story, and many of them double as musicians on guitars, violin, cello, washboard and more. They include David Kaplinsky (as a typesetter for a German-American newspaper), Tyler Merle Thompson, Summer Hofford (as a socialite who marries one of the activists); Victoria Olivier, and Khaki Pixley, notable in her role as the Judge.
Kurtis Boetcher's stunning, multi-level, shadow box-like set (expertly lit by Erik Barry), easily suggests the urban crush, a courtroom and a prison. It has a fascinating sculptural feel to it, and Margolius has ingeniously "choreographed" her actors to make full use of it. And Carolyn Cristofani's richly layered, earth-tone costumes are a perfect fit for the period and social classes depicted.
The score for "Haymarket" is a real beauty, with everything from songs designed to marshal the masses, to sophisticated love songs, to the mocking "Order of the Gallows" (when the women whose husbands are imprisoned pin symbolic nooses to their lapels). Riffs from "La Marseillaise" are tossed in for good measure, too. I can't deny I'd like to hear it all again – sung by bigger and more polished voices. Yet there is so much heart and truth in this production that it carries the day even without the vocal fireworks. As the song says: "Hear the News."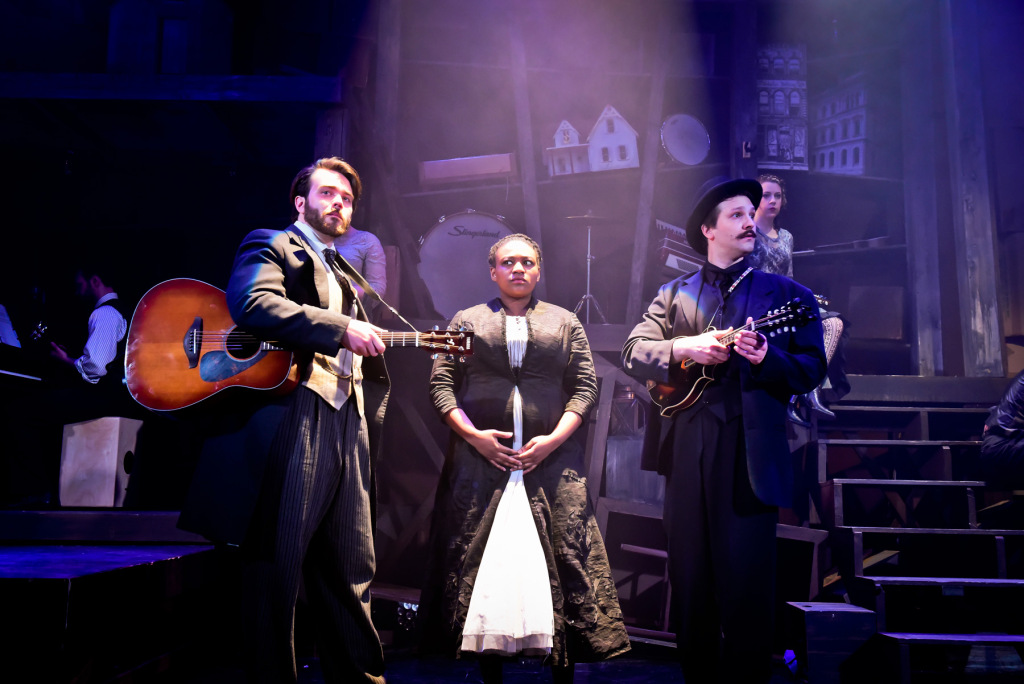 James Smart (from left), LaKecia Harris and Mike Mazzocca with the cast of Underscore Theatre's world premiere of "Haymarket: The Anarchist's Songbook." (Photo: Evan Hanover)