Tidbits - June 23, 2016 - Reader Comments: Orlando-Attack on LGBTs; Criticism of Portside, Moderators response; Cuomo vs. BDS; Broadway for Orlando - love and solidarity recording; more...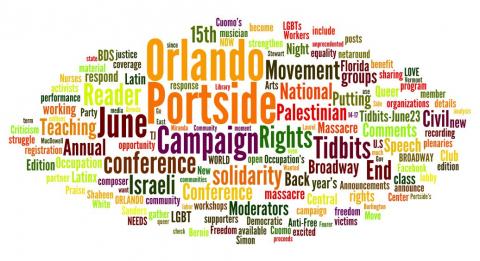 Reader Comments and Announcements - June 23, 2016,Portside
Announcements and Resources:
Justin Torres: for a moment, I want to talk about the sacredness of Latin Night at the Queer Club. Amid all the noise, I want to close my eyes and see you all there, dancing, inviolable, free.
==========
Check yourselves
Do an analysis of how little you've covered the Orlando massacre and ask yourselves whether you've got some homophobia or heterosexist editorialists on staff. There are so many angles relevant and you've acted as if this moment was a blip on the radar. Not even anything on the unprecedented organizing between labor, community and queer groups in Central Florida and across the state to respond to victims in the LGBT and Latinx communities (look up Latinx because I'm sure you non-gay, cisgender people don't know). Or hell, play it safe and share stories of the gun debate but seriously, most days since the tragedy you've ignored it entirely.
You need to be self critical, honest and check yourselves.
TJ Michels
Portside Moderators respond:
TJ,
Many thanks for your email. There is no question that Portside could have run more posts. However, we don't think that you have seen some of our posts, beginning almost immediately after the Orlando massacre. Links for the various different posts that Portside did run are below.
Please send us links to material related to "the unprecedented organizing between labor, community and queer groups in Central Florida and across the state to respond to victims in the LGBT and Latinx communities." We would definitely consider re-posting such material. Portside welcomes and often relies on reader suggestions.
The moderators of Portside
In Solidarity,
Katie Miranda
Bernie Sanders is a breath of fresh air and common sense and like the millions who supported his campaign in the primaries, millions of people who are not Americans but who wish the US well have been thrilled by his campaign. Let us hope that Hilary Clinton will use him well in the campaign and support many of his ideas, for the sake of the younger generations especially.
Laurel MacDowell
Why don't we read this kind of analysis in the local newspapers or hear it on Public Radio?
Makes me shiver.....this is much bigger than I can even comprehend.
Brenda Stewart
A great follow-up to your coverage of Judith Stein/Jacobin interview
Racism and the "Working Class" in Media Coverage of U.S. Politics
by Robyn Muncy
June 22, 2016
This post explores the use of the term "working class" in media coverage of U.S. politics during the current election cycle and since 1960.  It argues that journalists and politicians have often used the term pejoratively and especially to suggest that only those in the working class are racist.  These acknowledgments that the US has a working class are of no benefit to American workers.
Rosemary Feurer
Broadway Records President Van Dean, SiriusXM Radio Host Seth Rudetsky and Producer James Wesley today announced the charitable initiative Broadway for Orlando and an all-star roster of theater artists to record the new benefit single "What the World Needs Now is Love," produced in conjunction with Playbill at Avatar Studios. Created to honor the victims and those wounded in the Orlando shooting massacre at Pulse nightclub and aid the surrounding community, 100% of the proceeds from the sale of the song will benefit the GLBT Community Center of Central Florida.
Sara Bareilles; Kristen Bell; Wayne Brady; Matthew Broderick; Andréa Burns; Ann Hampton Callaway; Liz Callaway; Len Cariou; Paul Castree; Michael Cerveris; Joshua Colley; Lilla Crawford; Carmen Cusack; Darius de Haas; Fran Drescher; Gloria Estefan; Kimiko Glenn; Whoopi Goldberg; Renée Elise Goldsberry; Joel Grey; Sean Hayes; Nina Hennessy; James Monroe Iglehart; Julie James; Carole King; Judy Kuhn; Nathan Lane; Anika Larsen; Zachary Levi; Jose Llana; Rebecca Luker; Andrea Martin; Audra McDonald; Idina Menzel; Janet Metz; Lin-Manuel Miranda; Brian Stokes Mitchell; Jessie Mueller; Donna Murphy; Rosie O'Donnell; Kelli O'Hara; Rory O'Malley; Orfeh; Sarah Jessica Parker; Christine Pedi; Rosie Perez; Bernadette Peters; Billy Porter; Alice Ripley; Chita Rivera; Seth Rudetsky; Keala Settle; Kate Shindle; Jennifer Simard; Will Swenson; Rachel Tucker; Tommy Tune; Jonah Verdon; James Wesley; Juli Wesley; Lillias White; Edith Windsor; Marissa Jaret Winokur; BD Wong; Tony Yazbeck
"What the World Needs Now is Love" (music by Burt Bacharach and lyrics by Hal David) 2016 benefit recording is executive produced by Seth Rudetsky, James Wesley and Van Dean, and produced by Michael J. Moritz Jr. and Michael Croiter. Music direction by Seth Rudetsky, Steve Marzullo and Marc Shaiman, orchestrations by Cameron Moncur and vocal arrangements by Seth Rudetsky. Steve Marzullo conducts the 25-piece orchestra. Single artwork by Robbie Rozelle.
Recorded by Engineer Todd Whitelock, 
Assisted by Avatar Engineers Timothy Marchiafava, Thom Beemer and Luke Klingensmith.
Mixed by Michael Croiter. Mastered by Michael Fossenkemper, Turtle Tone Studios.
Additional funding and donation of goods and services for the Broadway in Orlando initiative made in part by Avatar Studios, Broadway Records, Playbill, Local 802 AFM, Ed Wedberg, Mark Sendroff of Sendroff & Baruch, LLP, Janet Billig Rich, Carroll Music, Charles Gordon, Joey Monda, Karen Evanouskas, Mary J. Davis, Kathie Lee Gifford, Daniel Rafinejad, Gary and Jaime Rubenstein, TuneCore, iTunes, Nielsen Music, Play MPE and Jeremy Daniel Photography, in partnership with The Center, the Lesbian, Gay, Bisexual & Transgender Community Center, serving NYC's LGBT community. Hospitality and craft services by Blake Ross, Planet Hollywood, Buca di Beppo, Whole Foods NYC, Kikka Sushi, Hill Country and Schmackary's Cookies.
We are excited to announce that registration for the US Campaign to End the Israeli Occupation's 15th Annual National Conference is open! 
Our conference is an opportunity for US Campaign member groups, partner organizations, supporters, and Palestinian rights activists to gather to network around how we can all strengthen our work in solidarity with the Palestinian struggle for freedom, justice, and equality. This year's conference will include plenaries, workshops, a lobby day, and a performance by musician and composer Simon Shaheen! 
We look forward to seeing you in DC this fall! 
The content will be completely re-organized and much of the material will be new. We are currently making our final selections for the book, and we are soliciting lessons and teaching activities on the following topics:
Greensboro Sit-Ins
Freedom Rides
Black Arts Movement
Affirmative Action
#BlackLivesMatter
Predatory Lending
Supreme Court gutting of Section V of the Voting Rights Act
Sale on Current Edition