Tidbits - September 8, 2016 - Reader Comments (lots): Solidarity with Standing Rock; Genocide; Colin Kaepernick; National Anthem(s); Woody Guthrie; Trumpism; Yemen; and more...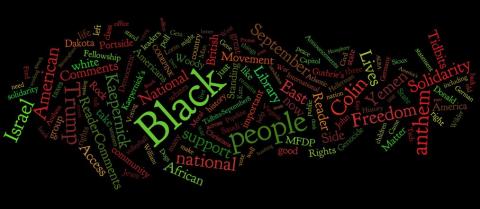 Tidbits - Reader Comments, Resources and Announcements - September 1, 2016, Portside
Announcements:
It is imperative that leaders of the Black Lives Matter issue their own statement of solidarity with the Sioux Nation and all native Americans on this life threatening issue.
Sam Mahone
It shows the culture of American invaders who are non-cultered throughout history
Bob Raj
Alejandro Murguia's book, The Medicine of Memory documents this history as well.
Tony Robles
And where is this taught in the CA school system? Any where?
Charles Patrick Lynch
The world was shocked fifty years ago by Bull Connor's dogs attacking children in the streets of Birmingham, Alabama. Where is the shock, outrage and disgust today, in 2016? These are the dogs of a private security firm. Please join in the outrage and condemnation. In many cities across the country on Friday there are solidarity demonstrations and vigils for those who have put their lives on the line against the pipeline, for the climate and earth of all of us at Standing Rock.
Jay Schaffner
I'm so disgusted by the greed of this country.
Maureen OKeefe
Melodie Bryant
And all over I'm seeing the headline "Protest turns Violent" referring to this, when in fact it's the police who violently attacked the protesters!
Juliana-Julie Barnet
Mr. A. J. Willingham's aside "British forces offered slaves their freedom" in his piece on Colin Kaepernick's national anthem boycott touches on an interesting debate about slavery and nationhood. During the American Revolution, some 5,000 blacks fought for the patriots yet three times that number fought for the British. During the War of 1812, several hundred former slaves fought for the British, while several thousand eventually gained their liberation leaving the United States for British colonies. Moreover, these bondsmen and bondswomen usually struck out for British lines because the other side promised a preferable alternative to the iniquities of enslavement. 
Although the British recognized the useful tactic of raising a fifth column among the Americans, they were primarily interested in winning wars not expanding freedom to those who did not have it. Many of those who left with their erstwhile liberators ended up in chains in British Caribbean colonies. Two centuries later, slavery has been abolished and national borders are fixed, but racial inequalities remain. 
Athletes who protest the national anthem provide an important reminder that not all of this privileged elite is politically unconscious. They also make a powerful symbolic gesture of discontent with the status quo. At the same time, sport often imitates life, and the difficult and long struggle to make this nation live up to its professed ideals continues.
Jeffrey R. Kerr-Ritchie
May both peace and joy inspire Germany, our fatherland. /
Peace is all the world's desire, To the peoples lend your hand.. 
Let all paths by peace be lighted, That no mother shall again / 
Mourn her son in woe.
Grace spare not and spare no labor/ 
Passion nor intelligence/
That a decent German nation/
Flourish as do other lands. ... 
Neither over nor yet under/ 
Other peoples will we be/ 
From the Oder to the Rhineland/ 
From the Alps to the North Sea.. 
And because we'll make it better, 
Let us guard and love our home/
Love it as our dearest country/ 
As the others love their own. 
The music to both, melodic and easily singable, is by the great composer Hanns Eisler (after the HUAC forced him to leave the USA). But the proposals, unsurprisingly, were rejected, and the German anthem remains the old one, with some also having problems about standing to sing it.
Victor Grossman
Berlin, Germany
...remember that Black Folks have sat down since the 1970''s I have been sitting down since then but that is not important my point is to write about history .The Black Panthers and others encouraged people not to stand up.Jackie Robinson talk about and did not stand up.Okay Kaepernick is in the media's eye but let's don't act like it never happened before.
Asata Tigrai
The National Anthem's third verse:
"And where is that band who so vauntingly swore,
That the havoc of war and the battle's confusion
A home and a Country should leave us no more?
Their blood has wash'd out their foul footstep's pollution.
No refuge could save the hireling and slave
From the terror of flight or the gloom of the grave,
And the star-spangled banner in triumph doth wave
O'er the land of the free and the home of the brave."
Paul Eichhorn
By refusing to stand during the national anthem, San Francisco 49ers' quarterback Colin Kaepernick is making an important, bold rebuke of police violence against Black people.
Kaepernick joins a long history of Black athletes using their platforms to advance racial and gender justice issues - like Tommie Smith and John Carlos giving the Black Power salute during the national anthem at the 1968 Olympics and Jackie Robinson writing that he could not salute the flag as "a Black man in a white world."
Sign the card that we will deliver directly to Colin
==========
Following Colin Kaepernick, athletes across the nation are not standing for the national anthem and now some local college athletes are joining in the protest.
Before Wednesday night's volleyball game at West Virginia University Tech, three volleyball players chose to take a stance on something they feel very strongly about by kneeling during the Star Spangled Banner in support of Kaepernick's protest.
As an athlete and vice president of the Black Student Union at WVU Tech, Keyonna Morrow said that something needed to be done to show her support for Kaepernick's choice to kneel during the national anthem
"He's exercising his right to choose to sit or stand, so you have to recognize that he's got that right," Morrow said.
History is amazing.
"Guthrie's parting shot at his landlord:
Humm humm, Trump, you made a tramp out of me;
Hummm, humm, Trump, you made a tramp out of me;
You robbed my wife and robbed my kids,
Made me stay drunk and to hit the skids;
Yepsir, Trump, you made a tramp out of me.
In late September of 1952, Guthrie hit the road alone, to California, partly to come to terms with the reality of his diagnosis. Marjorie was left to apply to Trump's office with a request to suspend their lease. After receiving no reply, she wrote to Trump's Beach Haven agent on December 4, 1952:
"My husband after months of hospitalization and examination was declared incurable and is suffering from a fatal disease known as Huntingtons Chorea. We have three small children and since I now know that I alone will be responsible for them I feel it would be impossible for me to continue living in my apartment whose rental now becomes quite a hardship.. I believe I should be out within a week."
To date, the archives have yielded no evidence of a reply, sympathetic or otherwise. Soon Marjorie and her three children - Arlo, Joady and Nora - left Beach Haven and moved to Howard Beach, Queens.
Lori O'Brien
The left remains left ...... The right remains wrong ...... Truth will not disappear .
Tom Grimm
This is thought provoking and makes many good points. However, I think we must 1) support a FAIR wage; a $15 minimum is not enough when the CEO/boss/business is making millions per hour from a person's labor. 2) We need a revamping of the educational system with the Federal Government ensuring that no public school has inadequate funding, as Bernie proposed at the Iowa Brown and Black Democratic Forum. It is necessary if we are to have fairness in the preparation of our youngsters for life and would destroy a system of discrimination that is both racist and classist. And we need to come up with a solution to the untenable fact that so very many of the youngsters in these United States go to bed and to school hungry and, according to a wise black woman friend of mine, even very young ones are homeless. We must carry the Bern to its full flowering, don't you think? Lee Loe, Houston, TX Grandmother for Peace (I'm 87, no millennial!)
Lee Loe
Atcheson's list is pretty good. But like all presidential candidates throughout 2016, there is no mention of k-12 education, public or otherwise. The presidential candidates, ALL of them, have barely said a syllable about public education. Is it because eighth graders cannot vote? OR WHAT?
Ernest Brill
I believe that breaking through the deafening silence on military spending, regime change and foreign policy is key. We are not supposed to know about these things, think about these things, or talk about these things. And yet they take up a huge proportion of national resources and create anti-US sentiment all over the world.
Sonia
This is good news and very important in a presidential race with two people not much liked by the public where the numbers are now very close. Let us hope in the debates Hilary will emerge decisively in front, despite the State Dept. revelations, which are not good news.
Laurel MacDowell
Historians of the future will have fun with the spate of articles like this one:  conceding early on the reality of mass "white" support for Trump (including the working class and a good deal of elite backing too, not unlike the founding of the republic), then seeking to parse the phenomenon into evanescence.
Gerald Horne
The Solution :  What do we do about Donald? 
This is a very theatrical person, amazingly charismatic!!!  Let's get him into a theatre with a repertory group of actors, and give him all the lead roles. He'd be a terrific Sheridan Whiteside in The Man who Came to Dinner, a powerful Iago, Richard III  and many more.  I would pay to see him play.  It would be great to take him out of his power struggle and completely involve him in the performing arts, where he really belongs.
Judith Ackerman
A hugely important and insightful article about the role of the radical political voting rights activist, Ms Fannie Lou Hammer in changing the course of Black Voting Rights in America.
As she gave this speech to the DNC in Atlantic City, President Johnson, went "live" on radio and tv news, pretending he was about to announce his selection of Hubert Humphrey as his running mate, and that savvy political act literally shut off full "live coverage" of Ms Hammer's address that was being broadcast by the network media. Sufficed to say, LBJ did not make any such announcement at his "press conference." The ploy worked to take Ms Hammer off the air. But her speech resented throughout the rest of the 60's and the "second" administration of Johnson's presidency.
Larry Aaronson
I would like to add to what Rita Schwerner Bender say about Fannie Lou Hamer and MFDP in Atlantic City 1964, because the picture of events was more ominous than either she or  Prof. Keisha Blain describe:
Prof. Keisha Blain's recounting of events of Hamer's speech erases the crucial aspect of what was happening at the Democratic Convention in Atlantic City.  Not only did LBJ preempt her with his bogus press conference, he also set three 'attack dogs' on the MFDP: Reuther, Humphrey, and Randolph (with Bayard Rustin) to threaten MFDP into withdrawing their challenge to the credentials of the "regular" Dixiecrat Democratic delegation from Mississippi.  MFDP did not back down, but their motion was maneuvered off the agenda by the chicanery of these liberal stalwarts.  Humphrey was rewarded with the vice presidency.
Blain distorts events beyond recognition.  Because MFDP probably could have won a floor vote to unseat the Miss. delegation (why else would LBJ have applied such pressure), they might have upended Dixiecrat dominance of the Democratic Party years before the Dixiecrats were ready to transition to the Republicans.  With MFDP legitimated by the conventions, political space might have opened for a Black majority Democratic Party to emerge in the South with potential to win over "poor whites."
Jim Crow turned the right to vote into a white race privilege.  As such, poor whites accepted their own disenfranchisement through poll taxes, which indirectly barred working class "whites" in the South from voting just as white primaries and registration barriers and state tolerated or sanctioned terrorism directly barred Black people.
Local election boards, dominated by local elites, used the 'grandfather clause' and other means to determine exemption from poll taxes.  Together, the white primary and poll taxes prevented Black and 'white' workers from asserting their class interests through the ballot.
The 24th amendment, ratified 23 Jan 1964, ended poll taxes only in federal elections.  Only after the 1965 Voting Rights Act and the Harper v. Virginia SCOTUS ruling in 1966 declaring poll taxes violated the 14th amendment were they eliminated from state elections.  In effect, the VRA gave poor whites the vote, and if the Southern civil rights movement had been able to mobilize them, the South would be a very different place.
Blain's account amounts to historical malpractice, hearkening back to the days when the Montgomery bus boycott was described as a result of an spontaneous act -- Rosa Parks "got tired" and just decided to sit down on the bus.
David H. Slavin PhD  
Decatur GA
She organized against the Equal Rights Amendment for women. She was a woman who prospered and gained notoriety by making life worse for other women.
Cynthia Allaire
Bravo!!!
Bonnie S. Kaufman, M.D.
Faculty, Columbia University Center for Psychoanalytic Training and Research
Barnard College 1968
Job training for alternative energy should be welcome anywhere...linking aspiring farmers with no capital as apprentices to aging farmers with no off spring might be a way to save small farms...any green industry incentives would be great. Just creating jobs in the same old, same old that is killing this planet is no help at all. Here in Wyoming, Governor Mead tries to raise the dead rather than having a good cry and moving forward. I am hoping Blacks, Indians and women might benefit with honorable jobs with equivalent pay among all workers doing equivalent work..immigrants ,too, and the jobless whites who turn to hate before retraining. I guess some understanding and a helping hand would go a long way to diffuse anger over life circumstances.
Karyne Dunbar
Saudi Arabia is bombing my country, Yemen. It's the country where I was born and raised, where all my memories are from. Now, I'm watching it vanish. The US must stop selling weapons to Saudi Arabia. There are thousands of people who are being injured or killed, including women and children who are being affected the most.
Now, the US is planning to sell Saudi Arabia another massive batch of $1.15 billion worth of weapons. Although the State Department has approved this sale, Congress will have 30 days to block it after they're back from summer break next week.
Here are 4 things you can do right now to help stop the weapons deal and to show solidarity with the people of Yemen!
Call or meet with your Senators!Set up a meeting with their office, or call the Capitol switchboard and ask to be connected to their offices, (202) 224-3121. Tell them to support Senators Chris Murphy and Rand Paul, who are taking the lead on opposing this horrific deal. 
Watch & share videos from Yemen!CODEPINK has launched a series of videos called Voices from Yemen. It's first-hand accounts from my friends in Yemen about their experiences. Share our videos on your Facebook page to help lift up the voices of Yemenis! 
#RememberYemen! Download this sign that says #RememberYemen in English and Arabic, take a photo or video of yourself with it, and post it on your social media accounts and tag CODEPINK!
As Senator Chris Murphy said, if you talk to Yemeni Americans, they will tell you this isn't a Saudi bombing campaign, it's a US bombing campaign. The Saudi government wouldn't be able to carry out these atrocities without US support. Please take action today.
In solidarity,
Bushra Al-Fusail, CODEPINK
Hamba kahle, Fred Hellerman. Last week, while sorting through the collection of wonderful books that had been Hy Berman's (Thank you, Ruth and Steven for your generous donation to the East Side Freedom Library), we came upon a copy of the program for the 1978 celebration of Elmer Benson at the old Prom, signed by Pete Seeger!
Wasn't that's time
Howie Leveton
My favorite Gene Wilder film was THE FRISCO KID, which was even funnier when watched in Germany, dubbed into German, often with a Yiddish inflection, as DER RABINER UND DER WILDE WEST.
Leonard J. Lehrman
Twenty-odd years ago I had the great fortune to host Max Roach as a guest speaker in my "Immigration and Ethnicity in American History" course at Macalester College. Max decided to build his presentation around his knowledge of his family's roots as self-emancipated people in the Great Dismal Swamp. Just another brilliant improvisation from the great musician! And, now, there is this book!!
There is no need to apologize for solidarity, but lies and misinformation are another matter.  Here's a response from a group of African American leaders who represent over 9 million people:
A group of African American leaders who represent over 9 million people have rejected the anti-Israel stance of the Movement for Black Lives, an offshoot
of the Black Lives Matter movement. The Movement for Black Lives is a separate organization that is associated with the Black Lives Matter Movement has taken a stance in favor of the BDS Movement while proclaiming: "The US justifies and advances the global war on terror via its alliance with Israel and it is complicit in the genocide taking place against Palestinian people. Israel is an apartheid state with over 50 laws on the book that sanction discrimination against the Palestinian people."
Both the International Fellowship of Christians and Jews as well as the group of African American leaders criticized the Movement for Black Lives in a joint statement: "It was a vitriolic attack against Israel laced in misinformation and anti-Semitism as well as an agenda that is not embraced by the wider African American community. The misinformation and anti-Semitism is so misleading that it makes an experienced leader question the entire Movement for Black Lives policy demands document and thus the intentions of the organization."
They added that Israel remains a key US ally in the Middle East and that real genocides took place during the Holocaust, in Rwanda and now in Syria: "Israel has sought peace via a two-state solution with the Palestinians and there are complex reasons why peace has not been realized. We wholly refute the claim that Israel is an apartheid state as Israeli Arabs are full citizens with leadership roles including being Knesset members and judges while Israeli security measures are aimed at fighting terrorism. We may not agree with everything that Israel has done but let us be honest about the motives. This is not about race. This is about security, a government's most basic and fundamental responsibility to its people."
"We see the danger of passing along hysterical mistruths and soundbites as we watch the current US elections," the African American leaders added. "At worst, it can breed hatred and bigotry, which we of all people should not condone against anyone-black, brown, or white. The Jewish community has been an ally of black America most significantly during the Civil Rights Movement and even today. Together, these two communities have been the conscious leading the fight for civil and human rights for decades. Jews have been our reliable friends, just as Israel has been."
Stan Nadel
Here is some background on the group that released the statement referenced above:
What are they fearful of just because both of you are running for the highest office in America.
Roger Lyons
Got something to hide Hillary?
Sue Lambert
The reactionary forces in Brazil have won a temporary battle, but this class war is going on and once again in the near future the justice-seeking Brazilian working class will overcome this obstacle!!
Eleanor Ommani
No nation, state, community, town or city can survive without an agenda of moral and constitutional values that show concern for the least of these.  Join people of faith and moral courage as we gather at the State Capitol in Montgomery for a rally and to deliver the "Higher Ground Moral Declaration", which calls on our elected officials and candidates for office to move away from extremist politics and policies that benefit the few and move toward policies and laws that are just and fair and guarantee a better life for the majority of the people.
We will gather at Dexter Avenue Baptist Church and march to the State Capitol.  Clergy are encouraged to wear clerical collars and/or vestments.  Advocates are encourage to bring signs and communities of faith are encouraged to bring banners.  
Free & open to the public.
A reception for the ALBA community will follow at the Alumni House just across the way, where you can mingle with the cast and artistic staff of Heart of Spain as well as with family and supporters of ALBA.
Proceeds from this special performance and reception go to support ALBA's work preserving the legacy of the Lincoln Brigade and inspiring new generations to take up the cause of human rights and democracy.
ALBA
799 Broadway
Suite 341
New York, NY 10003