This Day in Labor History: September 16, 2004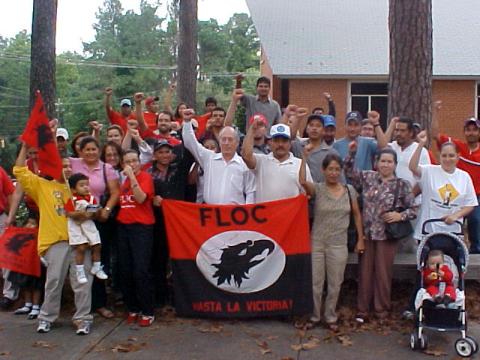 On September 16, 2004, Mt. Olive Pickles finally came to an agreement with the Farm Labor Organizing Committee, ending a lengthy boycott of the company. This groundbreaking farm workers union launched one of the most successful organizing campaigns of the last 25 years in the South and demonstrate the continued vitality of farmworker unions in the present.
When we think about farm labor organizing in the United States, our thoughts almost immediately go to Cesar Chavez and the United Farm Workers in California. There is of course a good reason for that. But both before and after the UFW, there has been significant organizing of some of the nation's most exploited labor forces. In the Midwest and South, one of the leading movements involved in this is the Farm Labor Organizing Committee. FLOC was founded in 1967 by Baldemar Velasquez, the 20 year old son of Mexican migrant farmworkers in the Midwest. FLOC initially sought to organize farmworkers on individual farms, but soon realized the limitations of that strategy because the farmers themselves didn't hold the ultimate power over wages. The farmers sold their crops to the big food conglomerates. That's where the power lies in the agricultural world. FLOC soon turned its attention to leveraging what power it could against food corporations. That strategy became full-fledged in 1979, when after a failed strike, it called for a consumer boycott against Campbell Soup. The boycott was of course the preferred tactic of Cesar Chavez (he preferred it to actually organizing farmworkers) and because of the grape boycott's fame, it made a lot of sense for other farmworker organizing movements to borrow this. In 1987, this boycott was successful. Campbell signed a contract with both the farmers and FLOC to double wages, improve migrant housing, and provide a grievance procedure, which doesn't sound sexy but is tremendously important for any worker who is too scared to complain about their lives otherwise.
In organizing tomato workers, FLOC also became involved with pickle workers because the integration of the agricultural industry meant many of the companies it became involved with in fighting for tomato workers were also in cucumbers and pickles. Pickle growers relied heavily on sharecropping schemes in order to get around labor law, including child labor and the minimum wage. Given the harvest seasons, many FLOC workers were working tomatoes one week and pickles the next. The expansion made sense. Beginning in 1987, FLOC began engaging in pickle organizing and boycotts. A three-year campaign gave it a victory in the H.J. Heinz fields. In 1991, another campaign won the fields for Dean Foods. The large majority of Midwestern pickles were now picked by FLOC members.

FLOC called the boycott against Mt. Olive on March 17, 1999. The North Carolina pickle company had a different labor force than the farms in FLOC home base of Ohio and Michigan. Those farms tended to be picked by Mexican-American laborers who had been long residents of the U.S. and who lived in Texas and Florida when they weren't picking. But Mt. Olive hired guestworkers who had very few rights and no permanent status in the U.S. This was part of a longer history of North Carolina farmers searching the world for the most exploitable labor. While some found the paperwork in the guestworker program unwieldy, with African-Americans and then Caribbean guestworkers leaving their fields for better work, Mexican guestworkers became the next exploitable labor force. About 10,000 H-2A guestworkers labored in the North Carolina fields. Mt. Olive of course attempted to avoid any responsibility for the workers, saying that they did not employ these farmworkers so they had no control over the conditions of labor, even though they set the price at which they would buy the pickles.
FLOC was successful with these workers because they became a way for workers to express their own power. For example, a man named Mamerto Chaj Garcia was working for a Mt. Olive contractor. He came down with appendicitis and his boss told him he was drunk. Finally, he took a cab to the hospital where it was removed. Then a few weeks later, Garcia and his eight trailermates were all kicked out of their housing without receiving their pay. They complained to FLOC organizers. 30 FLOC members marched up to the farm and confronted the farmer, who handed over the withheld pay. This was the sort of routine oppression farmworkers faced, and often still do face, and how farmworker unions can help alleviate the worst of their problems, even if they lack a contract.
FLOC used the guestworkers' status though to their advantage. As those workers moved from farm to farm, they spread the FLOC message. FLOC appealed to guestworkers because it sought to organize around their specific issues. FLOC wanted to set up a grievance procedure for the guestworkers. It wanted to create seniority lists so that workers could be sure they would return when they returned to Mexico. It won these concessions on September 16, 2004, when FLOC, Mount Olive, and the North Carolina Growers' Association whose members owned the pickle farms. The agreement also covered all farms under the Growers Association, even if they did not grow pickles. This thus covered many tobacco workers as well.
To win this campaign, FLOC built upon the UFW boycotts of the past and made connections with unions, churches, and community groups around the country. It distributed "Pickle Picket Packets" to these groups, helping for instance concerned citizens mobilize their churches to promote the boycott. They especially worked on the Methodist Church because Mt. Olive CEO Bill Bryan was an active Methodist. When the United Methodist Church not only held its worldwide convention in the U.S. but also endorsed the boycott, it was a major moment for this community organizing strategy. The campaigns against the stores that sold Mt. Olive products was somewhat successful as well. Walmart of course didn't care, but Kroger pulled the products from at least 130 stores in the South.
The contract also created a code of conduct for Mt. Olive contractors, with mandated inspections. Of course, worker abuses are still common on these farms. Grassroots farmworker unions have almost no money or staff, even though FLOC is affiliate with the AFL-CIO. But they chronicle workplace abuses, win stolen wages, and provide a voice for the guestworkers.
Much of this post is borrowed from Ronald L. Mize and Alicia C.S. Swords, Consuming Mexican Labor: From the Bracero Program to NAFTA and David Dalton, Building National Campaigns: Activists, Alliances, and How Change Happens.
This is the 192nd post in this series. Previous posts are archived here.