Charlotte Cops Dig In, Won't Release Video; Opposition to Police Terror Builds; The Shattering of Charlotte's Myth of Racial Harmony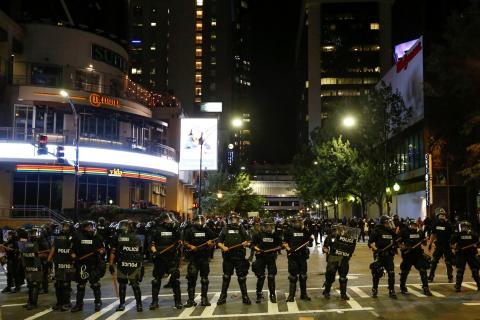 .,Photo credit: Jason Miczek / Reuters // The Atlantic
Charlotte's history of police shootings:
"A review by The Charlotte Observer in 2015 found that few officers were disciplined for shootings of civilians, even when the city was paying out large settlements:
The city has paid $3.4 million to families in settlements over the last decade in cases involving five shootings. Despite the payments, which meant the cases never went to court, Charlotte officers have rarely been suspended or fired for their use of deadly force."
More in David A. Graham's ground-breaking review of Charlotte;s racist past, the legacy of slavery and segregation, racial and economic gentrification, and of police killings in
The Atantic
story
below
.
By Sarah Lazare
September 22, 2016
Defying mounting calls for transparency, Charlotte, North Carolina, police are refusing to publicly release dash-camera footage showing their officer's killing of African-American man Keith Lamont Scott - as city officials maintain tight control over the media narrative surrounding ongoing protests.
Charlotte-Mecklenburg Police Chief Kerr Putney told reporters on Thursday that-despite
demands
from the ACLU and NAACP-he will not release footage of Officer Brentley Vinson's deadly shooting of Scott, proclaiming he will do so "when there is a compelling reason." Because Putney claims that Vinson was not wearing a body camera at the time of the killing, his withholding of the video constitutes a significant media blackout. The police chief said that he will share the footage with Scott's family, but did not provide a precise timeline.
Tamika Lewis, an organizer with the Charlotte-based organizations The Tribe and the Trans and Queer People of Color Collective, told AlterNet that there is already "compelling reason" to make the evidence public. "I think their jobs, their duties and their oaths to `protect and serve' should be compelling reason, as well as the people demanding its release and paying respects to the family," said Lewis. "I think this shows the lack of transparency and how they are more concerned with protecting the police image than serving and protecting the folks of Charlotte."
Notably, Putney stated that the footage does not provide "definitive visual evidence" that Scott pointed a gun at the police. "I did not see that in the videos I reviewed," he said. "What I can tell you though is that, taken in the totality of all the other evidence, it supports what we've heard and the version of the truth we gave about the circumstances that happened that led to the death of Mr. Scott."
The admission raises questions about the department's earlier
claims
that Scott "posed an imminent deadly threat to the officers and Officer Brentley Vinson subsequently fired his weapon striking the subject."
Family members and witnesses
say
that Scott was disabled from a brain injury and sitting unarmed in his car reading a book when he was shot and killed by police. Lewis called the law-enforcement narrative "convoluted," noting: "All of the witness testimony that we've heard and seen from that community has been in support of the family's narrative of what happened and not the police's."
Even if Scott did have a gun, North Carolina is an open-carry state, and concealed carry is also legal with a permit. "The mere possession of a handgun does not give the police probable cause or reasonable suspicion to briefly detain you for stop and frisk," Gregory Wallace, a law professor at Campbell University in Raleigh,
told
The Charlotte Observer
on Wednesday. "The mere fact that you have a handgun isn't enough-it's legal in North Carolina."
Rakeyia Scott, the wife of Keith Scott, said in a statement released Wednesday, "Rest assured, we will work diligently to get answers to our questions as quickly as possible." She added: "My family is devastated by the shooting death of my husband."
Chief Putney's refusal to release the footage came less than 24 hours after reports emerged that an individual had been shot and critically wounded during ongoing uprisings against the police killing of Scott.
The city of Charlotte took to social media to clarify that the person was wounded at the hands of a "civilian," though that same tweet erroneously reported that the attack had been fatal (this was later
corrected
).
The story of a civilian-on-civilian shooting instantly dominated the media coverage of the shooting. "A protester was shot by a civilian in Charlotte during another night of intense protests, according to officials," stated the opening sentence of the
Associated Press
story
published Wednesday night.
Witnesses and protesters are now publicly questioning the official story and calling on major media outlets to dig deeper. AlterNet spoke with three individuals present during Wednesday night's shooting who claimed the police role in escalating violence, and making the situation more unsafe, went underreported.
Minister Steve Knight of Missiongathering Christian Church in Charlotte told AlterNet on Wednesday night, "Police were escalating. There was no violence until they came out in riot gear. They led us into a trap and ambushed us."
According to Knight, the crowd began peacefully marching up Trade Street, a major road in Charlotte, chanting and shouting. "Police led us to an entry point to an underground parking garage by the Omni hotel and led a large number of us into a small entryway into the underground garage," Knight said. "They started setting off tear gas immediately. People started to scatter, run away. That's when the shooting occurred, maybe 15 feet away from me."
While Knight was unable to identify the individual who fired the shot, he expressed skepticism over the police department's narrative. "We're being told it's a protester who shot him," he said from Little Rock AME Zion Church in Charlotte, where clergy had gathered to pray after the incident. "What we are demanding as faith leaders is a ballistics report and full disclosure on who did the shootings. This city deserves answers. We do not feel like the police department is telling us the truth right now."
This point was reiterated by other clergy members. "While news reports contend the victim was shot by other protesters, several members of the Charlotte Clergy Coalition for Justice, who were just 10 feet away from the victim when he was shot, questioned media accounts of the incident," reads a statement from the coalition, which represents 25 faith leaders.
Tamika Lewis, who was standing close to the individual who was shot, described the scene: "Folks were protesting in front of Omni, and police barricaded the entrance. Protesters were chanting and police began using tear gas and rubber bullets. Then we heard the clicking noises of guns and pistol sounds of rubber bullets, and then the guy was down on the floor."
"This is not a civilian-on-civilian shooting," Lewis added, though she could not identify the person who shot the protester.
Charlotte Observer
reporters Ely Portillo, Joe Marusak and Katherine Peralta
confirmed
that, moments before the shooting, "police fired tear gas at protesters at the entrance to the Omni Hotel in uptown Charlotte. Loud booms sounded, and police said explosives had been used."
New York Times
journalists Richard Fausset and Alan Blinder
noted
, "City officials were quick to say the police had not fired any live rounds, but riot police personnel did fire repeated rounds of tear gas."
Following news of the shooting, North Carolina Governor Pat McCrory late Wednesday night declared a state of emergency, citing a request from the Charlotte police chief to mobilize the National Guard and state troopers.
As protests continue, Jim Naureckas, editor of Extra!, the magazine of Fairness & Accuracy In Reporting, told AlterNet that skepticism toward the police narrative on all counts is "definitely in order."
"One of the major problems with reporting on police violence is the degree to which police statements are treated as the gold standard of information instead of being treated with the skepticism they deserve," Naureckas said. "There's the fog of war that happens in these situations, as well as deliberate deception. We've seen over the course of our focus on these issues that police do lie, they do create evidence to match a narrative that exonerates them. There is no reason to assume that's definitely not happening, which is why you treat police statements as claims rather than as proof."
[
Sarah Lazare is a staff writer for
AlterNet
. She comes from a background in independent journalism for publications including
The Nation, Tom Dispatch, YES! Magazine
, and
Al Jazeera America
. A former staff writer for
Common Dreams
, Sarah co-edited the book
About Face: Military Resisters Turn Against War
. Follow her on Twitter at @sarahlazare.
]
The police chief says he will show the video of Scott's killing to the family, but not release it to the public.
By Janet Allon 
September 22, 2016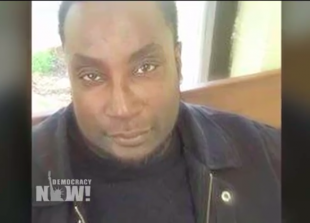 Photo Credit: Democracy Now!
Unrest broke out for the second night in Charlotte, North Carolina after police shot and killed Keith Lamont Scott. North Carolina governor Pat McCrory declared a state of emergency Wednesday night, as protesters clashed with police, and the national guard was called in.
Scott's family has said he was sitting in a car in a parking lot reading a book when he was shot. Police have said Scott was out of the car, and that he refused demands to drop a gun he was holding. Some activists and observers are convinced that the police replaced Scott's book with a gun. Tahesia Williams, described as an eyewitness, said, "They took the book and replaced it with a gun. Because that man, he sits out here every day. His son rides and goes to school with my daughter. That man sits out here every day and waits on his son to get off the bus. You understand how that-how that baby had to come home to that?"
Here are five things to know about the unrest and the events so far:
1. The video.
The police have so far refused demands to release video footage of the shooting. Chief Kerr Putney said it would be inappropriate to present footage of "a victim's worst day" for public consumption. He has also said that the video does not definitively show 43-year-old Scott pointing a gun at anyone, or even holding a gun. The plainclothes officer who shot Scott was not wearing a body cam, but three uniformed officers were.
2. The officer.
The officer who shot Scott, identified as Brentley Vinson, has been placed on leave, reportedly standard procedure. 
3. Injuries.
Per the
Guardian
: "Several civilians and four police officers were hurt in the second night of violence on Wednesday night, one man critically. Several reporters and people on the street were attacked as police in riot gear linked arms, marched down streets and fired teargas." The critically injured man was shot, reportedly by another civilian.
4. North Carolina has a law about these videos.
North Carolina's arch-conservative governor Pat McCrory recently signed a law that
blocks
the release of police recordings from body or dashboard cameras with limited exceptions. But that law is not set to take effect until October. "Technology like dashboard cameras and body cameras can be very helpful, but when used by itself technology can also mislead and misinform, which causes other issues and problems within our community," Gov. McCrory said in July.
5. This isn't the first time tensions have flared over police killings in Charlotte.
According to the
New York Times
, "The shooting revived scrutiny of a police department that drew national attention about three years ago when a white officer was quickly charged with voluntary manslaughter after he killed Jonathan Ferrell, an unarmed black man."
[Janet Allon is a managing editor at AlterNet. Her work has appeared in the New York Times, Village Voice, New York magazine, Street News and many other publications. She has won awards for her reporting about the plight of the homeless mentally ill, and written or ghostwritten books on teaching girls about their sexuality, and women who start their own small businesses.]
The Queen City has tended to see itself as a beacon of New South moderation, but from slavery to segregation to police violence, it faces the same pressures as many other metropolises.
By David A. Graham
September 22, 2016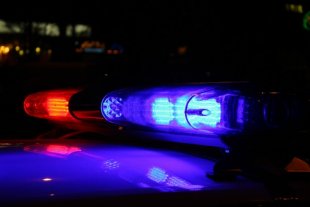 Photo Credit: Schmidt_Alex / Shutterstock.com // AlterNet
You often don't have to scratch too hard on the surface of the New South to find the Old South right below it.
This is clear in Charlotte, North Carolina, this week, where intense demonstrations and riots have followed the shooting of Keith Lamont Scott by a police officer on Wednesday. The banking mecca—the Southeast's second-largest city—has tended to see itself as an avatar of modernity and moderation in a state where both are uneven. Although Uptown's gleaming skyscrapers and chain restaurants seem to suggest a city that is both without, and untethered from, history, the Queen City was built on slavery and its racial politics remain fraught, just like those of nearly every other city. It struggles with a history of segregation, racial tension, and difficult relations between African Americans and their police department.
Charlotte does have a history, one that stretches back to before the American Revolution; Mecklenburg County claims to have declared independence from Britain way back in 1775, though historians aren't sold. At one time, it was just another small Piedmont town. That changed when railroads came through in 1852, transforming Charlotte into a central hub for the plantation economy. The ability to easily move the produce of the slave economy out of the region and to markets transformed the village into a prosperous hub, its population more than doubling between 1850 and 1860. On the eve of the Civil War, Mecklenburg County had nearly 7,000 slaves, accounting for about 40 percent of the population.
After the Civil War, African Americans briefly gained political power in North Carolina, but by 1900, Democrats had returned to power and purged blacks from government.
Charlotte was not at the forefront of protests during the height of the civil-rights movement in the 1950s and 1960s. Greensboro, with a large, middle-class black population and North Carolina A&T University, took the lead. Charlotte-Mecklenburg schools desegregated after Brown v. Board of Education, with Dorothy Counts enrolling at Harding High School, an all-white school, in 1957, surrounded by jeering whites. A photo ran in newspapers around the country.
By 1965, however, there were still 88 segregated campuses. That year, a black couple wanted to send their son James Swann to an integrated school, and were refused. The NAACP Legal Defense Fund sued the Board of Education, with the case eventually going to the Supreme Court six years later. The justices ruled that busing was an appropriate remedy for racial imbalances in school districts.
What followed in Charlotte was a surprisingly successful experiment. The city undertook busing, producing a school district that was both well-integrated and produced strong student outcomes. In stark contrast to violent and deadly riots in Boston over busing, Charlotte was widely known as "the city that made desegregation work." In the meantime, Charlotte was becoming a gleaming, corporate city, home to corporate giants like Bank of America, Wachovia, and Duke Energy.
The rosy period of integration didn't last. After a lawsuits in the late 1990s against the school district from parents who opposed busing, Charlotte-Mecklenburg returned to a "neighborhood school model." The result was a massive reversal. 
As Scalawag reported in an excellent, deep examination
 of Charlotte's schools:
Just before the end of court-ordered desegregation, during the 2001-02 school year, 10 Charlotte-Mecklenburg schools were isolated by race or poverty-or both, according to a UNC Charlotte analysis of data from the state Department of Public Instruction. By the 2013-14 school year, the number of racially or economically isolated campuses had quintupled, to more than 50.
Racial Population of Mecklenburg County, 2010 Census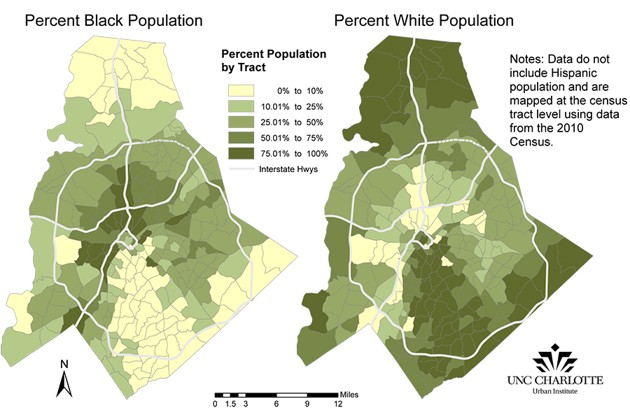 A 2014 paper in the Quarterly Journal of Economics explored the results of the shift:
We find that the resegregation of CMS schools led to an increase in racial inequality. Both whites and minorities score lower on high school exams when they are assigned to schools with more minority students. Our estimates imply that rezoning in CMS widened the racial gap in math scores by about 0.025 standard deviation. Similarly, we find that white students are about 1 percentage point less likely to graduate from high school or attend a four-year college when they are assigned to schools with 10 percentage points more minority students. Finally, we find that rezoning in CMS led to a large and persistent increase in criminal activity among minority males-a 10 percentage point increase in share minority of a minority male's assigned school led to an increase in the probability of incarceration of about 1.3 percentage points.
The result is that some African American residents of the city are actually seeing gains reversed.
Meanwhile, socioeconomics aside, there has been a tense relationship between the Charlotte Mecklenburg Police Department and its black citizens for years. Given the ambiguity around Scott's death—police say he was holding a gun, but family members say he was reading—it might not immediately seem like an obvious rallying point. Police Chief Kerr Putney 
argued
 that protestors are reacting to a false narrative about Scott, but it seems likely that the incident was simply the trigger for protests rooted in years of resentment of police, similar to how the death of Freddie Gray exposed the deep cleavages in Baltimore for many years.
In September 2013, a black man named Jonathan Ferrell was in a car crash in Charlotte in the early hours of the morning. Seeking help, he banged on the door of a house. The resident called police, who shot Ferrell when they arrived. He was unarmed. The white officer who shot him 10 times, Randall Kerrick, was tried for involuntary manslaughter, but the case ended in a hung jury. Kerrick resignedfrom the police force under an agreement. The city also reached a $2.25 million settlement with Ferrell's family.
A review by The Charlotte Observer in 2015 found that few officers were disciplined for shootings of civilians, even when the city was paying out large settlements:
The city has paid $3.4 million to families in settlements over the last decade in cases involving five shootings. Despite the payments, which meant the cases never went to court, Charlotte officers have rarely been suspended or fired for their use of deadly force.
The Observer obtained city documents listing current and former CMPD officers involved in 67 shootings since 2005. Only one police officer was fired. Another was suspended for two days.
A University of North Carolina study several years ago
 found that blacks were far more likely to be stopped by police in Charlotte, especially young black men, and that the racial disparity in traffic stops was growing. The city of Charlotte also considered instituting controversial "
exclusion zones
" for fighting prostitution in 2015, a solution that critics noted was likely to produce racially disparate results. The city eventually decided against the zones.
The chief of Charlotte's police force, Kerr Putney, is black, as was his predecessor, Rodney Monroe. But recent experience in cities like Baltimore has shown that having black police chiefs, as well as black mayors, is not a panacea for 
racist law enforcement
 and racially based community tension. The department is also 
76 percent white and only 17 percent black
, while Mecklenburg County overall is 64 percent white and 28 percent black. Brentley Vinson, the officer who shot Scott, is black.
Putney has been outspoken about racial issues, weaving in his own experiences as both a black man and a cop.
"Even now when I see blue lights, it hits me in the stomach. I've had that reaction since I was eight years old," Putney said in July, after police officers were killed in Dallas. "But what you don't know is I'm sometimes more fearful when I put this uniform on. I'm gonna tell you a secret, I'm always black—I was born that way, I'm gonna die that way, but I chose to put myself in harm's way with the honorable people who wear these uniforms to protect the people who need us most."
Recently, the city has worked to cut a more progressive profile. Governor Pat McCrory, a Republican, previously served as mayor of Charlotte, operating as a pro-business moderate, though he has governed the state as more of a conservative. The current mayor, Jennifer Roberts, is a Democrat. In 2012, Charlotte hosted the Democratic National Convention. In early 2016, the city passed an ordinance banning discrimination against LGBT people and requiring that businesses allow transgender people to use the bathroom corresponding to the gender with which they identify.
In response, the state General Assembly entered a special session and passed HB2, a controversial law overturning the local ordinance and banning other cities from passing their own. It also required transgender people to use bathrooms in public facilities corresponding to the sex on their birth certificate. The backlash to the law has cost the state millions of dollars in economic benefits, many of which would have helped Charlotte, including the 2017 NBA All-Star Game. The contest will be played in New Orleans instead.
The LGBT ordinance highlighted Charlotte's unusual position in the state. While North Carolina's cities tend to be far more liberal than rural and suburban areas, this battle represented either Charlotte trying to lead the city in a more progressive, just direction (as its boosters argued) or the latest evidence that Charlotte was a self-righteous metropolis separated from the rest of the state.
It is true that the Queen City has tended to see itself as more progressive and less troubled by the old bonds of race than other cities, which is one reason the riots have shocked residents so much. In July, after the Dallas killings, Putney touted Charlotte's efforts to fight racial bias.
"We're different in Charlotte, y'all," he said "And we're a good kind of different. We're a good kind of different."
It turns out Charlotte wasn't as different as it believed.
[David A. Graham is a staff writer at The Atlantic, where he covers U.S. politics and global news.]