Tidbits - September 22, 2016 - Reader Comments: Dakota Access, Native Americans, AFL-CIO; Prison Strike and Unpaid Labor; Many Rivers to Cross Festival; Attica Prison Uprising; and more.....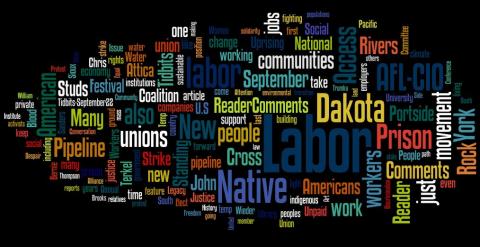 Reader Comments, Resources and Announcements - September 22, 2016,Portside
Announcements:
Though cited to bring 4,500 jobs, the Dakota Access Pipeline seriously threatens tribal sovereignty, sacred burial grounds, and the water supply of the Standing Rock Sioux and potentially 17 million others. As organizations dedicated to elevating the struggles of our respective constituencies, we stand together to support our Native American kinfolk - one of the most marginalized and disenfranchised groups in our nation's history - in their fight to protect their communities from further displacement and exploitation.
We recognize this systematic oppression that so intimately resonates with many communities of color and marginalized populations, whether it be fighting for lead-free water in Flint to uncontaminated water in North Dakota.
We remain committed to fighting the corporate interests that back this project and name this pipeline "a pipeline of corporate greed." We challenge the labor movement to strategize on how to better engage and include Native people and other marginalized populations into the labor movement as a whole.
Lastly, we applaud the many labor unions working to create a new economy with good green jobs and more sustainable employment opportunities for all. We also encourage key stakeholders - labor unions including the building trades, the Standing Rock Sioux tribe and others who would be impacted - to come together to discuss a collective resolution.
As we just recently recognized Native American Women's Equal Pay Day and as we approach November - a time that marks not only a significant change in our country's leadership but also the celebration of Native American Heritage Month - we will continue to campaign and organize for a broader agenda that secures the rights for all working people in all communities.
###
About The Labor Coalition for Community Action (LCCA) - The AFL-CIO's constituency groups - the A. Phillip Randolph Institute, Asian Pacific American Labor Alliance, Coalition of Black Trade Unionists, the Coalition of Labor Union Women, Labor Council for Latin American Advancement, and Pride at Work are unions' bridges to diverse communities, creating and strengthening partnerships to enhance the standard of living for all workers. The groups also promote the full participation of women and minorities in the union movement and ensure unions hear and respond to the concerns of the communities they represent.
We might remind Michael Hayden that "I was just following orders" is not an acceptable excuse for criminal behavior. If revealing that your country is breaking the law is a crime, then the problem is with the law not the one who reveals. As many have pointed out, slavery was once the law of the land. A pardon is hardly adequate, maybe a parade and a statue.
Jim Price
But I was horrified to read this sentence in the review: "These B-movie moments are supposed to help justify Snowden's later decision to betray his country, but onscreen they're blandly ineffective."
WTF? Snowden did NOT betray his country.
Blair Sandler
Imagine those who have never voted, but might were this the agenda
Stefan G. Br_n
The "Keep It in the Ground" narrative is nothing new for indigenous peoples. The language "keep it in the ground" we first encountered over 15 years ago from relatives in the Global South-in Central and South America-and relatives up in northern Alberta in Canada, who were saying: The only solution forward is to keep it in the ground; regulation is not going to work; a more sustainable method of extraction is not going to work. We indigenous people have been saying keep fossil fuels in the ground from the get-go. Although it has been frustrating to see the climate movement overall be slow to adopt that, it's also amazing and welcome now.
It is indigenous people who are often - though not all the time -on the frontlines of climate change. It is oftentimes indigenous people, poor people, forest-dependent nations, water-dependent nations-they're the first ones to feel the rapid sea-level rise. Those communities, those nations are still dependent on subsistence lifestyles; they're living off the land. Our relatives in the Arctic are feeling it, their entire livelihoods. Even if they wanted to have absolutely traditional food diets, they can no longer do that because the animals' life patterns are completely altered.
So we at the Indigenous Environmental Network stand in strong defense and support of those communities' rights to self-determine what happens to the lands, water, to the world around them. And not only are the frontlines the source of the fight, but that's where the solutions are going to come from.
The best part of the work we do is that it's not what we're fighting against but what we're fighting for. We advocate for localized, small-scale renewable energy production. The same with food production, localized and sustainable. That's the path forward that we have to take. The process to achieve that is all housed under the concepts of a just transition: We have to be mindful that even if we transition to 100 percent renewables, it doesn't necessarily mean that society is just, it doesn't necessarily guarantee that poor communities will have access to basic needs. When we talk about this transition, we have to make sure it's in line with the principles of social justice and environmental justice.
Christopher Allen Comeau
Richard Trumka says it's ok for the community to have input but not to protest.Revises labor's motto to "An injury to me is an injury to all."There are no jobs on a dead planet.
John Gallo, 
retired AFSCME Local 3360 V.P and Cleveland AFL-CIO Board member.
Thanks for making these three statements available to readers.  What a wrong-headed and short-sighted position Trumka and the national AFL-CIO have taken regarding the Dakota pipeline!!!!!!!  Shame on them!!.  I'm a proud retired member of the AFT and UTLA and thus a member of the AFL-CIO.  How can I effectively expressive my vehement protest against this position?  Is there a letter I can sign on to???????????
Lucy Harris Fried, 
Los Angeles, Ca
The union that matters is the Machinists or whatever union is building that pipeline.
It is easy for unions not affected to support the Sioux.
Eddie
Thank goodness some unions can see the future, even if the AFL-CIO is taking a wrong position on this issue.
Susan
Sad and shortsighted thinking on this one President Trumka. Climate change is real so let's push for quality green jobs, with union protection instead of always looking to the past as our guide to the future. This is definitely not the way to build solidarity with our potential allies at a later date.
Andrew Tilson
Union!  Polar opposite of the AFL-CIO's benighted position.
Tom Gogan
That said, the article below makes me want to puke. How outrageous, it shouts, for AFL President Trumka, or the building trades reps on the AFL-CIO executive council to give a care about 4500 pipeline jobs paying a truly living wage! 
There is no path to unity in this article. And unity is the only path to any POSITIVE outcome. Pipeline workers, and Native Peoples, BOTH need $37$ our jobs! Common ground can be found if the focus stays on money! 
However  demands to shutdown pipelines, or coal, or factories, or anything else WITHOUT PAYING THE LOSERS, without care for the families and lives dependent on these industries is just a prescription for division, a bigger Trump vote, and another step on the road to fascism--the ultimate price paid for such divisions.
John Case
Marian Feinberg
Pacific Coast Pension Association of the ILWU decided to make contact with the IWOC (Incarcerated Workers Organizing Committee) at it's Convention in Tacoma, WA. last week! Let us put an end to U.S. prison slavery! An Injury to one is and injury to all.....
William Proctor
Did you know this? Probably not. WHY NOT?
Kathe Karlson
Bob Zellner
Jay Schaffner
For those still can't get why those of us who supported Bernie should - must - now work for a Clinton Presidency and a Democratic Senate (and House, even though its a more distant dream), ask yourself why you were excited about Bernie being President but now won't support the first post-primary action he is asking us to take.
Harriet Barlow
We last heard "Elect Obama and the day after that..."
How did that work out, Bernie. Liberals went to bed while O escalated the Afghan war, appointed Clinton and wall st to treasury and famously took single payer "off the table"
The Tea party was the only movement his election inspired/
Mike Munk
"For-profit institutions also tend to be more violent and to provide fewer opportunities to prisoners for education and rehabilitative treatment. " this is the case in prisons and charter/private schools.
Marlena Santoyo
My blog on Juliet Mitchell just get reposted at Portside
Chris Riddiough
Our only hope is for We the People to take to the streets and inform the plutocrats as to who is in charge.
Max Obuszewski
Put the light on the bs Patriot Act. 9/11 gave these guys the red light to spy on their own people, and conduct illegal wars to fill their contributors pockets!
Howie Leveton
Horrific. Thank you for reporting on this, Portside. Sharing.
Paula Friedman
Through our Union Job Fair and other outreach efforts, the East Side Freedom Library, with our partner the Saint Paul Regional Labor Federation, is trying to connect immigrant workers with building trades unions precisely because of situations like the ones described in this Boston Globe article.
Ronald Smith, of Irvington, was working for the temp agency Abacus when he was crushed in a conveyer belt at an Amazon fulfillment center in the Avenel section of Woodbridge in 2013, according to OSHA reports.
Mark Jefferson, of Trenton, was a Labor Ready temp when he died in 2012 while working in extreme heat as a garbage collector for Waste Management in Hopewell Borough, the reports said.
James Hoyt, a Labor Ready temp from Bogota, was killed in 2012 when he was crushed by a 2,500-pound rack of computers that tipped over while he was loading them into a truck. Hoyt's family was disappointed when OSHA fined the agency and other companies involved in the accident $2,800.
"We thought it was toothless - $2,800? That's not much of a deterrent," said his brother, Mike Hoyt. "It's nobody's job to keep these people safe. It's all put on the workers. These temp workers are kind of cannon fodder."
Hey IRS: Leave them Alone ! ! !
Marshall Douglas
The U.S. labor movement has been in a rut for decades. Its problems, to be sure, are not all of its own making; it got into its predicament with no little amount of shoving from employers and the state. But the leadership of the "official" union movement has often been the movement's own worst enemy.
Conservative business unionism, a lack of attention to or enthusiasm for new organizing, and a cozy relationship with employers and the state contributed to a long downward slide from the 1950s on. Over sixty years later, we're still not out of the rut. The unions' tactics of "friendly" relations with employers and government officials simply do not cut it-not even in industries that used to be union strongholds.
In this issue's lead feature, Chris Brooks takes us to the auto industry, and the case of Volkswagen in Tennessee, against a backdrop of lavish government giveaways for companies and austerity for the working class. Instead of organizing aggressively around issues like the crushing pace of work, the United Auto Workers (UAW) staked itself on labor-management cooperation, loudly proclaiming its commitment to company "competitiveness." Brooks calls for a more militant approach, based not only on facing up to conflict with employers and the government, but also on championing a broader agenda for the working class as a whole.
There are several other ways, highlighted in this year's Annual Labor Issue, in which the labor movement's future depends on its ability to adapt and fight in a changing industrial and political landscape.
Labor lawyer Ira Sills puts an encouraging piece of breaking news-the National Labor Relations Board's recent ruling that graduate teaching assistants at private universities are, indeed, employees entitled to the protections of the National Labor Relations Act-into a broader historical context. As Sills points out, the NLRB became increasingly "politicized" from the 1980s on, especially with the appointment of anti-labor ideologues who were hell-bent on making things as hard on workers and unions as possible. The unions, accustomed to organizing within the NLRB election system, were not successful in finding other ways to organize. But the successes of graduate employee organization and public institutions and the struggles of graduate employees to organize at private institutions certainly provided some of the impetus behind the recent legal change.
The question of who is regarded as an "employee" has wider implications in the U.S. economy today, especially in light of the rise of contingent or "gig" employment. Economist Anders Fremstad looks at the reality of work today in one the highest-profile segments of the contingent labor market-"sharing economy" companies like Uber and Lyft. Fremstad argues that the "sharing economy" may work for underused physical assets (that, when lying unused, can be rented out at little cost to the owner), it's a different story when it comes to labor time. Using even spare time for labor takes something away from the "gig" worker, and the huge slice of revenue that companies like Uber take off the top makes it very hard for sharing-economy workers to scratch out a living. Fremstad argues, instead, for alternative types of "sharing economy" enterprises-such as public enterprises connecting workers with consumers, without the exploitive cut taken by private for-profit companies.
Jeremy Brecher tackles the question of labor and the vexing challenge of climate change. He outlines an appealing and feasible program, originated by the Labor Network for Sustainability, that would bring about needed reductions in greenhouse gas emissions while creating more robust job growth than a "business as usual" (fossil-fuel based) scenario. The aim is not just to defuse any possible labor opposition-founded on the canard that environmental regulations are "job killers"-to climate policy. It is also to create the foundation for a new relationship between the labor and environmental movements.
New visions for the labor movement like these-visions of broad solidarity rather than narrow interest, of alternative economic institutions, of active struggle for a sustainable future-show how labor can move forward again.
Also in this issue: John Miller on the gender wage gap, Arthur MacEwan on the supposed threat of artificial intelligence, Gerald Friedman on the bleak jobs picture, and more.
Drawing from more than 100 interviews of people who knew and worked with Studs, Mr. Wieder creates a multi-dimensional portrait of a run-of-the-mill guy from Chicago who, in public life, became an acclaimed author and raconteur, while managing, in his private life, to remain a mensch.
.
Studs Terkel was an icon who had no use for America's cult of celebrity. He was a leftist who valued human stories over political rhetoric. In scores of books and thousands of radio and television broadcasts, Studs paid attention-and respect-to ordinary people of all backgrounds, as they talked about their lives as workers, dreamers, and survivors.
John Legend, Common, Chris Rock, Sweet Honey in the Rock
Carlos Santana, Jesse Williams, Van Jones, Linda Sarsour
Public Enemy, Danny Glover, Macklemore, Cornel West
Alicia Garza, Jamie Foxx, Alicia Garza, Jussie Smollett
Rebel Diaz, Opal Tometi, Tef Poe, Dave Matthews
Jasiri X, Bryan Stevenson, Rashad Robinson, Dianne Reeves
"Many Rivers to Cross" will also feature an integrated "Social Justice Village," where attendees can meet community organizations on the frontlines of the social justice movement, get educated on current issues, and learn how they can take action in their own communities. 
For a limited time, two-day Festival passes are just $40., offered thru the Rosenberg Fund for Children.
Jennifer Meeropol
Executive Director,
Copies of Blood in the Water will be available for purchase.
We will convene the weekend before Inauguration Day. This will be an opportunity to assess the prospects for healthcare justice under a new administration and congress. Meeting in New York City will also allow us to connect with the exciting Campaign for New York Health which has passed a single-payer style bill through the state assembly twice in the past two years and is hoping to take on the New York senate after the November elections.
This conference will be for both new activists and experienced organizers and will feature workshops, panels and dynamic speakers and leaders. Please ask your union to plan to send a full delegation.
I am looking forward to seeing you in New York City in the new year!
In Solidarity,
Mark Dudzic