Top Prosecutor in Leonard Peltier Case Urges Clemency in 'Extraordinary' Move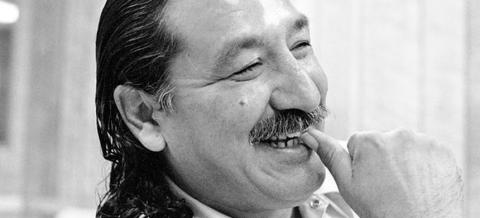 Leonard Peltier, pictured at Leavenworth federal prison in 1992, is serving two consecutive life sentences for the murders of two FBI agents in 1975., Photograph: Jeffry Scott // The Guardian
By Sam Levin
January 5, 2017
James Reynolds, who supervised a key part of the case against Peltier, who claims he was
wrongfully convicted
of the 1975 murders of two FBI agents, wrote to the president that clemency for the 72-year-old would be "in the best interest of justice in considering the totality of all matters involved".
"There seems to be no point in taxpayers paying his room and board," Reynolds, 77, said by phone on Wednesday. "It's time to call it quits."
The letter is an extraordinary development for the Native American activist who has been incarcerated for more than 40 years. Civil rights activists and indigenous leaders have long argued that he faced a
deeply flawed
and unfair trial.
The clemency push from a former US prosecutor, which is highly unusual, comes as Obama has continued to
pardon or commute the sentences
of hundreds of prisoners in his final weeks in office, raising hopes that he will also release
political activists
jailed for decades.
Peltier's conviction stems from the American Indian Movement's siege of the
site of the Wounded Knee massacre
where the US army slaughtered hundreds of Lakota people in 1890. The actions at the Pine Ridge reservation in South Dakota, which began in 1973 and protested broken treaties, prompted an aggressive response from the FBI.
Peltier, who is serving two life sentences, arrived in June of 1975, and soon after two FBI agents entered private property and sparked a shootout. The special agents, Jack Coler and Ronald Williams, were killed during the confrontation, along with Joseph Stuntz, a Native American.
According to
Peltier's attorneys
, who filed a clemency request last year, federal agents made
false statements
and
affidavits
,
coerced
witness statements and deliberately
withheld
crucial ballistics reports. A prosecutor eventually admitted in court that the US attorney's office "can't prove who shot [the agents]" and claimed that Peltier was guilty of "aiding and abetting" in the shooting.
Reynolds was appointed US attorney in 1976 and oversaw the case's appeal when much of the evidence that raised serious doubts about the government's case were revealed.
The former prosecutor's letter to Obama does not address the underlying conviction, and in an interview, he declined to say whether he believed Peltier is innocent.
But Reynolds said it was wrong for Peltier to remain behind bars after 40 years, particularly considering that prosecutors ultimately considered him an accomplice in the crime. "You're not really participating in the crime yourself. Just because you're there, you're going to get nailed."
Citing Peltier's motives, Reynolds added, "he didn't go out there with the intention to kill anybody. He was trying to protect his people."
Cynthia K Dunne, a former assistant US attorney who is representing Peltier, said she has never heard of a case of a federal prosecutor requesting clemency.
"It's really incredibly extraordinary to have the lead prosecutor on the case stand up," she said, noting that the FBI has continued to oppose Peltier's release. "It takes a lot of strength to take on the institution."
Dunne, who communicates regularly with Peltier, said he was pleased to learn of Reynolds' letter, but didn't want to get his hopes up given past disappointments: "It's just a horrible time to be waiting and not knowing."
Time is running out before the inauguration of President-elect Donald Trump, who is
not expected
to continue Obama's records of clemency grants and pardons.
Peltier's request for clemency is not a pardon appeal, but simply asks that Obama reduce the sentence. "If he doesn't take action before 19 January," Dunne added, "Mr Peltier will die in jail. He's too frail and too sick to make it much longer in the prison system."
[Sam Levin is a reporter for Guardian US in San Francisco.]
January 3, 2017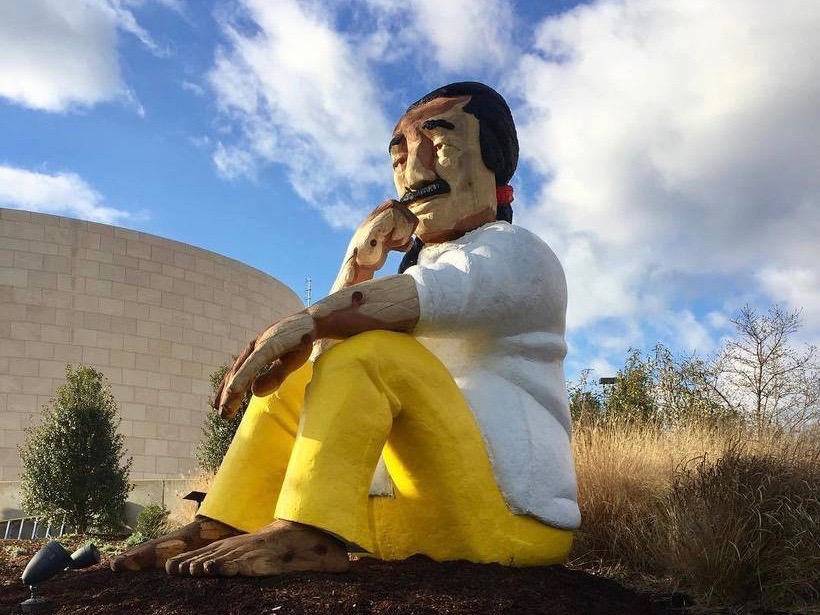 The wooden statue of imprisoned American Indian Movement activist Leonard Peltier.
Photo: AU Museum at Katzen
A statue of imprisoned American Indian Movement activist 
Leonard Peltier
 is being removed from the campus of 
American University
 in Washington, D.C.
The 9-foot-tall wooden statue is located outside of the AU Museum at the Katzen Arts Center. Its placement there in early December was announced by the school with the following disclaimer: "American University regards this statue as an exhibited piece of art and takes no position on the advocacy movement."
But administrators changed their minds just days after hearing from the Federal Bureau of Investigation Agents Association, a non-profit organization of active and retired agents. The group sent a letter to university president Neil Kerwin on December 29 to complain about the installation.
"The subject matter and placement of the piece improperly suggested that American University has assumed an advocacy position of clemency for Mr. Peltier, when no such institutional position has been taken," a statement announcing the removal of the statue on Monday read. "Further, the nature and location of the piece called into question our ability to honor our responsibilities to ensure the security of the art and the safety of our community."
In a December 22 post on Twitter about the statue, the AU Museum highlighted the history of presidential pardons. Peltier's supporters -- a group that includes nearly every major tribal organization, Republican and Democratic politicians and human rights groups around the world -- have asked President Barack Obama to release the activist from prison, where he is serving two life sentences for the murders of two FBI agents in 1975.
"Mr. Peltier has been in prison for 41 years," Chairman Dave Archambault of the Standing Rock Sioux Tribe wrote in a December 22 letter to the president. "He is in ill health; requires urgent, specialized medical treatment; and just lost his youngest son. Continued incarceration serves no purpose."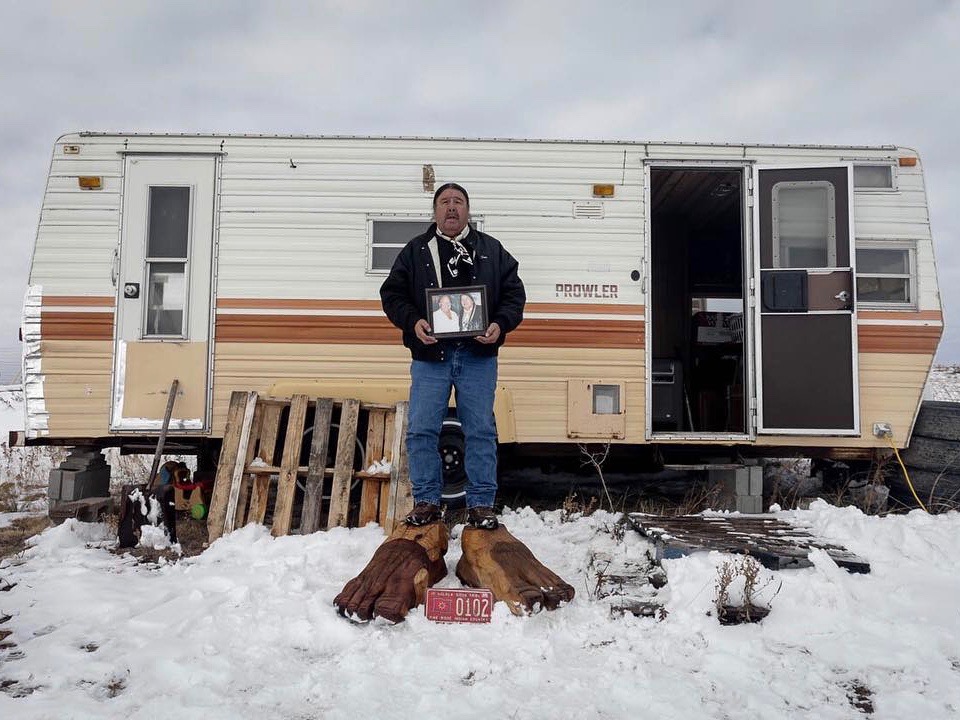 Tom Poor Bear, the former vice president of the Oglala Sioux Tribe, poses with the feet from the wooden Leonard Peltier statue. 
Photo: peltierstatue
Peltier, who is a citizen of the 
Turtle Mountain Band of Chippewa Indians
, was convicted in 1977 for the murders of FBI agents Jack R. Coler and Ronald A. Williams. The incident took place on the 
Pine Ridge Reservation
 in South Dakota in June 1975, a time of "tumultuous history," Archambault noted in his letter. Just two years earlier, FBI agents laid siege at 
Wounded Knee on the reservation
 and mistrust of law enforcement ran strong.
Throughout numerous legal appeals, Peltier has steadfastly denied being responsible for the deaths of the two men. His stance has derailed his chances for parole so supporters believe a pardon, commutation or other executive action is the only way he can enjoy freedom again.
But those efforts have consistently run into fierce opposition from the law enforcement community. The late Janet Reno, who was the first woman to serve as Attorney General of the United States, faced intense pressure at the end of the Bill Clinton administration to push for Peltier's release.
Reno, who passed away on November 7, refused to disclose her position on the issue. Former president Clinton ultimately left office without taking action.
Peltier's supporters essentially gave up once George W. Bush took office. Obama, who has promoted his policy advances in Indian Country, has granted 70 pardons and more than 1,000 commutations, according to the Department of Justice.
Artist Rigo 23, also known as Ricardo Gouveia, created the statue based on a recent self-portrait from Peltier. He took it on a cross-country journey from California and stopped on the Standing Rock Sioux Reservation before coming to D.C.
"Leonard Peltier has now spent four entire decades behind bars for a crime he has not committed even though, by most countries' standards, he has now fulfilled both of the consecutive life-sentences to which he was wrongly sentenced," Rigo 23 wrote on the statue's website.