Tidbits - January 12, 2017 - Reader Comments: Protests Should Also be Used for Organizing;Trump Nominees; Leonard Peltier; Hidden Figures; Black Women and Civil Rights; Resources; Announcements; and more...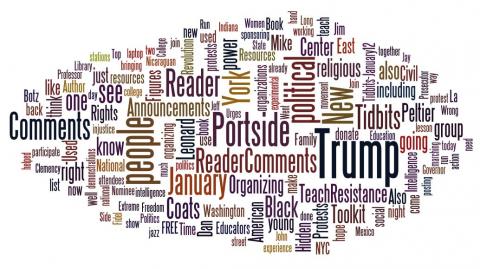 Tidbits - Reader Comments, Resources and Announcements - January 12, 2017,Portside
Resources:
Announcements:
I've recently participated in several protests aimed at building resistance to Trump and Trumpism. But from what I could see, there appeared to be little conscious effort to use those demonstrations as organizing tools in effective ways that were second nature to us back in the bad old days. So I would like to suggest two techniques that I think would be effective today:
People across a wide street or down the block usually can't make out the words of speeches or chants even if they're amplified, signs are hard to read at a distance particularly at night or when people are marching, and what information observers can actually discern is quite limited in scope. So bystanders see there's a protest going on, but don't learn much about it. That's where an explanatory flyer handed out by someone willing to have a conversation is invaluable. And the psychological truth is that even sympathetic and supportive people who happen upon a demonstration are reluctant to cross the street to join the rally or step off the sidewalk and begin marching without someone personally inviting them.
Obviously, activists assigned to flanker duty need to be knowledgeable, friendly, outgoing, and willing to talk to strangers. Since they may encounter opponents, they should have some experience or training in nonviolent de-escalation techniques or be otherwise adept at handling adversarial confrontations. And if hostile adversaries are likely, flankers should work in pairs for mutual support. In some cases where the danger from hostile opponents is extreme, as it was in Alabama and Mississippi in the 1960s, flankers can't be used. But in most places today I believe they can be used effectively.
The goal is to make sure that people who cared enough to show up feel welcome and appreciated and that the sponsoring organization has contact info for them, to invite them to participate in meetings and committee work and outreach efforts, and to encourage them to be involved in more than just marching or rallying. Which means that one or more a follow-up activities that people can be invited to engage in should already be set up and scheduled before the protest (and also announced by the speakers).
In other words, we should be using our protests to organize and more deeply involve those who show up to participate. That's one way mass organizations are built, one person at a time, face-to-face, not just by FaceBook and Twitter. We used to carry clipboards with sign-in sheets to note down peoples' contact info and interests, but now we can (and should) use all this modern smart-phone technology for organizing not just mobilizing.
Feel free to forward this to people organizing protests if you think it would of help to them.
Bruce Hartford
The nomination of Dan Coats to be Director of National Intelligence proves two things: Pence is running the administration and Religious Right politics are in command.
Coats just finished a term as a U.S. Senator, from Indiana. When he announced his intention to run, Pence's quick endorsement of his candidacy ensured his nomination in a competitive field, according to a detailed 2010 report from and Indiana political newsletter. 
When Trump was recruiting for his vice-presidential running mate, he told prospective candidates that the VP was actually going to run the domestic and foreign policy of the government while Trump kept his distance. That appears to be what is happening.
Pence is a serious religious right politician. His hand was in the pick for Betsy DeVos, a theocratic extremist, for Secretary of Education. Now his Indiana colleague will oversee all U.S. intelligence agencies.
Coats is a member of The Family, the most influential, well-connected, secretive religious right group, based in Washington, D.C. The group was the subject of a book, The Family: The secret fundamentalism at the heart of American power, by Jeff Sharlet. The Family has extensive overseas operations that they decline to discuss.
Coats was also a prominent early backer of the Promise Keepers, a group openly committed to male supremacy and rightwing religious power over American society. When Promise Keepers were holding their biggest stadium rallies in the 1990s. Coats was a keynote speaker at one of the largest in Indianapolis in 1995. In his 2010 election campaign, James Dobson, head of Focus on the Family and an influential political power in religious right circles, went out of his way to endorse Coats.
To have the overseer of the CIA and military intelligence with rightwing religious blinders and a willingness to use covert resources to build up the assets of such groups is a real prospect with folks like Coats, Pence and DeVos in charge. (Some intelligence programs have been run through the Department of Education).
For clarity, the term religious right refers to a political movement that manipulates faith commitment for political ends, including reshaping national power and international relations. This political phenomenon grew out of the Reagan political machine in the 1980s. Its religion, if it can be called that, is far different than that found in most churches. Today's Trump administration shows their continued grasp of key levers of power over an unsuspecting public.
Russ Bellant
We can only hope that POTUS does the right thing!
William Proctor
I remember all of this as a kid. I'm not sure why, but it was a huge conversation piece at our dinner table.
Vonda J Walkama
Ok Mr. President, here's your last chance to free our brother! ORGANIZE!
Curtis Muhammad
Enduring relevancy; powerfully informed vision; and always a student of a reliable, nature - process based methodology of study, work, and practice.
Jim Campbell
Re Berger's excellent piece on demonstrations: the definition of "revolutionary" assumes a left-turning mass movement. Unfortunately in the US, those who have succeeded most profoundly in using demonstrations are the right-wing Tea Partiers.
Margery Freeman
Mike Luckovich 
January 6, 2017
Excellent informative article. Thank you. I attended the March on Washington in 1963 and was active throughout the decade especially at San Francisco State College and afterwards becoming a high school teacher fighting for a more inclusive curriculum of, as Albert Murray would call it, the "Omni Americans". Black women's leadership remains one of the lesser told stories of the Civil Rights and other movements. This includes more featuring of the works of black women artists including Toni Cade Bambara, Alice Walker, Paulie Marshall, Gwendolyn Brooks, Nina Simone, Mary Lou Williams, Eartha Kitt, Betty Saar (sp?) and others.
Ernest Brill
Shameful that we could be so amnesiac about this
Mark Kleiman
awesome! NPR is interviewing me about it tomorrow as well! I think its going to be pre-recorded and air the day of the march
Ashley Farmer
Good arguments.  We cannot make a serious mistake of going after the white working class alone.  It has to be multi racial in order to build power again.
NJ
Richmond, Cal
Totally true, but these hearings, including the questions from Democrats, were pretty weak. Not seeing a whole lot of commitment from the Democrats.
Claire Carsman
If I were a university employee I would insist that my name be on this list.
Steve Lane
Are the ideas being questioned basic values? Is it asking students to look at things from another point of view - I believe that is what s good educator does.
Georgia Berner
I can see how this list would be intimidating. Professors should begin advising students on what they will experience in the college experience. Education is different from indoctrination, we would hope, and therefore not designed to simply reinforce beliefs already held. I would hope counter movements would develop in response to this site. I would hope professor will not be intimidated and stand on their scientific findings until proven wrong through process.
Daniel Mays
I teach English and US culture at Chinese universities. Does that count? Because I myself am guilty of numerous lefty thought crimes and I'd really like to be on this list too, 
Mike Liston
I don't see my name on the list - has this been sent to me by mistake? Or am I just not seeing something?
Jerry Lembcke
Associate Professor Emeritus
Department of Sociology/Anthropology
Holy Cross College
Go see this! 5 stars, 3 thumbs up!
Jim Price
Katherine Johnson is still alive, in her mid-90s.  She has come to the Hampton History Museum and talked about her career as a "human computer" at NASA, both the mathematics part and the racist (segregated) part.  Margot Lee Shetterley is also from Hampton VA, and it was my grandfather. a local politician, who put together the consortium which convinced the federal government in 1917 or so to purchase farmland in what was then rural Elizabeth City County (now Hampton) to locate an "army air corps" base (Langley) and the research arm of national aeronautics (NACA, now NASA) there.
Wythe Holt
He's spent every minute since gnawing at the life's prospects of the good poor and working people of Ill. (Ditto the situation in MD.) They'd be better off if they had enough sense to defend themselves by voting against a Republican. Even if we know full well that the Democratic Party leadership is not what we need- do "we" know that?; AFSCME usually seems to not know it- by now we should also know what we'll be getting with a Republican. And, Hello, SOMEBODY is going to be elected Governor.
When self-defense is out of fashion you should know that something has gone awry.
Money in politics is certainly a huge issue but we can't get jackshit done when 60% of voters- way disproportionately poor and working class- don't show up. And no doubt the Democratic Party's technocratic business-as-usual bullshit deserves much of the credit for this state of affairs, but there's MUCH that could be done that doesn't get done.
Robert Faturechi, ProPublica
January 10, 2017
Republicans will effectively control 68 of the nation's 99 state legislative bodies, as well as 33 governor's mansions. Members of the American Legislative Exchange Council (ALEC) said they would push bills to reduce corporate taxes, weaken unions, privatize schooling and influence the ideological debate on college campuses.
Bill Harvey
Baltimore
NYC had free college for many years for the university system. The State colleges cost only a very few hundred dollars a year. And Pell and Seog grants helped cover the books and living expenses. When student loans were created the interest rate was less than 3% and one didn't need that much to borrow. Why isn't this history, which is not that long ago, ever mentioned.
Tanya Marquette
Such predictions by reactionaries are partly American political parochialism.  All kinds  of countries have had liberal or social democratic governments and have thrived. Fear mongering on the right is not new and not constructive. We will see how well the economy goes when Trump starts slashing programs and taxes!
Laurel MacDowell
I'd like to hear more of their predictions because it sounds like they are going to help us know what to do with this presidency.
Kathlyn Barrett-Layne
Kevin Lindemann
Shout out to my Facebook friends - a lot of the material that I post on Facebook comes from Portside. (Disclosure, I am one of the moderators of Portside, having helped start the site back in 2000, when the second Bush was elected. We thought those were "dark days and times" in November 2000. They were, but we organized and fought back, and I think Portside helped.) Every year Portside ask its readers to help out, to financially support this project. So, I am asking my Facebook friends and relatives. Thanks.
Jay Schaffner
Many young people are afraid and anxious during this time of political transition. Beginning on Inauguration Day we will teach our young people they can take action to resist injustice. We will teach the history, meaning, and tools of resistance against hatred and bigotry.
All-star musicians from the experimental and jazz communities of NYC will come together for a marathon fundraiser concert/dance party at the The DiMenna Center for Classical Music. The concert is FREE to attend, and will provide laptop stations for attendees to donate to institutions that uphold America's democracy and diversity - including ACLU, LAMBDA Legal, Planned Parenthood, Southern Poverty Law Center, Hollaback! and more. Representatives from organizations will be in attendance. 
Join us in our considered artistic response to the current political climate, in a night of positive action, deep listening, ecstatic sound, and COMMUNITY!!! 
Join us in our response to the current political climate for a night of positive action, deep listening, ecstatic sound, and community.
FREE - attendees are encouraged to donate to their preferred social activist organizations - credit cards accepted via laptop stations.
Attendees are invited, but not required, to participate in a potluck of snacks to sustain us as we listen and dance and donate the night away. Lainie and Jascha will be bringing vegan oatmeal cookies. Jay will be bringing his wife Heather's vegan cupcakes, John will be bringing brownies.
Co-curators & Co-producers
Salute the life of Comandante Fidel Castro Ruz!
Long Live the Cuban Revolution!
Dan La Botz will discuss his new book What Went Wrong? The Nicaraguan Revolution: A Marxist Analysis (BRILL, 2016).
A reception with wine and cheese will follow the lecture. This event is sponsored by the Frederic Ewen Center.