Women's March on Washington - Why We March, Where We Are Marching - Links for 616 Cities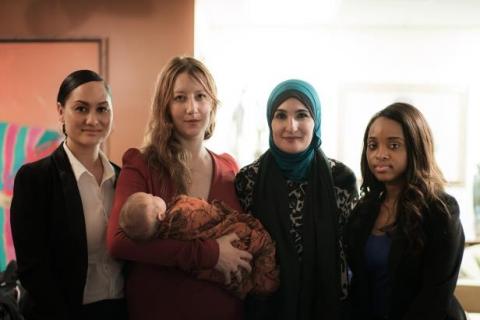 Four co-organizers, Women's March on Washington.(l to r), Tamika Mallory, The Gathering for Justice; Linda Sarsour, Arab American Association of New York; Bob Bland, with baby, founder of Manufacture New York; and Carmen Perez, The Gathering for Justice.*, photo credit - Todd Heisler/The New York Times
Unity Principles
We believe that Women's Rights are Human Rights and Human Rights are Women's Rights. We must create a society in which women - including Black women, Native women, poor women, immigrant women, disabled women, Muslim women, lesbian queer and trans women - are free and able to care for and nurture their families, however they are formed, in safe and healthy environments free from structural impediments. 
ENDING VIOLENCE
Women deserve to live full and healthy lives, free of all forms of violence against our bodies. We believe in accountability and justice in cases of police brutality and ending racial profiling and targeting of communities of color. It is our moral imperative to dismantle the gender and racial inequities within the criminal justice system.
REPRODUCTIVE RIGHTS
We believe in Reproductive Freedom. We do not accept any federal, state or local rollbacks, cuts or restrictions on our ability to access quality reproductive healthcare services, birth control, HIV/AIDS care and prevention, or medically accurate sexuality education. This means open access to safe, legal, affordable abortion and birth control for all people, regardless of income, location or education. 
LGBTQIA RIGHTS
We firmly declare that LGBTQIA Rights are Human Rights and that it is our obligation to uplift, expand and protect the rights of our gay, lesbian, bi, queer, trans or gender non-conforming brothers, sisters and siblings. We must have the power to control our bodies and be free from gender norms, expectations and stereotypes.
WORKER'S RIGHTS
We believe in an economy powered by transparency, accountability, security and equity. All women should be paid equitably, with access to affordable childcare, sick days, healthcare, paid family leave, and healthy work environments. All workers - including domestic and farm workers, undocumented and migrant workers - must have the right to organize and fight for a living minimum wage.
CIVIL RIGHTS
We believe Civil Rights are our birthright, including voting rights, freedom to worship without fear of intimidation or harassment, freedom of speech, and protections for all citizens regardless of race, gender, age or disability. We believe it is time for an all-inclusive Equal Rights Amendment to the U.S. Constitution.  
DISABILITY RIGHTS
We believe that all women's issues are issues faced by women with disabilities and Deaf women. As mothers, sisters, daughters, and contributing members of this great nation, we seek to break barriers to access, inclusion, independence, and the full enjoyment of citizenship at home and around the world. We strive to be fully included in and contribute to all aspects of American life, economy, and culture.
IMMIGRANT RIGHTS
Rooted in the promise of America's call for huddled masses yearning to breathe free, we believe in immigrant and refugee rights regardless of status or country of origin.  We believe migration is a human right and that no human being is illegal.
ENVIRONMENTAL JUSTICE
We believe that every person and every community in our nation has the right to clean water, clean air, and access to and enjoyment of public lands. We believe that our environment and our climate must be protected, and that our land and natural resources cannot be exploited for corporate gain or greed - especially at the risk of public safety and health.
* Four co-organizers of the Women's March on Washington. From left, Tamika Mallory, a gun control advocate and board member of The Gathering for Justice, a nonprofit founded by Harry Belafonte; Linda Sarsour, executive director of the Arab American Association of New York; Bob Bland, holding baby, founder of Manufacture New York; and Carmen Perez, executive director of The Gathering for Justice.
photo credit - Todd Heisler/The New York Times
photo credit: People Magazine
SISTER MARCHES
Sister Marches are solidarity events inspired by the Women's March on Washington, and organized by volunteers around the world. If you can't make it to Washington, D.C. on January 21, join or host a Sister March near you.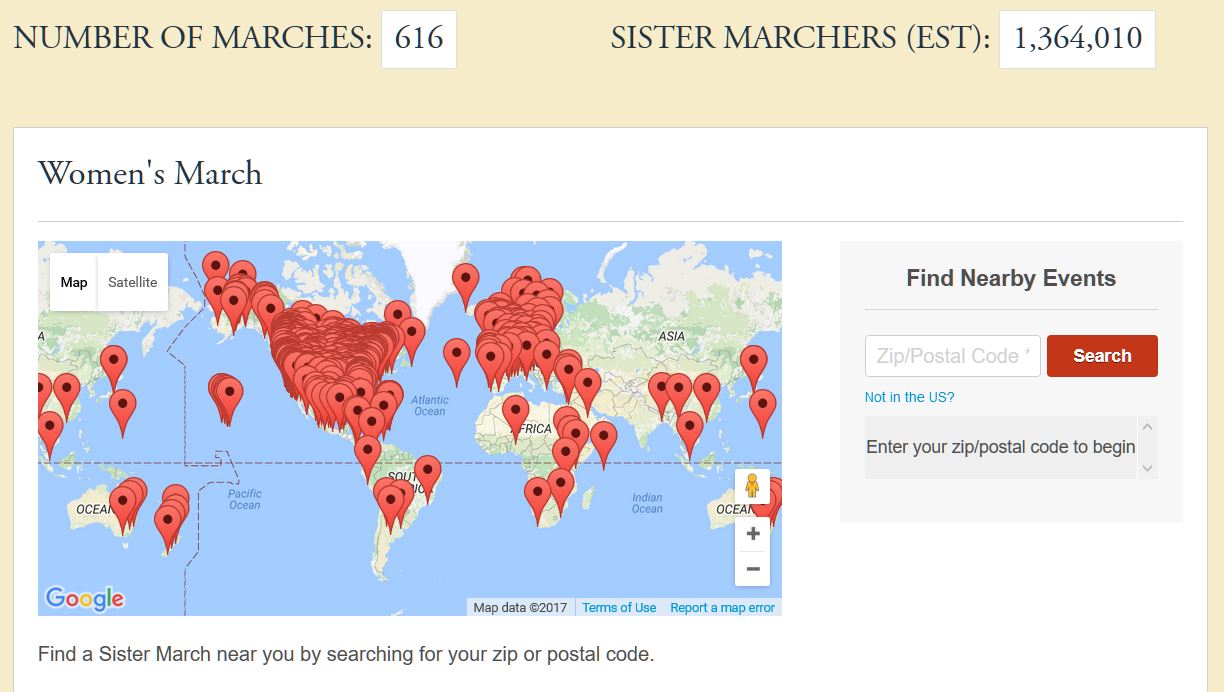 Click here
for transportation from your area to the march in Washington, D.C.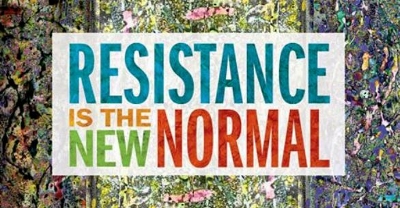 UNITED STATES OF AMERICA
INTERNATIONAL
Argentina 
Buenos Aires
Aruba 
Noord Aruba
Australia 
Canberra 
Melbourne 
Sydney
Austria 
Vienna
Bahamas, The 
Freeport
Belgium 
Brussels
Bermuda 
Hamilton, HM11
Brazil 
Ipanema, Rio de Janeiro
Bulgaria 
Sofia
Canada 
Bowen Island 
Calgary 
Edmonton 
Fredericton, NB 
Gabriola 
Grand Forks 
Halifax 
Hamilton 
Kamloops 
Kelowna 
Kingston 
Kootenay Bay 
Lethbridge 
Montreal 
Nanaimo 
North West River 
Orangedale 
Ottawa 
Saint Catharines 
Saint John 
Saskatoon 
St John's 
Sutton 
Toronto 
Vancouver 
Victoria 
Winnipeg
Caribbean Netherlands 
Kralendijk
Cayman Islands 
Georgetown
Congo 
Ville de Kinshasa
Costa Rica 
Cahuita 
Monteverde 
Potrero 
San Jose
Czech Republic 
Prague
Denmark 
Copenhagen
Ecuador 
Cuenca
Finland 
Helsinki
France 
Auvillar 
Bordeaux 
Marseille 
Montpellier 
Nice 
Paris 
Poitiers 
Strasbourg 
Toulouse
Georgia 
Tbilisi
Germany 
Berlin 
Bonn 
Düsseldorf 
Frankfurt 
Hamburg 
Heidelberg 
München
Ghana 
Accra
Greece 
Athens
Hungary 
Budapest
Iceland 
Reykjavík
India 
Kolkata
Indonesia 
Ubud, Gianyar, Kabupaten Gianyar, Bali
Iraq 
Erbil
Ireland 
Castlebar 
Dublin 
Galway
Israel 
Tel Aviv-Yafo
Kenya 
Nairobi 
Nairobi City 
Turkana County
Kosovo 
Prishtine
Latvia 
Riga
Lebanon 
Beirut
Lithuania 
Vilnius
Macau 
Taipa
Madagascar 
Antananarivo
Mexico 
Ajijic 
Campeche 
Chetumal, QR 
El Sargento 
La Manzanilla, Jalisco 
Loreto 
Mazatlan 
Mexico 
Mérida, Yucatán 
Oaxaca de Juarez 
Paseo 
Playa del Carmen 
San Miguel de Allende 
San Pancho 
Todos Santos 
Tuxtla Gutierrez 
Zihuatanejo
Myanmar (Burma) 
Yangon
Netherlands 
Amsterdam 
Den Haag
New Zealand 
Auckland 
Christchurch 
Dunedin 
Wellington
Nigeria 
Jos
Peru 
Chiclayo 
Miraflores, Lima
Portugal 
Andra do Heroísmo 
Braga 
Coimbra 
Faro 
Lisbon 
Porto
Saint Kitts and Nevis 
Charlestown
Saudi Arabia 
Riyadh
Serbia 
Belgrade
Singapore 
Singapore
Slovakia 
Piestany
Slovenia 
Ljubljana
South Africa 
Cape Town 
Cyrildene 
Durban
South Korea 
Seoul 
Yeonsugu, Incheon
Spain 
Barcelona 
Granada 
Madrid
Switzerland 
Geneva
Tanzania 
Dar es Salaam 
Saadani
Thailand 
Bangkok
United Kingdom 
Bangor, Gwynedd 
Barnstaple 
Belfast 
Cardiff 
Edinburgh 
Lancaster 
Leeds 
Liverpool 
London 
Manchester 
Shipley 
Southampton 
St. Austell 
York