The Chicago Dyke March, and Questions of Anti-Zionism, Anti-Semitism, and Pinkwashing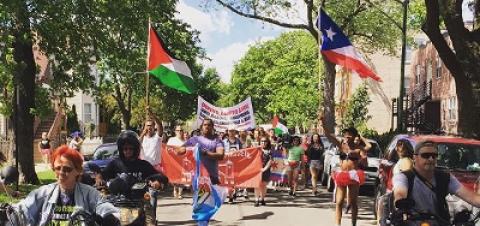 The 2017 Chicago Dyke March.,Photo: Chicago Dyke March

As a Jewish organization dedicated to justice for Palestinians and opposition to all forms of bigotry, including antisemitism, Jewish Voice for Peace-Chicago affirms our support for the Chicago Dyke March Collective, a powerful force for justice and queer and trans liberation in our city. While we also hear those who are concerned at the perception that Jewish participants were singled out at the march, we ask that everyone reflect on how events actually unfolded, how Israel has appropriated Jewish identity and symbols, and how that impacts our movement spaces.
On Saturday at the Chicago Dyke March, a small number of members and staff of A Wider Bridge challenged the inclusion of Palestinian human rights as an issue supported by Chicago Dyke March. A Wider Bridge has the explicit purpose of "building a movement of pro-Israel LGBTQ people and allies." "Pro-Israel," for a Wider Bridge, has included organizing war rallies cheering on the Israeli military during
the massacre of civilians in Gaza in August 2014
and
partnering with Israeli consulates
in the US in organizing pinkwashing propaganda tours.
The A Wider Bridge contingent loudly encouraged fellow participants to erase mentions of Palestine during solidarity chants. When Palestinian attendees approached them, they became hostile while expressing explicit support for Zionism, which was one of the ideologies that march organizers had disavowed because it has led to decades of displacement and violence against Palestinians. After a two hour conversation with organizers and other members, the attendees were asked to leave for not respecting the community norms, including opposition to all forms of racism and violence. One of the people asked to leave was Laurel Grauer, Midwest Manager from A Wider Bridge (AWB), who held a rainbow flag with a blue Star of David identical in color, size and placement to the one on the Israeli flag. 
Many other Jews, including members of Jewish Voice for Peace-Chicago, were present at Dyke March wearing Jewish symbols, including Stars of David, t-shirts with Hebrew, kippot, and sashes with Yiddish script, and none of them were asked to leave the event, interrogated about their politics, or were the target of any complaints because of their visible Jewish presence.
The Star of David is a Jewish symbol not inherently connected to the State of Israel. Since much of the media coverage has centered on whether Palestinians can justifiably feel unsafe around a blue Star of David in the center of a flag, we believe it is worth remembering that in the West Bank, Israeli flags bearing a blue Star of David fly above military installations and settlements. Stars of David are painted onto Palestinian homes to intimidate people, near Hebrew graffiti calling for "Death to Arabs." Palestinian homes are demolished and replaced by Jewish homes flying the Star of David on an Israeli flag.
While for many this incident may have evoked fears engrained in our collective memory of instances in which Jews have been singled out, we believe this incident is a sad reminder of the destructive impact of the State of Israel's appropriation of Jewish symbols and identity.
As Jewish Voice for Peace-Chicago, we share the Chicago Dyke March Collective's opposition to state violence, anti-Muslim, anti-Arab, anti-Black, anti-immigrant, anti-queer and trans, anti-woman and anti-Person of Color bigotry. As a Jewish organization committed to justice and equality for Palestinians, we invite everybody to work with us in opposing the State of Israel's use of Jewish identity, trauma and symbols in its oppression of Palestinians.
June 28, 2017

The community of IfNotNow Chicago is still processing what happened at the Chicago Dyke March and the conversation that has proceeded in its aftermath. We are a community of anti-occupation Jews, with many queer leaders, and the intersection of these identities compels us to reflect deeply on this moment.
Firstly, we condemn in the strongest terms the threats of violence that have been made towards the organizers of the Chicago Dyke March-as well as the many insidious efforts to defame and otherwise misrepresent them. It is deeply distressing to us to see our fellow American Jews engaging in hotza'at shem ra, willfully spreading harmful misinformation about the Chicago Dyke March Collective. 
Like many in the Jewish community, members of IfNotNow Chicago were disheartened and saddened to read the allegations of antisemitism that came out of Saturday's March. Many of us attended the event and were shocked to hear that individuals felt targeted because of their visible Jewish identity. But, as we later heard more reports from organizers and activists on the ground, including from our own members, it became clear that the initial reports were false; that the removal of these participants was part of a larger, longer conversation around Palestinian liberation, rather than an explicit targeting of Jews with Jewish symbols. The conflation of Zionism with Judaism and the singling out of Jews for political tests are never acceptable, but it is clear that this is not what happened at the Chicago Dyke March. 
The Chicago Dyke March is an explicitly anti-racist, anti-colonialist space and it is not apolitical. We believe it is essential to uphold the leadership of queer people of color exemplified by the Chicago Dyke March Collective, and to support the important work they do. Many of us have directly benefited from the incredible events they curate. We also want to uphold the Palestinian leadership of Chicago Dyke March Collective, and we recognize that the mainstream coverage of this has centered Jewish voices, at the expense of Palestinian narratives and trauma.  
This incident, and the media storm that has surrounded it, bring up once again the need for deeper conversations about antisemitism. Too often, we see conversations about antisemitism reduced to simplistic binaries: Either antisemitism is rampant on the left, or antisemitism couldn't possibly exist in these spaces. Either antisemitism is on the rise, or antisemitism is a problem of the past. Either criticizing Israel is always antisemitic, or it is never antisemitic.
We seek to reframe this conversation entirely. We know that antisemitism has historically come into play in leftist spaces, just as it has on the right. We know that antisemitism never works alone, but is always operating in conjunction with other forms of oppression: with white supremacy, with Islamophobia, with xenophobia, and with all forms of racial oppression. We know claims of antisemitism are often wielded by those on the reactionary right to drive a wedge between Jews and other oppressed groups. This is particularly true in moments of political and social unrest, when complex conversations and active solidarity are most needed. The ongoing public narrative claiming that intersectionality is somehow a tool to silence and marginalize Jewish voices is a perfect example-it serves to villainize exactly the solidarity and coalition building that help us resist repressive authoritarian governments, resist antisemitism, and build community with other oppressed people. 
It is distressing to see so many Jews buy into the simplistic binaries outlined above so earnestly and quickly. It is particularly distressing to the queer Jews in whose name these, often straight, commentators claim to be speaking. Our discussions about antisemitism must take into account and center the experiences of queer Jews, Jews of Color, and Jews of varying political positions. Our critiques of queer spaces must center marginalized queer voices and queer experiences. 
Within INN Chicago we are constantly working to sharpen our own understanding of antisemitism and how it works in conjunction with white supremacy, colonialism, and all other forms of oppression. We invite all others to join us in this work.
Lastly, we want to redirect our attention to the current events in Gaza, where once again, electricity is being cut and bombs are being dropped. We want to affirm that we share with Chicago Dyke March a goal of freedom and dignity for all, and a commitment to ending the daily nightmare of occupation that Palestinians endure.  
In moments like these, we are guided by the words of Pirkei Avot:

We will try to find teachers-we will be listeners and learners, and we will raise up the voices of those we need to learn from. We will try to acquire friends-we recognize that hard conversations like this need to happen in the context of relationships and mutual care, not alienation and anger. And lastly, we will judge towards the side of merit-we will assume that our fellow activists have good intentions, and share our desire to see a just world, bim'heira b'yameinu, speedily, in our days.  
This statement was written and reviewed by queer members of IfNotNow Chicago. We would encourage everyone to read the previous statements of Chicago Dyke March Collective, and of queer Jews who were present at the Dyke March and were part of the decision to ask other participants to leave.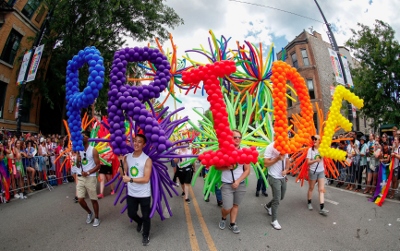 credit - Getty Images // Forward
June 27, 2017
On June 24th, 2017, a small group of individuals were asked to leave Chicago Dyke March for expressing Zionist views that go directly against the march's anti-racist core values. In the days following, articles have appeared in a number of major news outlets that put forward false reports based on testimony that is purposefully misleading. We wish to clarify the circumstances under which organizers and community members alike asked the group to leave.
The group in question was heard
disrupting chants
, replacing the word "Palestine" with "everywhere," saying: "From everywhere to Mexico, border walls have got to go." One of the individuals, Laurel Grauer, is the Regional Director of
A Wider Bridge
, an organization with ties to the Israeli government that was protested for pinkwashing at the Creating Change Conference in Chicago in 2016. It was later revealed that Laurel was aware of Dyke March's anti-Zionist position from pro-Palestine memes and art that were posted on the Dyke March page, and was also aware of the fact that her flag could be interpreted as being at odds with that position. The night before, she contacted an organizer to ask if her flag would "be protested." The organizer told her the flag was welcome, but reminded her that the space is one that supports Palestinian rights.