From Charlottesville to Brussels: Collective Memory and the Challenge of our Monuments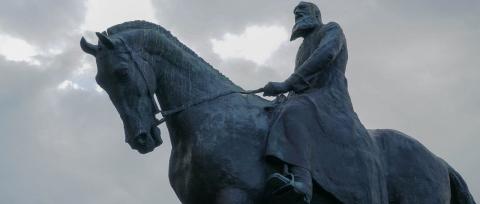 Leopold II was King of the Belgians from 1865 to 1909. His reign was marked by the brutal colonisation of the Congo, yet many statues in his honor still exist.,Bryan Carter
On 12 August this year I began my latest visit to the city of my birth, Kinshasa, formerly Leopoldville, in the Democratic Republic of Congo.
I am in a taxi heading for Avenue Kasa-Vubu, named in honour of the first President of the free Congo. To get there, the driver drives down 30 June Boulevard, the independence date of a country that continues to battle the demons of its colonial past.

The pavements along the boulevard are just as crowded with people as the streets are with traffic. Young street vendors walk carrying their merchandise on their heads, taking advantage of the endless traffic jams to sell their wares.
Street children (known as shégés), sometimes alone, sometimes in the company of a blind adult, beg for a few Congolese francs, which is hard to come by, even for those who are working. People are talking, shouting, laughing and shoving. Sometimes tempers are frayed, but never to the point that a fight breaks out.
Every action seems to follow the frenetic rhythm of the song by the late Papa Wemba La vie est belle (Life is beautiful).
On listening more closely, it becomes clear that the words from the chorus "débrouillez-vous, débrouillez-vous" ("do what you can, do what you can") are in the blood of every Congolese person.
The car radio interrupts my daydream. The speakers announce the 8.00pm news flash on Radio Okapi. The international news catches my attention. They are talking about a town in the United States called Charlottesville. The presenter explains that a young woman has died and another 30 people have been injured in clashes between white supremacists and anti-racist activists.
The reason for this violence? A statue, of General Robert E. Lee, who led the confederate troops of the slave states during the American Civil War. When the city council voted to remove the statue in February, it had no idea that implementing the removal would lead to such a confrontation.
Looking at the pictures of the enormous monument to General Lee astride his horse, I immediately saw the visual and historic resemblance to that of Leopold II prominently displayed in the centre of Brussels, roughly equidistant from the Royal Palace, the European Parliament and the vibrant Congolese neighbourhood of Matongé.
The ugly face of Belgian colonialism
I got to know the "Builder King" – as the Belgians nicknamed him – thanks to a book by American writer Adam Hochschild, King Leopold's Ghost, published in 1998. I was 23 years old and I was discovering my country of origin and its strange, not to say difficult, relationship with my host country. This book showed me the ugly face of Belgian colonialism, which is something that wasn't talked about in our history lessons.
On the basis of several historic studies, it is estimated that about half the population of the Congo was wiped out between 1885 and 1908, when Leopold II's privately owned territory was annexed by Belgium.
Thirsting for profits from the ivory trade, then rubber, the King's militia pillaged, killed, raped, mutilated and enslaved millions of Congolese, while Leopold II, entrenched in his Brussels palace, accumulated an immense personal fortune.
Even at the time, people around the world raised their voice in protest against these atrocities, which gave birth to one of the first major international human rights movements.
And yet, from primary school right through until university, Belgian students grow up without hearing a word about this, and involuntarily perpetuate the image of a "civilising" and "redeeming" colonisation.
However, with the hindsight of history, it is difficult to truly believe that colonisation was ever motivated by humanist ideals, or to deny that its purpose was to conquer territory, drain its wealth, while exploiting its cheap and malleable work force.
A visit to the Royal Central Africa Museum in Tervuren, Belgium, does nothing to alter the old narrow-minded vision of the Congo, quite the contrary. Although it is closed until 2018 for renovation, the old section dedicated to colonisation is a perfect illustration of this very Belgian claim to be the "good guys" and that there were just a few "abuses" committed by some misguided souls.
All my education has been in Belgium, and so it was a very sudden awakening to the invisibility 80 years of shared history, not just in education and culture, but also in the media and in our urban environment.
Most of the existing traces of this subject paid tribute to terrifying and bloody characters. These so-called heroes became my tormentors. Despite their horrific acts, they were always cast as the good guys. It was rare to find anyone daring to denounce this type of evidence. Why so much censorship on this topic? Is it because many of the richest families in Belgium still owe their fortunes to this period? Or that the current king is a descendant of Leopold II?
In 2017, nearly 57 years after the independence of the Congo, isn't it time to discuss this openly? There is outrage, quite rightly, about what is happening in Charlottesville, but we should not forget that there is still a lot to be done in Belgium.
For several years, the Colonial Memory and Fighting Discrimination Collective, together with other organisations, has been campaigning for a Lumumba Square (Editor's note: Patrice Lumumba was the first Prime Minister of the Democratic Republic of Congo. He was assassinated in 1961) to be created in the centre of the Belgian capital. Despite their actions and demonstrations, it is interesting to see the steadfast refusal of the institutions to make any move on this.
For a city that claims to be cosmopolitan, it has very few street, monument or place names that have African references.
Belgium is often praised as being an open-minded country, but why does it find it so difficult to publicly recognise these "visible minorities" which gave it and continue to give it its strength?
Isn't it time to take the debate further and question the presence of monuments glorifying Leopold II?
Daring to open the discussion, for the sake of our collective memory
Removing a statue is a symbolic and powerful act. For proponents, it takes away from the person being glorified any claim to eternal truth. Beyond the implicit recognition of past mistakes, it demonstrates the reappropriation of a public space. Freed of such controversial historic figures, these meeting places can once again belong to everybody.
Opponents to the removal of statues, however, see them as part of our heritage to be preserved, albeit a colonial or racist one, and claim that we cannot apply today's standards to past events when morals were so different.
However, many countries, such as Germany, Spain, South Africa, Russia and the United States, have had this type of discussion over openly confronting their darkest hours. Why not Belgium?
Only by daring to ask the question can this country finally look at its past and invite its many communities to express their opinions on a subject that is difficult but necessary for social cohesion and multi-ethnic integration.
Because many Belgians still refuse to recognise the latent racism still present in our society. If you raise the question of such topics to someone of foreign origin, you will get a very different answer.
You only have to look at the strong reactions to today's issues, whether related to immigration or multiculturalism, to see the rampant xenophobia amongst part of the population.
Belgium has not succeeded in truly integrating its minorities and anyone who applies for a job with a foreign-sounding name will often be less successful than a Belgian competitor with the same qualifications.
It is not surprising therefore that the African, Asian and Latin American communities are so poorly represented in the country's politics, media and economy.
Our institutional machinery should be diverse enough to reflect our multicultural society. Openly recognising the tragedies caused by colonialism would be a big step forward towards "living together". I don't think it is a matter of righting the errors of the past so much as being aware of our joint histories and recognising the suffering of others. The duty of memory is paramount, for both countries.
On Saturday, 19 August, sitting in the back of a taxi, I look out at my host city, Brussels.
I am back among its big buildings and tarmacked roads. I have the sense of an unmoving city, frozen in time, a sterile resistance to change. Everything seems controlled, even self-controlled. All is silent. It is almost a ghost town.
Where is the laughter, the tears, the cries of children? Where are the people? Where is life? In the metro, perhaps? Maybe it is inside these buildings, where offices and homes sit side by side? Sometimes I hear voices, whispers rather, as if we have to be careful not to awaken the beast buried in the concrete.
The car radio awakens me from my daydream, as a song by Arno comes out of the speakers "Putain putain c'est vachement bien, nous sommes quand même tous des Européens". (Which roughly translates, to keep the rhythm, as: "It's so bloody great, I mean, we are all, after all, European.")
I wonder if that line is addressed to me, or if it excludes me. I had barely had time to get lost in this new train of thought when my driver stopped, turned his head and said to me: "We're here sir, at your destination: Boulevard Leopold II...".
Pitcho Womba Konga, originally from Congo, is a Belgian performance artist and an entrepreneur who founded the non-profit making company Skinfama asbl.
This story has been translated from French.