Tidbits - October 26, 2017 - Reader Comments: Superstorm Sandy - March for Climate Action Now; Institutions Financing White Nationalism; Che Guevara; Balfour Declaration; Harvey Weinstein; Indonesian Slaughter; announcements; and more...
Tidbits - Reader Comments, Resources and Announcements - October 26, 2017,Portside
Resources:
Announcements:
5th Anniversary of Superstorm Sandy - March for Climate Action Now! - will you march with me on Saturday???
Before you do anything else, think about who you can share this message with! Whether or not you can join us on Oct. 28th, it would be great if you can send this along to 5 or 10 or 50 of your friends and encourage them to be at this timely march for climate action.
Saturday, October 28th
5th Anniversary of Superstorm Sandy - March for Climate Action Now!
11 am - Rally in Cadman Plaza Park in Brooklyn
12:30 pm - March across the Brooklyn Bridge
2 pm - Closing activities at Smith Houses in Manhattan
On Oct. 28th people from throughout the city will gather to honor those hardest hit by Superstorm Sandy 5 years ago. 
But make no mistake…our march is not just about the past. It is about the urgent need for our elected officials to take bold and immediate action on the climate crisis. Over the past five years the global crisis has only gotten worse. Think Harvey, Irma, Maria. Think wildfires and earthquakes. Hurricanes, fires, monsoons, earthquakes all made more deadly, and more costly, by the advancing climate crisis.
The time for action is now. There is no more time to wonder how bad things might get.
125 groups and organizations representing a good cross-section of New Yorkers have signed on to Sandy 5th anniversary march! And that last is growing every day. If you are part of one of those groups, thanks! If your organization has not signed on yet, don't worry…you can do that now.
We hope everyone is doing everything possible to get the word out. Below are several suggestions we hope you will take up in the next few days. 
Help make Oct. 28th and our call for climate action as strong as possible. Help us send a message to our city, state and federal elected officials that we demand new policies that will move us off of fossil fuels and into a new era of a just and equitable economy based on renewable energy sources and grounded in a commitment to social justice.
Visit our website for more details about October 28, the explanation of our demands and the full list of participating organizations.
I hope to see you all on October 28th! By the way, if you cannot do the full day, please come to either the Cadman Plaza Park rally at 11 am or the closing event at Smith House in Manhattan at 1 pm.
Leslie Cagan
What You Can Do
1) Share this message with everyone you know!
2) Use all of the social media outlets you have access to. Click here for a tool kit to help you get the message out.
3) It's not too late for more groups or organizations to sign on to the Oct. 28th march, just click here.  And then be sure to send at least one email notice to your full list urging folks to join the march - if you can send two messages that would be even better.
I Hate When They Say "He gave his life for his country" - Admiral Gene Larocque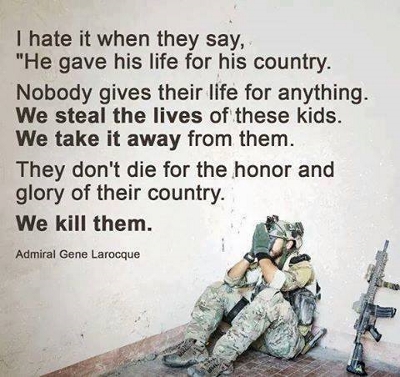 Years after the war, Admiral Gene Larocque, who had served for years in the navy and been bombed at Pearl Harbor, shared these thoughts on the war with the great people's historian and radio pioneer, Studs Terkel.
Admiral Gene Larocque Speaks to Studs Terkel About "The Good War" (1985). In Studs Terkel, The Good War": An Oral History of World War Two (New York: Pantheon, 1984; New York New Press, 1997), pp. 189-93.
Re: Do We Really Know What He Signed Up For?
The myths about military are HUGE! We have a BIG economic draft in this country aided and abetted by high schools that allow military recruiters to prey on our youth with lies. Add on privatized military scumbags and gutting of health care and education and housing benefits for non-officers and you have a criminal system that we pay for as tax payers. With politicized generals who really work for Boeing and other corporate arms dealers and fact that military strips you of all your individual constitutional rights minute you enlist, no way folks know what they are signing up for!
Leanna Noble
Posted on Portside's Facebook page
Re: The Way We Talk About Puerto Rico Is Bullshit
Is the denial of aid to Puerto Rico a purposeful conspiracy to force large scale evacuations in order to make a land grab by Trump and company ?
Aaron Libson
Re: Stop the Deportations from Gary Airport!
Scary shit, here. I lived in Gary for eight years. from 1977 to 1985. We didn't have a national airport, much less an international one. We did have steel mills, relatively full employment, and a sizable Chicano community in nearby Hammond and East Chicago, not to mention Chicago proper. The connection between the loss of jobs, the impact of that loss on the surrounding economy and communities, and the role of ICE today isn't coincidental.
Mike Hirsch
Re: These Wealthy Institutions Are Quietly Financing White Nationalism
Take a look at who is funding white nationalism.
Andrea Jacobs Talbutt
Posted on Portside's Facebook page
    ====
In June 2016, more than $33.4 million, or almost 14 percent, of Providence's employee retirement system was invested in Renaissance Technologies' Institutional Equities Fund — a fund the system had invested in since 2006, according to a performance update for the city's Board of Investment Commissioners. The retirement system rolls out pension plan benefits to Providence city employee retirees.
Pam Cruze
Posted on Portside's Facebook page
    ====
I was very disturbed by this and the others as well.
Andrea Jacobs Talbutt
Posted on Portside's Facebook page
    ====
Okay we new this...right??? Or did we???
Janvie Cason
Posted on Portside's Facebook page
Re: America's Imperial Unraveling
All great nations/ empires reach an apex of power and then fall into decline. They are not brought down by outside forces but are destroyed from within. Today we are witnessing the beginning of the end for America. I predict by the end of the 21st century the self destruction will be complete. Although it's possible most of the world will be reduced to a nuclear wasteland long before the end of this century.
Gwen Andrews
Posted on Portside's Facebook pager
    ====
Dark. But I do agree that this empire is rapidly heading down the porcelain bowl. very sad. Rome had Nero....we have the mango moron.
Gwendolyn Ivey
Posted on Portside's Facebook page
    ====
An excellent article - detailing how Trump is a logical culmination of the foreign policies of those who came before him - and what is different.
"As with the decline of earlier empires, the threat does not lie so much with the rise of an alternative power but with the actions of the United States itself, which has slowly repudiated the very order it once authored. Trump is little more than a symptom of the forces that over decades have produced this gradual decline, though he may also prove to be the final nail in the coffin."
Susan Collier Lamont
Posted on Portside's Facebook page
    ====
I was dismayed to learn what Trump did about the Iran deal.It prompted me to put a statement on my Blogg David Duboff: Lifetime Social Advocate  and Member of Occupy Wall Street, saying Trump rose to power by appealing to the worse aspects of the "American Charictar"
David Duboff
Women ... and the GOP ... to the GOP
Women: "Can I have birth control?"
Republicans: "No."
Women: "I couldn't get birth control so I got pregnant. Can I have an abortion?"
Republicans: "No."
Women: "I had the baby, but I'm out of work. Can I have WIC and food stamps until I get back on my feet?"
Republicans: "No."
Women: "I found a job, but it doesn't offer me insurance. Can I have government guaranteed insurance?"
Republicans: "No."
Women: "My kid got sick and I got fired because I missed time caring for him. Can I get unemployment?"
Republicans: "No."
Women: "I'm having a hard time getting my kid from school consistently. Can we fund after-school programs?"
Republicans: "No."
Women: I'm prepared to work to support my family. Can you make sure that a full-time job's minimum wage is enough to do that? 
Republicans: No. But what's the matter with you and your family, that working two jobs can't lift you out of poverty? And can't you keep your kids off the street? Oh, and make sure they're doing well in school
Women: fuck off, then
Republicans: nasty women
Please copy and share. - this has been making its way on Facebook  - now it's your turn to share (just copy and post this  as your status - "What's on your mind" at the top of your Facebook page).
Re: 50 Years Since Che Guevara Was Murdered
The article on Che by Bill Ayers and Michael Steven Smith (Portside, 19 October, re-posted from The Nation) was interesting, but spoiled by some gratuitous and fallacious anti-communism.
The most outrageous statement was that the three truths Che learned in Guatemala were "opposed by the Moscow-oriented communist parties in Latin America". I challenge the authors to find any evidence to support this claim. Communist parties were against agrarian reform! And against elimination of the old state apparatus! Too ridiculous. The differences of opinion that may have existed, and years later certainly did exist, was in the estimation of the maturity of the political situation in each country, and the issue of armed struggle.
On this crucial issue, Ayers and Smith later correctly say "Che mistakenly elevated guerrilla warfare from a tactic to a strategy, and went there (Bolivia) misreading the actual situation." Exactly. No wonder, then, that he got no help from the Bolivian Communist Party. It is also true the Fidel Castro at that time also subscribed to the dogma that armed struggle was essential in all Latin American countries. This was indeed opposed by many communist parties, and the Soviet Union. Subsequent history shows that several communist parties did, in fact, undertake armed struggle. The policy of peaceful coexistence with imperialism did not prevent the Soviet Union's solidarity with armed struggle in many countries.
Fidel changed his attitude many years before his death, as his support for revolutionary processes using the mechanisms of bourgeois democracy show. We will never know if Che, too, might have changed, but to use his name for cheap anti-communist slurs is unworthy of serious political commentators.
Dan Morgan,
Chile.
    ====
I appreciated the excellent article by Bill Ayers and Michael Steven Smith about Che Guevara. Attached is a photo by my father, a well known Chicago photographer and activist (now deceased) regarding Che in summer l968 on the streets of Chicago. His name was Sydney Harris.
Paul Harris
www.guerrillalaw.com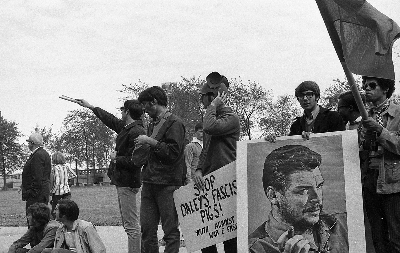 Grassy Knoll - Cartoon by Rob Rogers
Get ready all of you conspiracy lovers! The JFK Assassination Files might be released today!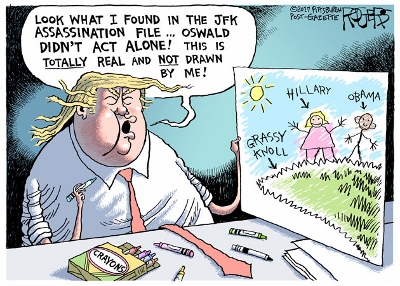 Rob Rogers
October 26, 2017
Pittsburgh Post-Gazette
Re: Files Expose U.S. Role in 1965 Indonesia Slaughter
Moderator's Note: Many thanks to the Portside readers who quickly contacted us - the initial post used "Roll" instead of "Role".
We quickly corrected this on the Portside website, in our posting on Facebook; and in the headline that went out this morning in Snapshot.
Again, many thanks to our sharp and keen-eyed readers!
    ====
CIA and State Department files that U.S. government knew of the plans, helped with the plans, the logistics, the arming of the Indonesian army, the training of these mass murders. Both the Suharto regime and the U.S. government have the blood of between half-million and million on their hands. This is what the Cold War and the "war on/against communism" resulted in. And this is Indonesia, the country with largest Muslim population in the world. This is what the wrong-headed policies of the U.S. government brought. And now, the Donald Trump regime wants to do it all over again.
Jay Schaffner
Posted on Portside's Facebook page
    ====
Unfortunately Things haven't changed much since then. Syria, Yemen, Venezuela, the list goes on and on and on......
Maria Loizou
Posted on Portside's Facebook page
Re: Expert Exposes US Biological Warfare During Korean War
Might not have been wise by Portside to publish "Expert Exposes US Biological Warfare During Korean War". I have not read the book mentioned in the piece, I am no expert on this stuff, so I cannot  say anything definite. But the story does not make all that much sense given what I know about the Korean War. "Strange objects" such as live spiders and dead rats would not have made much of a difference in this war of extreme intensity. The US dropped more bombs on North Korea than on the whole Pacific region in WWII. And "Chinese military members" might not be the most reliable witnesses. The NTY kind of debunked that stuff back in 1999.
Konrad
Re: From the Old Left to The New: Perils of Progressive Parenting
Excellent article for leftie parents. I raised a deaf son who's a pretty bright guy but I'll be damned if I really know his politics. I always tried to make sure he had access to good info and I wasn't shy about voicing my own opinions, but I was always sensitive to the fact that he had his own mind and could make his own decisions. Still, I'd be pleased as punch to learn he flamed as a leftie just like the old man, all the best and thanks, 
Mike Liston
Re: The Balfour Declaration's 100 Year Legacy of Racism and Propaganda
Thinking abut the centennial of the infamous Balfour Declaration establishing "in Palestine a national home for the Jewish people" Right therein lies the rub: A national home of the Jewish people in Palestine. Hello!!!!
" Where Buchan excelled, after all, was in channeling racism in service of state. This is what he had done for the Empire's cause in South Africa, using a combination of nonfiction studies and novels. And it is what he did for the Great War. Some of his bigotry will ring familiar. So it is with his description of the menace of Islam, "a fighting creed," Buchan warned, its fanatics taking to "the pulpit with the Koran in one hand and a drawn sword in the other." Buchan's racist depiction of Jews, on the other hand, have fallen out of favor in polite Western society. Here, for example, is his fictionalized image of who was pulling the strings in Germany: "a little white-faced Jew in a bath-chair with an eye like a rattlesnake. Yes, Sir, he is the man who is ruling the world just now, and he has his knife in the Empire of the Tzar, because his aunt was outraged and his father flogged in some one-horse location on the Volga."
The anti-Semitism expressed by Buchan, and by the imperial establishment for which he acted as mouthpiece, squared more easily with support for Zionism than one might think. Jews were cast in various roles: as a subversive threat in Europe (Buchan did not forget the "Jew-anarchists"!); as a justification for Britain to hold Palestine; and as potential settlers, allies of the Empire in the east. These were not contradictions so much as a faithful expression of British settler colonialism. For Britain, colonial settlement was indeed a means of territorial expansion; but it was also a means of offloading the contradictions of industrial capitalism onto distant frontiers. Empire, as the Marxist literary critic Raymond Williams remarked, was represented in British culture as an "escape-route," to which the ruined, the misunderstood, "the weak of every kind could be transferred." This theme dovetailed with straight imperial calculations to structure British support for Zionism. A Jew settled in Palestine was a Jew not knocking on Britain's doors. We would do well to remember that the first modern British statesman to clamp down on Jewish immigration, imposing the Aliens Act of 1905, was none other than Lord Balfour himself.
Larry Aaronson
Posted on Portside's Facebook page
    ====
Talk about propaganda, and hypocrisy. This is over the top--for sure I know of U.K. deceits. In an email conversation I had with Juan Cole several years ago he firmly believed the Balfour Declaration was not condoning a Jewish state--he did not believe Israel should have been formed.  Noam Chomsky has asserted over and over again that there should not be such a thing as a Jewish state, i.e., having to do with religion, but he has not damned several Muslim population countries that has Islamic as part of its official name. even though many with Christians and some with a handful of Jews that have not been expelled. I have no problem knowing of Israeli brutality, I have yet to read much about those who condemn Israel also condemn brutalities in many Muslim counties.
Elliott Barowitz
Re: Harvey Weinstein's Crimes and SAG's Failure
(posting on Portside Labor)
In line with my previous post about sexual harassment in the Hollywood workplace, here is a comment by a SAG-AFTRA member (the union for actors) about the weakness of the union's response to sexual harassment.
Friends of South Bend Labor Studies
Posted on Portside's Facebook page
    ====
"... Unions are the best vehicle to halt workplace harassment. But the Weinstein revelations show the Screen Actors Guild has failed its membership. – SAG-AFTRA has a "zero tolerance" policy on sexual harassment. Why then did none of the women whom Weinstein harassed or assaulted feel like they could go to their union for help (as the Canadian actor Mia Kirshner has also asked)? How could he hurt so many people for so long and still remain at the top of his field? What did the union know about Harvey Weinstein, and when did it know it?..."
George Lessard
Posted on Portside's Facebook page
Re: The Worst of Bill O'Reilly's On-air Denigration and Harassment of Lis Wiehl
Please think of the etymological root of "denigrate." After you've thought about it, please think of a different word to make use of that doesn't employ "blacken" or "denigrate" as a putdown.
Gene Glickman
Re: Who Profits from the Opioid Crisis?
The Sackler family, "model capitalists" who gained their ill-gotten billions off the addiction of millions of people! "The Sackler "name ... the epitome of good works and of the fruits of the capitalist system ... earned this fortune at the expense of millions of people who are addicted (to oxycontin)." "the Sacklers ... almost never speak publicly about the family business, Purdue Pharma ... that developed the prescription painkiller OxyContin ... a long-lasting narcotic that ... reportedly generated some thirty-five billion dollars in revenue for Purdue" "Purdue ... paid doctors to make the case that concerns about opioid addiction were overblown ... (and) that OxyContin could safely treat an ever-wider range of maladies ... many (patients) grew ... hooked on it." "Since 1999, 200,000 Americans have died from overdoses related to OxyContin and other prescription opioids ... 4 out of 5 people who try heroin today started with prescription painkillers ... 145 Americans now die every day from opioid overdoses." Meanwhile the Sackler family use the ill-gotten $Billions from their killer drug doing what good Billionaire philanthropists do - having their "impeccable" family name affixed to museums, galleries, professorships and medical research facilities.[See this ]
Yelda Miedema
Posted on Portside's Facebook page
Re: The Myth of the Spitting Antiwar Protestor
The author seems to think that the anti-war movement was all white.He omits the huge contributions of SNCC, Rev. King, et al., who gave serious substance and a radical edge that went far beyond youth culture, levitation and flowers. The Black movement also inspired and helped give rise to the youth and women's movements, and much more.
John Gallo
Re: Venezuela Election Result a Blow to Right-Wing Opposition, Trump
Perhaps all the stories about the evils of socialism are exaggerated propaganda
George Webb
Posted on Portside's Facebook page
Video featuring Edie Falco calls out "Fake Democrats" in New York State Senate
The Creative Resistance, a collective of independent media makers who oppose the Trump agenda, today released the video "LuLu Land," criticizing "fake Democrats" in the New York State Senate for aligning themselves with Republicans in exchange for perks and personal power, preventing the passage of much progressive legislation.
"Since 2011, a small group of 'Democratic' Senators, called the Independent Democratic Conference, have refused to caucus with the Democrats, handing control of the Senate to Republicans," says award-winning actor Edie Falco in the video. "They do this in exchange for what they call 'lulus': bigger salaries, nicer offices, and committee chairmanships."
"Let's fight back," continues Falco's narration. "If we can raise enough awareness in these eight IDC districts, we can vote the fake Dems out, making New York a real blue State, like California—and inspiring other States of the Union to resist Trump, too."
The "Lulu Land" video highlights for Democratic voters the real policy damage caused by IDC members questing for personal power at the expense of those who voted them in, and of vulnerable New Yorkers in general. The IDC are Jeffrey D. Klein (Bronx, Westchester), Marisol Alcantara (much of northern Manhattan), Jesse Hamilton(Crown Heights and Sunset Park), Diane Savino (northern Staten Island and southern Brooklyn), Jose Peralta (central Queens), Tony Avella (northeastern Queens), David Carlucci (parts of Rockland and Westchester Counties), and David J. Valesky(Syracuse, Madison County, and adjacent towns).
"If it weren't for these IDC quislings, New York would likely have single-payer universal healthcare, sanctuary state legislation, and a host of voting rights, rent control, fair pay, reproductive rights, anti-discrimination, and environmental laws," said Jacques Servin of the Creative Resistance.  "The IDC prevents New York from serving as the beacon of resistance it would otherwise be."
"The IDC is at the heart of the rot in Albany" said Susan Kang, a Jackson Heights resident and a member of NOIDCNY. "At a time when we are fighting the Trump Republican national agenda, we don't need Trump Democrats allying with Republicans at the State level."
"The IDC betrays each and every New Yorker who voted to elect a Democrat.  What's worse, they use the GOP playbook to attempt to justify their arrangement, including blaming the mainline Democratic Conference for their formation.  They have to go, especially in light of the dangerous administration in Washington, " said Heather Stewart, Inwood resident and member of Empire State Indivisible.
Read more here.
All Out! - Solidarity with Striking Workers at Charter/Spectrum - On Strike for 7 Long Months - New York - October 30

Brothers and Sisters!
Please join IBEW Local 3's fight against Charter/ Spectrum by attending a rally for a fair contract this Monday.
MONDAY, OCTOBER 30, 2017 3:00 PM – 6:00 PM
42ND STREET & BROADWAY
Local 3 members have been on strike for 7 long months in a protracted fight for the middle class and against corporate greed, they need your support now more than ever.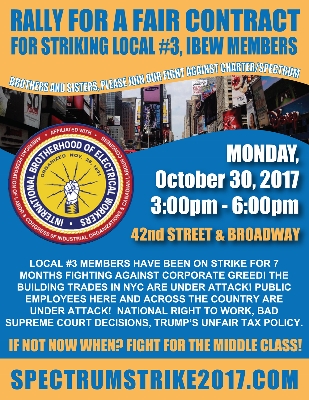 Colonial Legalism, 100 Years Since Balfour with Dr. Hatem Bazian - November 2 - Berkeley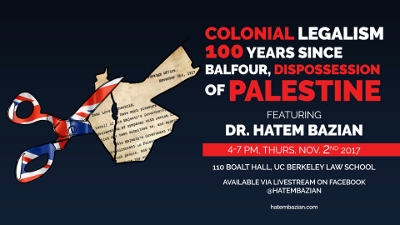 Thursday, November 2 
4 PM - 7 PM
110 Boalt Hall
University of California
Berkeley, CA 94704
Colonial Legalism - 100 Years Since Balfour, Dispossession of Palestine with Dr. Hatem Bazian
In 67 words, Balfour and London dispossessed the Palestinians and incubated Zionism, imperial Europe's last settler colonial project. Certainly, the ongoing conflict in Palestine is not isolated from the broader colonial legacies in the Global South, and its effects continue to be witnessed to this day.
Hatem Bazian is Provost, co-founder and Professor of Islamic Law and Theology at Zaytuna College, the 1st Accredited Muslim Liberal Arts College in the United States. In addition, Prof. Bazian is a teaching professor in the Departments of Near Eastern and Asian American and Asian Diaspora Studies at the University of California, Berkeley. Dr. Bazian between 2002-2007, also served as an adjunct professor of law at Boalt Hall School of Law at the University of California, Berkeley. He teaches courses on Islamic Law and Society, Islam in America: Communities and Institutions, De-Constructing Islamophobia and Othering of Islam, Religious Studies, and Middle Eastern Studies. In addition to Berkeley, Prof. Bazian served as a visiting Professor in Religious Studies at Saint Mary's College of California 2001-2007 and adviser to the Religion, Politics and Globalization Center at UC Berkeley.
The Struggle for Justice is Stronger than Any Wall - #WorldWithoutWalls on the Nov. 9 Day of Action
Eleven delegates fighting the US/Mexico border wall from both sides have just completed a journey to Palestine, where they spent a week building with Palestinians for a World Without Walls.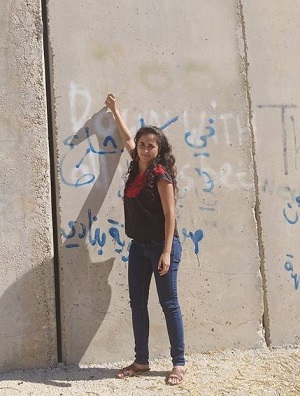 ​
There were many powerful moments: the delegation met with Palestinians resisting Israel's apartheid walls in the occupied West Bank and in Palestinian-majority cities inside Israel, like Lydd, traded stories on resistance to the ongoing ethnic cleansing of native people from Turtle Island (North America) to Palestine, passed through Israeli checkpoints, and met with Palestinian workers who share similar struggles related to labor exploitation and dehumanizing border crossings.
See highlights of the #WorldWithoutWalls / #MundoSinMuros delegation.
The World Without Walls delegation included indigenous activists, a journalist, students and academics, clergy, a member of one of Mexico's largest unions, and leaders of groups working on immigrant rights and fighting police brutality, disappearances, and, of course, the US/Mexico border wall.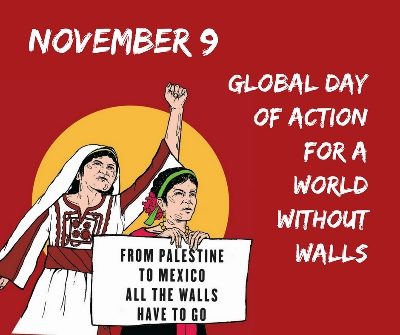 STAY UPDATED & SPREAD THE WORD: You can keep up to date on action ideas and more by following @Nov9_NoWalls and @stopthewall on Twitter, using the hashtag #WorldWithoutWalls, and joining the Facebook event page. Find images, slogans, videos, and to share here!
US Campaign for Palestinian Rights
P.O. Box 3609
Washington, DC 20007
(703) 312-6360
SOA Watch Border Encuentro - November 10-12, 2017 in Tucson/ambos Nogales

SOA Watch is an independent organization that seeks to close the US Army School of the Americas, under whatever name it is called, through vigils and fasts, demonstrations and nonviolent protest, as well as media and legislative work.
On November 16, 1989, six Jesuit priests, their co-worker and her teenage daughter were massacred in El Salvador. A U.S. Congressional Task Force reported that those responsible were trained at the U.S. Army School of the Americas (SOA) at Ft. Benning, Georgia.
In 1990 SOA Watch began in a tiny apartment outside the main gate of Ft. Benning. While starting with a small group, SOA Watch quickly drew upon the knowledge and experience of many in the U.S. who had worked with the people of Latin America in the 1970's and 80's.
Today, the SOA Watch movement is a large, diverse, grassroots movement rooted in solidarity with the people of Latin America. The goal of SOA Watch is to close the SOA and to change U.S. foreign policy in Latin America by educating the public, lobbying Congress and participating in creative, nonviolent resistance. The Pentagon has responded to the growing movement and Congress' near closure of the SOA with a PR campaign to give the SOA a new image. In an attempt to disassociate the school with its horrific past, the SOA was renamed the Western Hemisphere Institute for Security Cooperation in January of 2001.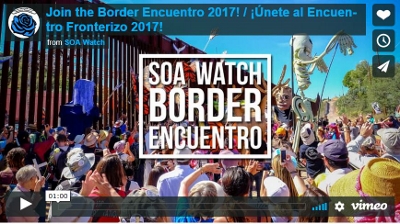 Join the Border Encuentro 2017! / ¡Únete al Encuentro Fronterizo 2017!
SOA Watch on Vimeo.
Border Patrol Victims Network
Caravana Contra los Muros – Observatorio de Derechos Humanos de los Pueblos
Carlos García – Puente Arizona
Gaspar Sánchez, COPINH
H.I.J.O.S – Guatemala & Mexico 
 * Edith López Ovalle
 * Pilar Maldonado
Father Roy Bourgeois
Isabel García – Coalición de Derechos Humanos
John Gibler
Leilani Clark
Nakay Flotte – Colectivo Anahuakas Sin Fronteras
Ramah Kudaimi
Rosa Clemente
Shannon Rivers
Stop the Wall – Palestine
Veterans for Peace
Carlos Arzate
Charlie King
Cihuatl-Ce (Xela)
Francisco Herrera
Justseeds
 * Chip Thomas
 * Thea Gahr
Lando Chill
Paul Baker Hernández
Rebel Diaz
Ryan Pinto
Santa Pachita
SOA Watch Musicians Collective
The Peace Poets
T.O.P.N.A.X. - Truth Over Power Never Another Xoice
To Register or for more information, click here.