Tidbits - May 24, 2018 - Reader Comments: Thoughts and Prayers Don't Work; Kelly Clarkson Speaks Out; Working Families Party; PA Machine Candidates Defeated; Mideast War Danger; Junot Diaz; Palestine; Mapping The Resistance; more...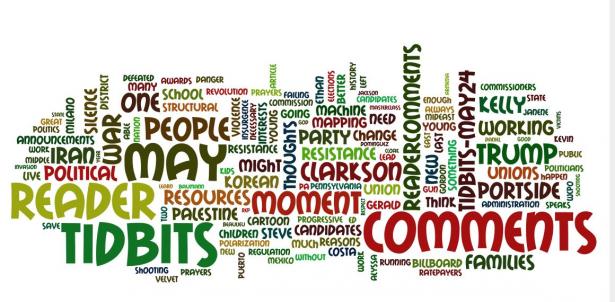 , Tidbits - Reader Comments and Resources - May 24, 2018
Resources:
Thoughts and prayers - cartoon by Kevin Necessary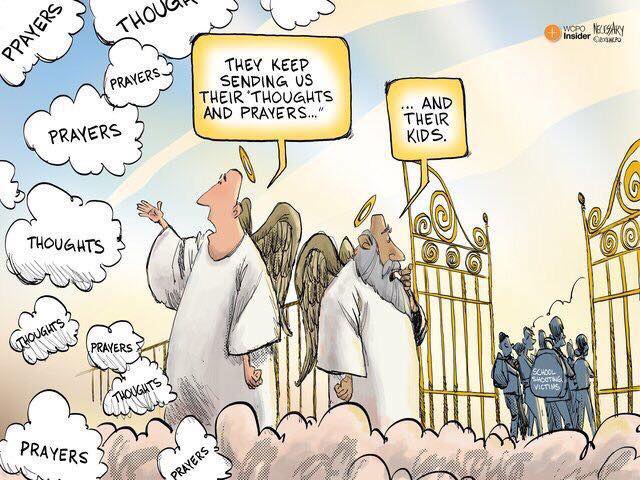 There's been a school shooting. Thoughts and prayers are offered up. But so, too, are the lives of kids. We live in a society that is seemingly more dedicated to protecting weapons than children.
I don't know what else to say. This is not the first school shooting of the year. This won't be the last. My thought -- my prayer -- is that the survivors of these shootings can, as adults, make a change. That they can enact sensible laws. And that they can find a way to save their children from being gunned down.
Kevin Necessary is the editorial cartoonist for WCPO. His opinions do not represent those of WCPO.
May 18, 2018
WCPO - Cincinnati
Why Didn't God Stop the Shooting -- cartoon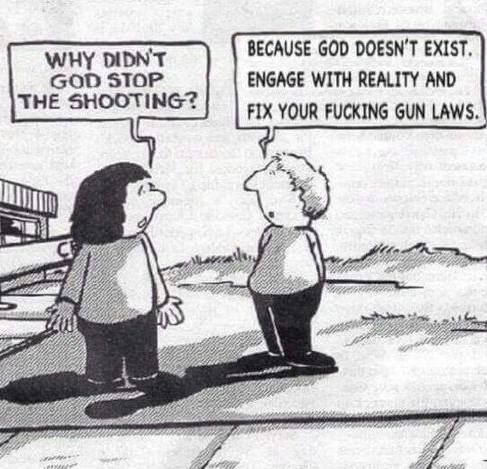 Kelly Clarkson refuses to lead 'moment of silence' at Billboard Awards—her reason is stunning
By Leslie Salzillo
May 21, 2018
Daily Kos
 
During the Billboard Awards on Saturday night, the host Kelly Clarkson flipped the switch on Billboard's request and opted out of asking the audience for a 'moment of silence.' The request was in relation to last week's Santa Fe High School's mass shooting. Clarkson directed her words to protest that and all the senseless and much too common mass shootings. What she did took courage. It was on point—and it was powerful. Here is a Twitter video clip of Clarkson's speech posted by actress/activist Alyssa Milano (@Alyssa_Milano).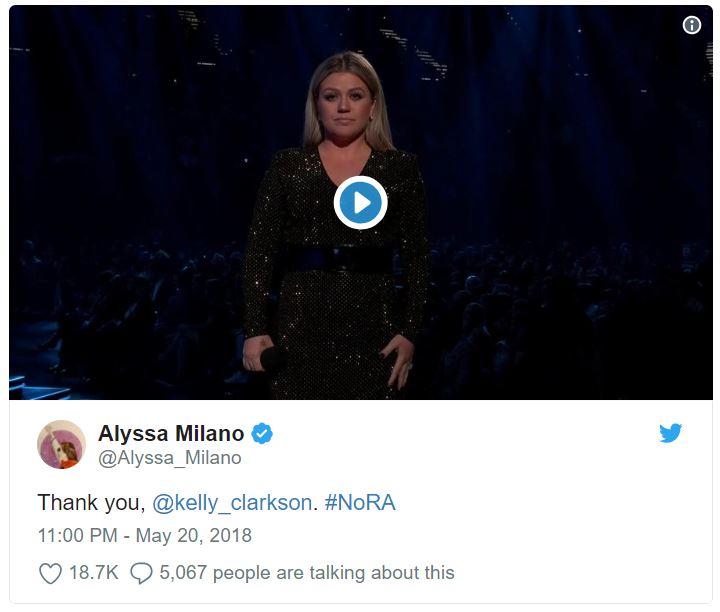 Listen here.
    Transcript:    
Before we start tonight's show, there's something I'd like to...this is going to be so hard—there's something I'd like to say about the tragedy, Friday, at Santa Fe High School.
So sorry.
I'm a Texas girl and they've had so much heartbreak over this past year, and once again we're grieving for more kids who've died for [absolutely] no reason at all. And tonight they wanted me to say that obviously we want to pray for all the victims and pray for their families, but they also wanted me to do a 'moment of silence.'
And I'm so sick of 'moment of silence.' It's not working, obviously, so, why don't we not do a moment of silence—why don't we  'moment of action'—why don't we do 'moment of change, why don't we change what's happening. (Applause) because it's  horrible.
And mamas and daddies should be able to send their kids to school, to church, to movie theaters….you should be able to live life without that kind of fear. 
So, we need to do better. We need to do better. Some people are failing our children. We're failing our communities, we're failing their  families. 
I can't imagine—I have four children. I can't imagine getting that phone call or knock at the door.
So, instead of 'moment of silence,' I want to respect them and honor them. Tonight, y'all, in your community, where you live...let's have a moment of action—a moment of change. 
Thank you to Kelly Clarkson and every celebrity who uses their platform to speak out. And thank you, again, to Alyssa Milano for doing so every day.
Celebrities, entertainers, sports figures, artists... who publicly protest gun violence, the NRA and the NRA-bribed lawmakers, know they will probably lose a chunk of their fans, face harassment, bullying and the possibility of death threats. But what they gain are more fans, more admiration, more respect and the possibility of saving countless lives as they stand on the right side of history.
Re: Reconciling Rage and Compassion: the Unfolding #MeToo Moment for Junot Diaz
 
This is About Junot Diaz, but it's More About Us
Thank you Linda Martin Alcoff for your insightful response to the Junot Diaz situation.  And I applaud all the women who signed the letter addressing Diaz's inappropriate, sexist, manipulative and power hungry behavior while calling out the press for their portrayal of Diaz as being so different than most males.  And despite Diaz's limited response to the allegations, it is difficult to negate the veracity of the accusations. It's very painful when we discover that one of our more distinguished Latinos has engaged in behavior that embarrasses, saddens and even enrages our community. The recently packed audience in Washington Hts, at Diaz's presentation of his children's book was evidence of how much pride the community holds for him.  I suspect that some of the enthusiasm derives from the importance of having a Latino "represent" at a time that we are maligned from the white house and other elements of U.S. society. In the early 2000's, as a former high school social worker, I became a practitioner of Restorative Justice (RJ) and circles. In my work I saw many teenagers (and a few adults) commit painful emotional  and physical abuse against others.  Generally students were suspended and had a re-entry meeting upon return.  Sometimes they were required to mediate prior to returning to school. But once I introduced RJ circles into my practice I realized that the support that the students received from family members, other students and staff often was a significant factor in helping both the victim and victimizer change and continue to grow emotionally.  Based on these and other experiences I've come to believe in the power of RJ circles (some might call them healing circles) to help people change, not spontaneously, not miraculously, but with the help of family, friends, classmates, and respected adults in the school.  Some of these young people have fallen back and reverted to the destructive behavior they engaged in prior to the restorative justice experiences they had.  Many, especially with ongoing support, went on to use their own newly developed emotional growth to help others change.
Some people believe that RJ can be mistaken for excusing and even encouraging inappropriate behavior to continue.  I have found just the opposite.  Sitting in circle with others and reflecting on one's behavior can be a very challenging and even terrifying action to participate in.  It can also be a source of great strength as one realizes that they are not alone in their struggles to become a better person.  And sometimes even the victimizer recognizes that an aspect of the greater school community holding them accountable means a suspension and/or community service.
I believe we are all capable of change, but I also believe that it is a very difficult process to undergo and requires a great deal of critical reflection and emotional support from the community.  This is why I often think of restorative justice circles as healing circles.  I also recognize that not everyone has the courage, compassion or community support to change, and this makes change even more difficult.  And there are others who are so emotionally scarred that the support required is so great that we often give up on them.
I hope that Junot Diaz has the courage and emotional capacity to change.  But as the title of the article by Linda Martin Alcoff says, "This Is Not Just About Junot Diaz."  I recognize that within my experiences as a member of progressive community organizations, I have witnessed sexist, homophobic, classist and even racist behavior from some of the people I believed to be fighters for real change in society.  I myself have made comments, etc., that have not always been appropriate, and I have not always spoken up to address the behavior of others.  Sometimes I don't think I understood the issues enough, sometimes it might have been fear that I too might be guilty of similar behavior, and other times I thought that the greater good would be compromised if I called someone out.  Regardless of the reasons,  inappropriate behavior was allowed to continue, causing hurt to individuals and to the community work we were doing.  So I want to suggest four points to address the situation of Junot Diaz as well as the rest of us.
Recognize that we continue to live in a sexist, racist, classist, homophobic, xenophobic society and none of us are immune to the internalization of these and other isms and the subsequent behavior this internalization can cause. Recognize that we all have the potential to change, but we often need a lot of support from our community to do so. Recognize the need to encourage Latino men to join together to have ongoing conversations, with a particular focus on sexism.   Though I believe that the intersectionality of issues will also cause us to raise other isms, i.e. racism, classism, homophobia, etc., I emphasize the issue of sexism as being in the forefront because I think it will be easier for men to discus those issues we are directly affected by (such as racism) and avoid discussing those issues we as men often perpetuate such as sexism.  I believe that for many of us these will be difficult conversations, and we'll use avoidance, denial and all means of mental acrobatics to avoid confronting the sexism within. Recognize that while it's appropriate for men to meet separately, it's also important that we meet with women to help us evaluate our progress and setbacks.
My hope is that in doing so we'll encourage the formation of other men's groups to meet on a consistent basis, including our youth.  And in the end I think our community will better for having the courage to become more transparent, more self reflective and more honest in facing who we are and whom we want to become.
So if you know of a space large enough for a group of about 25 men conveniently located in Manhattan where once a month we can substitute a group meeting for viernes social, and/or you are interested in being active in this group place contact me at joalfaro49@aol.com
Con Amor,
José Alfaro,
Therapist, RJ Facilitator/Circle Keeper and Community Activist
Re: Working Families Party at a Crossroads
 
This article on the strengths and weaknesses of the Working Families Party is very interesting and raises many issues that should be thought through. The key issue, I think, is found in this sentence: "For structural reasons, most unions are always going to be enormously vulnerable to pressure from politicians." 
This sentence assumes, without further examination in the remainder of the article, certain things as truisms. But are they actually true? What are these "structural reasons"? Are "structural reasons," whatever they might be, sufficient to explain the situation, or might other factors be at play, either instead of or in addition to the stated one?
One would think that the "pressure" ought to be mutual, that it should go in both directions. After all, the unions supply the legwork, the votes and lots of money, each of which is necessary for a successful political campaign. One would think that the pols need the unions' support just as much as the unions need the pols' support.  Looked at from this perspective, the politicians' needs in this alliance might well be greater than the unions' needs or ought to be.
So I suspect that it isn't merely "structural reasons" that determine the various unions' decisions, but something else, such as a comfortable, less-than-militant stance of some union leaderships, or, considering the well-known scene in Albany of "one hand washing the other," a overly cozy relationship among bureaucrats – union and political – might be a motivating factor.
Gene Glickman
Re: There's No Political Machine That Can't Be Beat
 
People need to grasp the amazing margins by which our Pittsburgh candidates won. Summer Lee beat Rep. Paul Costa by 68% to 32%, in a district that is 75% white. She'll be the first African American woman state representative from Southwestern Pennsylvania. In my district, Sara Innamorato defeated Rep. Dom Costa 64% to 36%. She blew his doors off in his own neighborhood (which is also where I live.) These were entrenched incumbents with deep institutional connections, from a Pittsburgh political dynasty. With the proud exception of UE (my union), every union that endorsed in these races backed the Costas. These wins are landslide mandates for the progressive and socialist politics on which Summer and Sara campaigned.
Alan Hart
Posted on Portside's Facebook page
Re: Socialist-Backed Candidates Sweep Pennsylvania State House Primaries
 
Hopefully they carry it into the midterms !
Gerald John
Posted on Portside's Facebook page
      =====
Calling these candidates socialists is wrong.
The term is Social Democrats.
Steve Baumann
Posted on Portside's Facebook page
      =====
Hey, they're all women. Time's up!
Jonathan Diggory
Posted on Portside's Facebook page
      =====
HELP IS ON THE WAY ~
Step Aside, tired old white men.
You're Fired, Teapublicans. Socialists are Coming.
Rod Nelson
Posted on Portside's Facebook page
Re: The Korean Massacre the U.S. Needs to Apologize For
 
An enlightening article. I wish it could happen, but I pretty much doubt. Would Trump be humble enough to apologize, or does he have the knowledge of the destructive intervention of USA in Korea?
Ilia Pagan Rivera
Posted on Portside's Facebook page
Re: The Road to Hell in the Middle East - Gearing Up for the Third Gulf War
Iran is not Iraq. Iran has an elected head of state, and an elected body of representatives. Plus a professional officers corps. Iraq had a CIA stooge and his appointed friends. Also Iran has cultivated friends outside America.
An American invasion of Iran will be America alone, without any other countries. And Iran will be ready to defend itself.
Dan Laurier Beaulieu
Posted on Portside's Facebook page
      =====
Israel has nuclear weapons of massive horror
Iran does NOT
Daniel Skomp
Posted on Portside's Facebook page
      =====
Such a war would never end, there would never be anything called a victory, there would only be endless death. We were very lucky that the Japanese agreed to surrender at the end of WWII, the alternative would have been similar to what might happen in an invasion of Iran. Those folks would institute their own version of the planned Japanese 'Ketsu-Go' last ditch defense, where all civilians would be expected to die in the last great battle to save face.
Rick McCloskey
Posted on Portside's Facebook page
      =====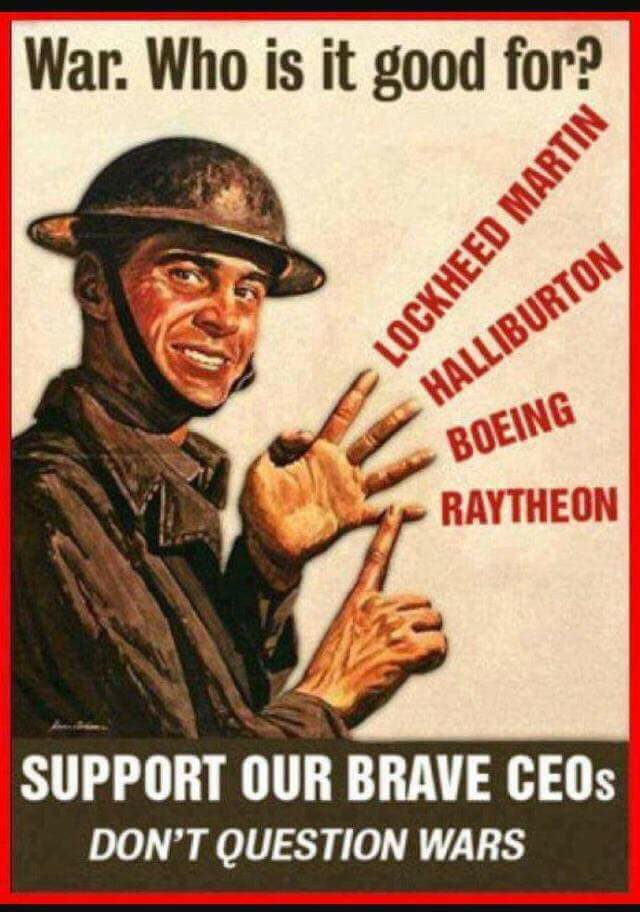 Gerald Seymour
Posted on Portside's Facebook page
Re: Top Republican Plans to Use Fossil Fuels to Make Puerto Rico "the Energy Hub of the Entire Caribbean"
 
That's what they always wanted.
They're turning New Orleans into an oil town too.
Howie Leveton
Posted on Portside's Facebook page
Re: Finding Hope for Palestine in a Montgomery Memorial
 
Definitely a must read.
Lydia Brady
Posted on Portside's Facebook page
      =====
The documentary on it was terrific too
Donna Marjorie Owens
Posted on Portside's Facebook page
Re: The Former Community Organizer and Activist Who Became a Historian - Maurice Jackson
 
This is such a great interview!
"Today, the nation is going through perilous times and so you want to know that your work can inspire people to have faith and a better life, a better future, always. It makes you proud today and as a scholar when you see young people who have taken such initiative. I saw one young person the other day say, "When young people lead and older people follow, the nation is in bad shape," and that may be true for the moment, but one day, these young people who are playing such a great role.... Now, one problem is that they can't stop. Just keep at it, keep at it, and develop a philosophy of life and a philosophy of struggle. To do that, one has to read history. "
Mohan Ambikaipaker
Posted on Portside's Facebook page
Re: Armenia's 'Velvet Revolution': A Masterclass in Socialism
 
"The main glue is that citizens finally realised that in a country of barely three million people (many of whom live under the poverty line or barely above it), creating real change is less difficult than they were lead to believe by those self-defeating mantras. They realised that all it takes is peacefully going on strike and blocking the roads for 10 days, and giving politicians and oligarchs a choice between unleashing violence on thousands or coming to terms with the people's will."
Eileen LLorens
Posted on Portside's Facebook page
      =====
"No matter what happens now, the people have won. They have supplanted a hooligan, bullying mentality with one of peaceful resistance, togetherness, and pride. Whatever one thinks about Marx, the "Velvet Revolution" in Armenia has so far been a lesson in a people's empowerment; a nation speaking as one voice for basic socioeconomic rights and collective confidence - something Armenia has been waiting for patiently since independence."
Scott Wardinsky
Posted on Portside's Facebook page
Re: How Costa Rica Gets It Right
 
Strong democratic institutions
Ramon Dominguez
Posted on Portside's Facebook page
      =====
CR ELIMINATED their armed forces in the 1940s! That's how you have enough resources to care for people through Healthcare and education. The good old US of Arms could learn a few things from them. The US spends 11 times more than the next largest militarized country, China. That's why we can't afford Universal Health Care.
Thor Backus
Posted on Portside's Facebook page
Re: Two Coming-of-Age Films: New York in the '70s, Paris Today
(posting on Portside Culture)
Basquiat was of Haitian & Puerto Rican descent & fluent in French & Spanish. He attended brownstone B'klyn's favorite private school, St Ann's.
Attal, the son of Algerian born Jews, is Charlotte Gainsbourg's life partner.
Gordon headed the Workmen's Circle in Southern California - a good match for Portside.
Bruce Rosen
      =====
Thank you so much for picking up this content. This review originally appeared in People's World. Hollywood Progressive included a link to the original source, but somehow it dropped off from Portside Culture. I am very happy you are using my stuff, but credit to the original publisher (where I am on salary with a union contract) would be appreciated. Thanks.
Eric Gordon
Re: Tidbits - May 17, 2018 - Reader Comments: Nakba-Jerusalem Embassy-Palestinian Reality
 
Anyone who approves of the Israeli Government's treatment of Palestinians is a Good German and should be shamed.
Judith Ackerman
New Mexico Public Regulation Commission
 
As you are undoubtedly aware, I mainly forward other progressive people's work, sometimes with a short remark, and I do not recommend particular candidates.
But the work of the New Mexico Public Regulation Commission (PRC) is so important, and its problems so dire, that I'm breaking with that habit for once.
The PRC is supposed to somehow balance the interests of the ratepayers, that is the public, with the interests of the owners of the regulated companies. Some (two) of the five commissioners think the interests of the planet should be considered as well; these happen to be the same commissioners who seriously try to maintain the balance and give the ratepayers a break.
The other three tend to favor the companies; for instance, PNM. Two of them are Democrats.
On Friday, I met two progressive Dems who are running against those two in the on-going primary. They are Janene Yazzie, running in the northwest NM district, and Steve Fischmann, running in the southwest district. They are outstanding people who, I think, would make excellent commissioners and who take the interests of the ratepayers (you and me), and the planet, seriously.
You can learn about Janene here, and about Steve here. The incumbents are well financed by the businesses they regulate; please join me in helping Janene and Steve level the playing field.
Best regards,
Ted Cloak
Mapping The Resistance -- Insurgence and Polarization Between 2016 and 2020
By Ethan Young
 

The day after the inauguration of President Donald Trump, "The Resistance" was born in the streets of cities and towns across the United States. The grassroots-organized Women's Marches, held on January 21, 2017, saw the largest-ever demonstrations in the country's history. Since then, the anti-Trump protests have been joined by many other groups and constituencies, especially by those most affected by the policies of the Trump administration, including immigrants, LGBT people, victims of gun violence, the poor, environmentalists, and even scientists.
Over the course of the past eighteen months, however, the protests have lost some of their steam. Trump's repeated distortions and lies, his sheer meanness (as in the case of DACA recipients), and the constant assaults by his administration seem to have worn out the millions of activists fighting against the country's shift toward an authoritarian government. After all, resistance is not futile, but it can be tiresome.
In this analysis, Ethan Young examines the state of resistance to the Trump administration. In doing so, he refuses to buy into the centrist notion that the current President of the United States will eventually be rejected, or maybe even impeached, for his deeds. In fact, Trump might be gaining ground, given the relatively strong macroeconomic indicators and the tax reform (including small benefits for many). How, then, can Trump be resisted? First and foremost, Trump and his cronies must be defeated at the polls in the upcoming midterm elections. However, voting Trump out of office will not be enough to defend democracy against the Trumpists.
In this paper, Ethan Young demonstrates that the resistance to Trump's "new authoritarianism"—which is diverse, ranging from the radical left to the establishment center—only stands a chance if it is able to combine opposition to the far right with a rejection of neoliberal policies. In order to do so, we have to overcome the competition and fragmentation that exists among the political groups that are opposed to Trump. Only then is a new united front—outside of or beyond the political mold of twentieth-century socialism—possible. Only once democratic political power has been defended against the onslaught of right-wing populism and neoliberalism can we move toward the task of creating a new politics based on equality, justice, and solidarity.
DOWNLOAD FULL TEXT  (English)
DOWNLOAD FULL TEXT  (German)
Rosa Luxemburg Stiftung, Inc.
275 Madison Avenue, Suite 2114
New York, NY 10016
PRESS CONTACT
Kazembe Balagun
(917) 409-1039
This is not the time to be silent.
 
The American Academy of Arts and Letters believes that for the arts to flourish we must protect freedom of expression the U.S. Constitution.
Both are under grave threat and we are committed to their defense.
Board of Directors
American Academy of Arts and Letters
[Full page ad in the New York Times, Thursday, May 24, 2018. Page C5 - Arts Section.]
Memorial Day: Where It Began and Whom Will We Honor?
By David W. Blight
May 29, 2011
New York Times
reposted by the Zinn Education Project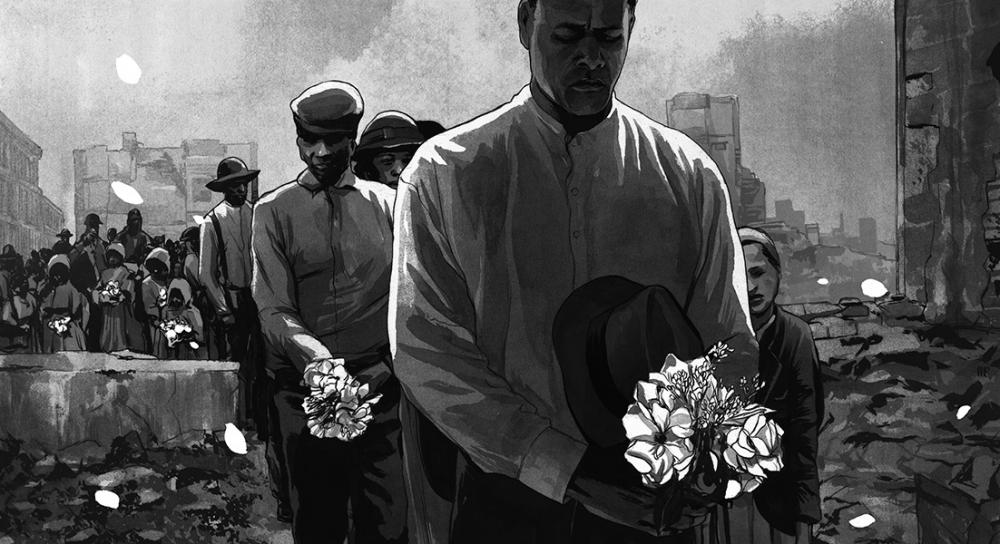 Americans understand that Memorial Day, or "Decoration Day," as my parents called it, has something to do with honoring the nation's war dead. It is also a day devoted to picnics, road races, commencements, and double-headers. But where did it begin, who created it, and why?
As a nation we are at war now, but for most Americans the scale of death and suffering in this seemingly endless wartime belongs to other people far away, or to people in other neighborhoods. Collectively, we are not even allowed to see our war dead today. That was not the case in 1865.
Read more here.