Tidbits - July 12, 2018 - Reader Comments: A Fascist President; Refugees Result of U.S. policy; Child Abuse; Justice Kennedy Chicanery; U.S. Opposes Breast Feeding; Tacoma vs. Nazis; Resources; Announcements; and more....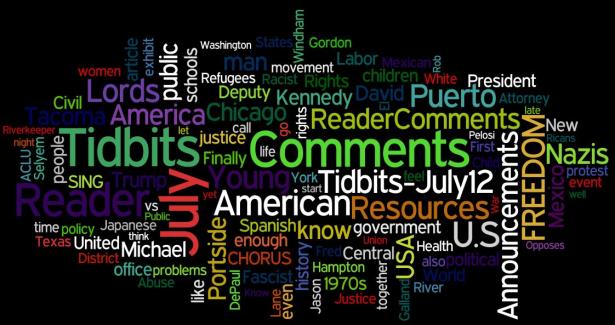 Tidbits - Reader Comments, Resources and Announcements - July 12, 2018,Portside
Resources:
Announcements:
Re: America Now Has Its First Fascist President
What is a fascist?
A fascist defies the rule of law.
Jean Brown
Posted on Portside's Facebook page
     =====
Don't know if he is the first, but the word fits him like a glove.
Jacqueline Wallace
Posted on Portside's Facebook page
     =====
Duh his wave is the nazi salute silly americans
Tommy Dixon
Posted on Portside's Facebook page
     =====
Good summary of current events The author only failed to include Trump's alliance with fundamentalist Christians in order to complete the Picture of a classic fascist dictator.
Miguel Tamargo
Posted on Portside's Facebook page
     =====
The Axis powers had the technology, but not the size.
The USSR had the size, but not the technology.
The USA has both..
Gordon Galland
Posted on Portside's Facebook page
Re: "It Really Comes Down to Empowering the Working Class"
(posting on Portside Labor)
"This September, New York voters will have a chance to nominate another member of Democratic Socialists of America for political office. In Brooklyn, twenty-seven-year-old Julia Salazar is running for New York State Senate on a platform of single-payer health care, housing as a human right, protecting public schools from privatization, expanding collective bargaining rights, and ending mass incarceration and deportations."
Farah Davari
Posted on Portside's Facebook page
     =====
I think we need to forget about labels and concentrate on issues!
Joel Bluming
Posted on Portside's Facebook page
Re: It's The Other Way Around - Central American Immigrants Aren't Invading Us. We Invaded Them.
All that and what about Mexico? How many Mexicans have had to come to the US to make a living because NAFTA ruined their own chances to make a living back home? 
Mike Liston
     =====
Yes!!! It's called exploitation by forceful submission. Somoza, United Fruit, CIA, FBI, etc.
Roberto Colon Ocasio
Posted on Portside's Facebook page
Re: The Texas Counter-Revolution of 1836
Great piece on Texas independence
The US introduced slavery into territories where it had already been abolished. Only thing missing from the article was the extent of opposition in the US to the annexation of Texas and the subsequent war on Mexico (for example, Thoreau's war tax resistance).
See: The Centrality of Mexico and Mexican@s to US Political Economy
Michael Novick
     =====
It was the First Slave Owners' Rebellion.  It was followed by the Second Slave Owners' Rebellion aka the Confederacy secession in 1860 that kicked off the US Civil War and ended legal slavery in the US.
Stan Nadel
Mexican Artist Deported, Days Before Exhibit Featuring His Work Opened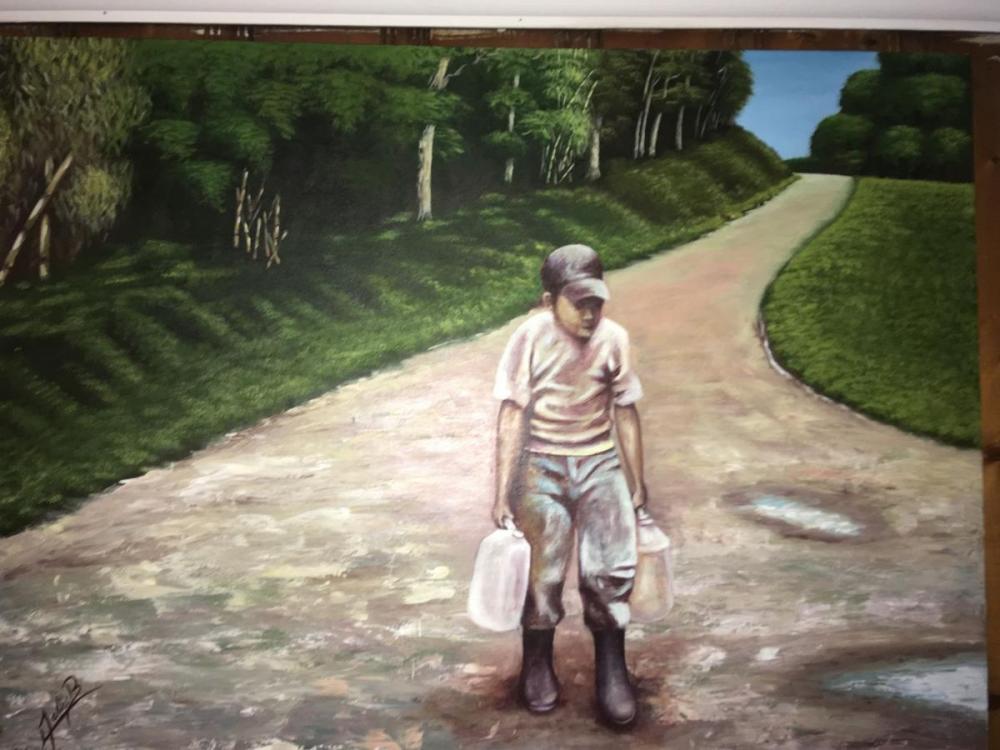 Columbia Museum of Art hosts multi-media art exhibit based on oral histories that spotlight the experiences of Spanish-speaking immigrant workers in South Carolina. Days before the exhibit opening last month, contributing artist Felix Maceda Baizabal was detained by ICE. He spent the July 4 holiday in transit from a federal detention center in Georgia to his birth home in Morelos, Mexico.
Kieran Taylor
Re: The Zombie Guest Worker Bill
any Republican guest farm worker bill essentially views them as animals who are needed by human overlords
David Saunders
Posted on Portside's Facebook page
Re: How Roe v. Wade Changed the Lives of American Women
Or, rich women would go to Canada for their abortions and poor women to the back alley.
Jenny Kastner
Posted on Portside's Facebook page
Re: Let Us NOT Praise Anthony Kennedy
Kennedy's son in business with Jared Kushner ........well, bless my soul ....
Eileen Machules
Posted on Portside's Facebook page
     =====
Follow the kids money
Don Nelson
Posted on Portside's Facebook page
     =====
Something is up with this resignation and it needs to be investigated PRIOR to seating a new justice!
Mary Pat Siewert
Posted on Portside's Facebook page
Child Abuse - cartoon by Rob Rogers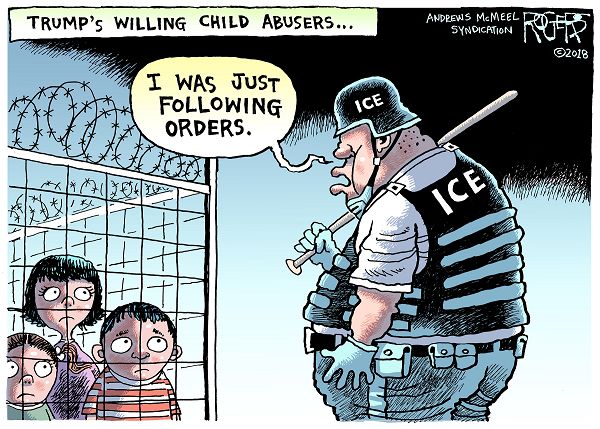 Rob Rogers
July 7, 2018
The Association of American Editorial Cartoonists
Children trapped in the US vs Thailand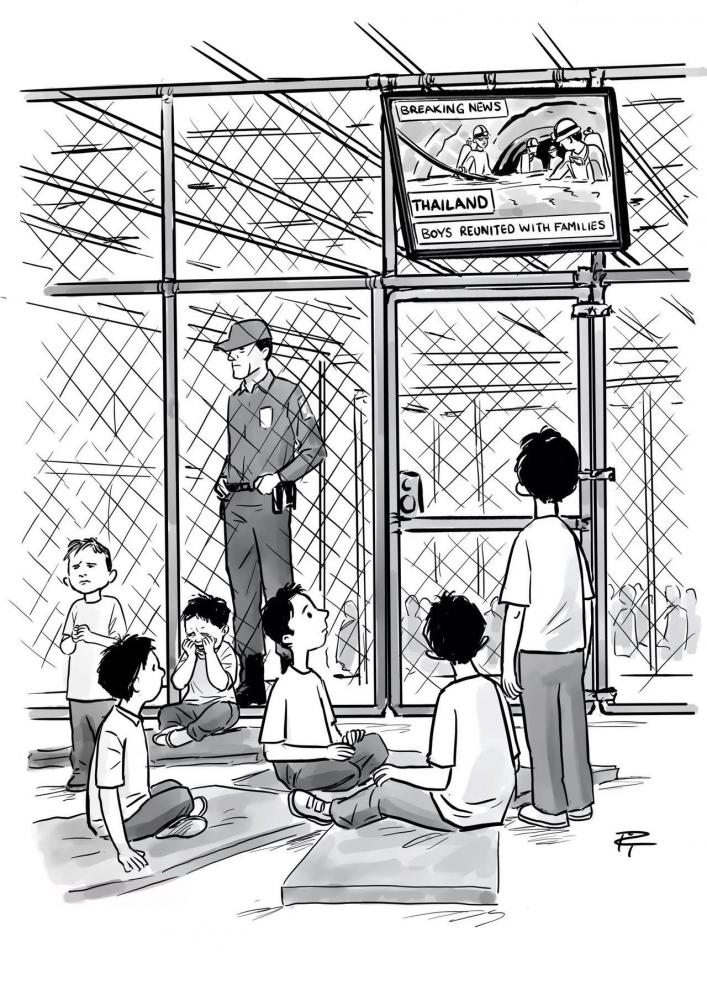 Re: Why Is Nancy Pelosi So Afraid of Socialism?
Pelosi is a great friend of corporations. Her power comes from the money she raises from them.
Ed Griffin
Posted on Portside's Facebook page
Re: What Finally Did In Scott Pruitt?
Obviously the man is a crook. It was insulting to the EPA when Trump appointed him. At a time when environmental protection is so crucial to our future it was a shocking appointment to have a climate denier at the head of EPA. That he is totally self interested is no surprise. So are the companies he obliged.It really is the decline of the American empire. Next up is Trump's blow to American democracy. Why is he meeting Putin? To find out how he got 95 % of the vote in Russia?
Laurel MacDowell
     =====
As usual GREED. The same thing that will bring down trump if his supporters really start to look and remember what makes us great is being different.
Ray Rodriguez
Posted on Portside's Facebook page
Re: `I Can't Stay Completely Silent': Country Music's Jason Isbell Looks Inward in Examining a `White Man's World'
Remember the Dixie Chicks, Jason...
Gordon Galland
Posted on Portside's Facebook page
Re: 45 Years after His Murder, Victor Jara's Killers are Finally Convicted
Made me think of the Holly Near song: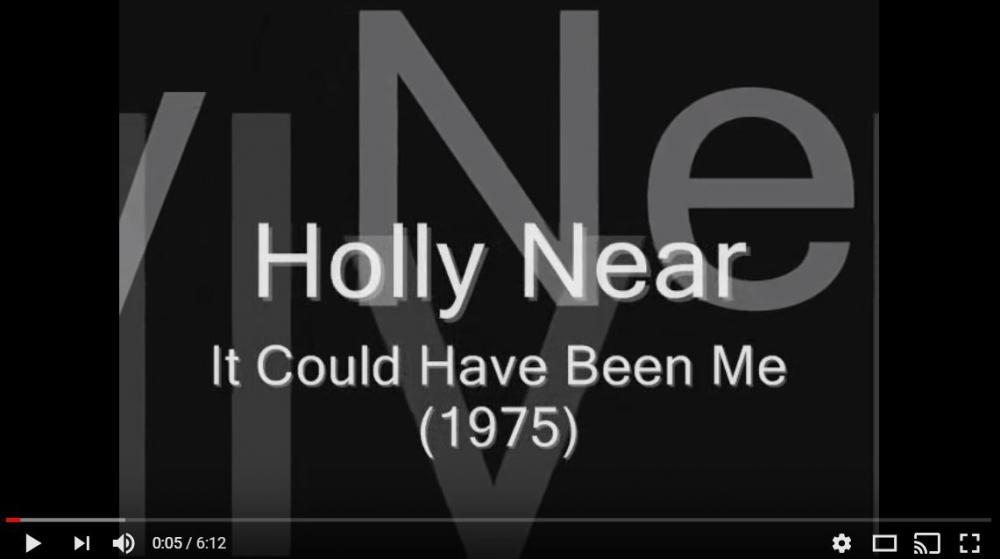 Listen here.
[(Lyrics and music by Holly Near  © 1973)
From the album "A  Live Album"  © 1974]
CHORUS:
IT COULD HAVE BEEN ME, BUT INSTEAD IT WAS YOU
SO I'LL KEEP DOING THE WORK YOU WERE DOING AS IF I WERE TWO
I'LL BE A STUDENT OF LIFE, A SINGER OF SONGS
A FARMER OF FOOD AND A RIGHTER OF WRONG
IT COULD HAVE BEEN ME, BUT INSTEAD IT WAS YOU
AND IT MAY BE ME DEAR SISTERS AND BROTHER
BEFORE WE ARE THROUGH
BUT IF YOU CAN WORK FOR FREEDOM
FREEDOM, FREEDOM, FREEDOM
IF YOU CAN WORK (LIVE, DIE, SING) FOR FREEDOM I CAN TOO
VERSE:
STUDENTS IN OHIO AT KENT AND JACKSON STATE
SHOT DOWN BY A NAMELESS ( or VICIOUS) FIRE ONE EARLY DAY IN MAY
SOME PEOPLE CRIED OUT ANGRY YOU SHOULD HAVE SHOT MORE OF THEM DOWN
BUT YOU CAN'T BURY YOUTH MY FRIEND
YOUTH GROWS THE WHOLE WORLD ROUND
CHORUS;
IF YOU CAN DIE FOR FREEDOM I CAN TOO
VERSE:
THE JUNTA BROKE THE FINGERS ON VICTOR JARA'S HANDS
THEY SAID TO THE GENTLE POET "PLAY YOUR GUITAR NOW IF YOU CAN"
VICTOR STARTED SINGING BUT THEY BROUGHT HIS BODY DOWN
YOU CAN KILL THAT MAN BUT NOT HIS SONG
WHEN IT'S SUNG THE WHOLE WORLD ROUND
CHORUS:
IF YOU CAN SING FOR FREEDOM I CAN TOO
VERSE:
A WOMAN IN THE JUNGLE SO MANY WARS AWAY
STUDIES LATE INTO THE NIGHT, DEFENDS THE VILLAGE IN THE DAY
ALTHOUGH HER SKIN IS GOLDEN LIKE MINE WILL NEVER BE
HER SONG IS HEARD AND I KNOW THE WORDS
AND I'LL SING THEM UNTIL SHE'S FREE
CHORUS:
IF YOU CAN LIVE FOR FREEDOM I CAN TOO
ONE NIGHT IN OKLAHOMA KAREN SILKWOOD DIED
BECAUSE SHE HAD SOME SECRETS THAT BIG COMPANIES WANTED TO HIDE
THERE'S TALK OF NUCLEAR SAFETY AND THERE'S TALK OF NATIONAL PRIDE
BUT WE ALL KNOW IT IS A DEATH MACHINE AND THAT'S WHY KAREN DIED
CHORUS:
IF YOU CAN SPEAK FOR FREEDOM I CAN TOO
THE SONGS OF NICARAGUA AND EL SALVADOR
WILL LONG OUTLAST THE SINGERS WHO FACE THE GUNS IN WAR
THEY SING AT THE LINE OF FIRE, THEY SING FROM THE FIRE WITHIN
ALL ACROSS THE LAND THE POETS STAND
(SPOKEN IN PLACE OF MELODY)
EL PUEBLO UNIDO JAMAS SERA VENCIDO
EL PUEBLO UNIDO JAMAS SERA VENCIDO
Capn' Steve Krug 
Re: U.S. Opposition to Breast-Feeding Resolution Stuns World Health Officials
The Americans were blunt: If Ecuador refused to drop the resolution, Washington would unleash punishing trade measures and withdraw crucial military aid. The Ecuadorean government quickly acquiesced.
The showdown over the issue was recounted by more than a dozen participants from several countries, many of whom requested anonymity because they feared retaliation from the United States.
Health advocates scrambled to find another sponsor for the resolution, but at least a dozen countries, most of them poor nations in Africa and Latin America, backed off, citing fears of retaliation, according to officials from Uruguay, Mexico and the United States.
"We were astonished, appalled and also saddened," said Patti Rundall, the policy director of the British advocacy group Baby Milk Action, who has attended meetings of the assembly, the decision-making body of the World Health Organization, since the late 1980s.
"What happened was tantamount to blackmail, with the U.S. holding the world hostage and trying to overturn nearly 40 years of consensus on the best way to protect infant and young child health," she said.
David Frazer
Posted on Portside's Facebook page
     =====
It's shameful and racist that the USA opposed this resolution. The USA under Trump has become a very deplorable influence in the world. Of course they don't care for children south of the border or other _ hole nation. Because in the USA more mothers and pediatricians are using and recommending breast milk for their babies. Of course the Trump administration didn't opposed the Russians maybe because they are their masters.
Maria Angeles Zavala
Posted on Portside's Facebook page
     =====
He knows everything about breasts...lol
Lois Gronberg
Posted on Portside's Facebook page
     =====
I imagine Trump must be beholding to formula companies.
Naomi Lockwood
Posted on Portside's Facebook page
     =====
USA benefits only the infant formula industry vultures... not infants. Que asco.
Deborah Hunt
Posted on Portside's Facebook page
Re: "No More Racist Bosses": Why Workers at a Suburban Target Store Are Protesting
(posting on Portside Labor)
How do you write an article about a labor protest and not even mention the word UNION?
David Berger
Re: Death by a Thousand Cuts: The Story of Privatizing Public Education in the USA
Even as the "great-again America" destroys the lives of children who have fled horrors to seek safety in this country, it also destroys the schools the rest of our children should have been able to count on as places of safety, learning, support, community. Cutting us all down at our most precious roots, at our foundation, where our children are.
From the Portside article which introduces this article (see the link in comments below):
"When champions of market-based reform in the United States look at public education, they see two separate activities - government funding education and government running schools. The first is okay with them; the second is not. Reformers want to replace their bˆte noire - what they call the "monopoly of government-run schools" - with freedom of choice in a competitive market dominated by privately run schools that get government subsidies."
Kipp Dawson
Posted on Portside's Facebook page
Re: Forgotten Feminisms: Johnnie Tillmon's Battle Against `The Man'
50 years ago, the late Father Al Ede and I were organizers along with the Dubuque NWRO - and we were the Co-Grand Marshalls - of Dubuque's Poor People's March.
Chuck Huber
From The Des Moines Register from Des Moines, Iowa - Page 19 - Sunday, May 19, 1968
250 IN DUBUQUE 'POOR' MARCH 
DUBUQUE, IA. - Singing "We Shall Overcome," some 250 persons marched through the business district here Saturday morning to demonstrate their concern about Dubuque's social problems.
The march was held to support the National Poor People s March on Washington, D.C., and to show that the "problems of disadvantaged people in Dubuque are shared by people throughout the United States," organizers said. Marchers drew curious stares from motorists and shoppers as traffic stopped to permit the demonstrators to march five blocks down Main street to Washington Park and a rally.
Many carried umbrellas as rain began to fall. Students, clergymen, nuns and disadvantaged persons from the "flats" area near the Mississippi River walked together. There were children on the backs of parents, and other youngsters walking. 
The march focused on what demonstrators consider the six main problems in Dubuque: Housing, underemployment, underpaid employment, failure of public welfare, inadequate recreational facilities, and problems of senior citizens.
Re: An MSG Convert Visits the High Church of Umami
(posting on Portside Culture)
I know someone who suffered from terrible headaches, despite multiple exams and labs doctors weren't able to diagnose her...until one night it was her husband who cooked their supper and he didn't add Ajinomotto ... no headache that night!
I love Chinese food, I simply ask them not to use monosodium glutamate and I add regular salt.
Elsie R Gonz-Galof
Posted on Portside's Facebook page
     =====
El glutamato monos¢dico adictivo esa es la raz¢n por la que lo usan
[Google translation: Addictive Monosodium glutamate that's the reason they use it]
Sonia Casillas
Posted on Portside's Facebook page
Urgent - threat to Hudson River
In case you have not yet been contacted, Riverkeeper is putting out a call because of Army of Engineer proposals to construct barriers to prevent another inundation such as the one cause by Sandy. Problem is that the proposals would threaten life in the Hudson River.
I have respect for Riverkeeper and when they put out a call for help, not often, it is serious. 
Links:
Thanks for reading.
Joan
Tacoma Has Put Nazis On Notice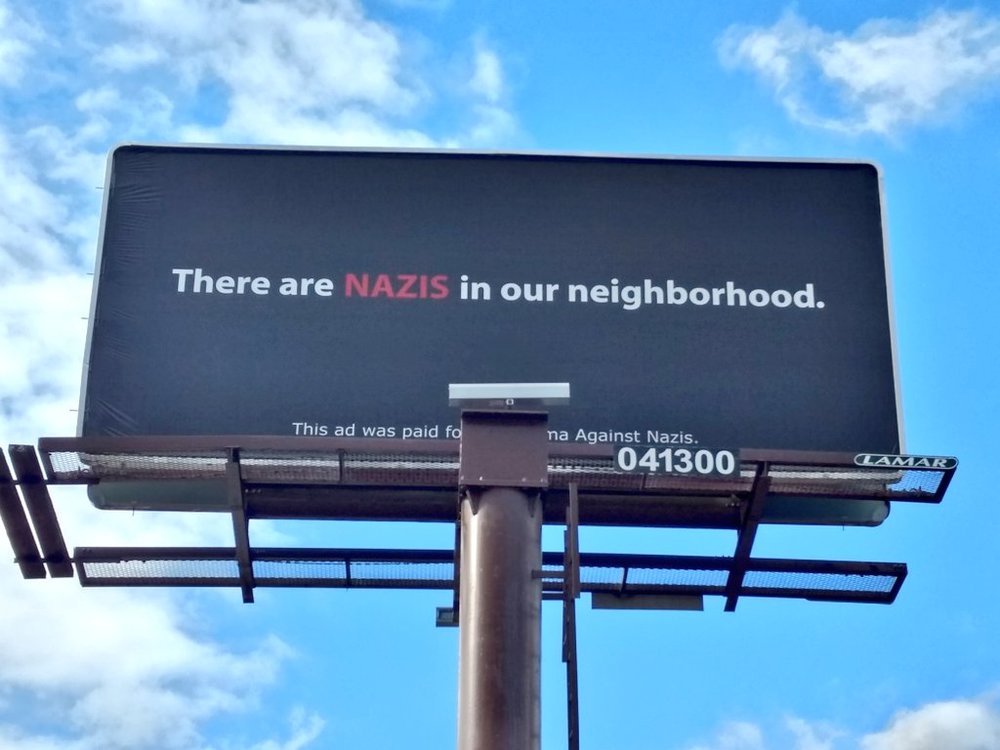 For too long, the hope had always been that we can ignore them and they'll go away. We'd frustratingly - yet far too quietly - complained when they would plaster their racist propaganda posters around town or hang their banners on an overpass of I-5. But this year has been different. As Tacomans, we decided that enough is enough. Nazis, or any of the less notorious names that they often hide behind (looking at you, Hammerskins, Proud Boys, Patriot Front, Identity Evropa), have no place in the City of Destiny. Tacoma has no tolerance for white supremacists or any others with an agenda of marginalizing POCs, immigrants, or anyone else.
As Tacoma educator Nate Bowling said in a recent blog post: "Ignoring white supremacists is a tacit endorsement of their ideas and presence. Collective condemnation and confrontation send them scurrying. Bigotry and courage usually don't coexist." We all agree that we took too much time, but finally in 2018 we organized. Finally in 2018 we started. 
How it started was with a silent protest in front of a Tacoma-based tattoo parlor known to be owned and operated by white supremacists. Dozens of Tacomans stood together to say with a unified voice that Nazis are not welcome in our neighborhoods. The protest was effective, but it was just the first step.
Yesterday, the second step was unveiled - a full-size billboard on the corner of 72nd Street and Pacific Avenue, not so coincidentally just down the road from where the tattoo parlor protest took place. One simple sentence on a black background, no images. And yet the message was clear: Nazis in Tacoma, we're done letting you hide in our city.
Consider yourselves on notice, it's time to go.
Shaun King: Racist, Bigoted, Sexist Deputy DA Michael Selyem MUST Be Fired
I have an update on Deputy District Attorney Michael Selyem: he was officially suspended after over 10,000 of you made calls and emailed their office yesterday demanding action.
It's not enough, after what this violent, sexist, bigot said about Rep. Maxine Waters. But it's at least a start.
For a long time, DAs and their staff were ignored by the progressive movement, even though they wield tremendous power when it comes to issues like racism, discrimination, generational poverty, and mass incarceration.
But what we accomplished yesterday, and what we've accomplished so far at Real Justice proves that we can have an impact if enough of us come together, pay attention, and fight.
If you'd like to help us keep up this important work ousting corrupt prosecutors, you can chip in here.
Congratulations on helping us get this monster suspended. Next step, we're getting him fired for good.
In solidarity,
Shaun King
==========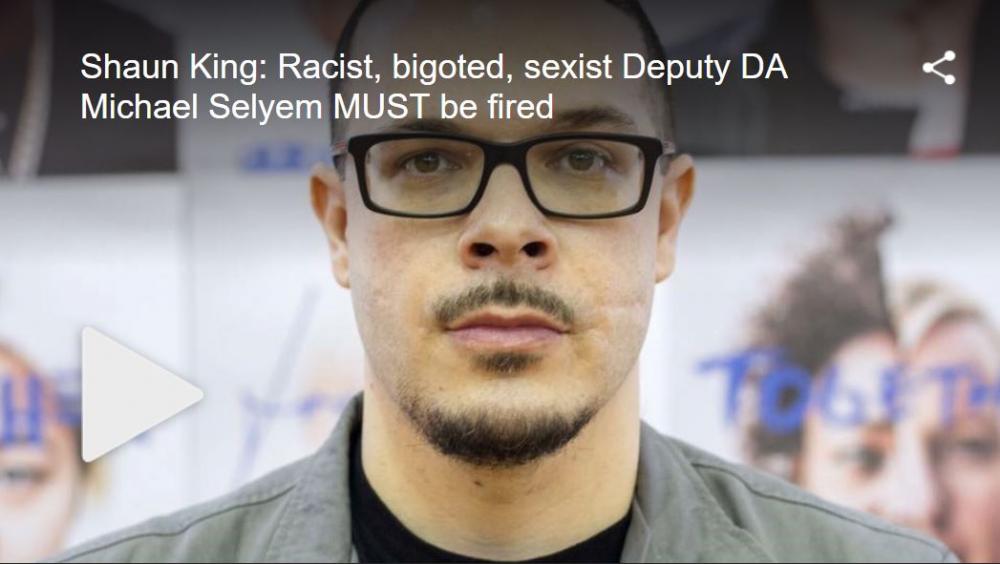 Listen here.
As you already know, prosecutors and district attorneys are the gatekeepers of America's criminal justice system. No single person plays a larger role in the machine of mass incarceration. That's why when we see a bad actor in this system, we have to call them out.
Today — that man is Deputy District Attorney Michael Selyem of San Bernardino, California. He basically runs the huge DA's office there and prosecutes more people than anyone else in the county.
Let me tell you what he recently posted about Rep. Maxine Waters on social media. I apologize in advance for the vulgarity.
He said:
"Being a loud-mouthed cunt in the ghetto you would think someone would have shot this bitch by now."
Yeah. He said that. To be clear, he doesn't even deny it. He has a long history of being deeply bigoted and offensive online. Those are his actual words.
And this man is expected to give equal and fair justice to all? To women? To communities of color? That's impossible. Any man who not only thinks like that, but is bold enough to share it publicly, is a danger to us all.
He should've been fired immediately! PERIOD.
No man who thinks and speaks like this needs to be a prosecutor of justice in this country.
So here's what we're going to do. We're going to let the DA's office know how we feel.
Call them now @: (909) 382–3800 & (909) 382–7755. Ask to speak to a supervisor or HR or a manager. And let them know, in your own words, how you feel about this. Leave a voice mail message if you have to, but try to speak to an actual person. Be courteous, but be clear about how you feel.
 
Email current District Attorney Mike Ramos @ mramos@sbcda.org and let him know how you feel.
 
Email the new incoming District Attorney Jason Anderson by filling out this form. His motto when he ran for office was "public safety, not politics." Let's hold him to that. 
 
Email Chief Deputy District Attorney Julie Peterson @ jpeterson@sbcda.org and let her know how you feel.
Let's start there and give this a few days.

If any employee of a mainstream corporation said this, they'd already be fired. Public employees, particularly ones who hold life and death in their hands with the justice system, should be held to an even higher standard.

Let's go!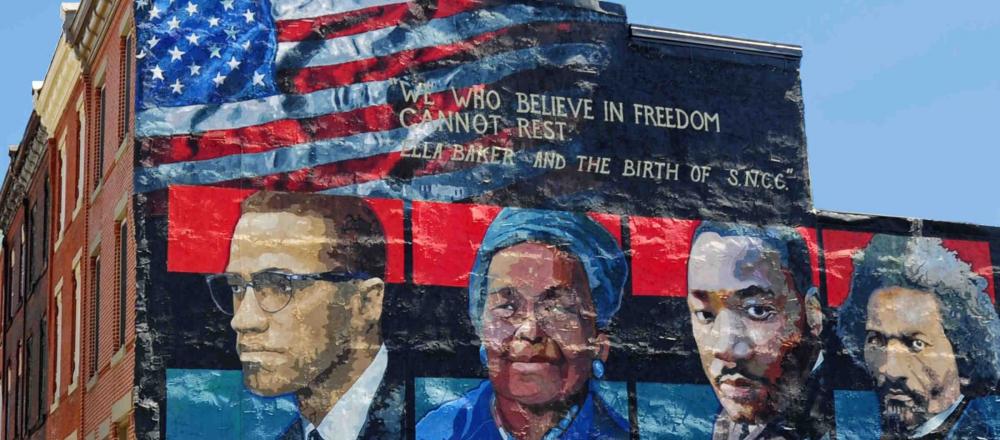 Do you know your rights? These easy-to-use resources were created by the ACLU so you can have your rights at your fingertips.
American Civil Liberties Union - ACLU
https://www.aclu.org/contact-us
125 Broad Street, 18th Floor
New York NY 10004
212-549-2500
Fred Hampton on Racism and Capitalism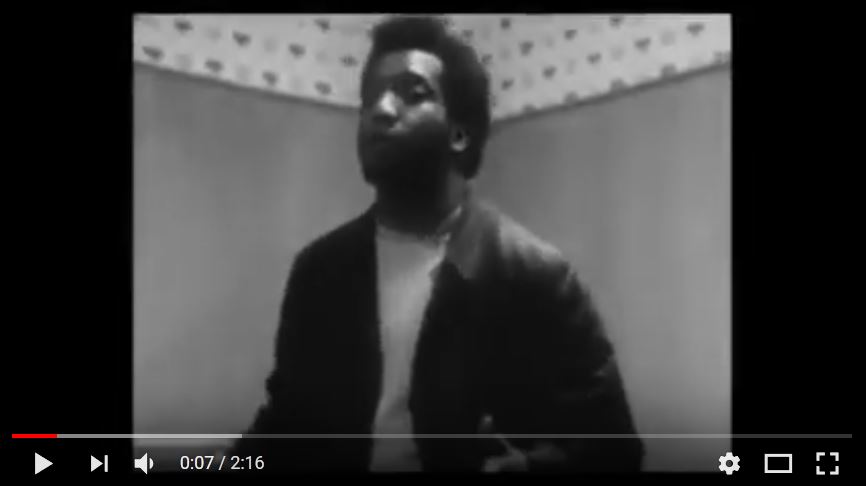 Listen here.
Black Panther leader Fred Hampton - assassinated by Chicago police in 1969 - explains how the ruling class uses racism to exploit working people.
Published by Jacobin Magazine
June 26, 2018
Jacobin is a leading voice of the American left, offering socialist perspectives on politics, economics, and culture.
The Japanese man who died on the Spanish front 
by Miyamoto Masao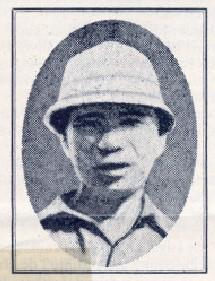 On July 11, 1937, Jack Sirai, a Japanese cook who went to Spain to fight the fascists, was killed in combat. A volunteer in the American Abraham Lincoln Brigade, he was shot dead after volunteering to fetch supplies for his starving unit. He was buried that night beside Oliver Law, an African-American volunteer. This is a short account of his life
Read full article here.
An English translation from the Esperanto article on the life and death of the Japanese volunteer in the Spanish Civil War. First published in Sennaciulo 57/2 of February 1986, as part of a series of articles to commemorate the 50th anniversary of the Spanish Civil War. 
Labor, Neoliberalism and the 1970s - A Conversation with Lane Windham - New York - July 19

Join us for the next installment in our LaborTalks series on Thursday, July 19 at 6:30PM!
Historian Lane Windham, author of the award-winning Knocking on Labor's Door: Union Organizing in the 1970s and the Roots of a New Economic Divide will join BISR Research Associate Jeffrey Escoffier for a wide-ranging discussion of neoliberalism's rise in the 1970s, the challenge to labor, and the state of the movement for popular political and economic power.
THURSDAY, JULY 19
6:30 – 8:30PM
The Workmen's Circle Headquarters
247 West 37th Street, 5th Floor, NYC
Participants
Lane Windham is Associate Director of Georgetown University's Kalmanovitz Initiative for Labor and the Working Poor and co-director of WILL Empower (Women Innovating Labor Leadership).
Jeffrey Escoffier writes on the history of sexuality, LGBT history and public health. He is also the author a short biography of John Maynard Keynes and editor of a book on the work of choreographer Mark Morris.
The event is free and open to the public. Please RSVP below. #LaborTalks is co-presented by The Workmen's Circle, The Sidney Hillman Foundation, Union Communication Services, Dissent Magazine, the Jewish Labor Committee, the DSA Jewish Solidarity Caucus, and The Brooklyn Institute for Social Research. A reception will follow the talk.
Young Lords 50th Anniversary Symposium - Chicago - September 21-23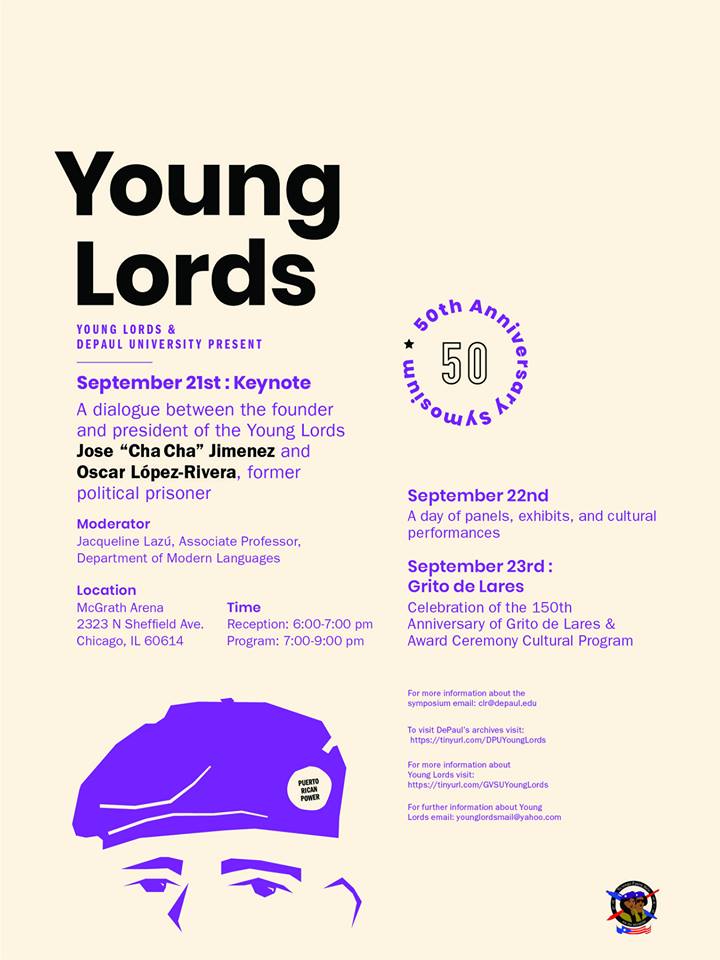 This three-day event will celebrate the founding of the Young Lords Organization in the city of Chicago in the summer of 1968. The Young Lords became the entryway into the US Civil Rights Movement for a generation of Puerto Ricans on the US mainland. The organization would become integral to a national and transnational movement, and a gateway to political consciousness around Puerto Rican self-determination.
Friday, September 21st
On Friday, the program begins with a historical keynote conversation between José "Cha Cha" Jimenez, founder and president of the Young Lords, and Óscar López Rivera, a former political prisoner and founder of the Juan Antonio Corretjer Puerto Rican Cultural Center in Chicago. This unprecedented public dialogue, moderated by DePaul University professor Jacqueline Lazú, brings together two of the leading figures in the history of activism in the Puerto Rican Diaspora emerging from the late 1960s, early 1970s.  A small reception will precede the keynote event.
Saturday, September 22nd 
On Saturday, DePaul University will host a day-long symposium of panel discussions, cultural programs, and tours designed to explore the history and lasting legacy of the Young Lords in the city of Chicago and beyond. Panels will explore issues of housing policies and practices, youth activism, arts and culture, police violence, among other themes. The weekend will also help unveil a number of exhibitions, including a feature of the Young Lords papers and archival materials housed at DePaul University's John T. Richardson Library Special Collections Department. Registration includes a boxed lunch and hors d'oeuvres reception following the days' events.
Sunday, September 23rd
On Sunday,  the community will gather in a town hall to celebrate El Grito de Lares, the 150th commemoration of the Lares Rebellion of 1868. Led by Dr. Ramón Emeterio Betances and Segundo Ruiz Belvis, the insurrection aimed to liberate Puerto Rico from Spanish colonial rule and proclaim the new Republic of Puerto Rico. The movement was short lived and many of its leaders were put to death, but the day is still celebrated by Puerto Ricans as a symbol of unyielding resistance to its ongoing colonial conditions, now under the US government. The Young Lords strategically chose the 100th anniversary of El Grito in 1968 to declare their own intentions to move away from their identification as a youth gang to a political organization that would similarly aim to fight the injustices faced by Puerto Ricans, poor and working-class people in Chicago and throughout the world. This event will feature an awards ceremony for the movements' founders as well as a cultural program featuring a keynote address about El Grito, as well as a Bomba workshop, music, poetry and theater. Registration includes a light breakfast and lunch service.
FREE & OPEN TO THE PUBLIC

DePaul University, College of Liberal Arts & Social Sciences - Center for Latino Research