Friday Nite Videos | August 24, 2018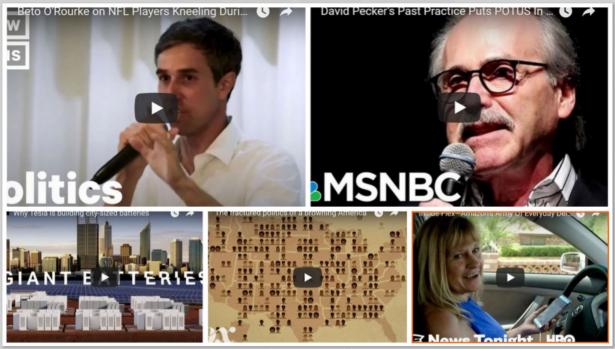 To view a video click an image below,
The man taking on Ted Cruz, Texas' Senate candidate Beto O'Rourke brilliantly explains why NFL players kneeling during the national anthem is not disrespectful.
The US is getting more diverse. As more Americans realize this new future, it is changing how cultural and political divides take shape.
Giant batteries are crucial to the future of power grids everywhere, but they are only one of the zanier forms of energy storage already in use around the country.
A massive shopping event like Prime Day is only possible in part because of Amazon's Flex program, which recruits everyday people to deliver Amazon packages for a modest wage.
Rachel Maddow looks back at how David Pecker programmed the National Enquirer to promote Donald Trump and trash Hillary Clinton through the 2016 campaign, though he is now reportedly cooperating with investigators in the Cohen case and maybe more.