Tidbits - Sept. 20, 2018 - Reader Comments, Hurricane Maria one year later; Julia Salazar; Second Amendment; Public Libraries; Haiti; Resources; Announcements-Chicago, Boston; Bay Area, New York; and more...
Tidbits - Reader Comments, Resources and Announcements - Sept. 20, 2018,Portside
Resources:

Palestine is Here: New research database (RAIA - Researching the American-Israeli Alliance & US Campaign for Palestinian Rights)
How Colleges and Universities Can Divest From War (Code Pink & United for Peace & Justice)
Announcements:
50th Anniversary of the Young Lords - Chicago - September 21 - 23 (Young Lords & DePaul University)
An Execution in the Family: A Rosenberg Son's Journey - Boston and Great Barrington (MA) - September 27 and 28 (Rosenberg Fund for Children)
Conference: The Future of the Left in the Americas - New York - October 5 & 6 (Dissent Magazine)
3rd Annual Anti-Columbus Day Tour+ - New York - October 8 (American Museum of Natural History and Decolonize This Place)
Presidio 27 "Mutiny" 50 years later - 50th anniversary events at the former Presidio Army Base - San Francisco - October 13 & 14 (Courage to Resist)
US Labor and the Struggle for Socialism - Brooklyn - October 13 (Jacobin Magazine)
Re: Progressive Democrats Took a Bite Out of New York's Machine
Yes! Starting at the grassroots, defeating 6 of the 8 IDC renegades elected as Democrats but Republicans in action.
Jay Schaffner
Posted on Portside's Facebook page
     =====
What the NY Times won't tell you.
Tom Dale Keever
Posted on Portside's Facebook page
Re: Julia Salazar Overcomes Controversy to Notch Another Victory for Democratic Socialists; New York Politics Changed Forever Tonight
If I lived in Salazar's district, I would have voted for her, without hesitation. But the "confusion" over her history is baffling and shouldn't be dismissed so flippantly, as the author's clearly do.
Eldaa Coats
Worst Storm Ever  --  cartoon by Rob Rogers
Hurricane Donald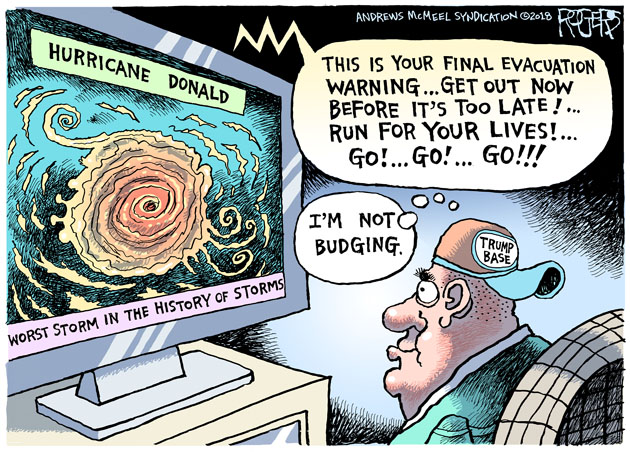 Rob Rogers
September 13, 2018
RobRogers.com
They died. But we lived. And we remember.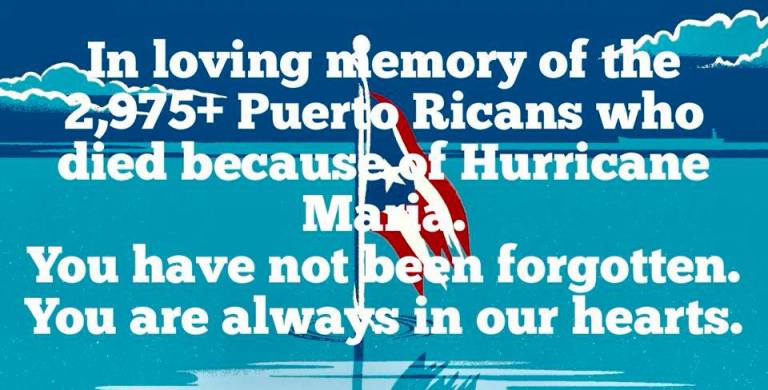 They did not die in the hurricane.
They died in pain, at home, of kidney failure unable to access the dialysis clinic for weeks.
They died, gasping for hours near the end, when the oxygen tank they needed to breathe gave out.
They died in the dark and the heat of unsanitary ICU units, of burns or gunshot wounds received before the hurricane that they almost certainly would have survived otherwise.
They died, burning up with fever, of leptospirosis from being in touch with flood waters during the effort to save their neighbors.
They died in fear and confusion after being forced to go off their regular medication.
They died of heat stroke.
They died of diseases of antiquity, in a crisis of neglect unworthy the greatest, wealthiest and most powerful nation in human history.
They died. But we lived. And we remember."
Eleazar David Melendez
Deputy Political Director at Bill Nelson for U.S. Senate
September 13, 2018
Facebook post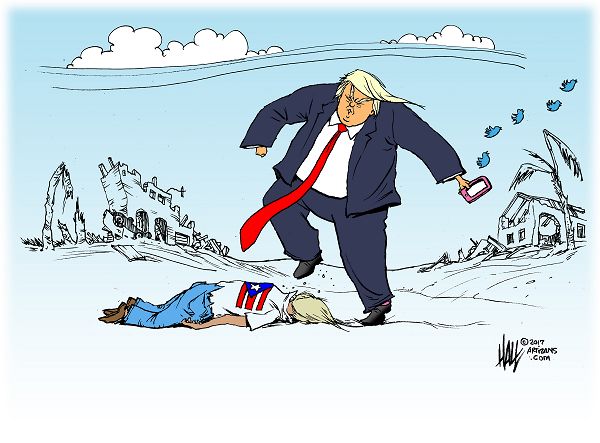 Ed Hall
October 1, 2017
The Association of American Editorial Cartoonists
Re: The Supreme Court Is Headed Back to the 19th Century
This piece could use serious copy editing, slash half the words. But it is critical to understanding where we are going to be with the courts, already are, Kavanaugh or not. The Robetts court is just part of a long tradition of the Redemption" court that followed Reconstruction, Redemption being redemption of white people against the rise toward equality of black folks.
Dan Jordan
Posted on Portside's Facebook page
Kavanaugh Sucks  --  cartoon by Raging Pencils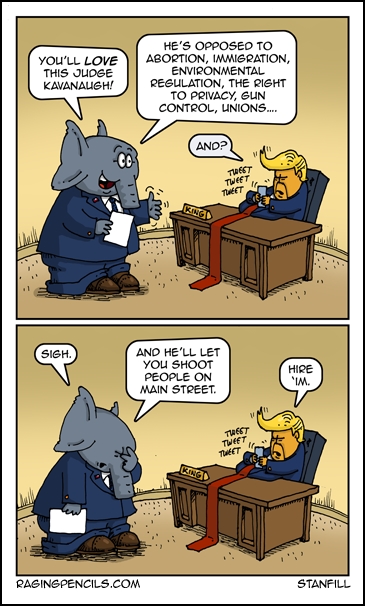 Mike Stanfill
September 10, 2018
Raging Pencils
Re: New International Movement Will Fight Rising Fascism and Globalists
Must read. A little hope within the monster.
"Fascists did not come to power in the mid-war period by promising violence, war or concentration camps. They came to power by addressing good people who, following a severe capitalist crisis, had been treated for too long like livestock that had lost its market value. Instead of treating them like "deplorables", fascists looked at them in the eye and promised to restore their pride, offered their friendship, gave them a sense that they belonged to a larger ideal, allowed them to think of themselves as something more than sovereign consumers.
That injection of self-esteem was accompanied by warnings against the lurking "alien" who threatened their revived hope. The politics of "us versus them" took over, bleached of social class characteristics and defined solely in terms of identities. The fear of losing status turned into tolerance of human rights abuses first against the suspect "others" and then against any and all dissent. Soon, as the establishment's control over politics waned under the weight of the economic crisis it had caused, the progressives ended up marginalised or in prison. By then it was all over."
Orlando Gonzalez
Posted on Portside's Facebook page
Re: Bernie Sanders: A New Authoritarian Axis Demands an International Progressive Front
Wonderful statement and right on the mark. Again, Naomi Klein's book on Puerto Rico has a couple of stories about international solidarity at a very local level. Think globally, act locally!
BTW, did you see a remarkable statement by Diane Feinstein on the rightwing Israeli government's plan to bulldoze another Palestinian village?
Steve Schnapp
     =====
I used to be suspicious of any movement with the word's "socialism or socialist" from years of fear and loathing of communism. I was in Junior High School for the missiles of October and the Cuban blockade. But I daresay Bernies agenda gives me hope for a brighter future of equanimity and peace.
Richard Lopez
Posted on Portside's Facebook page
Re: Sweden, Once the 'Avant Garde,' Risks Reversing its History
Excellent!  Almost everyone talks about immigration as if it were the only reason for the recent election results, but it is an issue mainly in combination with the massive cutbacks in social services in large parts of Sweden.  If Swedes didn't feel threatened by the cutbacks they wouldn't be so quick to let the far right get away with blaming immigrants for their problems
Stan Nadel
Re: Meet Haiti's Founding Father, Whose Black Revolution Was Too Radical for Thomas Jefferson
It bears mentioning that the equally vilified Jacobins under Robespierre, during their years of dominance of the French Revolution, outlawed slavery in France's colonial possessions, fought for full racial equality, and were allied with the Haitian revolutionaries. It was the Thermadorian reaction and Napoleon who attempted to restore slavery and murdered the Jacobin ally, Toussaint L'Overture. C.L.R. James, in his epic biography of Toussaint, refers to him as a Black Jacobin, not a black Napoleon. And referring to the American phrase, "...pursuit of happiness," was a rejection of and replacement for the Enlightenment demand for equality, never being part of the Haitian revolutionary credo. That American distortion allowed for the creation of the American republic as a slave state, where Enlightenment ideals were for whites only.
Harold Dyck
Posted on Portside's Facebook page
     =====
Thank you to Ms. Gaffield.  Prejudice usually blinds even the most liberal/progressive of us as we are raised in societies based subtly on hate for some other race or races.
I had studies Latin American politics decades ago in college but do not remember a lot about Haiti's first revolution.  Rich whites had them by the neck then and they do now - only today it is probably rich corporations with whites doing their bidding.
Peace!
Buzz Davis, Vets for Peace in Tucson 
     =====
Many of the north American founding fathers , including Washington and Jefferson, were slave owners.
Victor M.carreras Roena
Posted on Portside's Facebook page
     =====
Patrick "Give me Liberty or give me Death!" Henry owned several dozens of Slaves...
Garold Haynes
Posted on Portside's Facebook page
     =====
It's the first Latin American Country that obtained independence, but at what price?
Guarionex D Marin
Posted on Portside's Facebook page
     =====
I was under the impression that Haiti was the first black republic in the world, second independent country in the Americas.
It's debt to France (the 21b mentioned in article) was finally paid off in 1970's.
Ostracized, blockaded, invaded, discriminated, burdened with debts, it has been very difficult for Haiti.
Jose Rinaldi Jovet
Posted on Portside's Facebook page
9/11/1963 - U.S. deeply involved in the coup in Chile, which replaced the democratically elected president, Salvador Allende, with the brutal tyrant Pinochet. At least 3,000 were murdered by Pinochet within days after the coup. Very many more violent deaths followed during the long Pinochet dictatorship. This was massive terrorism against Chile by U.S. gov't.
Diane Laison
Posted on Portside's Facebook page
     =====
Thank you for posting. A courageous man, a courageous people.
Donna Ristorucci
Posted on Portside's Facebook page
Re: To Restore Civil Society, Start With the Library
Public schools are being neglected, so is safe drinking water and infrastructure such as bridges. There used to be bipartisan support for such things, It's why we have so many Independents and why some who voted for Trump would have voted for Sanders had the Democratic party allowed him to run.
Carol Crooks
Posted on Portside's Facebook page
     =====
The digital age should not be used as an excuse to close a library. Rather, it's due to the isolation the digital age promotes that we need the social opportunities that a library offers. What better venue than a library for the after school crowd that would otherwise be going to an empty house?
Roberta Histed
Posted on Portside's Facebook page
     =====
Libraries are the only concept where you can use something and take it back "in this case a book" without the need of ownership. That alone is the biggest thread to consumerism. Now imagine why the system want to have them closed.
Carmelo Gonzalez
Posted on Portside's Facebook page
     =====
Because you don't have to buy books libraries help the people broaden their knowledge even during hard times. 
Maria Angeles Zavala
Posted on Portside's Facebook page
Short Review - Loaded. A Disarming History of the Second Amendment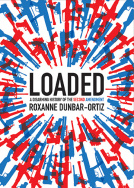 Loaded. A Disarming History of the Second Amendment
By Roxanne Dunbar-Ortiz
City Lights Book, San Francisco; 238 pages
Paperback:    $11.87 (saving 30%)
January 9, 2018
ISBN-10 0872867234
ISBN-13 9780872867239
How will we as a nation every break through the stalemate on gun violence to achieve restrictions on the proliferation of death dealing weapons and their ammunition and accessories?
One way to start, suggests Roxanne Dunbar-Ortiz in this short volume, is by understanding the real origins of the Second Amendment that the iconic myths that have so obfuscated.
Dunbar-Ortiz, a longtime chronicler of the history of indigenous peoples in the U.S., has a far more sordid story to tell. "The kind of militias and gun rights of the Second Amendment" had "two primary roles," she writes – "destroying Native communities in the march to possess the continent and brutally subjugating the enslaved African population."
Settler colonialism was the first goal, arming militias and households to serve as the frontline for the control and slaughter of Native peoples, communities, and nations, as the means to seize their land, which across much of the South led to expansion of cotton cultivation for slave plantations.
Second, the protection of slavery, fueled by the slaveholder's fear of slave rebellions, runaways, and other resistance. Several of the slave states even had laws mandating white males to own and carry firearms and requiring militias to create slave patrols with stiff penalties on white people who refused to serve. Dunbar-Ortiz calls the slave patrols "the origin of policing in the United States."
Focus alone on curbing the NRA will not end this nightmare, she concludes, citing a University of California Santa Barbara professor who writes the NRA "has built something that gun control advocates lack: an organized base of grassroots power." In other words, the only way to achieve any real social change in the U.S.
Chuck Idelson
Re: The U.S. Goes to War Against the ICC to Cover Up Alleged War Crimes in Afghanistan
War crime never go away ask any 100 year old Nazi...americans feel safe today but time change and when what was done is made public things will change and Americans outside America are fair game to be arrested and brought to the Hague and anyone protecting them is guilty of a crime under international law a reminder to leaders who may assist Americans also in country laws may apply
Don Carter
Posted on Portside's Facebook page
     =====
The term "pariah regime" seems to fit here.
Bob Smith
Posted on Portside's Facebook page
Re: If There Are No Refugees, There Will Be No One to Return: Understanding Trump's War on UNRWA and Palestinian Refugees
U.S. treatment of the Palestinians vis a vis the Israelis has demonstrated for years before the world the hypocrisy of "American values" in our one sided support for a state that is increasingly racist, colonialist and aggressive, supporting war against its neighbors while we allow it the privilege of not signing the antinuclear treaty and of building nuclear weapons while going after Iran.
Letitia Ufford
Re: Why Are There No Gen-X Socialists in the United States?
There are lots
John W Holland
Posted on Portside's Facebook page
     =====
Horse shit. I know scads of them.
Erika Juhlin
Posted on Portside's Facebook page
     =====
Also the writer forgets that Gen X 'ers are a small generation between two massive ones .
David Raun
Posted on Portside's Facebook page
     =====
Except there are
Gregory A. Butler
Posted on Portside's Facebook page
     =====
This is a very perceptive article and one that deserves widespread circulation and discussion. One piece of political economic context that needs to be remembered though is that both Gen X and the Boomers, in their majority, not just the college degreed, have experienced a lower standard of living over most of their lives and lower real wages than their parents. The WWII generation who birthed the Boomers, was the last to actually live the "American Dream" of upward mobility (if not in class position, at least in living standards). The impact of this economic reality since the 1970's has been various on groups and individuals, but the general truth of decline needs to be kept constantly in mind as we try to make sense of the political attitudes of groups of our fellow citizens.
Thanks again for a good article. I have observed the same age-split in my DSA meetings in East Bay (Oakland, Berkeley, Richmond) CA. One other difference is that a much greater % of activists are now women, and leaders too, than in the 60-70s. As a Boomer, I have had many more conversations about socialism with my grandchildren that with my children, which makes your point.
In solidarity,
Joe Berry
(posting on Portside Culture)
Oh, please. Whatever happened to socialism and class struggle?
David Berger
Pardon Whistleblower Reality Winner (Courage to Resist)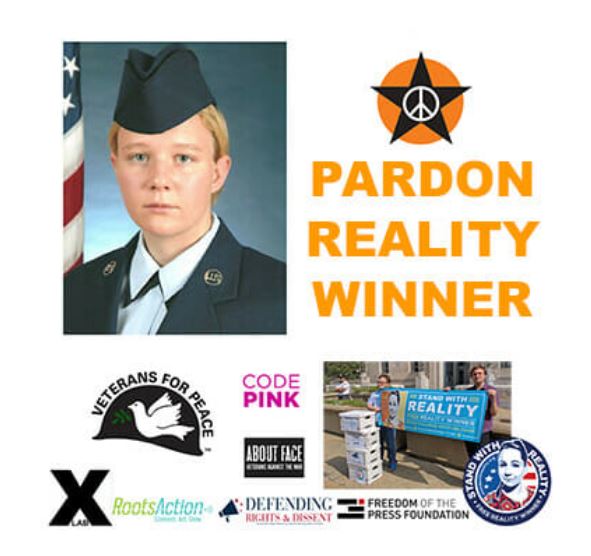 On June 3, 2017, NSA contractor Reality Leigh Winner was arrested and charged under the Espionage Act for providing a media organization with a single five-page top-secret document that analyzed information about alleged Russian online intrusions into U.S. election systems.
Reality, who has been jailed without bail since her arrest, has now been sentenced to five years in prison. This is by far the longest sentence ever given in federal court for leaking information to the media. Today, she is being transferred from a small Georgia jail to a yet-unknown federal prison.
Several months before her arrest, the FBI's then-Director James Comey told President Trump that he was (in the words of a subsequent Comey memo) "eager to find leakers and would like to nail one to the door as a message." Meanwhile, politically connected and high-level government officials continue to leak without consequence, or selectively declassify material to advance their own interests.
Join Courage to Resist and a dozen other organizations in calling on President Trump, who has acknowledged Winner's treatment as "so unfair," to pardon Reality Winner or to commute her sentence to time served.
COURAGE TO RESIST ~ SUPPORT THE TROOPS WHO REFUSE TO FIGHT!
484 Lake Park Ave #41
Oakland, California 94610
510-488-3559
Palestine is Here: New research database (RAIA - Researching the American-Israeli Alliance & US Campaign for Palestinian Rights)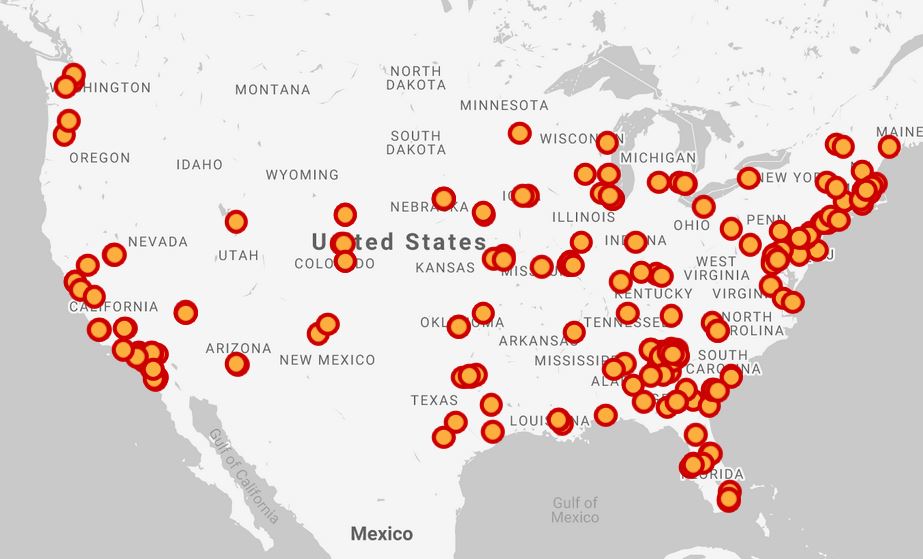 Click here to find links to your city or state
I am excited to tell you about a groundbreaking resource that was just released today. It has the power to transform organizing across the country!
The resource, Palestine is Here, is a search engine created by a USCPR member group, Researching the American-Israeli Alliance, that maps the connections between US and Israeli state violence in your local city or town. Accompanying the database, RAIA is releasing a new research report for the Deadly Exchange campaign, tracing the dangerous consequences of 16 years of Israeli training of US law enforcement.
The tool traces deadly exchanges of law enforcement between the US and Israel—including ICE agents and local police—that contribute to state violence across Palestine, in our streets, and at our borders. In our local communities, under the banner of "counter-terrorism," these exchanges contribute to expanded surveillance and infiltration of social movements; racial profiling and refined tactics and technologies that target entire communities; and suppression of public protests through force.
Living up to its name, Palestine is Here shows how Israel's oppression of Palestinians is not just something happening on the other side of the world. Instead, that oppression is concretely intertwined with the oppression of Black, brown, indigenous, and other marginalized communities in the US through direct institutional alliances. Palestine Is Here will soon expand to map corporate, academic, military, and other local institutional links.
Across the US, people like you are committed to real safety and security through justice and solidarity rather than criminalization and incarceration. In the past few months, we celebrated when the San Francisco Bay Area Stop Urban Shield coalition successfully ended a massive SWAT training and weapons expo bringing together police-military units, including from Israel. We celebrated when the city of Durham, North Carolina, voted to ban police exchanges with Israel, the first in the nation to do so.
You can be part of those wins for justice. By combining resources like the Palestine Is Here database and the Cities for Palestine toolkit, people like you can identify smart targets and build strategic campaigns aimed at the liberation of all people.
Toward justice,
Anna Baltzer
Director of Organizing and Advocacy
US Campaign for Palestinian Rights  https://uscpr.org
PO Box 3609
Washington, DC 20027
(703) 312-6360
How Colleges and Universities Can Divest From War (Code Pink & United for Peace & Justice)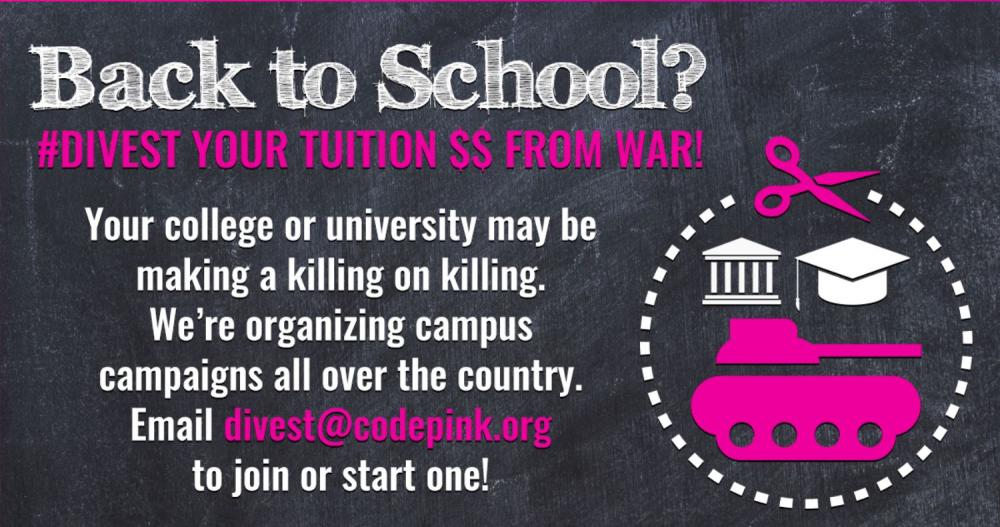 With the end of summer upon us, 16 million students in the U.S. have headed off to campus to begin their fall semester of college. As colleges and universities welcome their students, we're asking the question: how many institutions are using our tuition dollars to prop up war and weapons?
The answer, of course, is far too many. In fact, most of our colleges and universities use tuition dollars and alumni donations to invest in the companies behind the bomb that recently killed 40 Yemeni children on a bus, the drones used to indiscriminately kill in Gaza, and "social services" given to immigrants and refugees on the U.S.-Mexico border. It's time to get organized on campus and demand that education dollars be invested in robust solutions for a peaceful future, not in killing other students around the world.
Will you join us in working to divest our universities & colleges? Take the first step and sign up here to get more information about how to get your university or college divested from war.
Campus campaigns are winnable, and can have great returns for both moral and financial reasons. For example, Hampshire College in Massachusetts famously divested completely from weapons manufacturers, fossil fuels and private prisons, and now its investments are doing better than before1— proof that the so-called "sin stocks" are far from the only reliable investment choice!
As a part of the Divest from the War Machine campaign, we're working all across the U.S. to divest colleges and universities from the war machine, and to encourage them to adopt socially-responsible investment policies. Sign up today, and CODEPINK will send you a Campus Campaign Guide, with all the details you need to win a university or college divestment campaign! From sample letters to ideas for actions, the guide will give you step-by-step campaign instructions for moving your tuition dollars out of weapons and war.
Students are critical drivers of large-scale social change, especially in divestment campaigns – from apartheid in South Africa to fossil fuels today, colleges and universities lead the way in putting their money where their values are. It's time to bring this strength to bear on the military-industrial complex, and #divest from the war machine on campuses across the nation.
Whether you're heading back to campus yourself, or want to see your alma mater take its money out of war and weapons, we're here to help you start or join a #divest campaign. Email divest@codepink.org for direct support.
United for Peace & Justice fully supports the Divest from the War Machine campaign and asks for your support in stopping those who are making a killing on killing and stealing our future!
UFPJ Coordinating Committee
1 Hampshire College's Mission-Based Endowment Investing
50th Anniversary of the Young Lords - Chicago - September 21 - 23 (Young Lords & DePaul University)
An Execution in the Family: A Rosenberg Son's Journey - Boston and Great Barrington (MA) - September 27 and 28 (Rosenberg Fund for Children)
In this presentation sponsored by the Jewish Federation of the Berkshires, activist, author, and attorney Robert Meeropol will talk about his life experience as the son of Ethel and Julius Rosenberg, the organization he started to honor their legacy, and the recent campaign to exonerate his mother.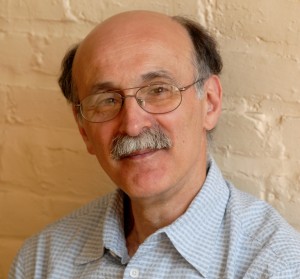 Boston area friends, there are a limited number of seats still available - by reservation only - for a talk by Rosenberg son and RFC founder Robert Meeropol, at Coleman House in Newton on Sep 27.
Get the details at the link here and reserve your spot today!
Seats are limited and reservations are required by calling 617-912-8490 or ckatzeff@jche.org.
September 27, 2018
6:30 pm
677 Winchester Street
Newton, MA
September 28, 2018
10:45 am - 11:45 am
270 State Road
Great Barrington, MA
$5 for presentation only (no advanced reservations required) or $11 for presentation and lunch (advanced reservations required for lunch, by calling 413-442-4360 ext.10)
Robert was six years old when his parents were sent to the electric chair in 1953, executed by the U.S. government after one of the most controversial trials in American history.  Hours before their execution, the Rosenbergs wrote to their sons, Robert and Michael, that they died secure in the knowledge that others would carry on after them. The Rosenberg Fund for Children – the foundation Robert started in 1990 - is the embodiment of that trust.
Orphaned at six, kicked out of school, seized by police, it took Robert 40 years to transform horrendous childhood circumstances into a positive vision. In this presentation, Robert will discuss how the public's understanding of the facts about his parents' case has evolved as groundbreaking, previously secret evidence has emerged in recent years, and how that new evidence led to a national campaign asking President Obama to exonerate his mother.
Robert will also share how his experiences inspired him to start the RFC to help today's "children of resistance" – kids whose activist parents have been targeted because of their work to combat racism, protest police brutality, preserve civil liberties, safeguard the environment, wage peace, and organize on behalf of immigrants, workers, prisoners, queer and trans people, and others whose lives are under threat.
Conference: The Future of the Left in the Americas - New York - October 5 & 6 (Dissent Magazine)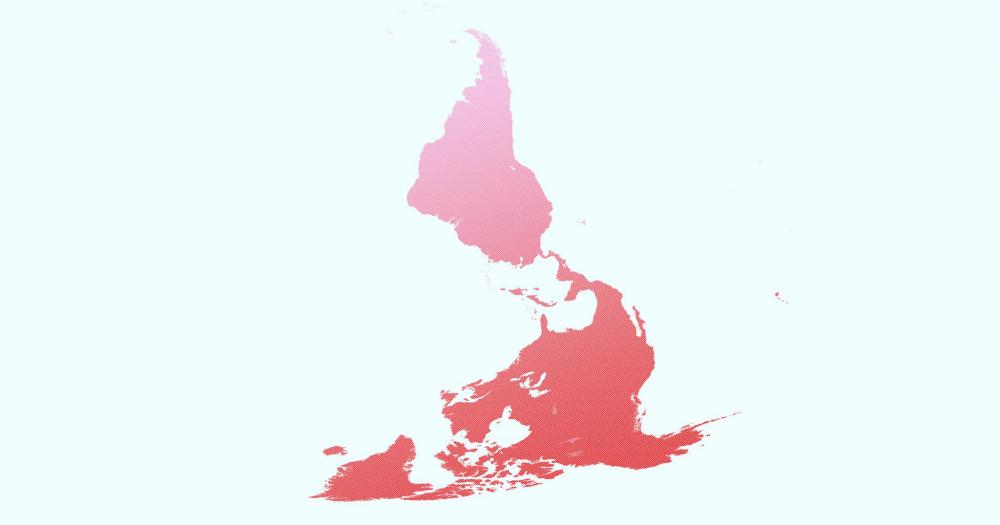 Across Latin America, the "pink tide," which saw a range of left governments come to power over the last two decades, is in retreat. At the same time, new, left-wing electoral and social movements have emerged in many countries in Latin America as well as the United States. It is a critical time to reconsider what limitations and accomplishments left governments and movements across the region have had in recent years, and how they can build on these lessons in the pivotal years ahead. Join Dissent magazine and the New School for two days of discussion with scholars, activists, and journalists from across the Americas about the challenges and opportunities for left politics in the region today.
Attendance is free, but please register, and consider donating to support Dissent and help us put on more events like this in future. You can also RSVP on Facebook.
The New School
Theresa Lang Community & Student Center, Arnhold Hall 
55 West 13th Street
Room I-202
New York, NY 10011
Friday, October 5: Lessons from the past
9 am: Welcome (Michael Kazin, co-editor of Dissent and Patrick Iber, University of Madison, Wisconsin)
9:30—11:15 am: The social-democratic option
This panel focuses on the achievements and limitations of left governments in Brazil, Uruguay, Chile, and Costa Rica. What kinds of political conditions did these social democratic governments face, and how did this determine their fate? How have social movements interacted with them, and how should they do so in the future?
Celso Rocha de Barros (Independent blogger and journalist, Brazil)
Gerardo Caetano (Universidad de la República, Uruguay)
Gemita Oyarzo (Universidad Diego Portales, Chile)
George García (Universidad de Costa Rica, Costa Rica)
Nara Milanich (Barnard College, USA, chair)
11:30–1:15: The Bolivarian option
What kinds of things were "populist" governments able to do that others were not? Drawing on the experiences of Venezuela, Bolivia, Nicaragua, and Ecuador, panelists discuss the Bolivarian option, and what this has meant for both governments and social movements.
María Pilar Garcia Guadilla (Universidad Simón Bolívar, Venezuela)
Pablo Ospina Peralta (Universidad Andina Simón Bolívar, Ecuador)
Pamela Calla (New York University, USA)
Miguel Gomez (Universidad Americana, Nicaragua)
Michael Kazin (Georgetown University and Dissent, USA)
1:15–2:30: Lunch
2:30–4:15: The Left and the Media
What sort of media should the left try to build? What challenges have Latin American journalists faced in reporting on left governments across the region? What other obstacles—including finance and security concerns—shape media coverage?
Carlos Dada (El Faro, El Salvador)
Alejandra Matus (Independent journalist, Chile)
Carlos Bravo Regidor (Centro de Investigación y Docencia Económicas, Mexico)
Kate Doyle (National Security Archive, chair)
4:30–6:15: Learning from the Cuban experience
How should Cuba's experiences with socialism inform the thinking of the left elsewhere? What should a "left" politics look like in Cuba?
Harold Cárdenas Lema (Columbia University; Cuba)
Yasmín S. Portales Machado (Northwestern University; Cuba)
Andrés Pertierra (Independent researcher, USA)
Ailynn Torres Santana (FLACSO Ecuador; Cuba)
Michelle Chase (Pace University, USA, chair)
Saturday, October 6: Visions for the future and how to get there
9:30—11:15 am: Foundational Ideas for a Future Left
What should democratic socialism look like in the 21st century? And what work does the left still need to do to build support for its goals?
Humberto Beck (Centro de Estudios Internacionales El Colegio de México, Mexico)
Maria Svart (Democratic Socialists of America)
Diosnara Ortega (Catholic University Silva Henríquez, Cuba, via Skype)
Pablo Stefanoni (editor-in-chief of New Society, Argentina/Bolivia)
Timothy Shenk (Dissent, chair)
11:30–1:15: Toward a Left Political Economy
What models are available for building a left economy? How do we account for the role of markets? How do finance ambitious programs and redistribute national and international resources more equitably? What political constraints do economic conditions impose on left projects? What opportunities?
Jeffrey Webber (Queen Mary, University of London, UK)
Christy Thornton (Johns Hopkins University, USA)
Lena Lavinas (Federal University of Rio de Janeiro, Brazil, via Skype)
Julia Ott (The New School, USA, chair)
1:15–2:30: Lunch
2:30–4:15: Resisting extractivism and climate change
How do we build a post-extractive left? How will climate change alter the needs of populations in Latin America? How do the demands and rights of indigenous communities interact with left governments? How can we protect environmental activists?
Kate Aronoff (Independent journalist, USA)
Thea Riofrancos (Providence College, USA)
Frederico Freitas (North Carolina State University, USA)
Daniel Aldana Cohen (University of Pennsylvania, USA)
Vera Candiani (Princeton University, USA, chair)
4:30–6:15: Solidarity in the Twenty-First century
What should solidarity look like in the 21st century? How can like-minded organizations and people support each other internationally? How should Latin American migration to the US affect the way we do solidarity work?
Alejandro Velasco (New York University, USA)
Bill Fletcher, Jr. (Organizer and writer, USA)
Alexandra Delano (The New School, USA)
Lori Hanson (University of Saskatchewan, Canada)
Frances Negrón Muntaner (Columbia University, USA, chair)
This conference is presented with the support of the Open Society Foundations. To attend, please register via Eventbrite. You can also RSVP on Facebook. If you have any questions, please email conference@dissentmagazine.org.

3rd Annual Anti-Columbus Day Tour+ - New York - October 8 (American Museum of Natural History and Decolonize This Place)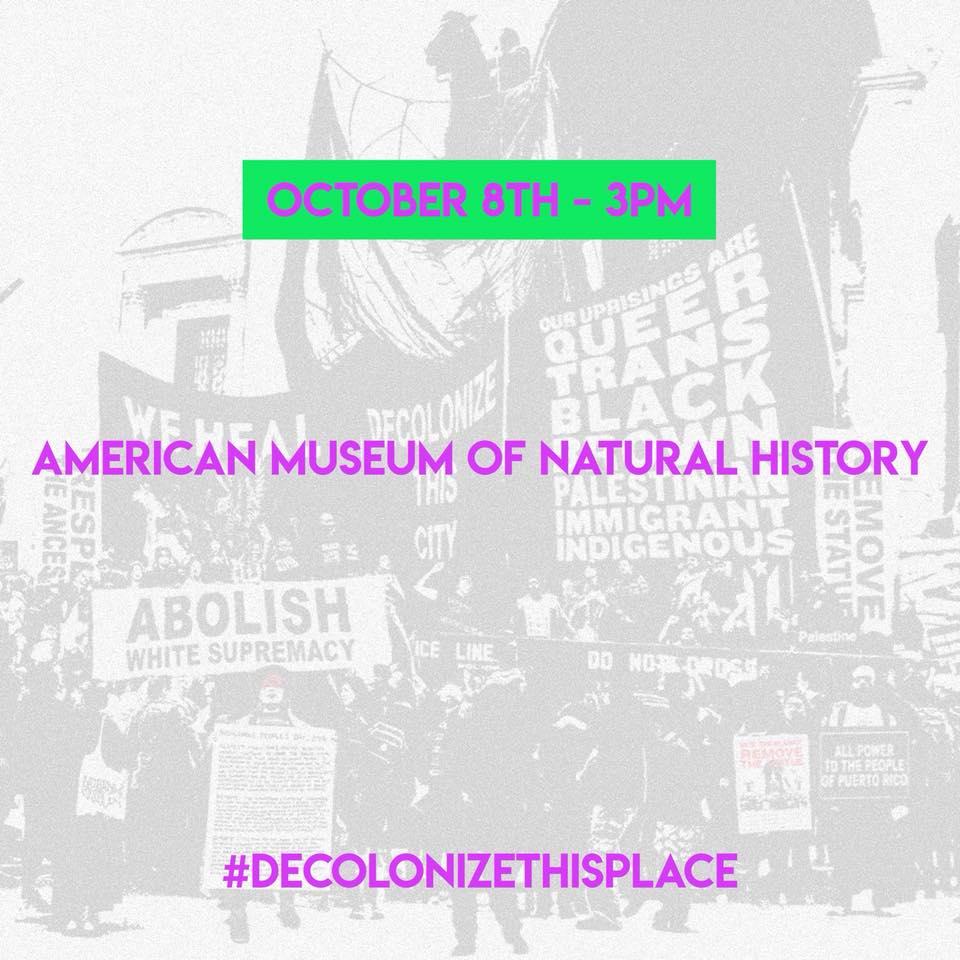 Monday, October 8 at 3 PM
American Museum of Natural History
200 Central Park West
New York, New York 10024
Save the date. Share the invite. Bring friends. More information will be posted. On Indigenous Peoples Day, at the American Museum of Natural History, #decolonizethisplace. This year, it's more than a tour.
Presidio 27 "Mutiny" 50 years later - 50th anniversary events at the former Presidio Army Base - San Francisco - October 13 & 14 (Courage to Resist)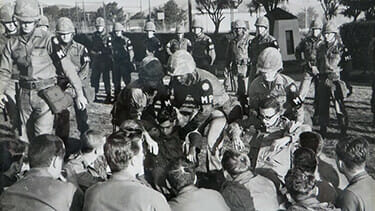 Presidio 27 "Mutiny" 50 years later
Podcast with Keith Mather
During the Vietnam War era, the Presidio Stockade was a military prison notorious for its poor conditions and overcrowding with many troops imprisoned for refusing to fight in the Vietnam War. When Richard Bunch, a mentally disturbed prisoner, was shot and killed on October 11th, 1968, Presidio inmates began organizing. Three days later, 27 Stockade prisoners broke formation and walked over to a corner of the lawn, where they read a list of grievances about their prison conditions and the larger war effort and sang "We Shall Overcome." The prisoners were charged and tried for "mutiny," and several got 14 to 16 years of confinement. Meanwhile, disillusionment about the Vietnam War continued to grow inside and outside of the military.
"This was for real. We laid it down, and the response by the commanding general changed our lives," recalls Keith Mather, Presidio "mutineer" who escaped to Canada before his trial came up and lived there for 11 years, only to be arrested upon his return to the United States. Mather is currently a member of the San Francisco Bay Area Chapter of Veterans for Peace. 
Listen to the Courage to Resist podcast with Keith.
50th anniversary events at the former Presidio Army Base
October 13th & 14th, 2018
PANEL DISCUSSION
Saturday, October 13, 7 to 9 pm
Presidio Officers' Club
50 Moraga Ave, San Francisco
Featuring panelists: David Cortright (peace scholar), Brendan Sullivan (attorney for mutineers), Randy Rowland (mutiny participant), Keith Mather (mutiny participant), and Jeff Paterson (Courage to Resist).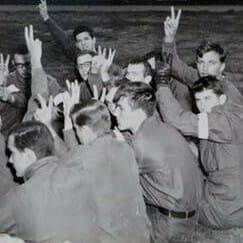 ON SITE COMMEMORATION
Sunday, October 14, 1 to 3 pm
Fort Scott Stockade
1213 Ralston (near Storey), San Francisco
The events are sponsored by the Presidio Land Trust in collaboration with Veterans For Peace Chapter 69-San Francisco with support from Courage to Resist.
COURAGE TO RESIST ~ SUPPORT THE TROOPS WHO REFUSE TO FIGHT!
484 Lake Park Ave #41
Oakland, California 94610
510-488-3559
www.couragetoresist.org ~ facebook.com/couragetoresist https://facebook.com/couragetoresist
US Labor and the Struggle for Socialism - Brooklyn - October 13 (Jacobin Magazine)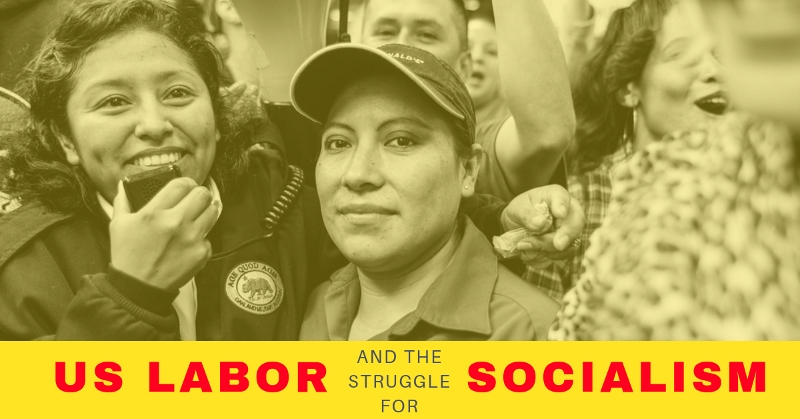 Saturday, October 13 at 7pm - 11pm
Verso Books loft
20 Jay St, Suite 1010
Brooklyn, New York 11201
RSVP and find suggested readings
We can't win socialism without the power of millions of organized workers. How do we get there from here? Why is US labor so weak, and how can we make it strong? How can we bring socialism closer by linking organizing in workplaces with broader struggles for justice? 
A discussion between Barry Eidlin and Ella Mahony, and everyone else in attendance.
Discussion will be followed by a party to celebrate Barry Eidlin's book, Labor and the Class Idea in the United States and Canada. Discounted copies of the book and plenty of beer and wine will be available.
388 Atlantic Ave
Brooklyn, NY 11217