Global Left Midweek - October 31, 2018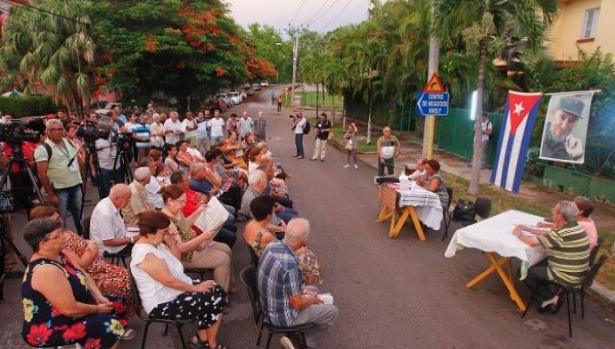 Cubans participate in a debate to discuss the text of the proposed new constitution to vote on in a referendum next year,TeleSUR | Photo: EFE
Walden Bello / The Nation (New York)

It's amazing to many of us here in the Philippines how similar Bolsonaro is to our president, Rodrigo Duterte.
Jayati Ghosh / DailyO (Noida, India)
Simmering rural resentment helped to turn two crucial national elections, in 2004 and 2014. Now, we have entered another phase of open protests by farmers.
Cuba: Challenges for New Constitution
Thomas Hansen / Autonomous University of Social Movements (Chicago)
Copies of the proposed constitution went on sale the first week of August for the equivalent of about US 4 cents, the cost of a local newspaper. Free copies are available on the internet. The comment period is from Aug 13 to Nov 15, after which a referendum is expected early next year.
Québec Solidaire: Electoral Breakthrough
Roger Rashi / Rosa Luxemburg Stiftung New York Office
QS has an excellent opportunity to take on the mantle of the real people's opposition in parliament, further consolidate its links with the popular movements, and grow its influence across the province.
Mexico: Election Landslide Raises Hopes for Labor
Jeffery Hermanson / Labor Notes (Detroit)
Independent unions have formed a new federation. They hope to win progressive labor law reform and finally end the reign of corrupt, pro-employer unions.
Scotland: Women Workers Bring Glasgow to a Standstill
Conrad Landin / Morning Star (London)
Thousands of women members of Unison and GMB led a march from Glasgow Green to the City Chambers in George Square, chanting: "What do we want? Equal pay! When do we want it? Now!"