'There Is No Battle Too Big For Us To Pick': Alexandria Ocasio-Cortez Makes History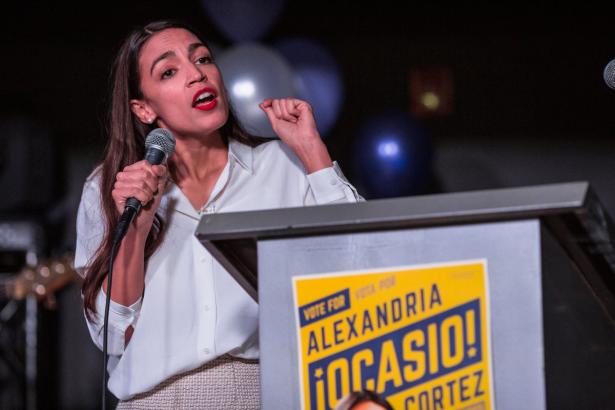 Alexandria Ocasio-Cortez,credit: Scott Heins / Gothamist
On Tuesday night, Alexandria Ocasio-Cortez cemented a victory all but assured to her, officially becoming the U.S. Representative for New York's 14th Congressional District. At her watch party in a Queens nightclub, the crowd responded to the news with excited, if somewhat obligatory cheers. At 29, the Democratic Socialist—a young woman heralded by some as her party's future, savior, and new face, immediately after she became an overnight household name in June—is the youngest woman ever elected to Congress. She is, as she pointed out in her victory speech, "the first person of color" ever to represent a district "that is 70 percent people of color, half immigrant, and overwhelmingly working class."
Ocasio-Cortez handily defeated her Republican opponent, a 72-year-old associate professor of economics and finance named Anthony Pappas, whose platform consisted mostly of being mad about his acrimonious divorce. Whereas Ocasio-Cortez raised nearly $2 million during her campaign, rejecting corporate donations and embracing small-dollar donors, Pappas mustered just under $2,000. (That's not a typo.) Going into the race, FiveThirtyEight forecast a greater-than-99-percent chance of an Ocasio-Cortez victory.
In the end, she won with 78 percent of the vote. Pappas managed just under 14 percent—likely from the handful of district Republicans voting down the ballot—and former 10-term Democratic incumbent, Joe Crowley, swung a little more than 6 percent. Ocasio-Cortez famously trounced Crowley in the district's June primary, wearing holes in her shoes with a grassroots ground campaign while he skipped debates and fell increasingly out of touch with his constituents. That win put Ocasio-Cortez on the national map, and prompted Crowley to hand her his endorsement. Only Crowley stayed on the ballot as a third-party candidate, raising eyebrows—if not necessarily real concerns—when flyers bearing his name appeared in Queens just before the election.

The longtime machine boss disavowed the zombie campaign, tweeting, "I've moved on, so should everyone else." The majority of his district moved on long ago, though. Supporters gathered at La Boom nightclub in Woodside, Queens on Tuesday night, eager to watch Ocasio-Cortez officially claim her title, suggested that local interest in Crowley came down to a dearth of options: Many people voted for him because there was no other Democrat to vote for, not necessarily because they felt he would represent their interests.
Nick Haby, sporting a T-shirt emblazoned with a rainbow Ocasio-Cortez logo, recalled the moment when his enthusiasm for Crowley waned: When the Congressman launched an alienating attack on his opponent.
"He said, 'Alexandria likes to make this election all about race," Haby recalled. Crowley followed that with, "It's not my fault that I'm born white," Haby said, calling it "a very tone deaf comment coming from a man of power and privilege, specifically white privilege." As a person of color himself, Haby couldn't abide that. (Crowley says he was misquoted.)
Danny Rojas, a dad who works at a non-profit focused on tech and education, agreed that Crowley drifted away from his district. "Crowley has been my Congressman for 20 years," he shouted over music thumping inside the club. "I know Joe Crowley, he's a great guy, but it was time. It was time! It was the right time, the right candidate, the right person for the community, who represents us and who we are."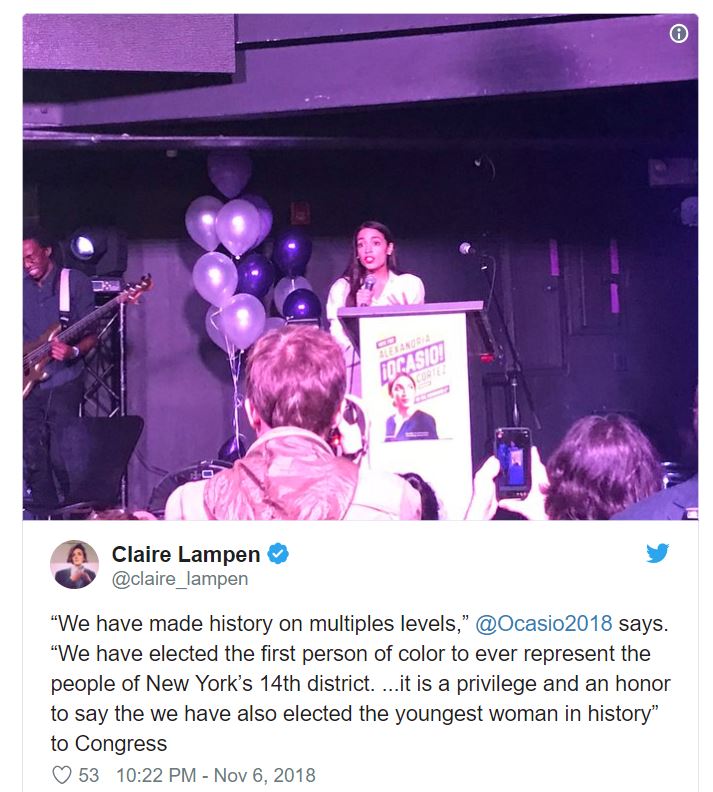 NY 14 today is about 48% Hispanic and Latino: Its new representative has a Puerto Rican mother and a Bronx-born father. She also belongs to the district's single largest age group: 25 to 34 years. In the early days of her campaign, Ocasio-Cortez waited tables and tended bar, having put her career on hold to help out at home after her dad died of cancer. She is not independently wealthy, which resonates in an area where the median household income stands around $58,000.
Campaign volunteer Allie Horton said Ocasio-Cortez's push for tuition-free college spoke to her on a personal level, as one of the 44 million U.S. adults hobbled by student loans. Nanci Rodriguez, meanwhile, likes the plan to abolish ICE: "I have a lot of family that don't have the blessing of being legal in the country. They're good people, they're not hurting anyone," Rodriguez explained. Plus, she could see herself in Ocasio-Cortez, a woman of approximately the same age.
Age and gender predictably proved points of criticism throughout the campaign. Ocasio-Cortez was continually chastised for what some considered fumbles: Responding to her assertion that"unemployment is low because everyone has two jobs," establishment political scientist Norm Ornstein tweeted that "this person is not ready for prime time" and needed "a crash course on basics" before she could be considered for Congress. Nodding to the controversy sparked by her assertion that Israel had occupied Palestine, and her contention that the middle class no longer exists, conservative commentator Michael Graham called her a "gaffe machine" in the mold of Sarah Palin.
Although not explicitly sexist, the backlash—as Laura McGann wrote for Vox—served as a reminder that women in politics must meet a much higher standard than men, who generally do not elicit patronizing op-eds encouraging them to study harder before jumping into the big leagues; who lie with impunity and the implicit understanding that doing so is expected, and therefore acceptable. Whereas male politicians have leveraged humble beginnings as a relatable boon, and whereas young men successfully position themselves as energetic change-makers ready to shake things up, the fact of being a 20-something and a woman meant her manchild peers dismissed Ocasio-Cortez as "this girl, or whatever she is."
Now this girl is going to Congress.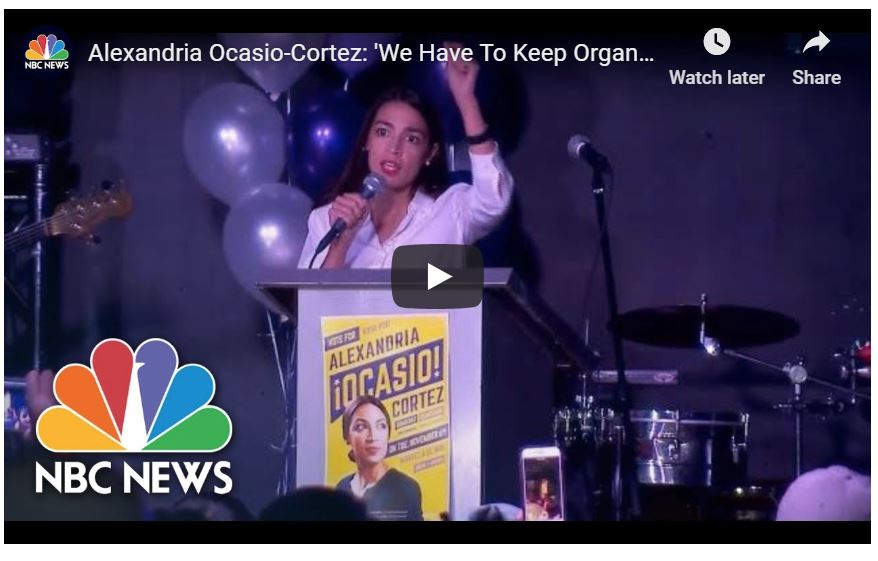 Watch here. 
In a galvanizing victory speech to an electrified crowd of admirers, Ocasio-Cortez waved away the latest criticism—of her admittedly skeletal plan to pay for an expensive agenda—with the assurance that will finds a way. "They will always call the ambitious naive, they will always call the ambitious uninformed," she said, but the overwhelming excitement her primary win engendered matters—precisely because it was not partisan. Neither party does enough for its constituents, and her victory emphasized a widespread readiness for a fresh political approach, and the possibility of real change that new course presented.
"Our deepest challenges are not left and right, they are not red and blue; they are top and bottom, they are right and wrong," she said. "It is not good enough to throw a rock at our neighbor's yard, we need to clean up our own house."
She also acknowledged disappointment at the evening's mixed bag of returns: Democrats won the House, but lost key gubernatorial races across the country to Donald Trump-approved candidates: Georgia Representative Stacey Abrams seemed poised to lose, narrowly, to Brian Kemp (although Abrams had not conceded at time of writing); progressive Tallahassee mayor Andrew Gillum lost to the same windbag who underestimated Ocasio-Cortez.
A wave of boos and raspberries interrupted Ocasio-Cortez as CNN announced Senator Ted Cruz beat Beto O'Rourke in Texas, taking her by surprise for a bewildered moment—"I was like whoaaaa, room turned fast!"— before she realized what had happened. Quickly, deftly, she pivoted to the silver lining: "These short-term losses do not mean that we have lost in the long-run," she said, to a thundering cheer. "In 2018, we turned the state of Texas purple," she continued, adding: "There is no battle that is too big for us to pick, and we proved that this year."