Tidbits - Nov. 22, 2018 - Reader Comments: 2018 elections; Impeachment; California Burns; Rabbis Defend Migrants; Attack on Linda Sarsour; Amazon; Puerto Rico; Rojava; Greece; more...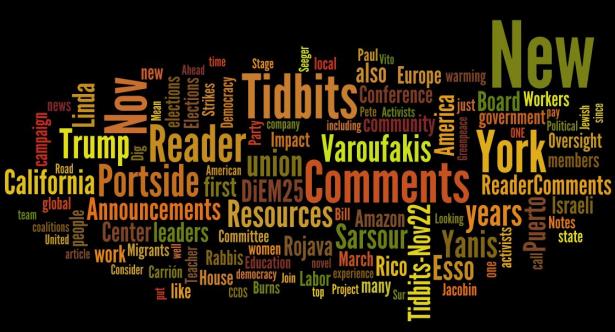 Tidbits - Reader Comments, Resources and Announcements - Nov. 22, 2018,Portside
Resources:
Announcements:
Re: A New Generation of Activists Is in the House
 
Diversity at its best. Good luck to you ladies!

Diana López
Posted on Portside's Facebook page
     =====
We NEED much more of this in house & senate!!
I believe the USA would be a top world contender all around then.
Brian Piper
Posted on Portside's Facebook page
     =====
Democrats have to keep reminding themselves, and America, that they beat Trump and the Republicans in the competition that mattered most - the only truly national competition this fall. The Democratic mandate is not overwhelming. But it is real.
Progressive Truth Seekers
Posted on Portside's Facebook page
 
     =====
Hey Momma we're in the drivers seat for the first time in years.
Beth Edelman
Posted on Portside's Facebook page
     =====
IT is up to us to get organized to keep these newly-elected leaders accountable to an organized and active base -- otherwise they will be working alone in hostile territory.
Leanna Noble
Posted on Portside's Facebook page
2018 Teacher Strikes and the Mid-Term Elections
 
Has there been any analysis of election results in all the various states where 2018 teacher strikes took place?
On their state elections?
On their congressional elections.
If you know or have seen any such summary article, please let me/us know.
Did the organization and experience of those struggles have an electoral impact?
Mark Levy
Re: The Watergate Blueprint for Impeaching Donald Trump
 
Since Pence is guilty as sin regarding Russia collusion, why not expose his crimes first? Trump couldn't get another VP without a majority in both houses of Congress. Then pursue Trump's crimes. There is a presidential order of succession . .
Paul Molloy
Posted on Portside's Facebook page
     =====
Convict him of multiple felonies. Then straight to prison.
Ed Griffin
Posted on Portside's Facebook page
California Burns - Oil Companies Profit: Poster of the Week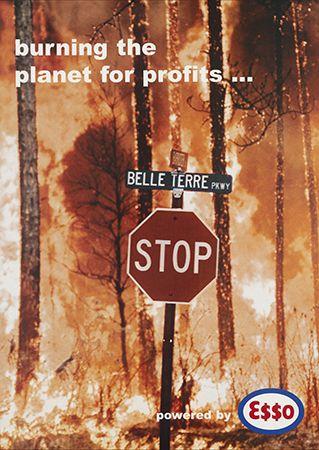 Burning the Planet for Profits
Greenpeace
Offset, 2002
Luxembourg
25998
The largest and most lethal fires in California history continue to burn throughout the state. Elsewhere, 100-year floods are happening annually. Superstorms and record-breaking droughts are all becoming the "new abnormal." This is not random. This was predicted. This is a result of climate change. This is due to our unabated use of fossil fuels.
Poster History:
Esso is the name under which Exxon/Mobil trades in many parts of the world outside North America. In 2001, a campaign to boycott Esso was launched in London by the Stop Esso Campaign, an alliance founded by Greenpeace, Friends of the Earth and People & Planet. The Stop Esso Campaign called on the public not to buy any Esso products until the US based oil company changed their stand on global warming. The campaign targeted Esso as the world's leading global warming villain because:
Esso donated more dollars than any other oil company to help Bush win the 2000 election and then reaped the rewards when Bush ditched the Kyoto protocol, an international agreement to stop global warming. Esso was the most active company to undermine this treaty.
Esso refused to accept the link between burning oil and global warming.
At the time, Esso invested none of their massive profits in renewable energy or green fuels.
Resources:
by Rong-Gong Lin II, Matt Hamilton & Joseph Serna
Los Angeles Times, November 13, 2018
By Gustavo Arellano
Los Angeles Times, November. 14, 2018
By John Schwartz
The New York Times, October 23, 20
Center for the Study of Political Graphics
3916 Sepulveda Blvd, Suite 103
Culver City, CA 9023018
California Fires  -  cartoon by Robert Ariail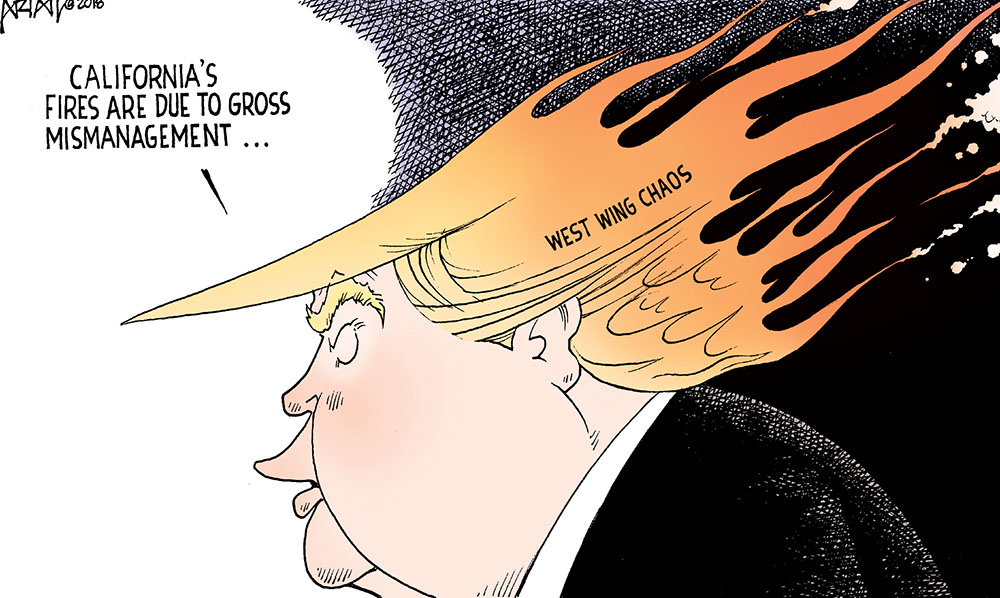 Robert Ariail
November 15, 2018
robertariail.com
#RakeAmericaGreatAgain  --  meme from Michael Eisenscher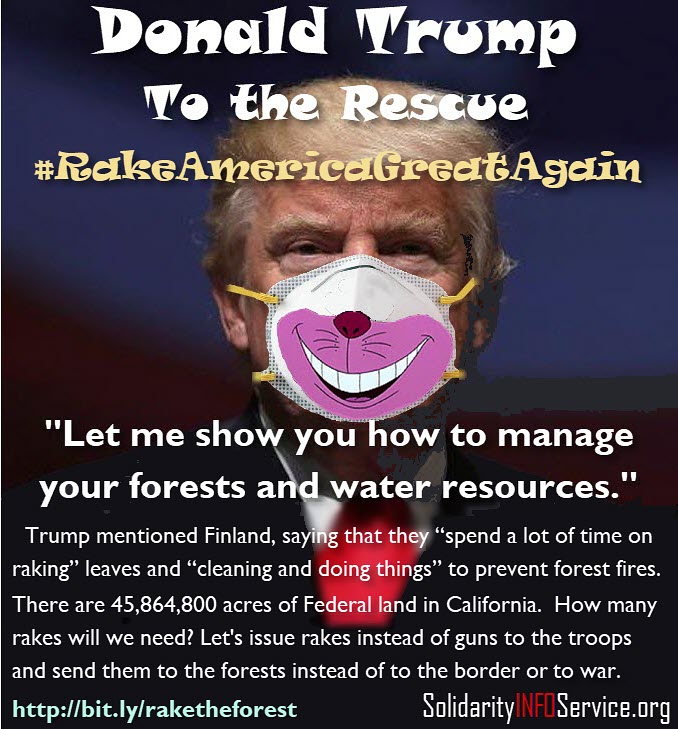 Michael Eisenscher
November 18, 2018
SolidarityINFOService
Re: U.S. Rabbis to Lead 'Pilgrimage' to Border to Protest Trump's Treatment of Migrants
 
Two things missing from your great article:
1. More details on the Pilgrimages - Is it just Texas or also San Diego, Arizona, etc, and when do they arrive?  What about rabbis (like me) who would like to join?  No information.
2. What's with the 2017 photo of Chabad HQ group? Are you playing into the stereotype that Rabbis all have beards, peyot, and wear black hats like the Rebbe did?  And then you start the article by quoting a female rabbi who couldn't have a beard even if she studied in Crown Heights for 50 years! I also doubt that she wears a black fedora. Stereotyping of what Jews "look like" got many Jews in big trouble only 75 years ago.
Rabbi Moshe Levin
Re: Farrakhan and Related Subjects
 
I am requesting for all who read my email to approach it with an open mind and an open heart with the understanding that you may not agree with what I will put forth and that is okay with me. This is not an email to persuade or to convince, it is an email with my voice and my experience and my truth - one that may not be comfortable for some.
Linda Sarsour
     =====
As-Salaam Alaikum. Excellent! This is why I love you!
Imam Siraj Wahhaj
     =====
In recent days there have been some calls from some people in the Jewish community to boycott the planned Women's March on January 19. This call has been explained on the ground that some of the March leaders have been unwilling to specifically denounce Minister Farrakhan of the Nation of Islam for his many blatantly anti-Semitic views and speeches.
One of the March leaders cited in this call has been Linda Sarsour, an important leader of the Women's March movement that became powerful the day after Mr. Trump's inauguration as President, and onward from then. I know that Ms. Sarsour has not only spoken words but also taken action strongly condemning anti-Semitism. She has, for example, raised hundreds of thousands of dollars to help repair desecrated Jewish cemeteries and to assist the survivors of the "Tree of Life" synagogue mass murders in Pittsburgh.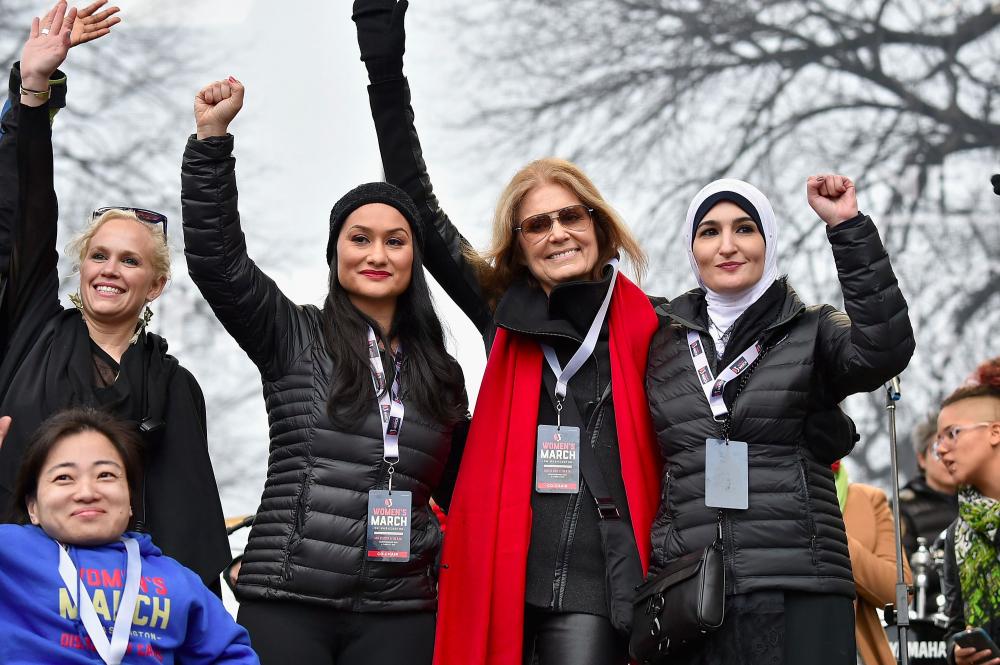 As I said, I am deeply moved by this letter. Yet I do not agree with all of Ms. Sarsour's views. I have, for example, publicly disagreed with the call of the "official" BDS ["Boycott Divest Sanction"] movement for total boycotts of all Israeli institutions, and I have publicly debated with its Palestinian leaders. (At the same time, I have supported boycotts of companies that are directly supporting the Israeli occupation of Palestinian territories on the West Bank.)
My own opposition to a total BDS directed against all of Israeli society, along with my strong opposition to the Israeli government and the Occupation, comes from my own ties to the decent elements in Israeli society. So from my own responses I learn to respect the responses of a Palestinian-American with strong ties to the Palestinian community under military Occupation in its homeland, and to understand why such a person would feel drawn to BDS. In this way I honor our disagreement  --  both sides of it – even while I hold strongly to my own view.
Should my disagreement on this question push me toward boycotting a movement that I strongly support – the Women's March -- in which Ms. Sarsour is a leader? God forbid!
Indeed, just the opposite.  Contempt for women and their subjugation is an aspect of the white nationalism that also encourages fear and hatred of immigrants and refugees, Muslims, Blacks, Latinx, Native Americans, and the free press; that emboldens anti-Semitism;
and that through the Trump-Netanyahoo alliance subjugates Palestinians. Resistance to white nationalism connects the fuller liberation of American women from sexism with the fuller liberation of the Jewish community from anti-Semitism.
In our very diversity, our different cultures, our disagreements, we are the rainbow refractions of ONE light. The Quran teaches that humanity was created in many different cultures precisely so that we can learn to understand each other. Jews affirm in the Sh'ma that the Divine Interbreath of Life is ONE. The Torah's call that we pursue "justice, justice" – in its different voices --  is ONE. The love we owe each other is ONE.
To Lila Watson's and Linda Sarsour's challenge, I respond: We have indeed come together because we do believe that "your" liberation is bound up with "mine."  So let us work together!
Reb Arthur Waskow
The Shalom Center
Re: Question 1: The Road Not Travelled
 
(posting on Portside Labor)
I think the defeat of Question 1 is a defeat for patients and nurses. The opposition used fear techniques similar to those we face in a union election campaign,  Fear! ... not enough nurses, cost too much, there will be long lines at emergency rooms, small hospitals will close... none of these criticisms were true, unless the hospitals just stuck their feet in and refused to adjust to the staffing requirements. Also safe staffing has been an item in negotiations for years. The hospitals could have negotiated mutually acceptable safe staffing rules with the union. Also the Mass Legislature could have negotiated with the union before the question went to a state wide ballot. To put all the blame on the union is wrong!
Judy Atkins
Greenfield, MA
Re: Amazon Is Everything That's Wrong With America
 
It seems that this new deal in New York is good for Amazon only.
And politicians who want to claim job growth.
They make huge money.
Let them pay their way.
Remember this is the company that wants 100% automation some day!
Howie Leveton
Posted on Portside's Facebook page
Re: Immigrant Food Stamp Use Plummeted after Trump Took Office, New Research Shows
 
Undocumented immigrant parents cannot get food stamps. Their US born children can. But. A part of the Trump program to starve the beast (and enrich the rich) has been to starve the babies. As a result, immigrant families have stopped getting food stamps (as they realize that food stamps will doom their green-card applications under Trump). Here, a very good report on a very bad situation. Judith and I were talking to a homeless woman yesterday who got a Thanksgiving Turkey from church but who had no place to cook it (of course). We've taken the first few steps toward driving these criminals from power. There's so much more to do. Thanks to H. Claire Brown for the report on the Public Health Association study and to Portside for the link.
Daniel Millstone
Posted on Portside's Facebook page
Re: For First Act in Power, Democrats Consider Making Their Own Agenda Impossible to Pass
 
In Canada employers pay a payroll tax of about 1% of wages per year. Depending on the amount of employees. Small businesses of few employees are not taxed . When you think of companies with 6000+ employees, they can afford it. US companies in Canada do this.
Cher Lunn
Posted on Portside's Facebook page
     =====
That leaves the other top 20 percent liable for tax increases which could reverse some of the massive cuts to the ultra rich who have always received the most benefit from previous cuts.
Stewart Wannamaker
Posted on Portside's Facebook page
     =====
Good one , make the top. 20% pay , what a shock that would be for top 10% that have never paid taxes
Dave McElroy
Posted on Portside's Facebook page
Re: Toward Racial Justice and a Third Reconstruction
 
Bob Wing's article, both an addition to and an explanation of his new book, is very good. I may have a few quibbles about how he sets up the international situation, or the nature of the transnational capitalist class, by that's minor here. I would like to underscore a point he needs to focus on more sharply. Bob correct argues for broad fronts and building coalitions, as well as emphasizing the importance of states, counties, and cities. This is on target. But I would like to stress that to build coalitions, especially at the base, we all need an organization to build coalitions WITH, ie, we need a group of our own to take a seat at the table where all the other members of the coalitions-in-formation are seated, or will be seated. We cannot simply be catalysts. We have to be players in our own right. That's the importance today of DSA, PDA, Our Revolution, and Indivisible, et. al.-- local groups with local chapters and thousands of members. We need to build them and make them strong. The harder the core, the broader the front.
Carl Davidson
CCDS, Steel Valley DSA
Re: When Media Say 'Working Class,' They Don't Necessarily Mean Workers — but They Do Mean White
 
The US is backing into a sort of modern prehistory when no one had rights except whites, specifically, male whites. They are making the anachronic become the future.
Roberto Buxeda
Posted on Portside's Facebook page
     =====
EU is destroying itself. It will continue to divide and decay until there's no nation or will have to take measures to eliminate the hate wave is consuming it.
David Pere Esteves
Posted on Portside's Facebook page
Re: Are You Ready To Consider That Capitalism Is The Real Problem?
 
(posting in Portside Labor)
Finally the light goes on . .
Ronald Vander Bosch
Posted on Portside's Facebook page
     =====
Capitalism breeds race and stratification cultures.
James Witheridge
Posted on Portside's Facebook page
     =====
Excelente Artículo
Must Read
Magda Iglesias Cumba
Posted on Portside's Facebook page
Re: A Political Seesaw in Germany
 
This provides an important analysis from Victor Grossman.  But Grossman doesn't really explain why the Linke have been unable to benefit from the GroKo collapse and win voter support as a real alternative,  Their program should be attracting millions of supporters and some of their leaders are excellent campaigners, but somehow they haven't resonated with the voters.  Wagenknecht's Aufstehen hasn't done anything to resolve the issue either, it is just threatening to split the Linke.  I don't understand why they haven't done a lot better and wish Grossman had been able to enlighten me, but he hasn't here.
Stan Nadel
Re: Striking Marriott Workers in Boston Reach Agreement With Hotels
 
(posting on Portside Labor)
Grateful both sides reached an agreement. Solidarity and persistence pay off. I only wish the Yankees and the Dodgers stood with the Workers.
Paul
Posted on Portside's Facebook page
Re: Inside the Flat Earth Conference, Where the World's Oldest Conspiracy Theory Is Hot Again
 
Well, maybe they'll all decide to jump off the edge and leave us in the peaceful pursuit of actual knowledge...hope springs eternal
Wendi Galczik
Posted on Portside's Facebook page
     =====
They actually have a conference? LMAO
Eleanor Gemmell
Posted on Portside's Facebook page
Re: 'Get Out' Producer Booed Off Stage at Israeli Film Festival for Criticizing Trump
 
(posting on Portside Culture)
What a sad and disturbing happening. 
Joyce Parkes
Portside Needs You! Our Annual Fund Appeal
 
Please consider contributing to Portside. For years, I have found Portside to be the most consistent source for the most important news and commentary for those seeking information and thought-provoking insights relevant to our people everywhere; extremely grateful to Portside, for years!
Kipp Dawson
Posted on Portside's Facebook page
     =====
Wake up every morning with port side thank you this is a real labor of love
Tito
When the Franco Dictatorship Tried to Silence Pete Seeger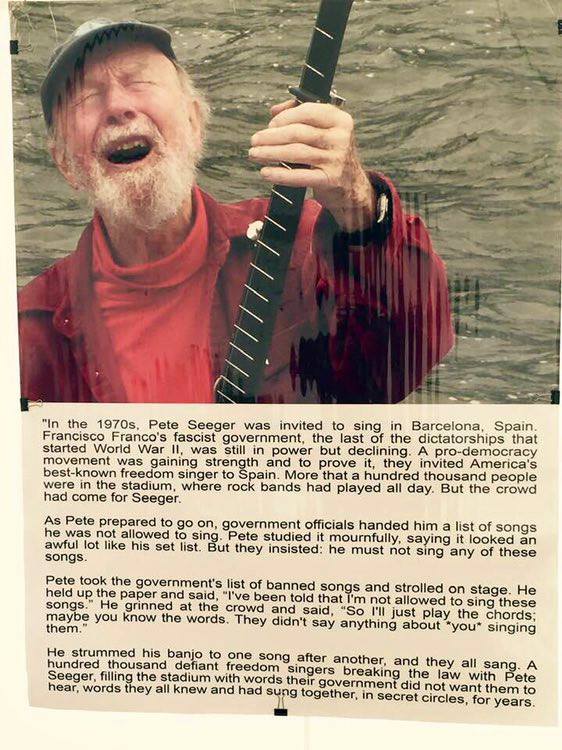 Richard Chamberlain post on Nobel Peace Prize for Pete Seeger Facebook page
New Report - Conflicts of Interest of the PROMESA Board Chairman (Puerto Rico fiscal control board)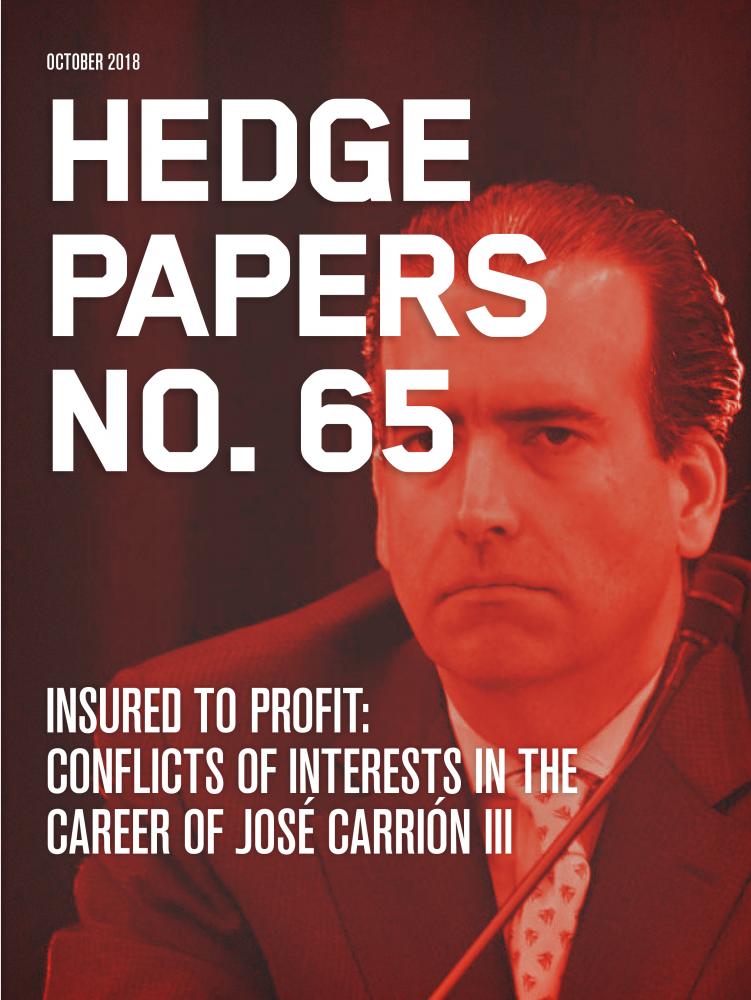 It has been two years since the approval of the PROMESA Act and the establishment of the Financial Oversight and Management Board (the Oversight Board) in Puerto Rico. The austerity measures implemented have been catastrophic for millions of people in the Caribbean archipelago. Dramatic cuts have been approved for many essential services, including healthcare and education. Hurricane María only exacerbated what was already a deep social crisis.
As chair of the Oversight Board, José Carrión III – an insurance executive from the Carrión family banking dynasty – has played a central role in designing and approving policy decisions that prioritize Wall Street profits over the well-being of Puerto Ricans. Carrión is well connected with the Republican Party. He has been an active donor since 2002, and he served as the state network coordinator and chairman of the American territories leadership team for the 2012 presidential campaign of Rick Perry, the former governor of Texas and current Secretary of Energy (it's worth noting that Perry now oversees the Puerto Rico Electric Power Authority, or PREPA).[1] Recently, he's been a significant donor to House Speaker Paul Ryan, who appointed him to the Oversight Board, and to Rob Bishop, chair of the House Committee on Natural Resources, which is authorized to oversee the Oversight Board.
Carrión's other connections – through his insurance firm, Carrión, Laffitte & Casellas (since 2012, Hub International's Puerto Rico branch), and his family's role at Popular, where his father was a member of its board of directors – are well known. What is less known, and what this reports elaborates on, is that Carrión appears to have used his close ties to key government regulatory agencies to benefit his business partner. Furthermore, former colleagues at his insurance firm sat on the board of the Government Development Bank (GDB) during a key period of debt creation – and as chair of the Oversight Board, he has authority over what forms of legal releases they are granted as former GDB officials. 
PDF of Hedge Paper No.65 – English
PDF of Hedge Paper No.65 – Spanish
The Hedge Clippers are working to expose the mechanisms hedge funds and billionaires use to influence government and politics in order to expand their wealth, influence and power. We're exposing the collateral damage billionaire-driven politics inflicts on our communities, our climate, our economy and our democracy. We're calling out the politicians that do the dirty work billionaires demand, and we're calling on all Americans to stand up for a government and an economy that works for all of us, not just the wealthy and well-connected.
The Hedge Clippers campaign includes leadership and collaborative contributions from labor unions, community groups, coalitions, digital activists and organizing networks around the country, including the Strong Economy for All Coalition, New York Communities for Change, Alliance for Quality Education, VOCAL-NY and Citizen Action of New York;  Make the Road Connecticut; New Jersey Communities United; the Alliance of Californians for Community Empowerment (ACCE) and Courage Campaign; the Grassroots Collaborative in Illinois; the Ohio Organizing Collaborative; ISAIAH in Minnesota; Organize Now in Florida; Rootstrikers, Every Voice, Color of Change, 350.org, Greenpeace, the ReFund America Project and United Students Against Sweatshops; the Center for Popular Democracy and the Working Families Party; the United Federation of Teachers and New York State United Teachers; the American Federation of Teachers, the National Education Association, and the Communication Workers of America.
Common Dreams is Currently Hiring - December 15 deadline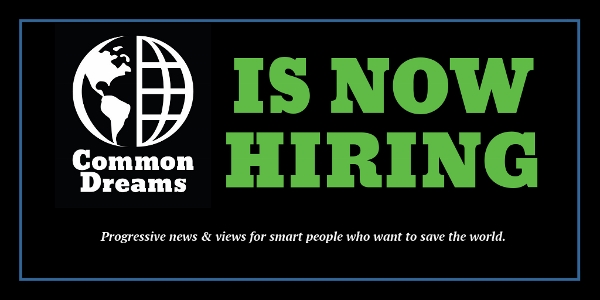 Senior Editor / Staff Writer
Common Dreams is currently hiring for a full-time senior editor & staff writer to help guide our newsroom team.
Position includes spearheading all aspects of daily news operation, including: news selection; assigning and writing stories; managing in-house reporting staff, and assisting with outside contributors.
Ideal candidate is experienced journalist and sharp-minded news junkie with progressive worldview. Top-notch editorial judgement and leadership skills required.
Not an entry-level position, but ideal candidate is ready to put years of quality experience and passion to work for an outlet whose commitment to a better world comes first and where the bottom line is maintained by serving our readers, not investors or corporate advertisers.
This is a full-time, salaried position in our offices located in Portland, Maine. Please note, telecommuting is not possible.
Application Deadline: Dec. 15, 2018. 
More information here.
To Apply:
Please send cover letter detailing your experience and interest in the position; your resume; and no more than 3 recent samples of relevant/published work. Email to senioreditor@commondreams.org with subject line: "Senior Editor / Your Name." No calls, please.
November 26: Webinar: The Impact of the 2018 Elections: Looking Ahead (Socialist Education Project and Committees of Correspondence for Democracy and Socialism (CCDS))
 
The Impact of the 2018 Elections: Looking Ahead
Webinar of the CCDS Socialist Education Project
Nov. 26, 8:30 -10:30 Eastern time, 7:30-9:30 Central time.
The Democratic Party regained control of the US House of Representatives and numerous state and local offices but lost ground in the US Senate.  There was a huge voter turnout, and a record number of women won office including younger women of color and open socialists.  Is the progressive voice now stronger within the Democratic Party?  What is the future direction of the Party and how can the Left and the people's movements have influence?  How does all of this shape up for the Trump resistance and the opening dynamics for the 2020 presidential election?
A special two-hour edition will examine these and other questions resulting from the historic 2018 elections. There will be presentations and reports, followed by discussion.
Speakers:
Steve Cobble -- co-founder of Progressive Democrats of America and associate fellow of the Institute for Policy Studies, Washington DC.
Donna Dewitt -- president emeritus of AFL-CIO of South Carolina, and activist in women's issues and single payer health care
Kathy Sykes -- Representative in Mississippi House of Representatives, longtime civil and immigrant rights activist of Jackson NAACP
CCDS members from around the country, and other invited Left and socialist speakers.
Topic: The Impact of the 2018 Elections: Looking Ahead
Time: Nov 26, 2018 8:30 PM Eastern Time (US and Canada)
Join Zoom Meeting
https://zoom.us/j/146935180
One tap mobile
+16699006833,,146935180# US (San Jose)
+19294362866,,146935180# US
Dial by your location
  1 669 900 6833 US (San Jose)
  +1 929 436 2866 US
Meeting ID: 146 935 180
Find your local number: https://zoom.us/u/aIQa5kvud
Film Showing and Meeting - Blood in the Streets: Battle of Sur - New York - November 30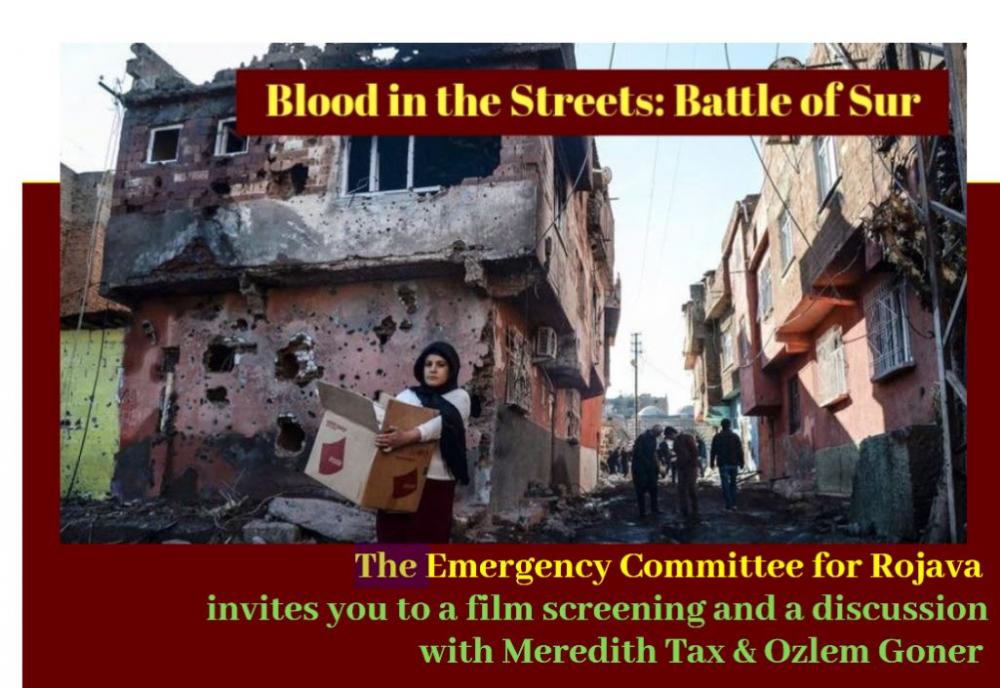 Friday, November 30  --  6:30 - 9:00 pm
Segal Theater
CUNY Graduate Center
365 Fifth Avenue
New York
FREE & open to the public
In the fall of 2015, Turkey declared war on its own citizens, bombing their homes, stationing snipers on rooftops, and destroying the ancient Kurdish district of Sur, a UNESCO historic site within the city of Diyarbakir. What was the Turkish government so afraid of?
Based on news footage and live interviews, the film by Hicran Urun and Zana Kibar is the untold story of how radical Kurds built a system they call "democratic autonomy" in Sur and other cities of northeast Turkey—a system based on pluralism, local control, and full citizenship for women. The Erdogan government found this level of democracy so threatening it responded by destroying the city, killing or jailing many of its activists, and dismantling the structures they had put in place for women's liberation.
Ozlem Goner s an Assistant Professor at the Department of Sociology and Anthropology at the College of Staten Island, CUNY. Her book, entitled Turkish National Identity and its Outsiders: Memories of State Violence in Dersim , was published by Routledge in 2017.
Meredith Tax has been a writer and feminist organizer since the late Sixties. Her most recent book is A Road Unforeseen: Women Fight the Islamic State . She is on the steering committee of the Emergency Committee for Rojava.
The Emergency Committee for Rojava was formed in 2018 to encourage and help facilitate coordinated action to end the occupation of Afrin and support autonomy for Rojava.
The Emergency Committee for Rojava, co-sponsored with Center for Place, Culture & Politics
Challenging Right-Populism: A Conversation w/ Yanis Varoufakis - New York - December 1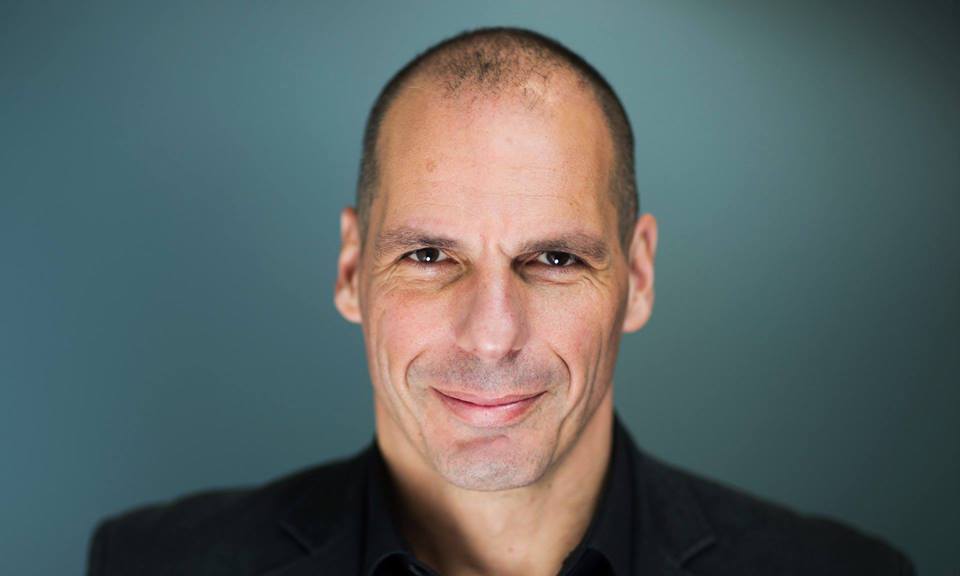 Saturday, December 1, 2018 at 6 PM – 8 PM
The New School
Theresa Lang Community & Student Center, Arnhold Hall 
55 West 13th Street
New York, NY 10011
Join former Greek Finance Minister Yanis Varoufakis and Jacobin for a conversation on the fight against right-wing populism in Europe.
Yanis will be joined by Daniel Denvir, the host of The Dig, a podcast from Jacobin magazine. On both sides of the Atlantic, economic crises have weakened the legitimacy of neoliberal capitalism and made migrants compelling scapegoats. While recent years have seen a resurgent left in the US and UK, the Right has also taken advantage of growing public disillusionment with the status quo.
In a live recording of The Dig, Varoufakis will discuss his European Spring initiative and address the sharp debates over how the left should move forward at a moment that poses incredible danger but also historic opportunities.
Accessibility: Arnhold Hall is wheelchair-accessible.
Please note: This event will not be livestreamed. It will be made available as an episode of The Dig on Jacobin Radio. You can subscribe to The Dig here.
Tickets:  Free Admission or $3.00 contribution
Let's Shake Europe! A Fundraiser for DiEM25 with Yanis Varoufakis - New York - December 1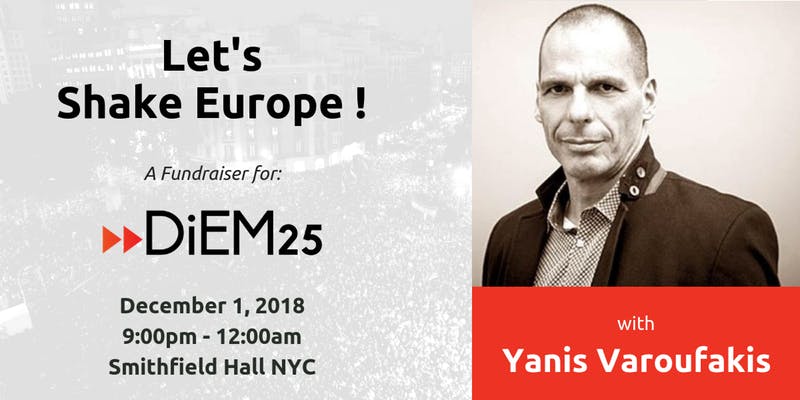 The European Union is disintegrating. After years of austerity, millions of people have lost faith in the European project. In this vacuum, a new axis of authoritarian leaders — from Salvini in Italy to Orbán in Hungary — is rising through a toxic mix of misogyny, xenophobia and nationalist hate.
DiEM25 was formed to restore hope to Europe. We are united behind a shared vision of Europe as a realm of democracy, sustainability, prosperity, and solidarity. And — for the first time — we are bringing this vision to the ballot box in the 2019 EU elections.
On Saturday 1 December, join Yanis Varoufakis and the DiEM25 NYC teamat a special fundraiser to shake Europe!
The fundraiser will follow an event with Jacobin Magazine at the New School, "Challenging the New Right-Populism: A Conversation with Yanis Varoufakis." Get a free ticket here but also come celebrate with us afterward! The Fundraiser will include a DiEM25 Raffle to win signed books by DiEM25 co-founders Yanis Varoufakis and Srecko Horvat. Buy tickets here — and join us on December 1 to see the winners.
DiEM25 depends 100% on donations from our members — we do not receive any money from big corporations, foundations or governments. All proceeds from the fundraiser will go to supporting our movement to stay alive.
Contact info: nyc1dsc@diem25.org
Saturday, December 1 -- 9:00 pm  - 12:00 am
Smithfield Hall NYC
138 West 25th Street
New York, NY 10001
New York Statewide Grassroots Gathering for Our Democracy - Albany - December 1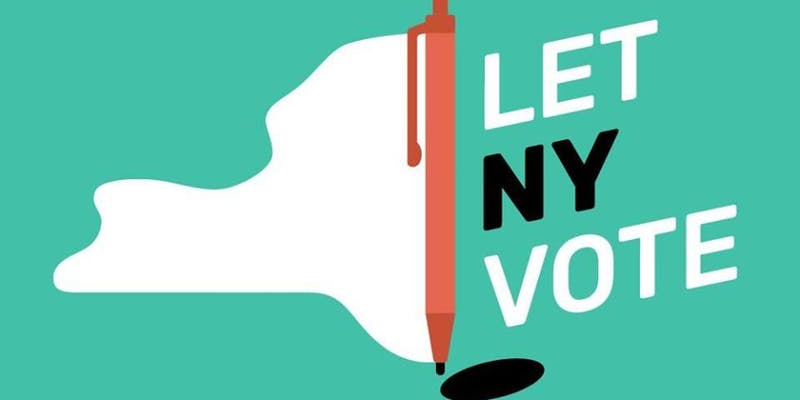 A grassroots convening to break down barriers to voting and empower every day New Yorkers in our democracy.
Saturday, December 1, 2018
11:00 AM – 5:00 PM EST
FREE
First Presbyterian Church of Albany
362 State Street
Albany, NY 12210
Celebrate with Bill Fletcher Jr. his first novel - New York - December 8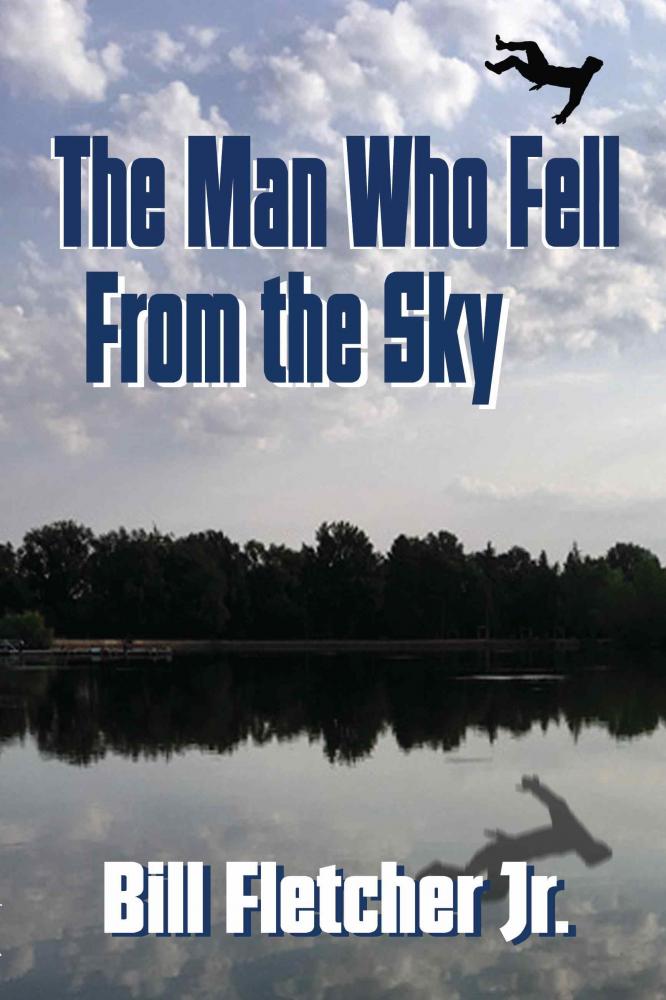 Join award-winning journalist and lifelong social justice advocate Bill Fletcher, Jr. (NWU DC Chapter member) for the launch of his first work of fiction: The Man Who Fell From the Sky, a crime novel. Bill will discuss his novel's exploration of racism and inequality through the eyes of a young journalist of Cape Verdean descent who investigates a murder in a small Cape Cod community in 1970 while covering the anti-Viet Nam War protests and the Black Panthers. His interviews of people of color, African-American and Cape Verdean, bring him a new understanding of the African diaspora and the challenges of surviving in America.
Set within a Cape Verdean American community undergoing a transformation of its own consciousness, Fletcher's crime novel dives deep into two timely questions: Is revenge ever a moral form of justice, and when does silence become complicity as criminal acts are committed before your own eyes? Bill will also discuss the unique ways in which a work of fiction can explore and reveal important truths about the human condition, as well as touch the heart and stir a people to take action.
SATURDAY, DECEMBER 8, 2018
6-8:30 pm
256 W. 38 Street
12th floor (UAW conf. rooms)
Manhattan
Light refreshments will be served!
RSVP: sheard2001@gmail.com or 917-428-1352
Hard Ball Press
The Purgatory Trial of Vito Marcantonio - New York play - December 9
 
Save the Date: 2020 Labor Notes Conference - Rosemont (Chicago) - April 17 - 19, 2020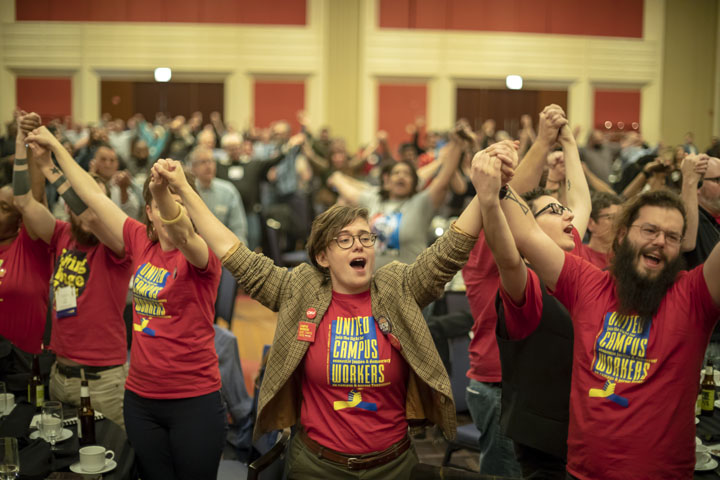 We're excited to announce that the next Labor Notes Conference will take place April 17-19, 2020 at the Hyatt Regency O'Hare in Rosemont, Illinois.
Our 2018 Conference, with 3,000 union members and worker center activists in attendance, was our biggest yet. We hope 2020 will be even bigger! Stay tuned for more details as we get closer.
More details will be announced as get closer to the conference. For now, mark your calendars and save the date!
Can't wait that long? Neither can we. In 2019, our 40th anniversary year, we'll be organizing Troublemakers Schools and other trainings in cities across the country. Want to bring us to your city or union hall? Contact training@labornotes.org. And stay tuned for details on plans to commemorate our 40 years of troublemaking.
The Labor Notes Conference is the biggest gathering out there of grassroots union activists, worker center leaders, and all-around troublemakers.
Join thousands of union members, officers, and labor activists who are on the front lines in our workplaces and our communities, organizing new workers and agitating together. Meet troublemakers from across the country and around the world.
More than 200 meetings and workshops include creative organizing tactics, beating apathy, running for local union office, winning contract campaigns, bargaining over technology, understanding the economy, surviving "right to work," and reviving the strike.
Organize with others in your union, industry, or campaign. Face-to-face meetings to share tactics and swap notes are the heart of the Labor Notes Conference. Join an existing industry, union, or caucus meeting—or contact us to set one up.
Labor Notes
Main Office: 7435 Michigan Ave, Detroit, MI 48210; (313) 842-6262.
East Coast Office: 104 Montgomery St, Brooklyn, NY 11225; (718) 284-4144