Global Left Midweek - December 19, 2018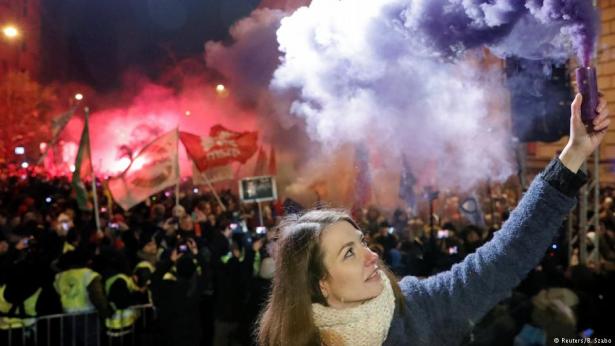 Budapest protests target Orban's "slave law",Deutsche Welle
__________
Hungarian Government Facing Warm Political Winter

Matyas Benyik and György Droppa / transform! Europe (Vienna)
On Sunday, December 16, more than 30,000 people rallied against a new "Slave Law" passed by Prime Minister Viktor Orbán's right wing government.
__________
New Zealand: Realising Disability Rights 101
Chris Ford / Newsroom (Wellington)
Both in Aotearoa and globally, disabled people continue to face higher levels of harassment, discrimination and abuse than non-disabled people. The continuation of these injustices is what stops the United Nations Convention on the Rights of Persons with Disabilities (UNCRPD) from being fully realised.
__________
Belgium: "For A Socialist Future"
Peter Martens Interviewed By David Broder / Jacobin (New York)
A party of Marxist-Leninist background is mounting a surprising challenge to the mainstream.
__________
Uruguay: "The Dreams of an Old Man"
José (Pepe) Mujica Interviewed by Luca Celada / Il Manifesto Global (Rome)
We spoke with former Uruguayan President Pepe Mujica, subject of the new movie La Noche de 12 Años. 'Life taught me that you can always do worse than fighting for democracy, despite all its flaws. You can't be neutral, history teaches us.'
__________
The Dangers of NGO-isation of Women's Rights in Africa
Hala Al-Karib / Al Jazeera (Doha, Qatar)
NGOs agendas in Africa depoliticise women's rights and sideline and weaken grassroot African activism.
__________
Québec Solidaire's Path to Power
Richard Fidler and Pierre Beaudet / Life on the Left (Ottawa)
Québec solidaire will make climate change the party's main political campaign issue in the coming year, both in and outside the National Assembly.