Women's March 2019 -- Portside Readers Weigh-In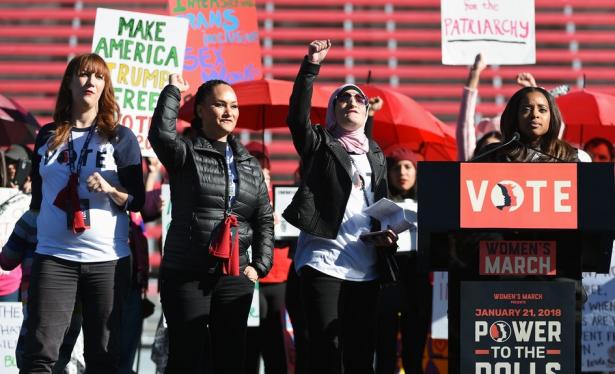 Women's March, Washington,DC, 2018,credit: Ethan Miller/Getty Images // Elite Daily
Last week Portside posted a piece by Rosalind P. Petchesky, An Appeal to Jewish Women to Support the 2019 Women's March and Its Leaders.  More than fifteen thousand have viewed this post on the Portside website, and the Facebook and Twitter feeds of portside. Countless others have forwarded the original Portside email. Thousands of these readers have then shared this on social media. 
In 2017 the original Women's March was the first major unified opposition to the election of Donald Trump and the coming to power of the Trumpites. The day after Trump's inauguration, nearly half-million women and their supporters took to the streets of Washington, DC. [see New York Times story, Crowd Scientists Say Women's March in Washington Had 3 Times as Many People as Trump Inauguration.] The Washington Post reported that the Women's March on Washington "was likely the largest single-day demonstration in recorded U.S. history," with marches in 653 communities throughout the United States.
"In total, the women's march involved between 3,267,134 and 5,246,670 people in the United States (our best guess is 4,157,894). That translates into 1 percent to 1.6 percent of the U.S. population of 318,900,000 people (our best guess is 1.3 percent).
To put this in perspective, the combined armed forces of the U.S. military — including the Air Force, Army, Navy, Marine Corps reserves, National Guard, and Coast Guard — comprise just over 2 million people."
[This is What We Learned by Counting the Women's Marches, By Erica Chenoweth and Jeremy Pressman; February 7, 2017, Washington Post.]
Last year, over 1.5 million marched in 486 communities across the country.
Coming after the massive repudiation of Trumpism at the polls in the November election, preserving the unity of the Women's March mobilizations is very important.
In any mass mobilization people join it for different reasons, from different backgrounds, with different levels of development and understanding. It would seem that the Women's March mobilizations are no different.
From the beginning the Women's March was led by a group of majority non-white women, including African American, Chicana and Palestinian women. This was an important organizing point and rallying cry for the marches in it's first two years.
From the beginning efforts were under way to disrupt the unity of this movement, and undermine this leadership. At the same time charges were made that this leadership was anti-Semitic. How this leadership responded to those charges has been subject to debate and criticism.
Now in many cities there are efforts and plans to have two rival marches. This writer echoes the feelings of many that this type of division would only play into the hands of the Trumpites. At the same time, I feel that the bedrock of the movement against Trump must be against the ideology and practice of the right, and its props of racism, chauvinism, male supremacy, misogyny, homophobia, Islamaphobia, anti-immigrant hysteria and anti-Semitism and fascism.
Below are some of the submissions from Portside readers sent to Portside, posted on Portside's Facebook page and Twitter feed from:
Cathy Albisa; Elena Schwolsky-Fitch; Katharina Harlow; Jay Schaffner; Arno Hecht; Kelly Decker; Melissa Estes; Kelly Decker; Regina Kelly; Nick Eliopulos; Julie Cameron; John Kailin; Magali Sarfatti Larson; Peter Gilmore; Irena Klepfisz; Johanna Schulman; Nancy E. Phillips; Teraii Maria Serana
[The views expressed are my personal views. While I am one of the twenty-four moderators of Portside, these are my own, and not necessarily those of the Portside collective.]
Article by my dear friend Rosalind Petchesky... 
"It is time to stop letting Farrakhan be a lightning rod of racial division and to get on with the important work of addressing the persistence of white supremacy as well as anti-Semitism within the mainstream women's movement." .... "Who among us has not had to reckon with the contradictions and messiness in our own communities and families? My grandmother-a Jewish refugee in the early 20th century who escaped anti-Semitic pogroms in Russia and a patriarchal father who burned her books-was the first person I heard utter the derogatory Yiddish word "schwarze."" 
Its time to heal sisters and allow healing ... Lets all vow to call out anti-semitism, racism, Islamophobia everywhere we see it, but to do so in order to create unity, not to bring down every voice that at a given moment carries some human contradiction. If we do that, we will find all of us, for as Ros notes who doesn't carry some messiness, mute. I am no fan of Farrakhan myself, not by a long shot, but until I cut off every deeply flawed relative and neighbor I have had in my life, I cannot demand repudiation of the person rather than their positions. I can tell you I have argued and fought and been clear, but I can't tell you I have refused to be associated with them. I have still gone to their dinners (and argued and fought some more) and their weddings (where I behaved better) and their funerals. I understand this is more public, the stakes are higher. But these women have been clear. Let them be heard.
Cathy Albisa
Posted on Portside's Facebook page
      =====
Adding my support, as a white Jewish woman...
Elena Schwolsky-Fitch
Posted on Portside's Facebook page
      =====
"We do not doubt the sincerity of those Jewish women who are raising the issue of anti-Semitism in the women's movement. But let's be clear about who the main forces pushing this campaign are and their real agendas. Organizations like the Anti-Defamation League (ADL), the American Jewish Committee (AJC) and AIPAC (the Israel lobbying group) know all too well that the political landscape in this country is changing. These organizations fear they are losing a whole generation of young Jews who do not adhere to the code of blind devotion to Israel and its policies."
Katharina Harlow
Posted on Portside's Facebook page
      =====
The attempt to split the massive anti-Trump Women's March movement plays into the hands of the right, plays into the hands of the Trumpites. Am saddened, as a Jew, to see the attack on the movement and it's leaders because these women are brave enough to stand up and proclaim for all oppressed peoples' rights - Jew and non-Jew, including Palestinian peoples. That is why they support BDS, and that is why the orchestrated attack on them.
Jay Schaffner
Posted on Portside's Facebook page
      =====
Anti-Semitism on the left is a problem that unfortunately keeps popping up. When a leader of the Women's March sings praises of Louis Farrakhan - who is indeed an anti-Semite - she is responsible for causing a split that has nothing to do with BDS. When a Jewish activist is challenged for being a Jew, it has nothing to do with BDS (the legitimacy of which is debatable). There are those of us who recall when certain segments of the left used the term "Zionist" as a thinly-veiled euphemism for "Jew" (e.g. - referring to a nasty Harlem landlord as a "Zionist landlord;" criticizing Abbie Hoffman and Jerry Rubin as "Zionists Hoffman and Rubin"). Just as there's a need to be sensitive to racism, there's a need to be sensitive to anti-Semitism - especially when it's on the rise under the orange turd!
Women's March Roiled by Accusations of Anti-Semitism
Arno Hecht
Posted on Portside's Facebook page
      =====
The Women's March is the decentralized work of thousands of volunteers that these few women have attempted to co-opt, steal, and twist into an antisemitic message. They attempted to copyright the logo and CAWM and our 15 chapters have had to take them to court. National, under these women, doesn't give squat to the chapters, which do all the work and raise all the money for the marches. They need to go in order for the WM to continue. They cannot steal the work of the grassroots and make it their own.
Kelly Decker
Posted on Portside's Facebook page
      =====
Plus - they did not "organize" the WM. It was a spontaneous grassroots movement. Yes, they got permits. Then they screwed it up with their "speakers." We wanted to march! Not listen to a bunch of performers.
Melissa Estes
Posted on Portside's Facebook page
      =====
That is what I was trying to say, thank you. I am not giving up the WM to women with active ties to Farrakhan and NOI.
Here is the contrasting view, with details of current problematic and deep ties to Nation of Islam and Farrakhan, who recently called Jews Termites. It is not the whole movement. It is specifically these four women. See this expose.
Is the Women's March Melting Down?
Kelly Decker
Posted on Portside's Facebook page
      =====
What happened? What anti-Semitic incidences? (been away from news) This is similar to finding out that Walt Whitman was anti African-American. AND an abolitionist!!!!!
Regina Kelly
Posted on Portside's Facebook page
      =====
It revolves around Linda Sarsour
Nick Eliopulos
Posted on Portside's Facebook page
      =====
The main thing wrong with this foursome of co-leaders is that they pushed out other women from the leadership and created a hierarchy where there was supposed to be none. Exclusionary practices of any kind do not serve feminism and are just more of the same top-down censorship / usurping of power.
Even the Women's March Global has distanced themselves from the US event represented by these 4 spokespeople. No one voted for them, and they decided to shun other activists who had already been contributing to the organizing. They pulled a shameless power-grab.
Julie Cameron
Posted on Portside's Facebook page
      =====
Thank you Prof. Petchesky for speaking these fundamental truths.
I also speak as a Jew and a sustaining member of Jewish Voice for Peace.
John Kailin
Bryn Mawr, PA
      =====
I am afraid that the accusation of who is behind the campaign is fully convincing. AIPAC, ADL, etc.
Magali Sarfatti Larson
Philadelphia
      =====
The outrageous attacks on the principal organizers of the Women's March are maddening and distressing.
Peter Gilmore
Posted on Portside's Facebook page
      =====
Some sanity....
Irena Klepfisz
Posted on Portside's Facebook page
      =====
worth reading. I'm still on the fence.
Johanna Schulman
Posted on Portside's Facebook page
      =====
This is important and makes total sense:
Nancy E. Phillips
Posted on Portside's Facebook page
      =====
Religion, the established institution, is the bane of us all.
"This is a replay of the specious charges against Tamika begun last February. But Shook's accusation unleashes an even more toxic virus: a pernicious chain of guilt by association. Tamika is guilty because she didn't denounce Farrakhan and Linda Sarsour is guilty because she didn't denounce Tamika and the Women's March because it didn't denounce Sarsour, and then all of us who support the march and its current leaders will be caught in this illogical and divisive web."
Teraii Maria Serana
Posted on Portside's Facebook page
For information on this year's Women's Marches
The Women In Our Family
The women in our family are strong. We've spent the past two years rising up like the water. And we won't go back.
watch here.
1/19/19: The #WomensWave
Sister Marches - Third Annual Women's March: #WomensWave
https://actionnetwork.org/event_campaigns/third-annual-womens-march-wom…
Click here, or on map image to find a march near you.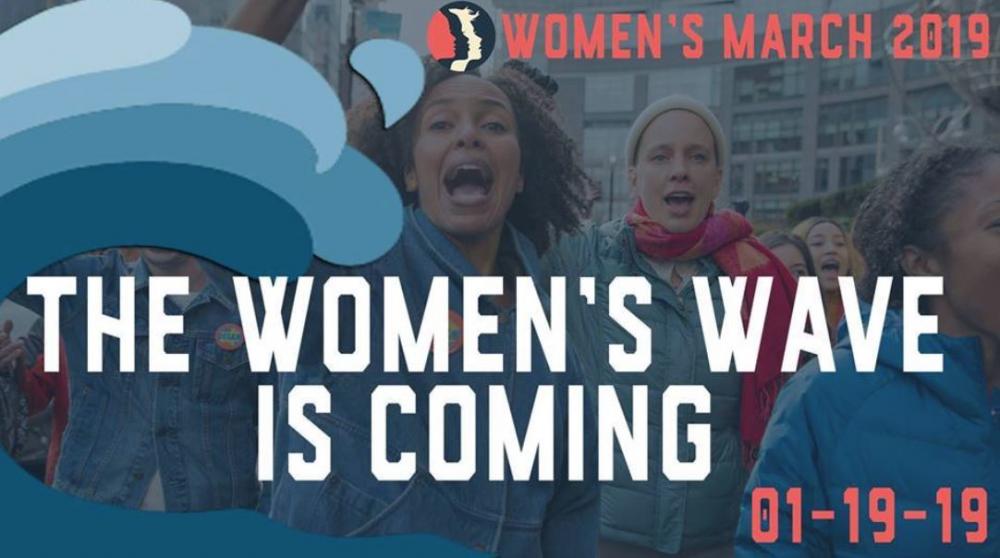 1/19/19: The #WomensWave is coming.
It's time to march again.
The 2017 Women's March inspired hundreds of women to run, millions more to vote, and dozens to win elected office. The 2019 Women's March marks two years of resistance to the Trump presidency, two years of training new activists, and two years of building power. And this time, we're coming back with an agenda.
On January 19, 2019, we're going to flood the streets of Washington, D.C., and cities across the globe. The #WomensWave is coming, and we're sweeping the world forward with us.
Looking for a #WomensWave event outside the United States? Head over to Women's March Global to find an event on the Global Map or create one of your own!