Birmingham City Council Unanimously Approves Resolution of Support for Dr. Angela Davis; Group Sets Celebration of Angela Davis, Protests BRCI Revoking Its Award
Angela Davis,Photo Source: Courtesy of Columbia GSAPP. Creative Commons license // Birmingham Watch
Birmingham City Council unanimously approves resolution of support for Dr. Angela Davis

PRESS RELEASE                      Tuesday January 8, 2019
Birmingham City Council
Contact: Chiara Perry
Phone: 205-254-2036
Cell: 205-383-8432
chiara.perry@birminghamal.gov
On the heels of the news that broke over the weekend that the Birmingham Civil Rights Institute rescinded an award that was to be presented to Dr. Angela Davis, the Birmingham City Council unanimously passed a resolution of support for the civil rights icon.
The BCRI issued a statement saying "supporters and other concerned individuals and organizations, both inside and outside of our local community, began to make requests that we reconsider our decision," and claimed Davis did not meet the criteria for the Fred Shuttlesworth Human Rights Award.
It has since been reported that Davis's long-time support of Palestine and calls for a boycott of Israel was seen as an issue for the BCRI board.
Councilor Steven Hoyt issued this statement during today's City Council meeting regarding the matter (he later called for a resolution of support that was unanimously approved):
"I want to say something about what we've experienced in the last couple of days since we learned on Saturday that the Birmingham Civil Rights Institute decided to withdraw an award that was to be given to Dr. Angela Davis.
 It is absolutely embarrassing to withdraw an award and it's disingenuous that we would be selective in our measure of one's humanity without considering the totality of their lives. We are products of our experiences, so where is the grace in this matter? She didn't nominate herself. The nominating committee deemed her worthy and now she's not. All money isn't good money, especially if it's contingent on a partial view akin to "don't shout until I tell you to shout."
 Where is the inclusivity? The Birmingham Civil Rights Institute was founded principally to embrace all cultures and all people from all walks of life. In the academic community, professors like Dr. Davis have freedom. Colleges like UAB don't agree with everything that every professor says. But we are to respect their opinions because sometimes their teachings can provoke new thoughts. So to judge someone by a portion of their work and not the body of their work is just not right.
 Here we are in a society where banks owned slaves. Do we stop using those banks? We have former presidents who owned slaves and yet do we not honor them as founding fathers of the United States of America? So where is the grace? It's disheartening and embarrassing that you would judge a person by a segment of their life.
 This woman lived it. A bomb couldn't have gone off at Center Street and she not experience it and yet we've forgotten about that part. We let a few people decide how we celebrate the black community. That's an indictment. We all should be outraged because this was the epicenter of civil rights. Her influence is international and this makes it look like everyone respects her but us. She's a champion for women's rights, race relations and here she has an opportunity to be honored by her hometown and this is how it get's handled. I'm embarrassed to serve in a city that would support this.
 George Wallace said "Segregation now, segregation forever," but he said he changed his heart. We accepted that and there were a whole lot of black folks that voted for him to be governor.
 But now we have this woman — I want to emphasize, this woman, because they wouldn't treat a man like that — and you treat her wrong. It's not right. You can't mischaracterize a person for one part of their life when their work is so broad and their heart is inclusive.
 There are some things that are in the works where the city still plans to honor her. She's one of our daughters. It's important that young people know the body of her work. Not just a piece of it. Sometimes it takes an outside voice. She's gone into communities around the world to bring awareness to humanitarian issues. Her entire life has been about bringing civil rights to all people. And for that we must honor her and celebrate the life of one of our own."
This press release was written by Cody Owens, Public Information Officer, in the Birmingham City Council Office of Public Information. For media inquiries please contact the Interim Director of Public Information, Chiara Perry at 205.254.2294.
Group Sets Celebration of Angela Davis, Protests BRCI Revoking Its Award
By Solomon Crenshaw Jr.
January 9, 2019
Birmingham Watch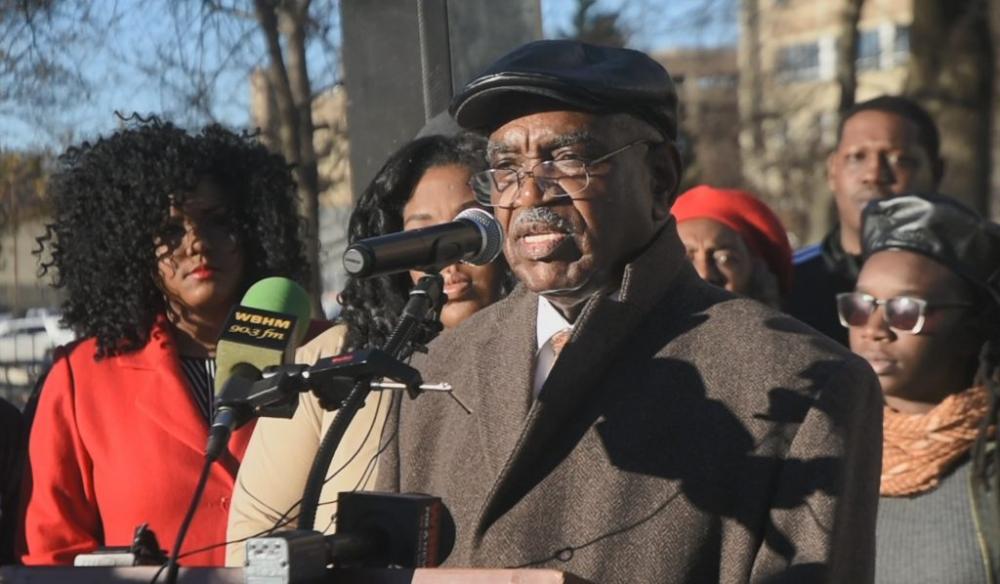 Birmingham Civil Rights Institute's controversial cancelation of its plan to honor civil rights icon Angela Davis continues to generate aftershocks.
A grassroots collection of civic, religious, legal, educational and business leaders announced Wednesday that it will honor Davis in a day that will conclude with an evening event – A Conversation with Angela Davis.
Earlier in the day, three members of the BCRI board of directors announced their resignation from that body. Chairman Mike Oatridge, first vice chairman Walter Body and secretary Janice Kelsey stepped away, effective immediately.
In a joint statement, the three said it was an honor to be associated with the institution, its leadership, staff and supporters.
"As members of this board, we regret the circumstances surrounding the selection process regarding the 2018 Reverend Fred L. Shuttlesworth Human Rights Award and the dissension this has caused," the release read. "We care deeply about this institution and its continued success. … It is hoped this move will enable the City of Birmingham to create a board structure that will best enable the BCRI to continue its critical mission in the future."
The BCRI had chosen Davis to receive the Shuttlesworth award during its annual gala next month. But several days ago, the institute rescinded that offer and canceled the gala, saying in a statement that Davis "does not meet all of the criteria on which the award is based."
Standing in the middle of Kelly Ingram Park and across the street from BCRI on Wednesday, members of the Birmingham Committee for Truth and Reconciliation said it will honor Davis, a Birmingham native, on Feb. 16.
The committee, reconstituted from a civil rights group active in the 1960s, includes 31 persons. Among its members are former Birmingham Mayor Richard Arrington, retired federal judge U.W. Clemon, Birmingham Times founder Jesse Lewis and Woke Vote founder DeJuana Thompson.
During the press conference, Thompson read excerpts from an open letter to Davis, their "shero."
"We want you to know that Birmingham stands with you," she read. "Dr. Davis, we will not allow any denial of your life, legacy and impact around global human rights to persist because we love you, we honor you and we will fight with you."
Clemon said later he did not know why BCRI had revoked its invitation to Davis. He added that he thought the move was completely inappropriate "and I so expressed it to everyone that I know."
"To the extent that it was revoked, it was because of her position on the Palestinian situation," he said. "Her views are identical to mine. I believe there is a longstanding injustice in the Palestinian relationship with the state of Israel."
AL.com reported having obtained a Jan. 2 letter from Birmingham Holocaust Education Center to the board of directors of the Birmingham Civil Rights Institute, expressing "concern and disappointment" with BCRI's honoring activist Davis with the Fred L. Shuttlesworth Human Rights Award at its annual gala and urging the Institute to "reconsider your decision." AL.com reported that BHEC cited "recent outspoken support of the Boycott, Divestment and Sanctions (BDS) campaign against Israel.
Reading from a prepared statement at the press conference, retired circuit judge Houston Brown said Birmingham Committee for Truth and Reconciliation believes, "There can be no healing or reconciliation of our deep divisions without truth and honest dialogue. We look forward to celebrating Dr. Davis and honoring a true icon who once called Birmingham home."
Details of the Feb. 16 events will be released later. "As far as the committee is concerned, the events will be open to the public," Clemon said. "We don't anticipate there will be any charges to the public for contact to Miss Davis."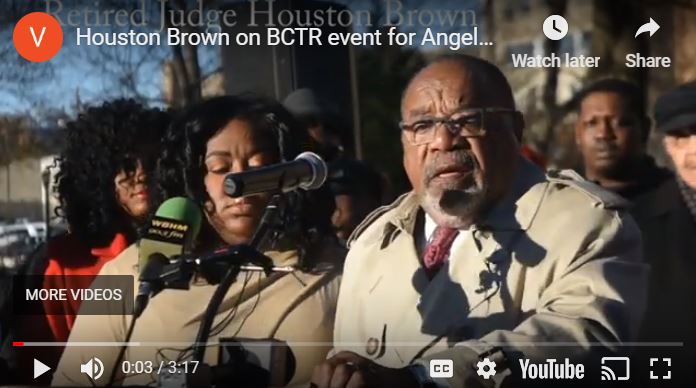 Watch here.