Black Myself: Rhiannon Giddens Forms Supergroup 'Our Native Daughters' and Reclaims the Soul of Country Music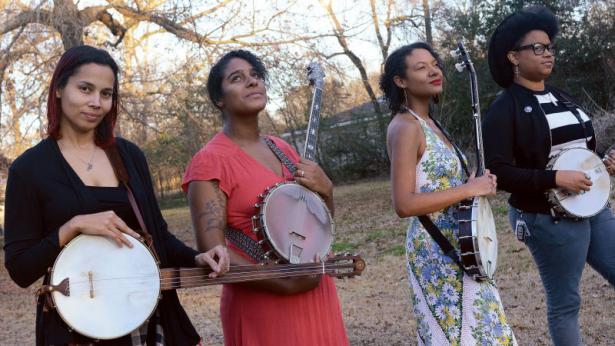 Rhiannon Giddens, Leyla McCalla, Allison Russell, and Amythyst Kiah form the supergroup "Our Native Daughters",Photo: Smithsonian Folkways Recordings // The Root
Four women. In 1966, Nina Simone famously sang the strikingly diverse yet intersecting narratives of four fictional-but-unforgettable black women. Now, four women who could be considered Simone's spiritual daughters—award-winning musician and composer Rhiannon Giddens, acclaimed neo-folk singer-songwriter Amythyst Kiah, classical and folk artist Leyla McCalla (formerly of Giddens' Grammy-winning band, the Carolina Chocolate Drops), and Americana/folk singer Allison Russell of Birds of Chicago—have joined forces as the newly formed, string-based supergroup Our Native Daughters.
Each of the four is well-versed and rooted in traditional American folk music. Each is a skilled and prolific songwriter. And notably, each counts the banjo among her instruments, claiming her rightful place in an indigenous American art form that has historically denied the blackness at its roots. As Kiah wrote and sings on the group's debut single, "Black Myself," which premiered on Friday morning:
I don't pass the test of the paper bag, 'cause I'm black myself;


I pick the banjo up, and they stare at me, 'cause I'm black myself.

You better lock your doors when I walk by, 'cause I'm black myself;

Look me in my eyes, but you don't see me, 'cause I'm black myself...
Listen here.
The quartet releases their debut album, Songs of Our Native Daughters, on Feb. 22 via Smithsonian Folkways Recordings, the nonprofit record label of the world-renowned Smithsonian Institution. The 70-year-old label is part of the Smithsonian Center for Folklife and Cultural Heritage, boasting releases and reissues by hundreds of musical and cultural legends, including Lead Belly, Big Mama Thornton, Art Tatum, Fannie Lou Hamer, and even Angela Davis and Huey P. Newton.
In an effort to ensure the future is as artistically rich as the past, the label is now also supporting new life and accurate historical context in traditional musical genres. Along with this month's release from Our Native Daughters, last year, Smithsonian Folkways released Black Cowboys, an homage to the black roots of cowboy music by Giddens' former Chocolate Drops bandmate, Dom Flemons. Next weekend, Black Cowboyswill contend for a 2019 Grammy for Best Folk Album.
Co-produced by Giddens, Songs of Our Native Daughters revives not only the black string band tradition but also our history of protest music. Incorporating original compositions and new interpretations of older songs, the album confronts head-on the still-persistent issues of inter- and intraracial discrimination, disenfranchisement, and disillusionment. And at its heart, the singular and raw power of black womanhood.
"Leyla, Allison, Amythyst and I quickly fell into a collaborative, generous, and loving songwriting mode," Giddens writes in the album's liner notes. "Creating with other women of color around these historical topics was powerful. It felt like there were things we had been waiting to say our whole lives in our art, and to be able to say them in the presence of our sisters-in-song was sweet indeed."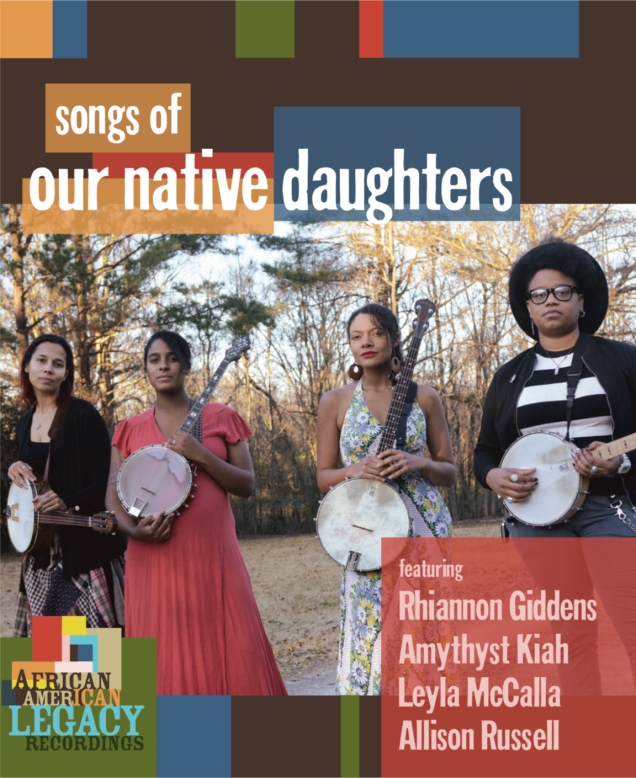 Earlier, she writes, "This album confronts the ways we are culturally conditioned to avoid talking about America's history of slavery, racism, and misogyny, knowing that what's past is prologue—but only if we let it be."
Giddens, a 2018 Root 100 honoree, was still struggling with those liner notes when The Glow Up spoke with her in November about the seemingly unconventional path she's forged in traditional country music—one she readily traces back to our ancestors.
"I've chosen a very odd career," she admits. "I could have, I think, made a case for actually going for mainstream country [music], once upon a time...but it's not what I'm interested in, to be honest. I mean, I love country history, and I love old country, and I love where it came from—the old-time string band music. And that is really where my heart lies, because you know that's where so much African American presence went into the genre, and it's completely ignored."
"It's one of the examples that's been co-opted," she continues. "And people wanting [country] to be a response to what was going on in jazz and blues and sort of going, 'OK this is our white heritage' when it's just total BS. And so, that's always really been my focus. That history is hidden in plain sight, you know; blacks in country music. It's right there, in so many different ways."
Giddens references the earliest known recording pairing banjo and fiddle: her chosen instruments. She points out that while the genre is associated with the white South, the recording in question was actually created in New England, featuring black musicians.
"So this is a very clear through-line," she says. "Fiddle and banjo together is at the heart of so many American music genres, and is what you end up turning into country...It was like, 'Of course, the band is black. Of course, it's black people playing the banjo and the fiddle and playing for your party or your dances, because that's what the tradition was.'"
"And the fact that it's been so hidden, it still boggles my mind that something so vast could turn on a dime," she adds. "Ten short years from the beginning of the recording industry, and that history is almost erased. And that, of course, appeals to my sense of justice."
Giddens' journey into country music was a homecoming; both figuratively and literally. Graduating in 2000 from Oberlin Conservatory, where she studied opera, Giddens returned home to Greensboro, North Carolina, and was soon introduced to the banjo via the Appalachian folk music tradition known as contra dance music.
"I went, 'What is that? What is that amazing thing?'...And I loved the little sound of the clawhammer banjo, and then I found all these people playing it in my home state and my hometown, and fell in love with it. I kind of thought I was sort of sliding into it as an interloper—and then realized that the banjo is African."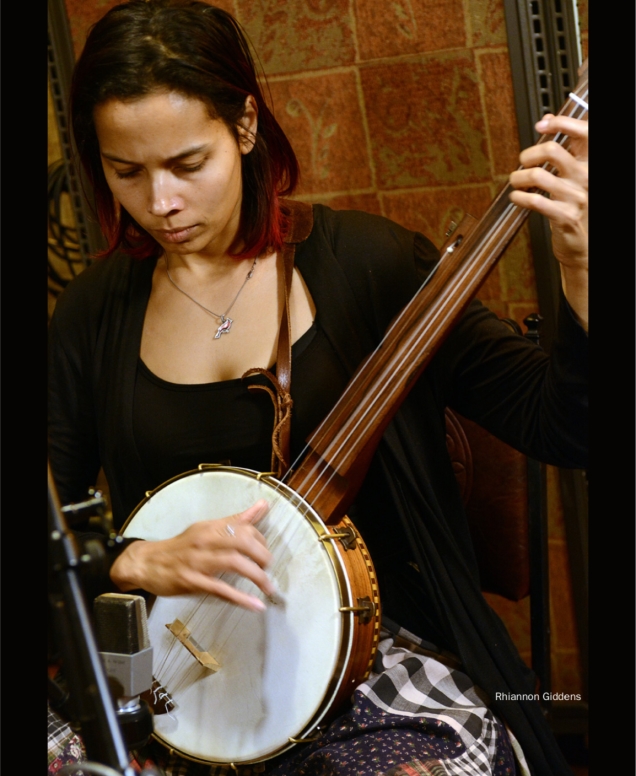 Giddens also met Flemons and Sule Greg Wilson, with whom she'd eventually form the Carolina Chocolate Drops (named for an early 20th-century black string band known as the Tennessee Chocolate Drops). Their collective mentor? Legendary "old-time" fiddler Joe Thompson, who, at the time, was one of the few still carrying on the black string band tradition.
"I realize the older I get how huge that was," Giddens says. "I was unknowingly able to learn at the feet of an elder who was actually way more important than even I knew....You know, [he was] 86 when I met him, and one of the last links to this tradition that used to be everywhere."
Carrying on that tradition was an impetus for Giddens' still-rising career, as well as a mission in forming Our Native Daughters—a tribute to the past with a decidedly black feminist remix.
"This record for the Smithsonian, I was like 'Hey, let's get together; let's tell stories of our history—black female history, which usually gets hidden," she says. "You know, they haven't had the air, the space, the focus...[We] start movements and then they get co-opted; they get put to the side, they say 'wait your turn.' You know, this has been happening forever, but who's at the heart of the economic engine of the United States?"
In the liner notes, Giddens traces both her indignation and inspiration to a screening of actor-director Nate Parker's ill-fated 2016 Nat Turner biopic The Birth of a Nation. Recalling the catalytic scene where Turner is portrayed as being inspired to revolt following the rape of his wife, Giddens was most struck by the erasure of the actual victim from the crime, writing:
The gaze of the camera, however, does not rest on her, the victim's face. It rests on her husband, the man who was "wronged" as an impetus for him to rebel against his white oppressors—and as I sat in the little theater in New York City, I found myself furious. Furious at the moment in a long history of moments of the pain and suffering of black women being used to justify a man's actions; at her own emotion and reaction being literally written out of the frame. The idea of taking historical words and notions and observations about slavery and making art with them then came to me.

There is surely racism in this country—it's baked into our oldest institutions—just as there is sexism, millennia old. At the intersection of the two stands the African-American woman. Used, abused, ignored, and scorned, she has in the face of these things been unbelievably brave, groundbreaking, and insistent. Black women have historically had the most to lose, and have therefore been the fiercest fighters for justice—in large, public ways that are only beginning to be highlighted, and in countless domestic ways that will most likely never be acknowledged.
Our native daughters, indeed.
While she's a lauded artist, Giddens laughingly describes herself as having "niche status." Others might beg to differ; early followers of her career witnessed the acclaim she earned with the Chocolate Drops—including a 2011 Best Traditional Folk Album Grammy for their fifth album, Genuine Negro Jig, and induction into the North Carolina Music Hall of Fame. In her solo career, she's released two Grammy-nominated albums produced by famed record producer T-Bone Burnett.
Among her numerous nominations, honors, and awards as a solo artist: Giddens has won two International Folk Awards. She was the first American to win Folk Singer of the Year at the BBC Radio 2 Folk Awards, and only the fourth musician to perform at both the Newport Folk and Jazz Festivals. She's also garnered a coveted Steve Martin Prize for Excellence in Banjo and Bluegrass (yes, that Steve Martin). And did we mention she was a 2017 MacArthur "Genius" Fellow?
Mainstream audiences might be familiar with Giddens as recurring character "Hannah Lee 'Hallie' Jordan" on the now-ended but much-beloved musical television series Nashville. Or perhaps they caught her on Broadway in 2016, succeeding Audra McDonald in the role of Lottie McGee in Shuffle Along.
Giddens has also been heard on the soundtrack for The Hunger Games and will appear in award-winning filmmaker Ken Burns' upcoming documentary on country music. And because she has so much spare time, in November, she both staged a residency at New York City's Symphony Space titled "Sisters Past, Sisters Present," and launched a podcast, Aria Code With Rhiannon Giddens, co-produced by the Metropolitan Opera.
Oh, and she's also a mother of two.
In 2019, Giddens will take her talents to more genres, including a commissioned opera about Omar Ibn Said, the Senegalese scholar enslaved in the Carolinas for decades. Also on deck? Her first score for ballet, titled Lucy Negro, Redux. Based on the book of the same name by author Caroline Randall Williams and set to debut at the Nashville Ballet, the premise surmises Shakespeare's "Dark Lady" sonnets may have been inspired by real-life black brothel owner Lucy Morgan.
"I've actually seen the opportunities to tell the story of black women, of black culture in America—and then, by extension, American culture," says Giddens. "These opportunities are coming to me, I think, precisely because I've been very open about my mission.
"I feel for people who don't have that mission. You know, [entertainers] who are just like, 'I just want to sing country music,' [or] 'I just want to sing pop music—I don't really want to talk about race, I don't want to talk about history. I want to talk about love, or I want to talk about, you know, pickup trucks,' or whatever. I feel for them because I know that they are encountering those barriers, simply because I know the history. Because I live in the history...But I've never not been attached to this mission, and I think that's made all the difference for me."
And yet, despite her clear commitment to unearthing the breadth of black culture and history in everything she approaches, Giddens' music still struggles to gain traction with black media and listeners. In fact, she says her largest black audience to date was at the launch of her Freedom Highway tour in Sing Sing Prison.
"They were amazing," she recalls. "I'd never known how a group of black people would respond to my music, you know? And I didn't realize how big a deal that was for me. And then, wrapped up in the fact that they were in prison, and how frickin' messed up that is."
Also messed up? An industry and audience who automatically associate "country" with "white" and "black" with "urban," ignoring that our influence runs deep and wide and our genius is woven throughout the entirety of American culture.
"You know, I'm not interested in trying to do a hip-hop track to try to 'reach across the aisle,'" Giddens says. "I'm like, 'this is our aisle.'"
"There's always that aspect of the music that we've left behind...for those of us who are still playing it, it's like, 'where did y'all go?'" she adds. "But I think we're at this place where we don't need to do that anymore. We can look back and we can reclaim these aspects of American culture that we had such a big hand in—and maybe even want to play them, too. Maybe even want to listen to them—like with country—and claim it as our own."
The Glow Up tip: Songs of Our Native Daughters will debut on Smithsonian Folkways Recordings on Feb. 22 and is available for preorder now.
[Maiysha Kai is Managing Editor of The Glow Up and your average Grammy-nominated goddess next door. Minneapolis born, Chicago bred, New York built. Nuance is her superpower.]