Global Left Midweek - March 20, 2019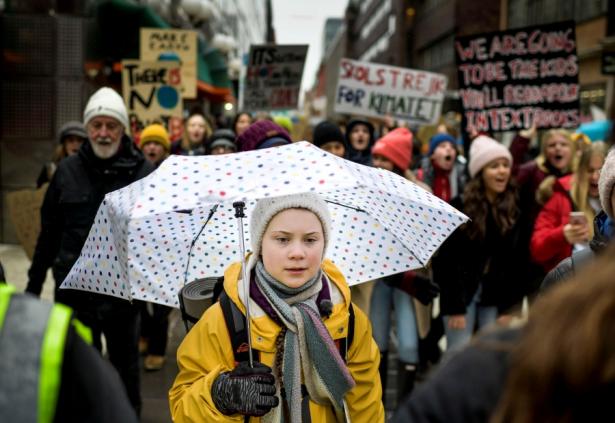 Swedish environmental activist Greta Thunberg participates in the "Global Strike For Future" demonstration in central Stockholm, Sweden, Credit: Pontus Lundahl/TT News Agency/via Reuters
Students Strike Worldwide in Climate Change Action
teleSUR (Caracas)

Students across the world walked out of classes and took to the streets with signs and banners in the #Climatestrike mass day of action Friday.
Thousands Demonstrate in Algiers
Lamine Chikhi and Hamid Ould Ahmed / Reuters (London)
Thousands of students, university professors and health workers rallied in Algiers on Tuesday calling for President Abdelaziz Bouteflika to quit, and a new group headed by activists and opposition figures told the army not to interfere.
Joao Pedro Stédile: "Venezuela is the Battle of This Century"
Carlos Aznarez / Brasil de Fato (São Paulo)
Almost 500 delegates from 90 countries of the world attended the International People's Assembly, held in Caracas, and one of the most ardent supporters of this initiative in the last two years is the leader of the Landless Movement of Brazil, Joao Pedro Stédile. 
Philippines: The Pacific Plaza Strike
Ia Maranon and Walden Bello / Rappler (Pasig)
These workers held one of the longest hunger strikes by labor since the 80s, as part of their campaign to pressure the Pacific Plaza management to regularize 17 contractuals terminated last July 2018.
France: Among the Gilets Jaunes
Jeremy Harding / London Review of Books
The gilets jaunes first came together beyond the margins of the major cities, in rural areas and small towns with rundown services, low-wage economies and dwindling commerce. Among them are people who grew up in city centres but can no longer afford to live in them: these barbarians know where they are when they arrive at the gates. 
Remembering Brazil's Marielle Franco
Lauren Bohn / The GroundTruth Project (Boston)
Franco, a sociologist, was elected in 2016 as part of the leftist Socialism and Liberty Party (PSOL). She was one of only six women on Rio's 51-person city council. During her time on the council, she introduced bills to chip away at some of Brazil's most pressing issues like sexual violence and the incarceration of black youth. A year ago, she was shot and killed in what police are calling an assassination.
Ukraine: An Election for the Oligarchs
Loren Balhorn interviews Volodymyr Ishchenko / Rosa Luxemburg Stiftung (Berlin)
Five years after the "EuroMaidan" protests in Kiev and elsewhere toppled the government of now-exiled former president Viktor Yanukovych, the people of Ukraine are set to elect a new leader. Over 34 million Ukrainian citizens will be eligible to cast their vote on 31 March.
Women's Freedom: Solidarity with Aurat Azadi March in Pakistan
Peoples Dispatch (New Delhi)
The march called for an end to patriarchy and violence against women, and called upon the women to fight for environmental and economic justice, as well as reproductive rights. The organizers are being attacked by right-wing conservative groups on social media with death and rape threats.