Global Left Midweek - May 8, 2019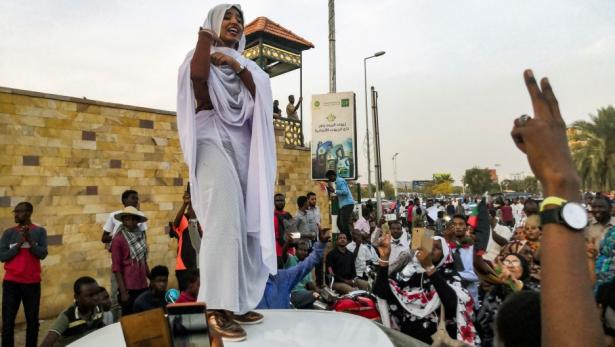 Alaa Salah, a Sudanese woman propelled to internet fame after clips went viral of her leading powerful protest chants against Omar al-Bashir, addresses protesters during a demonstration in front of the military headquarters,Credit: AFP via Getty Images
How Sudanese Women Got Their Revenge On Omar Al Bashir 
Hamza Hendawi / The National (Abu Dhabi)

Angered by repression and toughened by years of hardship, women drove the protests that toppled the president.
__________
New Turkish Attacks in Syria: Threat to the Rojava Revolution
Tom Anderson / The Canary (Bristol)
The Turkish army and its allies have begun attacking the Kurdish majority region of Rojava (northeastern Syria). Turkish president Recep Tayyip Erdoğan has made repeated threats to launch a full-scale invasion of Rojava, where a revolution has been underway since 2012.
__________
China's New 'MLM' Left 
Qian Binli / Against the Current (Detroit)
While these self-proclaimed socialists in China begin from the framework of Maoism, they are grappling with strategic and tactical problems in the face of sharp repression, differences in regional conditions, and varying levels of workers' consciousness and combativity.
__________
Hondurans Defeat Privatization Measure With Massive Mobilizations
Christine Wade / World Politics Review (Tampa)
The rallies were mostly peaceful but turned violent in some places after demonstrators clashed with riot police. The Honduran government responded by putting the proposed reforms on ice and calling for dialogue with labor union leaders.
__________
Nepal's Unfinished Business After the People's War
Vivan Eyben / NewsClick (New Delhi)
It has been over two decades since the first shot was fired and one since the War formally ended. Nepal is still grappling with the fallout.
__________
RCMP Invades Wet'suwet'en Nation Territory
Pam Palmater / Canadian Dimension (Winnipeg)
In denying the Wet'suwet'en their constitutionally protected legal right to enjoy their title lands, Canada has prioritized the private, economic interests of a corporation – Coastal GasLink Pipeline – over the rule of law. 
__________
The Killing of Lyra McKee
Barney Cassidy / Socialist Resistance (London)
Revolutionary changes happen when tens of thousands of ordinary people get involved in politics and killing an innocent woman with empty militarist macho gestures stops that from happening.
__________
Is There Room For Feminism in Italy's Largest Union?
Rossana Rossanda / Il Manifesto Global (Rome)
Women's particular modes of thought and practice have always been excluded from both political forces and trade unions. The question is raised with Maurizio Landini, recently elected secretary of CGIL. 
__________
Israel's Leftist Parties Have Lost Faith in Themselves
Yonatan Levi / The Guardian (London)
A left-leaning administration in Jerusalem – and, consequently, the two-state solution – has never been further out of reach.