Dispatches From the Culture Wars - May 28, 2019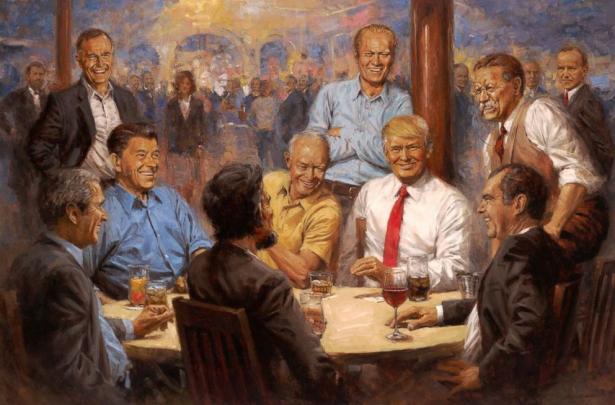 "The Republican Club" by artist Andy Thomas of Carthage, Missouri.
Why the Anti-Abortion Movement is Escalating
By Amelia Thomson-DeVeaux
May 21, 2019
FiveThirtyEight 

An aggressive new strategy in the legal fight over abortion has escalated since Republican lawmakers swept state legislatures in 2010.
This Game of Thrones Meme Breaks Down Characters by Political Organizing Tactics
By Lucy Diavolo
May 21, 2019
Teen Vogue
See how Arya Stark, Sansa Stark, Daenerys Targaryen, Jon Snow, and more might fit into activist work.
The Anti-Defamation League Is Not What It Seems
By Emmaia Gelman
May 23, 2019
Boston Review
Under the guise of fighting hate speech, the ADL has a long history of wielding its moral authority to attack Arabs, blacks, and queers.
Don't Bother Waiting for Conservatives to Come Around on Climate Change
By David Roberts
April 26, 2019
Vox
The basic model of savvy "realism" on the center left is to study the shape of public opinion, with all its subcategories, and react to it. Meanwhile, the right has an army of people on cable news, the radio, and Facebook dedicated to shaping public opinion, stoking it, dragging it rightward. Not investigating it, not charting it, not reacting to it — creating it.
By Kim Kelly
May 13, 2019
The New Republic
Nelson was the first labor leader to dare utter the phrase "general strike" publicly—and to urge other AFL-CIO leaders to talk to their memberships about taking mass action.
Are Ridiculous Pro-Trump Drawings Art?
By Nick Robins-Early
May 26, 2019
Huffpost
A look at the cartoons, memes and paintings that praise the president.