Global Left Midweek - May 29 2019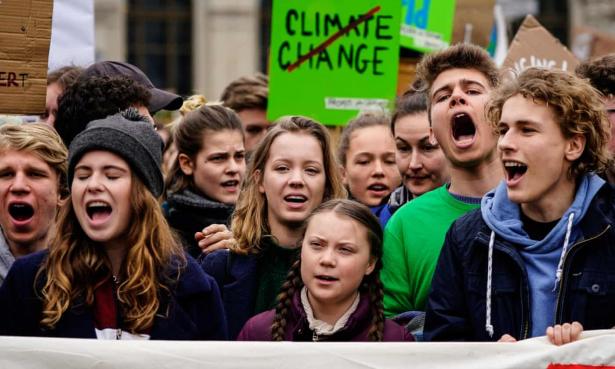 Greta Thunberg (C) at a protest against the climate crisis in Berlin, Germany,Photograph: Alexander Becher/EPA
Loren Balhorn / Jacobin (New York)

As voters elect a new European Parliament, the Left is split between multiple "unity projects." And none of them have a clear idea how to transform the EU.
__________
Greta Thunberg Calls on Adults to Join Climate Strikes
Damian Carrington / The Guardian (London)
Global general strike on 20 September could be historic turning point, say activists.
__________
Workers of the World and a New Global Movement
Ronaldo Munck / Great Transition Initiative (Cambridge MA)
Our world order, globalized from above, cries out for a globalized response from below, a new international fit for the purpose of system transformation in the twenty-first century. With their global reach and strategy, trade unions have a central role to play, but labor alone cannot be the international of today. 
__________
The Left in India's Elections: Viewpoints
__________
Sudan's 48-Hour National Strike
Pavan Kulkarni / Peoples Dispatch (Delhi)
The workers are preparing to escalate into a civil disobedience campaign if the military junta does not cede power to civilian authority.
__________
South African Elections: Ronnie Kasrils Weighs In
Ronnie Kasrils / Rebel (Dublin)
The patronage system and black economic empowerment, as well as the liberation legacy, has ensured the 25-year hegemony of the ANC at the polls. Key beneficiaries are the 1.2 million public servants plus the emergent black middle class and intelligentsia.
__________
Israel's Opposition Makes Rare Show of Unity
Chemi Shalev / Haaretz (Tel Aviv)
At Saturday's protest, the speakers were more impassioned than usual, the messages sharper, and the listeners angrier. It could herald a new era in Jewish-Arab relations.
__________
Political Profile of France's Yellow Vests
Zakaria Bendali and Gala Kabbaj / Rosa Luxemburg Stiftung (Brussels)
The movement is caught in a dilemma between unifying its demands, and the strength in numbers this gives it, and the deep ideological differences that continue to divide it. 
__________
First Female Communist MP in Iraq's Holiest City
Alex MacDonald and Mustafa Abu Sneineh / Middle East Eye (London)
The union between the religiously conservative Sadrist movement and the ultra-secular ICP seemed baffling to outside observers, but it appears to have created a successful synthesis. One of those who appears to best typify the new politics is Suhad al-Khateeb, a communist who won a parliamentary seat for the religious city of Najaf - one of the most important hubs of Shia Islamic theology. 
__________
Chinese Students Face Crackdowns Over Labor Activism
Gerry Shih / Washington Post
The story of Peking University's Marxist club illustrates the anxious political atmosphere in China, where idealistic students who embrace the party's own ideology can be suppressed just like any other political threat.