Trump Administration's Harmful Changes to Medicaid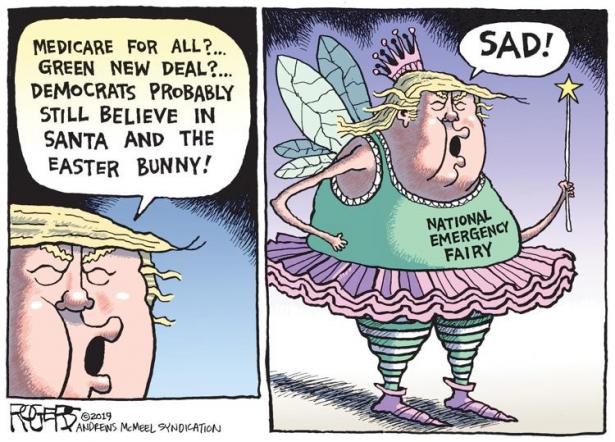 , Rob Rogers
President Trump has made clear that his goal remains to repeal the Affordable Care Act (ACA), including the Medicaid expansion, and to impose rigid caps on the federal government's Medicaid spending. While Congress considered and rejected a series of proposals to cut Medicaid and repeal the ACA in 2017, the Administration has continued to pursue the overarching policy goals of those bills through administrative actions. For example, the Administration has already approved state Medicaid demonstration waivers that sharply limit eligibility for the ACA Medicaid expansion. These restrictions have already cost many thousands of people their health coverage and access to care and could harm millions more.
Taking Coverage Away From People Who Don't Meet Work Requirements
The Trump Administration released guidance in January 2018 that allows states — for the first time — to take away Medicaid coverage from people who aren't working or engaged in work-related activities for a specified number of hours each month. In Arkansas, the first state to implement such a policy, over 18,000 Medicaid beneficiaries lost coverage in 2018 due to the new requirements — almost 1 in 4 people subject to the new rules. While a federal district court recently struck down restrictive waivers in Arkansas and Kentucky, the Centers for Medicare & Medicaid Services (CMS) continues to approve these policies in additional states.
Work requirements harm people with barriers to employment, which can include people with disabilities or substance use disorders; people who are working but in unstable jobswith volatile hours; and people who are looking for work. It's very likely that many people who lost coverage in Arkansas were actually working or should have been eligible for an exemption from the policy, but still lost coverage because they couldn't overcome the red tape. The number who lost coverage far exceeded the supposed target population: beneficiaries not working and not eligible for exemptions. And despite claims by Health and Human Services (HHS) Secretary Alex Azar and Arkansas Governor Asa Hutchinson, Arkansas' own data show that at most a small minority of those who lost coverage found new employment.
For people with serious health needs, even the temporary loss of access to medications or other treatment could be harmful or sometimes catastrophic. This is one reason why major physician organizations oppose work requirements, including the American Medical Association, American Academy of Family Physicians, American Academy of Pediatrics, American College of Obstetricians and Gynecologists, American College of Physicians, American Osteopathic Association, and American Psychiatric Association — as well as the AARP, Catholic Health Association, Consortium for Citizens with Disabilities, and many organizations representing patients, including the American Heart Association, American Cancer Society Cancer Action Network, and American Diabetes Association.
Letting States Deny Coverage to Eligible People
CMS has also approved unprecedented authority for states to deny coverage to people who would otherwise be eligible for Medicaid. This authority undermines Medicaid's guarantee of health coverage to low-income people who meet the eligibility criteria set by Congress.
Earlier this year, CMS approved a proposal to let Utah cap enrollment based solely on state funding decisions. Once the number of enrollees reaches the state's funding cap, other eligible people would be shut out of coverage. An arbitrary enrollment cap limits enrollment on a first-come, first-served basis and would treat similarly situated people differently depending on when they apply for coverage, effectively holding low-income people's health care hostage to state lawmakers' annual budget decisions on how many people should get coverage.
Now, CMS is reportedly working on "block grant" guidance that could give states latitude to cut coverage, services, or provider payments in ways not allowed under federal law, in exchange for agreeing to caps on federal funding.
Imposing Premiums on People in Poverty
The Trump Administration has given states unprecedented authority to require people in poverty to pay premiums for their health coverage, in spite of extensive research showing that premiums significantly reduce low-income people's participation in health coverage. These studies show that the lower a person's income, the less likely they are to enroll and the more likely they are to drop coverage when they have to pay premiums. People who lose coverage most often end up uninsured and unable to obtain needed health care.
In Wisconsin, for example, the Trump Administration approved a proposal that lets the state take coverage away from people with incomes below the poverty line if they don't pay monthly premiums. Those with incomes as low as 50 percent of the poverty line — about $500 per month for an adult without dependents — who don't pay premiums will lose Medicaid for up to six months.
Restricting Coverage and Care for Immigrants
In September 2018, the Trump Administration proposed a radical change in immigration rules that could make it much more difficult for many immigrants lawfully in the United States to remain here and for many seeking legal entry to come. Under the proposed rule, immigration officials could turn away legal immigrants seeking to remain in the United States — or to come to the country in the first place — if they have received, or are judged likely to receive in the future, any of an array of benefits tied to need that are available to immigrants lawfully in the United States, including Medicaid and Children's Health Insurance Program (CHIP) coverage.
The Administration's proposal would have two main effects. First, it's certain to have a pronounced "chilling effect," leading many immigrants lawfully in the United States and their family members, including U.S. citizen children, to forgo Medicaid, CHIP, and other health care and basic assistance programs for which the federal government has made them eligible. Second, it would enable the Trump Administration to keep out of the country individuals who are working, or would work, in low-paid jobs because they would likely qualify for health coverage or another of the targeted benefits in the future.
Changes to the Poverty Line
In May 2019, the Office of Management and Budget issued a notice requesting comment on a proposal to use a lower inflation measure to calculate annual adjustments to the federal poverty line. By lowering the poverty line, that proposal would ultimately cut billions of dollars from federal health programs and cause millions of people to lose their eligibility for, or receive less help from, these programs. Many programs, including Medicaid and CHIP, use the poverty line to determine eligibility and benefits, and the cuts to these programs — and the numbers of people losing assistance altogether or receiving less help — would increase with each passing year. After ten years, more than 300,000 children would lose comprehensive coverage through Medicaid and CHIP, as would more than 250,000 adults covered through the ACA Medicaid expansion. Some pregnant women, low-income parents in non-expansion states, and people receiving family planning services through Medicaid would also lose coverage.