Global Left Midweek - June 19, 2019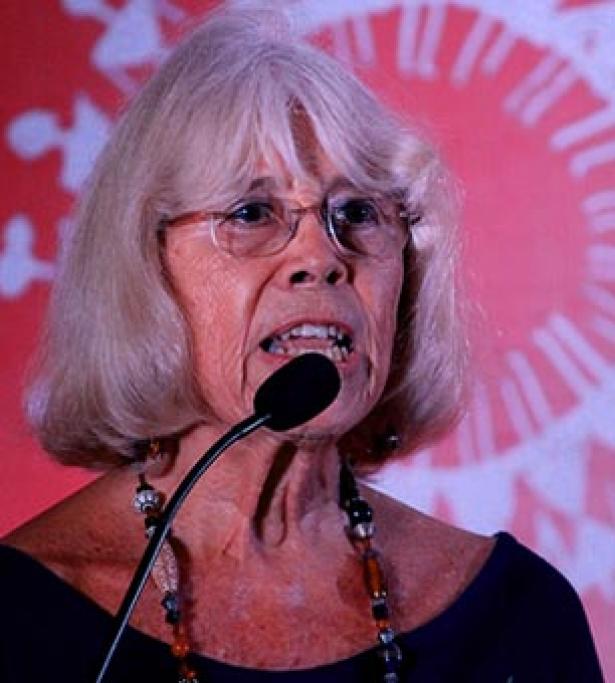 Photo: Fundació Pere Ardiaca
Ibuitrarcia / El Cuidadano (Santiago de Chile)

Translated by Portside 
Marta Harnecker, Marxist writer, psychologist and journalist, died on Saturday.
She was born in Chile in 1937 and is recognized as one of the leading figures of the Latin American left. She herself lived under the socialist government of Salvador Allende, and managed to survive the violence of Augusto Pinochet's military coup.
There are many who were formed politically by her works. Los conceptos elementales del materialismo histórico, written in 1969 and which has already exceeded 70 editions, has been part of the formation of many left party militants.
Harnecker, of Austrian roots, studied psychology at the Catholic University of Chile in 1962. She did postgraduate studies in Paris with Paul Ricoeur and Louis Althusser. Upon her return to Chile in 1968, she was professor of Historical Materialism and Political Economy in Sociology at the University of Chile and was director of the political weekly Chile Hoy.
After the coup of 1973, he went into exile in Cuba, where she married Comandante Manuel Piñeiro, with whom she had a daughter.
There she lived through the heartbreaking "special period" of that country, and described as "admirable" the way Cuba faced the fall of socialism in Eastern Europe and the USSR.
After becoming a widow in 1998, Harnecker continued with her investigative career and was nourished by the testimonies and experiences of Latin American political leaders that are part of the articles and texts that are today study material in multiple universities around the world.
Among those experiences is that of Venezuela, where she was an advisor to former President Hugo Chávez and the Ministry of Popular Power, where she was part of the management team of the Miranda International Center [CIM] in Caracas.
During her stay in Venezuela she was able to analyze the flourishing of popular struggles in Latin America.
An authentic Marxist
Marta Harnecker demonstrated that socialism as a "project" is unthinkable without struggle, and that it can not be done "from above," since it must be the product of the struggles of the movement of the dominated peoples and classes.
"In this sense, she is a true Marxist, continuing the work initiated by Marx, without fear of enriching it - permanently taking into account what is new in the reality of the world, of capitalism, of imperialism, of struggles - thus renewing the conceptualizations, and the propositions regarding theory and strategic action," said the journalist Samir Amin in an article published by La Haine.
"She helped give living Marxism a Latin American dimension, as others have given it an Asian or African dimension. Marta Harnecker helped to give Marxism the universal dimension that it must have; she helped to make it heard by the great majority of the peoples of the world, the people of the three continents. She managed to free Marxism from a deadly Eurocentric imprisonment. The experience of the advances in the struggles of the peoples of Latin America have paved the way in recent decades, through the theoretical thinking of Marta Harnecker, which has been decisive in this regard," he said.
Most recognized works
As author, Harnecker published more than 80 books, including: Capital: Fundamental Concepts (1971), Cuba: Dictatorship or Democracy? (1975), Peoples in arms (1983), The social revolution (Lenin and Latin America) (1985), What is society? (1986); Indigenous people, Christians and students in the revolution (1987); Latin America: Left and current crisis (1990); Making way to walk (1995); Making the impossible possible: The left at the threshold of the 21st century (1999); Rebuilding the Left (2006) and A World to Build (New Roads) (2013), for which she won the Libertador Critical Thinking Award.
Harnecker, who suffered from cancer, spent her last years between Cuba where her daughter resides, and Canada, along with her husband, the prominent intellectual Michael Lebowitz.
__________
Ideas for the Struggle
Marta Harnecker / Socialist Project (Toronto)
A short but potent contribution to revolutionary thought in this decade.
__________
Millions Protest in the Hong Kong Streets 
Susan Price and Rena Lau / Green Left Weekly (Sydney)
Historic protest action on June 9 was followed by a strike and more protests on June 12. This latest action, which ended with police violence outside the Legislative Council building, was initiated by the Hong Kong Confederation of Trade Unions (HKCTU).
__________
Other Voices from the Hong Kong Movement
闯 Chuang 
Two short pieces provide a window into some perspectives from the movement that might be more difficult to ascertain from mainstream media accounts.
__________
Swiss Women Strike for More Money, Time and Respect
Imogen Foulkes / BBC News (London)
Friday's protest comes 28 years after similar action saw half a million women take to the streets in 1991.
__________
Brazil: Mass Protests Close Out General Strike 
Juca Guimarães and Rodrigo Chagas / Brasil De Fato  (São Paulo)
A nationwide strike called by Brazil's trade unions disrupted public transport and triggered road blocks in parts of the country Friday, ahead of protests against far-right President Jair Bolsonaro's pension reform.
__________
How the Left Can Rescue Nigeria
Omolade Adunbi / Africa is a Country (New York)
The last 20 years of liberal democracy in Nigeria have been marred by crises. The next election should be the Left's target.
__________
Barcelona's Occupy Mayor Wins a Second Term
Elia Gran / The Indypendent (New York)
The Barcelona results revealed a strong current of support for Catalonian nationalist politics. Mayor Colau, instead, offered a vision of participatory democracy geared toward helping improve the lives of ordinary people in tangible ways.
__________
Video: Pakistan's Revolutionary Music
Taimur Rahman / Peoples Dispatch (New Delhi)
Revolutionary rhythms, or how art can change the world.