Global Left Midweek - June 26, 2019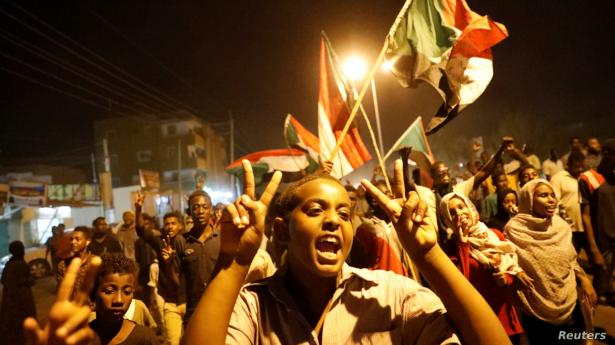 Protesters in Khartoum, Sudan, Photo: Reuters
Enzo Traverso / Verso Books (London)

The left is not dead, but it has still not managed to overcome the defeats of the twentieth century, which left it models that are no longer operational. 
__________
Egypt: Is the Death of Morsi the Death of Democracy?
Seif Da'na / The Real News (Baltimore)
"We have well-documented cases of people who were thrown into prison .... torture is also well-documented. And they're not really from the Muslim Brotherhood. They were actually secular activists."
__________
Germany: Fighting the Far Right
Sibylle Kaczorek / Links (Sydney)
A successful anti-racist mobilization last October has resulted in a new coalition, Unteilbar (Indivisible). There's regular organizing happening with a focus on East Germany, with a mass demonstration set for August 24 in Dresden, prior to the autumn elections in the East. 
__________
UK: Corbyn vs Farage
Richard Seymour / Jacobin (New York)
The Labour Party base is still divided over Brexit. Ashley Smith speaks to Salvage editor Richard Seymour about this volatile situation, how the far right stands to benefit from the breakdown of the Tories, and what the Left can do about it.
__________
Video: Women's Liberation and the Communist Movement in Nepal
Radha Gyawali / Peoples Dispatch (New Delhi)
A Communist Party leader and member of Nepal All Women's Association speaks about the fight against patriarchal oppression within the family and society, as well as challenging patriarchal attitudes within the party itself.
__________
Sudanese Comrades Report
Elia El Khazen / Historical Materialism (London)
As the Sudanese uprising enters its most critical conjuncture, with negotiations between the military council and the Forces for the Declaration of Freedom and Change collapsing, and the latter announcing a country-wide strike, we hear from three Sudanese comrades. 
___________
Venezuela: Struggles in the City
Cira Pascual Marquina interviews Hernan Vargas / Venezuelanalysis (Caracas)
Eighty to 90 percent of Venezuelans living in cities, many in poor barrios. The Movimiento de Pobladoras y Pobladores operates in this contested terrain of the city and is one of the largest social movements in Venezuela.
__________
Video: Brazilian Landless Leader Speaks
João Pedro Stedile / NewsClick (New Delhi)
Tens of thousands of workers in Brazil took the streets in a national general strike against the pension reform proposed by the government of far-right President Jair Bolsonaro. Pedro Stedile reaffirms the call to fight for the freedom of former president Luiz Inácio Lula da Silva.